Back on Line:
Folks,  We have been without a phone and internet DSL service for four days.  A contractor accidentally cut some wires when doing some work that affected everyone in our area. It has taken them until today to get the wires re-spiced enabling them to restore our service.  I was at a loss, especially with the loss of the internet and not being able to  post your messages.  I do have a lot of messages that I have gotten from you folks that I will be sending out with several messages.  Thanks to all of you that sent messages inquiring about what had gone wrong and if everything was OK on my end.  I really do appreciate your concerns.  For general interest, I will be posting those messages too.  Gary
.
.
lola vanorny, ew
HI Gary and y;'all  — I almost had a panic attack this am when our
internet was down for an hour–  I needed my "nostalgia fix"  ha!!– –  I
really look forward to first thing in the morning checking to see who
wrote_  I wonder how many of us are  having coffee together  every
morning!- ha-cause we're all doing the same thing!
I have to throw in my 2 cents worth! –  the old time Music Jamboree was so
much fun!– Hank Salmonson (87 years young!) was up there playing some
really nice guitar — old songs I remember my folks singing-  "Pretty Red
Wing" and others- he got a standing ovation– !!!
The whole group was just so neat –It was organized so well and some humor
thrown in there to keep it interesting– even some sing along songs- which
is always fun- they all sounded so professional–   Dick does a mean Johnny
Cash too- we just enjoyed it immensely!
We've had the Hanson's and Tim in our prayers and of course my dear sister
Helen- we're just trusting ,    for a miracle– and so glad your
experience  turned out well, Bev ,you were in our prayers too-   I think it
is just so wonderful we can stay connected with good old memories and
prayers and support for each other-  what a wonderful thing  you started
Gary- I think it was when I got an email or a phone call cause you'd seen
my name on the internet and asked about my family and it ballooned from
there-
It is interesting how many memories come back of people and things I'd
almost forgot-  Thanks so much Gary!
.
.
Here's another one that I missed yesterday.  On the right bottom is Emil Metcalfe.  The girl in the flowered dress is my mother Eleanor Metcalfe and peeking from behind her is Clifford Metcalfe.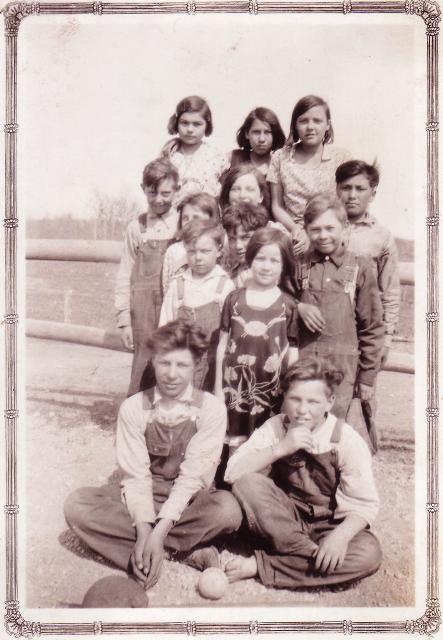 .
.
                                                                                                          Class of 48