To vicki hiatt, I did not know that your husband was ill, I will pray for him as well as for your family, please let me know how things go  love ya
.
.
From Rita Parisien Anderson (73):  
Note: This is part of a personal message that I received from Rita that I wanted to share with all of you.  This is the fruit of the labor.  You are very welcome Rita. Gary
Gary, because of the emails and class rosters one of my best friends in
elementary and middle school until she moved away have reconnected and we
are going to meet up this summer thanks so much .
.
.
From Sharon Longie Dana (73):
For Vickie Hiatt LaFontaine
I too thought of Wanda as i do ever year in April. It
was a tough time for the class of 73. While Vickie,
and Marsha were in the hospital Brenda H and me and
some of the others close to Wanda and Steve had to go
to school. It was an awful week and one I truly
thought i would never get thru it. Wanda and I had
known each other since we were 5 and our birthdays
were only 11 days apart so we shared many things. I
was grieving so much that week but at the same time so
thankful that Vickie and Marsha were alright and i
probably never told them that. I to would like to
thank our classmates from Dunseith High, you were all
awesome to me that week and I have never forgotten it.
Linda Johnson and Bev Mornville looked out for me like
they were big sisters and the Medrud family let me
grieve with them like family. I will always miss
her!!!  I to remember the play and Doraldeen as the
witch…………that was so much fun!!! There were
lots of good times. and Gary doing this is awesome. I
have received emails from friends I never thought i
would hear from again. When I went in the navy in 74 I
started a new journey for myself and after my
grandparents moved to Washington, i sort of left
Dunseith behind but there were lots of good memories
and those are all resurfacing now after many years.
So thanks Gary for putting this all together!!! Its a
great service your doing for  alot of us!! and I agree
were all having coffee(tea) tofgether every morning.
Sharon Longie Dana(proud to be from the class of 73)
.
.
I remember when Don and Cliff got their new boat.  Cliff & Don had some
go out and amongst them was my husband, Chuck.
Of course, Chuck learned to water ski and came home, stating that "I"
had to go and learn to ski!  I, didn't know how to swim at the time, and
said so, but that wasn't good enough.  So, off we went for me to learn
and have fun.  Well, as I remember, Cliff was in the boat driving, I was
down in the water with skis on, off I went and got UP this first time –
made a circle and then dropped when I
thought I was near their cottage – my  nearsightedness had me out a
ways.  Then, the next time I was going to go again, I was determined to
get up, but one foot was behind the other and it wasn't happening, but I
was plowing water and finally the bar snapped out of my hands.  Chuck
came up behind and we both started laughing – the top of my suit had
dropped down to my waist, and the boat was coming back for my to try
again.  The laughing and trying to get my suit up in time – relaxed me
and up again I went for another ride.  Some fun that day, and the start
of many ski rides that occurred later when we would have our own cottage
and boat to enjoy !  One of the many memories of our times with Dunseith
friends.  Cherished !   Mona Johnson (48)
.
.
Gary and all,
Being a custodial supervisor here at NDSU some days has its challenges.  With 14 employees and 8 buildings to monitor it gets interesting to say the least.  But the other day as I was helping out in one of the oldest buildings on campus, I found myself actually enjoying my job.   And it is all because of this site and one certain class room in the Dunseith Elementary building.
One of my employees has been out sick for a while so to help my other employees out, I went up to clean in Minard Hall of NDSU.   The floor that I was cleaning on, is where they teach a lot of Math classes.  And of course being the old building that it is, it has the old chalk boards still being used.   Now a days they have the nice white boards that are a lot easier to clean and a lot easier to write on and a lot easier on the eyes to look at.    But as I was washing these boards, I started thinking about this site and the memories that are brought to everybody.  At that very moment I thought of an incident that happen to me in the 4th grade.   Our teacher was, Mrs. Berube.(Florence) Another one of my favorite teachers in Elementary.  One day during class, I think it was Math, Brian Fauske and I were sitting in the second to last seat in the 1st and 2nd row of the class room.  Brian was in the 1st row and I in the second right across from him.   We started to send notes to one another.  I don't know what the heck Brian wrote on his note but it lead me to write the message,  "Go to Hell"   ha Ooops   Big mistake.
As I was handing the note to Brian,  Mrs. Berube's eyes caught something in the back room and of course that was me.  She came and took the note from my hands and read the note.  Looking into my eyes she asked politely what was the meaning of that note.   With red face and every one staring at me, I said,(and I can't believe it myself), I wanted to meet Brain in the Hall. 

  Mrs. Berube being the kind person that she was, knew that is not what the note meant.  What did Brian do?  He looked at her, smiled, shrugged his shoulders and he was off the hook.  ha
Mrs. Berube, of those of you that knew her, didn't have a mean bone in her body.  She just looked down at me and said,  David,  I would appreciate it if you would stay in during recess, the rest of this week and wash my chalk boards for me.  I thought oh gees, I am going to hate this. 

    During the first day it was not fun as every body went outside and I got stuck staying in washing the boards. Being a fourth grader that was brutal punishment.  She always had her little pail of water and rags sitting right there each day.  By the second day I was starting to like the punishment and started thinking that I was the teachers pet.
So when I was washing the boards at Minards Hall, I actually found myself enjoying washing the good ole chalk boards once again and thinking of pleasant memories of Mrs. Berube.   So thank you Mrs. Berube for the nice memory and teaching that note passing doesn't pay and thank you Gary for this site.  Without it, people would just keep their thoughts to themselves and memories would be lost.
Dave Slyter (70)
.
.
Story From Larry Hackman (66):
Gary
That picture of that Jumbo Burger you sent out the other day, reminded me that it must be getting time, to make another journey to Dunseith and indulge, in feasting on one them delicious Jumbos, to satisfy a craving that I seem to get a couple times a year.   My mouth is watering already.  Another highlight will be to see how George and the crew have remodeled the place after the fire.  It looked like a new, nice place on the pictures.
Back, to the Jumbo Story.
I remember Herman Martinson telling me the story of,
The Origin of the Jumbo.  He said Dale Gottbreht came into
the bakery on a mission, one nice summer day.  Nobody would come up here in the winter time would they?  Not even a Texan?  Herman said, Dale told him, that he had relatives coming up from Texas and he was a little tired of hearing how things are always bigger and better in Texas.   So, he was going to show them that some things are bigger and better in North Dakota. He came up with this idea to serve them Texans a North Dakota Hamburger.  He told Herman that these hamburgers were going to have to be huge.  Dale then explained to Herman what he wanted him to do.  He wanted Herman to make  hamburger buns the size of a dinner plate.  Herman agreed to take care of this portion of the plan, and made the buns for Dale.  Dale then served up these North Dakota Hamburgers to his Texas friends with all the fixings that they are famous for today. Can you emagine the looks on them there Texan's faces when they saw them North Dakota Hamburgers.  I,m sure the burgers were served with allot of jokes and get even type comments.  If you know Texans like I know Texans, I'm sure there was a get even strategy born that day and was played out somewhere?  Maybe someone will fill us in with the rest of the story?
 I have a Texas friend that still insists to this day that North Dakota is a northern  county of the state of Texas.  It just goes to show you that knowing a lot and thinking you know a lot are to different things. Try to explain that to a Texan?   They just didn't have Mr. Hepper for Geography class in Texas is all. Oh, I know in a Texans mind Texas is the whole world, why have Geography?  I don't know why, but it sticks in my head that Keith Smith's fake ear kept falling off in that Geography class?  Must have been from the heat of the subject.
While going down memory lane and thinking about The Snow White Bakery and Herman and some of his employees, I remember Herman always had a baseball game on the radio while he worked.  The first emplyee I remember is:
1. Abe (Hassen Jr.) Murry cheerfully walking and whistling his way down Main St.with that huge bakery tub, loaded with bread tucked in the crook of his arm.  His fancy 1956? baby blue and white Chevy sitting in front of the bakery ready for take off as soon as he got off work.  I remember his dad standing on Main, crying for what seemed like weeks after his car accident and death. A sad time for the entire town.
2. Vince Kalk (Big Iron) washing and waxing his 1950 flathead Ford on Sundays' behind the bakery.
3.Julian Kalk (Khakky) always greeting the Sweetheart bread guy that delivered flour to the bakery with, " If it isn,t the guy, who drives the truck, with the big red heart on"?  Of course the conversation always degraded from this point on and I would have to leave as I was still kind of young for this type of conversation. Right.
4.Warren Murry (Muff) who also died in a car accident on highway #3 between Dunseith and Rugby.  I don't know what them Dunseith guys had for them Rugby Girls? Funny you would think that it would be the correction line curve south of town that would have caused most of these accidents, but they all happened on the streight aways before and after the curve.  Although I remember a few going off the curve.
5.Marvin Kalk, who had a difficult time in school but still wanted to graduate, was struggling..  Herman, realizing that Marvin had trouble reading, would read the subject material to him. Marvin's grades improved and he graduated high school. Then he got drafted. May he rest in peace..
Some of the Snow White Bakery guys that I remember,
 from a guy that use to hang out there.
Larry (Half pint)
.
.
Hi Gary, (For Your Information)
On the Hillside School photograph, sent in by Ken Nerpel, other folks
may be able to also identify the other kids as: Leona Metcalfe, Clayton
Bergan, Agnes  Belgarde (Peltier), Clarene (Poitra) StClair, ?Dick
Demery, Miss Olson was the teacher, I think she may have taken the
picture.
Our family doesn't have any photos of my dad's childhood, so it was
wonderful seeing these photos again.  I believe my Aunt Leona showed
them to me yrs. ago.
Also a side note;
On Saturday evening, June 28, 2008, We Metcalfe Cousins will be joined by
the Nelson cousins, also Cousins of cousins or Friends of Cousins, and any
Kelvin Community folks for a no host gathering at Kelvin Klinic.  Anyone
with ties to the area is welcome!
Thanks So much.
Vickie Metcalfe
Note: The names listed are not in order & not complete.
Leona Metcalfe, Clayton Bergan, Agnes  Belgarde (Peltier),
Clarene (Poitra) StClair, ?Dick Demery, Emil Metcalfe,
Clifford Metcalfe, Eleanor Metcalfe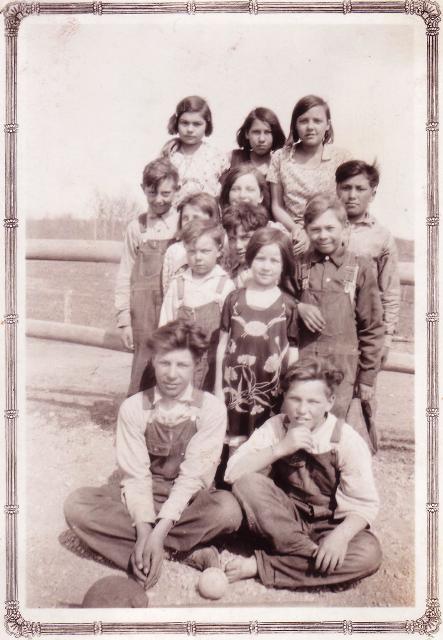 .
.
Hi Gary & All,..We missed you.
About 1950 the creamery that was located where Garden Lanes is now, burned down.  It was just luck that the fire didn't take the whole block.  Having suffered two major fires in a couple of years, the Gamble Store and Creamery, it was painfully apparent that the fire department had to upgrade their equipment.  About the only way organizations could raise substantial sums was by holding dances and smokers.
About this same time, a new minister came to serve the Methodist Congregation.  His name was Rev. Ramquist and he lived in Bottineau while serving the Bottineau and Dunseith congregations.  Rev. Ramquist was determined to clean up "Sin City" so when the Dunseith Firemen held a money raising smoker in the basement of the city hall, the Reverend fetched the sheriff and they raided the smoker.  Since it was imperative that the fire department at least get a new truck, most, if not all, of the pillers of the community were caught in this den of iniquity.  Sin City indeed!
The next day there was a big writeup in the Minot paper about how a gang of vigilantes had run the Reverend out of town.  Actually, a couple of fellows followed him out of town just to be satisfied that he was gone and not coming back.
Shortly after that, the Methodist Church Board determined that Dunseith needed fire equipment worse than they did a crusading minister so Rev. Ramquist was asked to leave.  He later perished while white water kayaking somewhere.
Between ministers, we Methodists were served on an intirim basis by Rev.
Kepler from Rugby which finally leads me to the point of my story…the fellow
between Alan Campbell and Jerry Williams in Dick's picture of the Methodist Choir is Rev. Kepler's son but I can't remember his first name.
A revised roster of names on the picture is as follows:
Gary Morgan
Class of 54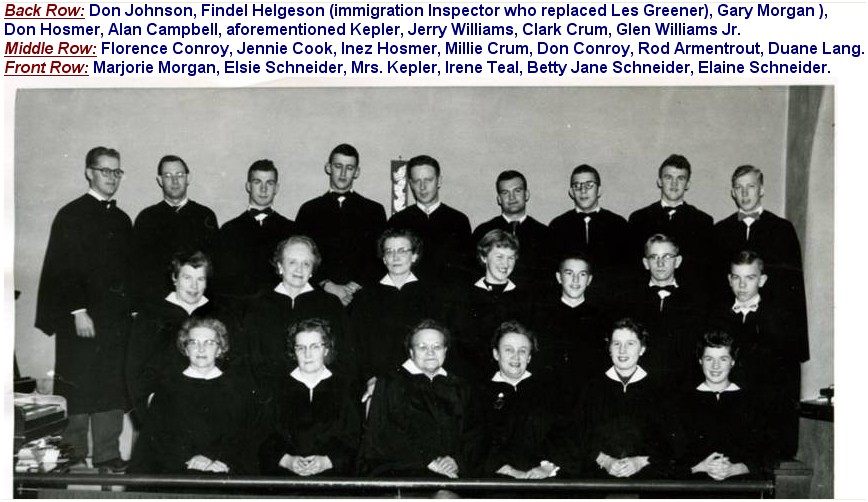 .
.
Gary
 Here is a photo of Dick Johnson and the Fabulous Turtle Mountain Hillbilly Band performing at the St. John senior center.  Art Rude Sr. is in the  picture front row center with a large group of ladies, and to my right is old friend Jimmy Birkland.
Ken Nerpel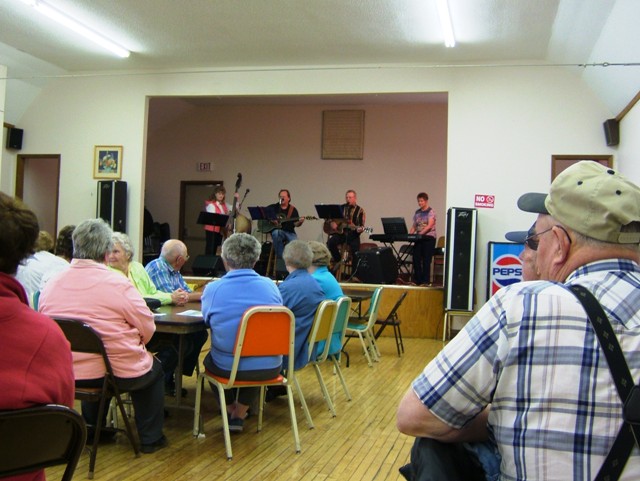 .
.
From Allen Richard (65):

To Angela:  OH MY GOD.  I am so glad you sent this to Colette.  Ydola and the Robert Brothers could fill in the gaps I'm sure.  Then there is the largely unknown thing about Mom's and Ydola's older brother Jack (his baptismal name was "Ubald"  a mis nomer–I saw him in early 1996–in his early '80s and his hair was thicker and darker than mine–oh yeah—–and curly.  Jack moved to CA. in his early 20s–with an 8th grade education—————and went on to be high up in the design of the hydraulics of the
B-17 landing gear.  Our Grand mothers, Rebecca and Hortense were sisters—so much for the powers of the gene pool coming from the fathers.  "Jack" and Urbain were first cousins.  Check with your Mom on the details of this—and their cousin– Geof Marcil.
It was so good seeing you this summer.
Allen
.
.