1959 Dunseith Football team
Posted by Dennis Dubois ('63): Minneapolis, MN
As an added footnote to my response to Lee Stickland's story, the 1959 football team went undefeated and the 1960 team lsot one game, to Rolla, when the clock "malfunctioned" and it lasted long enough for them to s core the winning touchdown. Jay Vanory's dad
As an added footnote to my response to Lee Stickland's note. The 1959 football team went undefeated and the 1960 team lost one game, to Rolla, when the clock "malfunctioned and gave them enough time to score the winning touchdown. Jay Vanory's dad, Virgil, went crazy and they got the cops to escort him off the field and probably out of town.
Leonard Eller not well
Posting from Ivy Eller Robert ('74):  Bottineau, ND
Hi Gary….
My half-brother Leonard Eller is not doing very well. I was hoping that everyone, that reads the blog will put him in their prayers. His daughter Kim Thomas, contacted me here in Arizona to let me know that day before yesterday Leonard had been air lifted to Bismarck.
Leonard has been a residence of the Good Samaritan Home in Bottineau for the last couple of years.  I guess he had been doing poorly for a while and had to be put into the Botno Hospital. He has congestive heart disease that has progressively gotten worse. He coded out a couple of time when they tried to transfer him to Bismarck. They finally got him stable enough to transport, however when he arrived they had to put him on a ventilator, and he will have to be put on a dialysis machine. A year or so ago, when he was put on that machine, he didn't do so well.
I believe that many people from the Dunseith/Belcourt area know him. Him and his family have lived in the Belcourt area for most of their lives. He is my oldest brother from my Dad's first marriage. I believe he is 83. I still have 2 more half-brother left. One in Sun City, AZ. the other one is in Elkhart, Indiana.
Please put Leonard in your prayer & hope for the best.
Thank You,
Ivy (Eller) Robert 74
Posted By Neola Kofoid Garbe:  Bottineau & Minot, ND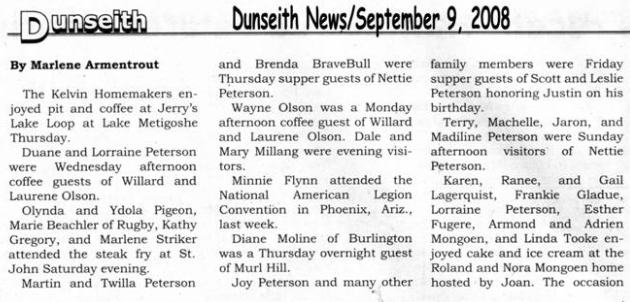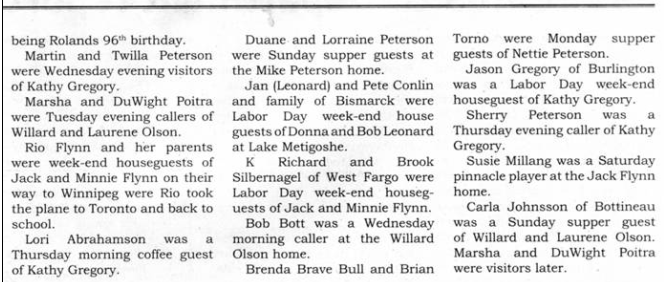 Posted by Vickie Metcalfe ('68):  Bottineau, ND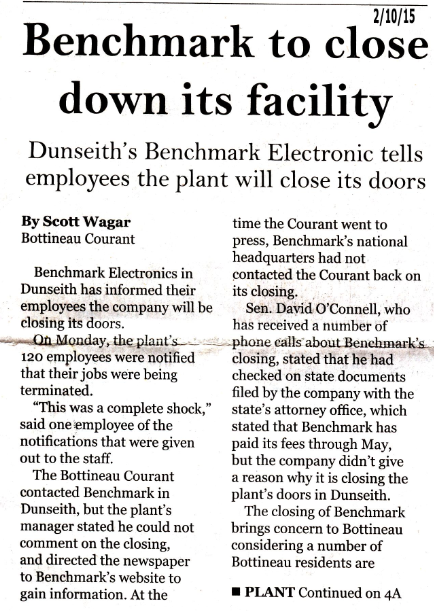 Benchmark Electronics to close plant in North Dakota
Posted: Feb 12, 2015 8:47 PM USTUpdated: Feb 12, 2015 8:47 PM UST
DUNSEITH, N.D. (AP) – Workers at the Benchmark Electronics plant in Dunseith and area officials say they've been notified by the company that the factory will close by the end of the year.
The shutdown will put 140 people out of work in the northern North Dakota town of fewer than 800 residents. Officials with Texas-based Benchmark did not immediately respond to an Associated Press request for comment on why the Dunseith facility is being closed.
Former City Councilman Bob Leonard helped bring Benchmark to the town 30 years ago. He tells KXMC-TV (http://bit.ly/1J0AyDx ) that the impending closure of the facility is a shock to the community.
Mayor Jesse Marion says officials will work to find another tenant for the 100,000-square-foot plant.
Alison Bjorkedal, daughter of G. Ann Krech Bjorkedal (1964 Rolla graduate) at Grammy Awards
Posting from Brenda Hoffman ('68): Greenville, SC
Last weekend, Alison Bjorkedal, daughter of G. Ann Krech Bjorkedal (1964 Rolla graduate) and Al Bjorkedal, was at the 57th annual Grammy Awards as part of Partch – an ensemble that plays the music and instruments of 20th century composer Harry Partch (http://www.Partch.LA.com).
The group took home the award for Best Classical Compendium. Alison plays the kithara, a harplike instrument, with the ensemble.
Alison (http://www.alisonbjorkedal.com) holds a master's and doctorate degrees in harp performance and is a Los Angeles-based harp teacher, college instructor and performer including a Mariah Carey/Nick Cannon special, an Andre Boucle PBS Christmas program and a State Department exchange with Vietnam.
Alison's two uncles, Gordon and Gerald, are Rolla residents.
http://www.msn.com/en-us/sports/other/grammy-awards-john-schneider-and-partch-answer-questions-from-the-press/vp-AA99vSl
The Partch ensemble at the press conference after the Grammy awards.
Posted By Neola Kofoid Garbe: neolag@min.midco.net Bottineau & Minot, ND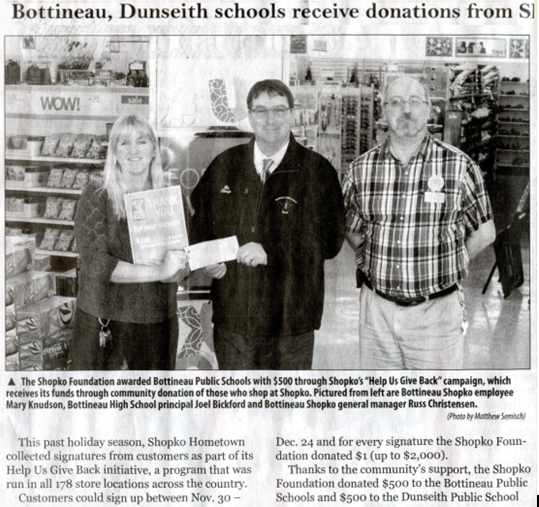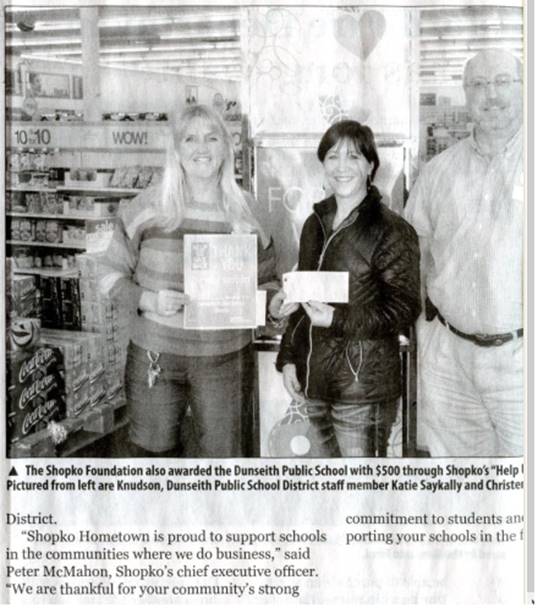 Posted By Neola Kofoid Garbe:  Bottineau & Minot, ND
====================================
Blog (251) posted on October 14, 2008
From Vickie Metcalfe (70): 
Gary,
Letaine Bolen served DHS as an English teacher in Dunseith in the mid '70's through 1982.   She came to ND from Texas, when her sister was teaching at Dunseith Indian Day School.
In 1981, She married Bill Brandt,moved to Bottineau and was an English teacher here in the system until  about 2003.
Diane, her beloved sister died of an aneurism in Texas in 1996.
In 2002, Letaine then was teaching in Belcourt when diabetes began ravaging her body.
She lost parts of her toes and eyesight from one eye, and was undergoing dialysis in Belcourt.  While undergoing dialysis she'd  often find herself renewing communications with  parents of former students.
She and Bill had started  divorce proceedings when he died suddenly of pancreatic cancer last summer.
A couple months ago she got her kidney transplant. Two weeks later,she had a heart attack. Letaine has since been at Med Center 1 in Bismarck ND now awaiting heart surgery.
While in Dunseith, Letaine,was a very able English Teacher. Why do I know? Because she taught my brothers,  and since parents with their disabilties did not go to conferences… I did.
While as teacher, in Dunseith, a character trait goal I remember of Letaine; students looking at everyday on Letaine's door was ….." BE YE KIND"….  And KIND  she is. She lived it. Former students will probably remember Letaine as a fine teacher who was always respectful of all, young or old, brown or white, poor or rich. And  quick thinking on her feet and very WITTY.
Thanks for asking.
A former Dunseith and Bottineau co-teacher,  Vickie Metcalfe
Letaine's mailing address and phone number
Medcenter One
Letaine Brandt
300 N.  Seventh St.
Bismarck, ND  58501
Her phone # is 701-323-  and ask for Letaine Brandt's room. They have been moving her around a lot.  That # will get the main hospital and they will transfer to her room.
You will not have to use Letaine's maiden name with the address for any letters

Reply from Ardy Bakken Horner (former teacher): 
Gary  If anyone ever goes to Holden Village (Lutheran retreat Center) in Washington, they can still experience a bowling  with hand
set pins, my kids were amazed to see it on our visit there.  Ardy Bakken Horner
Reply from Marlene Lilleby Plmquist/Larson (53): 
Gary
Thanks for adding me to your list, have enjoyed reading the Dunseith alumni news.  After being gone so many years I even still remember some of the names appearing.  What ship are you all going on for the Alaskan Cruise on July 24th?
Thanks again.  Marlene Lilleby Palmquist/ Larsen
From Erling Landsverk (44): 
HI GARY!
I HAVE BEEN ENJOYING READING ALL THE MEMORBELIA FROM ALL OUR OLD NEIGHBORS AND FRIENDS, OR RATHER THE DECENDANTS OF OUR OLD NEIGHBORS AND FRIENDS.
HOWEVER, I HAVEN'T READ ANYTHING ABOUT THE FIRST RETAIL MALL IN THE HILLS.  THAT WAS OF COURSE SANDER AND EDDIE JOHNSONS CONVENIENCE STORE LOCATED ON WHAT WE CALLED THE METIGOSHE ROAD, BUT NOW IN THE MORE MODERN TIMES IS REFERRED TO AS HIGHWAY 43.
ALTHOUGH THE STOCK WAS SOMEWHAT LIMITED, I DO REMEMBER WALKING CROSS COUNTRY TO BUY COPENHAGEN FOR MY DAD WHO WAS HAVING A NERVOUS TIME OF IT WITHOUT THE NASTY STUFF AS MOM CALLED IT.
I WONDER HOW MANY OF THE READERS REMEMBER THE LITTLE STORE.
ERLING LANDSVERK
Erling,I remember Sander & Eddie Johnson very well. I was only 13 years old when Sander died, but I still remember him well.  Laverne Rude, these guys were your great uncles.McKay siblings, Sander lived less than 1/4 mile from you uncle Elmer Lindberg, your mother Alice's brother. Your mother would have been neighbors to the Johnson's too, in her growing up days.  I will never forget Sander's glass eye.  I remember Eddie helping some of our neighbors, at different times, with tasks they needed help with.  The Johnson farm was located about 1/2 mile into Bottineau county on the Metigoshe road.  I remember Sander with his cream station in his house along with his little store and gas pump outside.  Sander's funeral, at Salem church, is one of the first funerals that I remember ever attending.  Laverne, I remember Sander being at your house, really often, when we'd visit you guys.  My dad was the executor of Sander's estate after he died.  I remember it as being quite a complicated estate.
I found a picture of Sander with his cream truck, from the 1984 Bottineau Centennial book,that I have pasted below.  That sure looks like the Lindberg barn in the back ground.  Gary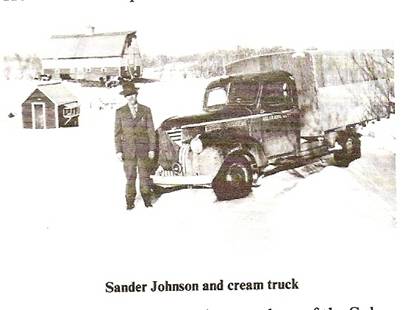 Picture provided by Neola Kofoid Garbe: neolag@min.midco.net
Gailord, this is a great picture. Is this your HS senior picture? Gary
                                  Dunseith High SchoolClass of 1956
 
Last
First
Address
City / State / ZIP
Phone
Email
1
Awalt Houle
Bonnie
16809 127th St Se
Becker, MN 55308
(763) 262-3534
houle@izoom.net
2
Bedard Lamoureux
Gayl
1654 Angus Pl
Chino Valley, AZ 86323
(928) 636-4673
4673glamx@msn.com
3
Boucher
Elmer/Joanne
Route 2
Rolette, ND 58366
(701) 244-2180
ejboucher@ndak.net
4
Conroy
Don
918 1ST AVE SW
MINOT, ND  58701
(701) 838-1389
donjconroy@gmail.com
5
Cota
Gary
774 9TH ST E
DICKINSON, ND  58601
701- 290-2550
No email address
6
Espe
Dennis
16 3rd St.
Dunseith, ND 58329
(701) 244-5724
peggyespe@yahoo.com
7
Haagenson Rainey
Neva
RR 1  Box 5
Dunseith, ND 58329
(701) 244-5482
No email address
8
Hiatt Fugere
Lois/Orelle
1790 W Star Lake Dr
Elma, WA 98541
(360) 482-3010
No email address
9
Hill
Kenneth
RR 1  Box 5
Dunseith, ND 58329
(701) 244-5482
No email address
10
Hosmer
Bob
18606 52nd W. #222
Lynnwood, WA 98037
(425) 673-6254
rkhosmer@comcast.net
11
Leonard Workman
Janice
2610 25th St SE
Auburn, WA 98002
(253) 833-7619
janice_workman@earthlink.com
12
Lider Williams
Caroleen
408 BRANDER ST
Bottineau, ND 58318
(701) 228-3891
No email address
13
Parisien Cuffe
Ellen
Born June 25, 1938    –    Died November 7, 1995
Deceased
14
Pigeon
Curtis
Born October 31, 1937    –    Died April 3, 2006
Deceased
15
Pigeon
Kenneth
3284  92nd St
Rolette, ND 58366
(701) 244-5448
No email address
16
Poeppel
Bruce
Born January 24, 1938    –    Died April 24, 2001
Deceased
17
Rohrer Pahulick
Clarice
16559 Labradore
North Hills, CA 91343
(818) 892-5616
Went through 4th grade in Dunseith. Does not remember many folks.
18
Watkins
Elaine
Born January 1, 1938    –    Died July 7, 1993
Deceased