Happy Birthday Lorraine Richard Nelson (DHS '46): Mesa, AZ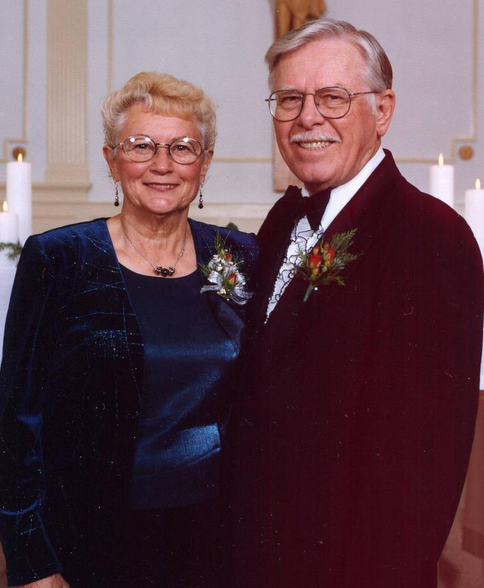 Happy Birthday Alan Poitra (DHS '76) Bloomington, MN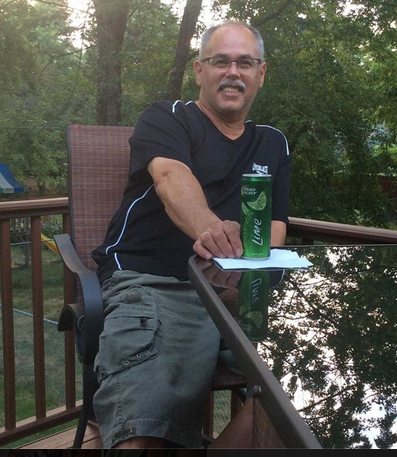 Lillian Bergstrom/Cain/ Thompson's 98th birthday (Dunseith H.S. 1936 ).
Posting from Ron Cain:  Superior, WS
Greetings Gary:
Family members will be gathering this afternoon in celebration of Lillian Bergstrom/Cain/ Thompson's 98th birthday (Dunseith H.S. 1936 ).  Other than some difficulty in hearing- she is doing well and needs no prodding in recalling stories of her youth and family.  Her beloved state of N.D. remains strong in her heart and we always enjoy hearing her stories.
Ron Cain (son)
Ron,
Thank you so much for sharing this with us. Lillian, to my knowledge, is the oldest living Dunseith High School Graduate.
Lillian was a sister to Ella Pladson and Esther Tangen.
She was a first cousin to my Dad, Bob Stokes. She was also a first cousin to Robert, Corbin & Winifred (Eurich) Pritchard.
So Ron, we are all related.
Please wish your mother, Lillian, a very happy birthday from all of us. Tell her we are thinking of her.
Gary
Message from Orval Moren (Peace Lutheran Pastor):  Coon Rapids, MN
Hello from Orval Moren, (Pastor at Peace Lutheran Parish1960-63)
Thank for keeping me on your e-mail list.  Greetings to my congregants!
Leonard Fred Eller Passed away
Message from  Ivy Eller Robert ('74):  Bottineau, ND
Gary,
My brother Leonard Eller passed away yesterday just before 2pm. He is at peace now. The funeral will be sometime next week, not sure yet.
Ivy (Eller) Robert 74
Ivy, Our condolence are with you and Leonard's family with his passing.  Gary
Postings from Neola Kofoid Garbe: Bottineau & Minot, ND
Leonard Fred Eller, Sr.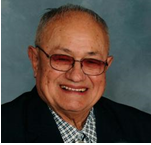 (September 15, 1932 – February 18, 2015)
Leonard Eller,Sr., age 82, of Belcourt, ND passed away on Wednesday, February 18, 2015 at Good Samaritan Society, Bottineau, ND.
A visitation will begin at 5 PM on Tuesday, February 24, 2015 at St. Ann's Catholic Church, Belcourt, ND with a Rosary Service at 7 PM. Funeral Mass will be Wednesday, February 25, 2015 at 10 AM in the church with Fr. Jeff Eppler presiding. Burial will be in St. Ann's Catholic Cemetery, Belcourt, ND in the spring.
Elick Funeral Home, Rolla, ND (www.elickfh.com).
Five Generations
Kathy Gregory, Dawn Gregory Allard, Melody Allard Lemke, Garrett Rude and Ian Rude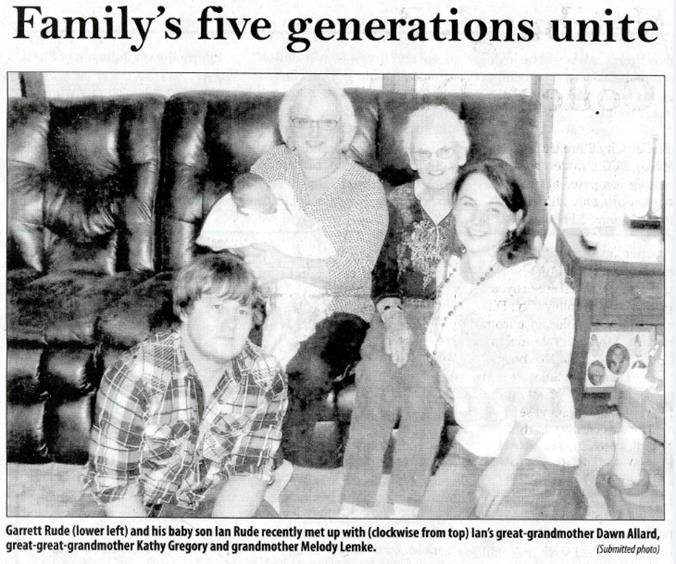 Gary,
I'm including info I received from Pat Corbin Miller, Don's sister.  She said it's OK to share it with you/your readers.
Neola
Hi Neola,
That's my brother Don, his wife (at the time), Leann, Bob and Dawn. Don is remarried. Don and Irene live here in Mesa. Leann is still single and lives in Bismarck. Dawn is a real estate agent in Scottsdale and Bob is a vp of Schwan's Co in Mn.
How's that for history..
Thanks for sharing.
Pat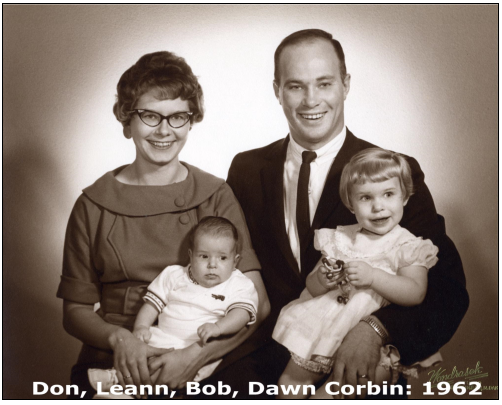 ====================================
Blog (256) posted on October 19, 2008

Update for Shirley LaRocque Wendt (59) from Susan Brew Roussin (59):
Shirley came out of her surgery fine, Wednesday, according to her sister, Ginger.  I'm sure many prayers were answered for her, her doctors, nurses and families.  Thanks much.  Love to one and all.
Reply from Bev Morinville Azure (72): 
Hey Lyle  great stories thanks for the memories. You  were and still are one of the  best story tellers of all times. Miss you bro and love ya
Reply from Mel Kuhn (70): 
Gary,
I just have a few questions for Lyle. How come I didn't know of these party places that you mentioned? Places like Beer Can Alley, the Butte, going to Canada and the likes of that. None of this must of been going on when I was in school. And here I thought that you underclassmen were the same straight-laced hard working young adults that we were[Class of 70]. I'm glad that I wasn't involved in any of those type of shenanigans. Shame on you guy's.
Mel Kuhn[70]
Reply from Sybil Johnson: 
Those pictures of the Peace Gardens are sure a deception of what it is today/the last time I was there. I use to escape from Bernice (ha!ha!) and go up there
as my refuge/ drive up from Minot several times, just for the refuge it gives. The Chapel is amazing with the Towers. Just walking around/driving was very peaceful.
I remember going up there early in the morning, when the ground fog was just rising and seeing 2 deer in the distance. What a sight! Sybil Johnson

Thank you from Neola Kofoid Garbe:  
Gary,
When you send one of your Dunseith Alumni emails, will you please include a message from me, thanking your many readers who respond in any way to the pictures I send to you, and you include in your mailing?  I really appreciate the identifications/mailing addresses/requests for pictures/emails/etc. from your readers.  As you know, I thoroughly enjoy working with these pictures and getting them to people who are interested in having them.  It's going rather slowly, as I'm not a very organized person–I have pictures all over my apartment.  When I've been in Minot for awhile, I forget what I was doing with the pictures before I left, and I have to start over.  Uff da!!!
Thanks for all do, Gary.

Neola
Neola, That thank you should be reversed.  We thank you for everything you provide and have provided.  Your contributions are greatly appreciated.  Being primarily a Bottineau girl, you have learned to know many Dunseith folks doing what you are doing and they have for sure learned to know you.  We all know the time involved with the research and scanning of these pictures/articles that you provide, that we thoroughly enjoy.  THANK YOU.  Gary
Campbell family Picture provided by Neola Kofoid Garbe: 
Alan Cambell Family stamped November 27, 1970:
Top: Rich (68), Phyllis & Alan (42)
Bottom: Jeff (76), Cathy (73) & Dave (71)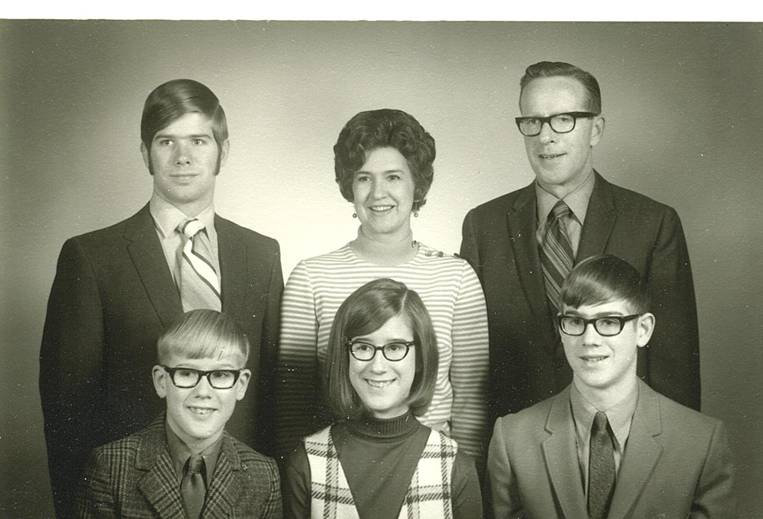 Reply from Dick Johnson (68): 
Gary and Friends,
Lyle Olson's memories of basketball at Campbell's was well remembered
and well written. Alan and Phyllis Campbell allowed many of us kids into
their home over the years. They always made us feel welcome. There were
rules we were expected to follow and we did. I know all the kids had,
and still have, a lot of respect for both of them and it was deserved.
We were either playing basketball in front of their garage or in the
basement playing pool or ping-pong nearly every day. One memory I have
about playing basketball there was on a day after I had been dressed up
for something and then stopped by Campbell's in my good clothes. My
folks had bought me a new pair of shoes I really wanted. They were for
the prom or something, fancy wingtip brogues. I remember Mom saying they
would buy them, but I better take care of them because they cost $35. It
was a lot for shoes in 1966. Anyway, after I got to Campbell's, still in
my suit clothes, we got into a hot and heavy basketball game. The
jackets came off and we got down and dirty to beat the other team. After
about an hour I thought I felt something on the bottom of my foot,
probably a blister. It finally caused me enough trouble that I looked at
the bottom of my new shoes and one had worn completely through to my
sock from the rough concrete! I knew I was dead or worse! I wore those
shoes for a long time with a piece of cardboard in the bottom so they
wouldn't know what I had done. I nearly panicked any time I had to kneel
or sit where my folks might see the hole in my shoe! After I had them
for quite a while I got Alphie Dion to halfsole them and all was good
again. I remember keeping them polished so my folks wouldn't pick them
up. They probably wouldn't have been that mad anyway, but when you are a
kid you think like a kid! Thanks Gary!
Dick

Reply from Tim Martinson (69): 
Hi Gary,
I've dusted off the keyboard after the letter from Lyle Olson so
that I could send this picture of Lyle
and myself and tell what led up to a road trip and this picture in
the first place.
One of the most enjoyable times of my life was at the end of the
summer when there was a small
break in the happenings at the Bakery.  The baking for the Music Camp
at the Peace Garden was
finished and the area schools had not yet started.  When I was young
dad baked for the day schools
in the hills and also for the Belcourt school.  I went along on many
of these delivery trips through the hill
country, always full of questions, but I think dad really had me
along to ride shot gun and keep him
from dozing off, yet he would always tell me to pay attention and
watch out for deer and other animals
that may be on the road.
A family vacation was usually a weekend ( Sat/Sun).  The favorite
spot to go to was Riding Mountain
National Park, north of Brandon, Manitoba.  Everything had been
planned ahead and all the baking for
town had been finished and delivered.  So off we went on a Friday
night road trip to get away.  Dad would
usually get a small cottage rental so that when we arrived we hit the
sack knowing we had two days to
do whatever, and for Terry and I it was dad can we ride the go carts
as soon as it opened.  We would go
swimming in Clear Lake, take in the Museum, go bowling, and take in
all the sights and sounds of that
little get away up north.
My first and longest lasting memory of one of these vacations was of
finding a melted popsicle and its
stick on the edge of a step landing.  I had to have been 3 or 4 and
picked up the stick and stirred it around
in what was left of the melted popsicle, just having a little fun,
but to the hornets that had found the sweet
syrup before I did it was an invasion of their property and they were
not going to put up with me poking
around in their business.  When my parents finally got to me I was
welted up all over and the hornets
were still in the attack mood.  Thank goodness for screen doors and a
water hose that saved the day.
Now back to the road trip and picture.  The last time I went to Clear
Lake was in the winter on a camping
trip and we walked in to the lake and set up tents.  It was below
freezing outside and getting colder as the
night went on.  The original plans were to try and get some pictures
of the Bison herd that roamed the park.
As I lay there in my sleeping bag the thoughts of getting trampled by
a Bison started to enter my mind.  Then
as the temperature grew steadily colder the lake started to moaning
and then to cracking and this went on
all night long.  The next morning with little sleep we gave up the
thoughts of pictures of Bison in the winter,
packed up, walked out and headed home with the lessons of mother
nature engraved in my head.
In the fall of 1972 I asked Lyle and Donald if they wanted to see
some new territory and they were up for it
so I planned a road trip (one day), we would travel up to Riding
Mountain National Park, where this picture
was taken at Clear Lake, back down to Brandon, across to Winnipeg and
then back home.  It was a fun
time and I hope they enjoyed it as much as I did.  It was the first
time I had traveled to Winnipeg and realized
how big that city was.
Lyle and I had taken a previous road trip by bike to Bottineau.  I
rode a old hand me down full size bike while Lyle
rode his small wheeled bike with the banana seat.  It seemed like for
every turn at the peddle I took Lyle would
have to take three to keep up.  He would fall behind and I would stop
and let him catch up all the time asking
him if he wanted to turn back but he did not so we completed our
journey, took a tour of Bottineau and headed
back home.       Take Care,  Tim
            Tim Martinson (69) & Lyle Olson (75) – Summer of 1972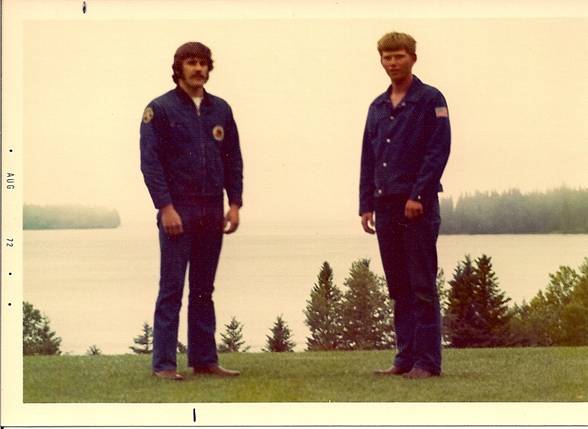 Dunseith High School Class of 1961
 
Last
First
Address
City / State / ZIP
Phone
Email
1
Allard
Merle
1303 Thompson St
Bottineau, ND 58318
(701) 228-2489
2
Anderson
Gerald
9207 Palm Shores Dr
Spring, TX 77379
(281) 379-1071
3
Awalt
Bill
1331 Silver Ridge Rd
Lincoln, NE 68510
(402) 327-9403
4
Bad Heart Bull Changed name to Banley
Lowell
Born May 23, 1944    –     Died February 2, 2003
Deceased                                  Cousin Tim 605-867-2482 SD
5
Bedard Whitmire
Nicole Renee
2820 Larkhall Rd
Columbia SC 29223
Goodwin (803) 788-3874
6
Bedard
Nikkey (Nick)
1348 Alpine St
Rock Springs, WY 82901
(307) 362-6800
No email address
7
Belgarde Benson
Priscilla
Lives in Mesa Arizon – Requested not to be on the list
Requested not to be on the list
8
Bergan Poitra
Shirley
PO Box 414
Dunseith, ND 58329
(701) 244-5305
No email address
9
Boguslawski
Thomas
2702 Meadowlark Dr
Lewiston, ID 83501
(208) 746-9899
No email address
10
Boppre Weaver
Donna
123 Millers Dr
Tolley, ND 58787
(701) 386-2882
11
Casavant Boucher
Annette
Box 56
Rolette, ND 58366
No Phone
No email address
12
Casavant Aamodt
Lorette
512  4th St SE
Rugby, ND 58368
(701) 776-2301
No email address
13
Counts
Warren
Born Febuary 24, 1943   –   Died March 15, 2005
Deceased
14
Gottbreht
George
PO Box 99
Dunseith, ND 58329
(701) 244-5406
No email address
15
Gouin Craig
Cecile
1242 Teakwood CT
Windsor, CO 80550
(970) 686-0253
16
Haagenson Sedlacek
Janet
224 Riverview Dr W
Great Falls, MT 59404
(406) 771-0851
No email address
17
Handeland Millang
Lorranine
836 Nichol St
Bottineau, ND 58318
(701) 228-2422
No email address
18
Johnson
August
Lives in Minot – Requested not to be on the listt
Requested not to be on the list
19
Kalk
Rodney
59 Lake Metigoshe Park
Bottineau, ND 58318
(701) 263-3126
20
Lang
Dwight
8255 N Oracle Rd, # 112
Tucson, AZ 85704
(520) 219-9435
(summer) Lake Metigoshe
Bottineau, ND 58318
(701) 263-6775
21
Longie
Adolph
1314 W Frederick Ave
Spokane, WA 99205
No email address
22
Millang
Dale
Route 1 Box 27b
Dunseith ND 58329
(701) 263-4146
23
Moe
Orrin
802 24th Ave SW
Watford City, ND 58854
(701) 842-6431
No email address
24
Morgan (Wife Gini)
John-Deceased 7/1/43 – 7/21/03
23784 Stony Bar Cir
Pelican Rapids, MN 56572
(218) 863-5962
No email address
25
Pigeon
Bruce
PO Box187
Garrison, ND 58540
(701) 463-7279
26
Salmonson
Bradley
3037 E 81st N
Idaho Falls, ID  83401
208-525-8022
27
Salmonson
Stanley
Route 1 Box 130
Dunseith, ND 58329
(701) 263-4613
28
Smith
Ronald
Rt 1 Box 35
Dunseith ND 58329
(701) 263-4226
No email address
29
Smith
Wayne
1425 108th St NE
Bottineau, ND 58318
(701) 263-3455
30
Spaeth Espe
Patricia
219 10th St E
Bottineau, ND 58318
(701) 228-3549
31
Wurgler Salmonson
Joan
Route 1 Box 130
Dunseith, ND 58329
(701) 263-4613
32
Zeiler
Lyle
RR #1  Box 119
Dunseith, ND 58329
(701) 263-4722
No email address