Happy Birthday Paulette LaCroix Chisholm ('68):   Newark, DE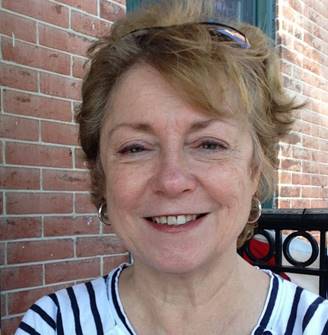 Happy Birthday Bobbie Slyter ('70): Wichita, KS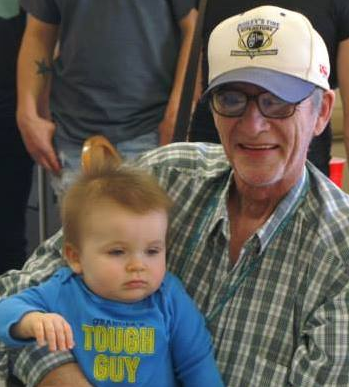 Happy Birthday Dianne Robert Johnson ('76): Rolla, ND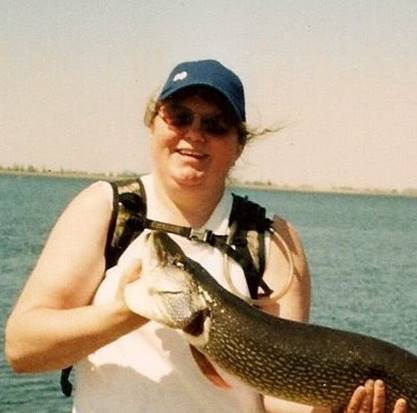 Age Correction for Lillian Berstrom/Cain/Thompson
From Ron Cain:  Superior, WI.
00PS!  Correction.  Lillian Bergstrom/Cain/Thompson recently celebrated w/family her 99th birthday (Feb.21)-not her 98th.  Ron Cain
Don Corbin Family Photo
Reply from Bob Lykins (DHS Teacher):  Hutto, TX
Gary,  Great photo of Don Corbin and his family.  Once again you have brought forward great memories.  Don and Leann lived just across the street from the apartment that Evelyn and I had those first years of our marriage.  We spent a lot of time visiting with them.  At school the science storeroom and Don's unofficial office was also a favorite gathering place for Hepper, myself and Bob Jury to take a break along with Don and catch up on the day's events.  Nice to learn about what has happened to the family as I lost touch with Don many years ago.  That's what makes this blog so marvellous.  It looks like I will not be able to make it to the reunion this summer.  A friend and colleague from overseas will be visiting and we will head to Chicago for a get together with other folks from my days in the Pacific and Europe.  Hopefully you guys will have another get together that I can make.
Bob Lykins
2/23/2015 Cebu, Philippines
On our way to the February Cebu Expat dinner at the Quest hotel.

2/23/2015 Cebu Expat dinner at the Quest Hotel
With 132 from our group, they gave us their whole main dining area.
They had 50 regular walk-in customers that they seated in side rooms.
Our good friend Em-Em. Note: Art Hagen in the red shirt standing on the right.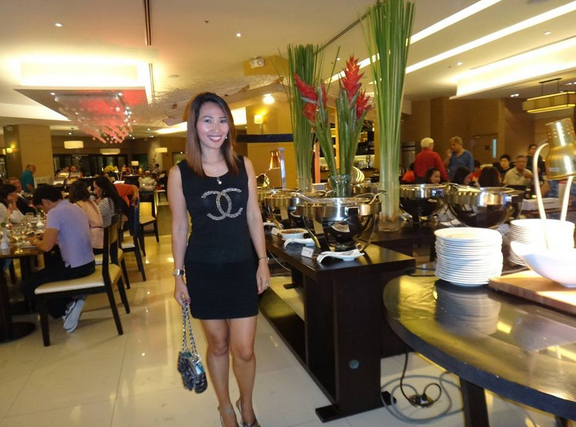 Joke of the day
Posted by Don Malaterre ('72):  Sioux Falls, SD
Patrick Flanagan came home drunk every evening around ten.
Now, the Missus was never too happy about it, either.
So one night she hides in the cemetery and figures to scare the beejeezus out of him.
As poor Patrick wanders by, up from behind a tombstone she jumps in a red devil costume screaming,
"Patrick Sean Flanagan, sure and ya' don't give up you're drinkin' and it's to Hell I'll take ye'".
Patrick, undaunted, staggered back and demanded, "Who are you?".
Too that the Missus replied, "I'm the divil ya' old fool".
To which Patrick remarked,
"Damned glad to meet you sir, I'm married to your sister."
====================================
Blog (257) posted on October 20, 2008
From Lyle Olson (75): 
Gary and all:
I received quite a few personal responses to my stories and one of the people mentioned my good friend George Malaterre.  George was (and is) an amazing guy.  He was quite the athlete in his day.  He played basketball with a "big man's" sense of position, even though he stood only about 5'8″ tall.  Some of my fondest memories center around stamping VOIT across his forehead a number of times when he tried to make a shot and I stuffed him.  He was also an excellent football player – he was fast and could catch any ball thrown to him.  Many people know he was a great boxer as well.
I am sure many people remember George boxing Bob Brennan at the Honsey garage.  However, how many remember the undercard in that fight.  Well, among others, Curt Berg and I boxed..  Now I was an 8th grader at the time but quite big for my age.  Curt must have been a sophomore and everyone knows that he had attained high school size in the 5th grade!!  He was the epitome of a lean, mean fighting machine and I was talked into lacing up the gloves and boxing him.  It is now hard to believe that anyone that dumb could have made it through law school and became a federal Administrative Law Judge!!!
Well the fight between George and Bob was quite the attraction as it pitted a city kid against a hill kid.  Hence, the Honsey garage was packed with kids from all over.  I remember having George lace up the boxing gloves for me and Curt Berg looking at me with a sick smile across his face.  Looking back now I should have realized then and there that my life was about to flash before my very eyes — dead and not even a freshman.  Well, too late to back down I stepped out to meet Curt on that hard cement floor.  I do not really remember if a bell rung but the fight started and I immediately started dancing around like I knew what I was doing.  Well, Curt – never one to waste time doing anything – walked right up and him me square in solar plexus, better known as a soft belly not used to hard work.  He hit me so hard I literally saw stars and all the wind left not only my body but also took with it any sense of time or position.  The fight was over in matter of seconds.  Curt showed some remorse but not much.  I think he would have preferred that the fight had lasted a few more seconds if not at least one round so he could rearrange a tolerable looking face!  However, I robbed him of that pleasure – my only victory of the night!
The main event between George and Bob take place and all agreed that while Bob put up a valiant fight, George was easily the victor.  City kids ruled, at least for that night.  Bob and George remained good friends over the years.  As for Curt and I, we also remain good friends.  Indeed, Keith (Curt's younger brother) and I traveled to Curt's place in Colorado a couple of times to play golf with Curt in Grand Junction and Fort Lupton several years ago.
Now back to George.  Many know he worked as an ambulance driver for the Indian Health Services in Belcourt.  When my stepfather had a medical crisis George was the ambulance driver.  He called the hospital the next day and I talked to him.  He was sincerely interested in how my stepfather was doing and how my mother was doing.  When my mother was dealing with cancer she experienced many seizures and had to be taken the hospital many times.  George was again the driver on many occasions and each time he reached out to see how she was doing.  That is George, fists of stone and the heart of a Dunseith Dragon!
Corbin Family in 2004, provided by Dawn Corbin:
Folks, Dawn Corbin (Mr. Corbin's Daughter) has provided these pictures of her family, the Corbin family.  These pictures were taken at her brother, Scott's Wedding, in 2004. These are great pictures! What a beautiful family.  Mr.Corbin looks great!  Many of us have not seen him sense the 60's, when he was teaching at DHS. As most of you know, Mr. Corbin was born and raised in Bottineau.  His dad was Otto and was the owner of Corby's trading post in Bottineau for many years.
Dawn, please let me know if I have miss identified you guys in these photo's.
Back: Dawn, Mark & Bob
Middle: LeAnn, Mrs. Scott, Scott & Don (Mr. Corbin)
Front: Terri & Irene (Mr. Corbin's wife)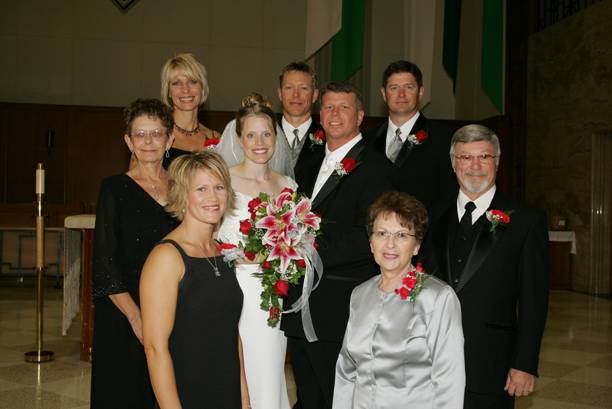 Don & LeAnn Corbin's Children:
Mark, Dawn, Scott, Terri & Bob Corbin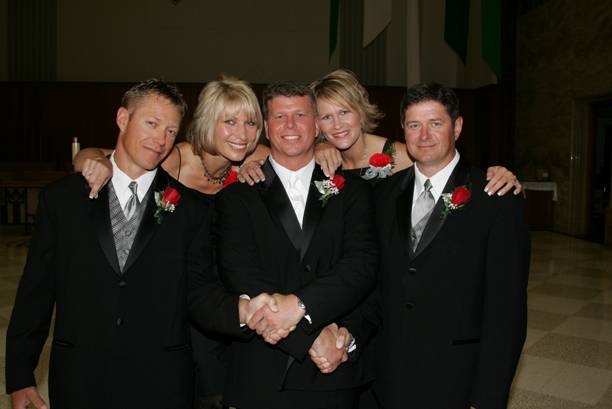 Corbin Family with grandchildren

                                   Dunseith High School Class of 1962
 
Last
First
Address
City / State / ZIP
Phone
Email
1
Aamodt
Larry
16383 West Preston Av
Goodyear, AZ 85395
623-935-3502
2
Abrahamson Wagers
Elaine
PO Box 1994
Auburn, WA 98071
253-373-1815
3
Allery
Hubert
  653 4th Ave. N  Appt # 1
Fargo, ND 58102
(701) 730-6402
4
Bedard
James
1119 S Main St
Sheridan, WY 82801
307 655-5761
No email address
5
Bedard McDaniels
Jean
533 Great Falls St
Falls Church, VA 22046
703-241-7874
No email address
6
Bedard McClanahan
Juay
3638 Kunz Ct, Unit D
Fort Collins, CO 80526
970-266-0868
7
Bedard Strong
Margaret
PO Box 427
Dunseith, ND 58329
(701) 244-5583
No email address
8
Berube Franchuk
Rachael
20481 Jacklight Ln
Bend, OR 97702
9
Berube
Robert/Jeanie
3620 Pine Knot Dr
Valrico, FL 33596
(813) 654-0551
10
Bott Maier
Mary
827 Highway 13 SE
Linton, ND 58552
(701) 254-5381
No email address
11
Burcham Sime
Connie
RR 1  Box 105
Dunseith, ND 58329
(701) 263-4579
No email address
12
Coleman
Clayton (CJ)
PO Box 791
Dunseith, ND 58329
(701) 389-0066
cjcconstruction@invisimax.com
13
Delorme Gunville
Doris
Born September 25, 1944    –    Died January 24, 1999
Deceased
14
Eurich Knutson
Mary
10549 23rd Ave NE
Dunseith, ND 58329
(701) 263-4345
No email address
15
Fauske Monte
Connie
162 DAVES VIEW DR
Kalama, WA 98625
(360) 673-1620
16
Grenier
Ronald
908  1st  Ave
Rolette, ND 58366
(701) 246-3246
rongQutma.com
17
Hosmer Baldwin
Nancy
65 Westergaard Rd
Bottineau, ND 58318
(701) 263-6383
18
LaCroix
Charlotte
PO Box 30
Kalaupapa, HI 96742
(808) 567-9280
19
LaRocque Eden
Joann
Box 911
Dunseith, ND 58329
(701) 244-0856
No email address
20
Lopez
Carlos M
21
McCoy
James
PO Box 486
Dunseith, ND 58329
(701) 244-5748
No email address
22
Metcalfe Barden
Helen
3233 D 15th Ave S
Fargo, ND 58103
(701) 232-6156
23
Nadeau St Claire
Mary
Born July 25, 1943    –    Died July 3, 2001
Deceased
24
Pearson Zeiler
Sharon
RR #1  Box 119
Dunseith, ND 58329
(701) 263-4722
No email address
25
Parlade Corral
Maria (Maruchi)
2618 San Domingo St
Coral Gables, FL 33134
(305) 445 3570
26
Pladson Sime
Florence
RR #1 Box 16
Dunseith, ND 58329
(701) 263-4710
27
Pritchard
John
Born October 2, 1943    –    Died October 3, 1984
Deceased
28
Sime
Daniel
PO Box 29051
Laughlin, NV 89028
(702) 358-3433
No email address
29
Williams
Richard
PO Box 1002
Belcourt, ND 58316
(701) 477-5127
No email address
30
Zeiler Vandal
Sandra
13520 231st Ave NW
Elk River, MN 55330
(763) 441-3412
31
Zorn Gerdes
Sharon
6592 Aberdour Circle
Windsor, CO 80550
(970) 797-2013