Lillian Thompson Cain Bergstrom (DHS Class of 1936) Celebrates 100th Birthday
Posting from Ron Cain: Superior, WI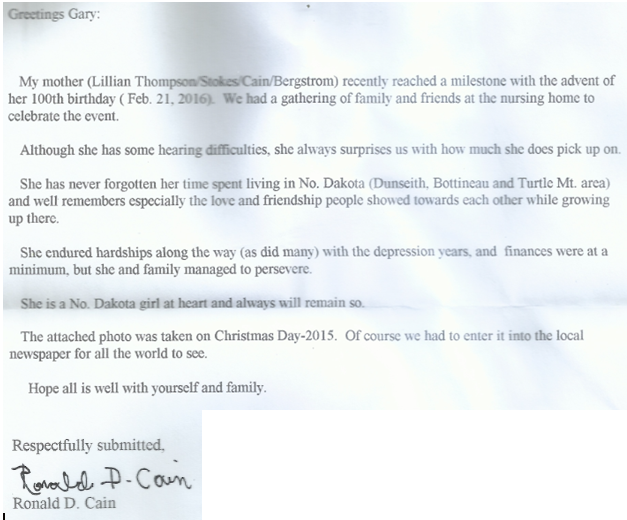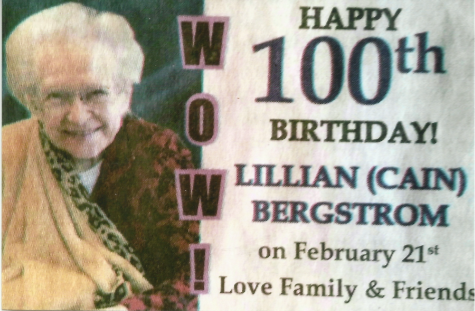 Gary's comments
Thank you so much Ron for this memo and picture of your mother. She is a sweet lady as were her sisters Ella Pladson and Esther Tangen.
Lillian was born and raised in the Ackworth community east of the Fauske Farm. Lillian's mother was a Stokes, sister to my Grandfather Frank Stokes. Her dad's sister, Ida Pritchard was married to William Pritchard, parents of Robert, Corbin and Winifred Eurich.
Lillian left the community before I was born, so I have never had the opportunity to meet her in person. In 2008 when I was putting class lists together I called Lillian. We had a great one hour plus visit. He mind was sharp and she remembered the finest details of her growing up days and the community. Having been raised in the same community plus being related, we had a lot to talk about. Other than  for some hearing loss, I understand that her mind is sharp.
To our knowledge, Lillian is the oldest living to have ever graduated from Dunseith High School.
Thanks again Ron. It was such a pleasure meeting you last July too, when I was back there. I so appreciated your efforts to make the trip from Wisconsin to Bottineau to see me. Very much appreciated. You mother raised a fine kid with you.
Gary
Seim Memory
Posted by Vickie Metcalfe ('70):  Bottineau, ND
Gary and friends,
Our Metcalfe family  had our  own animal husbandry expert.  He had
powerful working knowledge.
It was with a wee bit of sadness, I was fortunate to obtain at his auction sale, his worn book on animal husbandry, picture of the dog and lamb that hung above He and  Fa fa's bed and
….his fathers,  SJ branding irons..
A few years back while I was a new  resident of Montana, driving
across that state to various meetings, I saw many beautiful cattle herds.
I soon  had a favorite herd!  I would slow down to look for  and watch them when traveling interstate west of Billings and Columbus.
I wondered  'if that herd  was some sort of strange Angus cross bred?' I knew I needed to ask the expert.
Whilst visiting with my friends, Fa-fa and King Fra, I posed the
question to them.   At that time.  Art and Eva Seim were still
traveling from N.D.
through  Montana and  beyond,  turning South of Missoula venturing
to  their California  winter home upon  retirement.
I asked Art  if he'd seen  the fine looking herd west of Billings
that I fancied.   I said,  'There is a whole herd! Fat, sassy,shiny
and belly deep in a meadow.
They  are black and white.  They aren't  Holstein.  And  not black baldies."
Art asked me to tell him more, I said, "They are the most beau-T- i-
ful    "Oreo looking cattle".
They are black with a white stripe around the middle.  "No ",  Art said he  had not seen that herd.
But the  next spring, when   Art and Eva traveled back again into
Dunseith.   The first words Art shared with me was,  "I saw the cattle
you think look like 'Oreos'.
They are beautiful"!   Wow I thought.  He remembered.Had looked and
found them!
Then  Art told me the proper name for the Oreo cows,  He said, 'Vickie,  They're Belted Galloways!
Until Later,
Vickie
Ice Storm
Message/pictures from Dick Johnson ('68):  Dunseith, ND
Gary and Friends,
Here are some pictures of the devastation caused by freezing rain last night in the Turtle Mountains.  We had lots of rain but it turned to ice after the temperature dropped below freezing and the build up was more than the trees could take.  They snapped off by the thousands and I could hear cracking and popping all over the place as they snapped off and fell on the ground.  The trees along the lake shore usually kind of lean out over the water.  Today they are all in the lake as they couldn't stand the added weight and just uprooted and fell in.  It's a sad looking mess.  It's raining again tonight and the temperature is near the freezing point again so it may repeat and do more damage by morning.  The pictures don't really tell the story because any direction you look,  there are more trees down and trees still standing without many branches left.  It will be a long time to get this mess cleaned up.  Thanks Gary!
Dick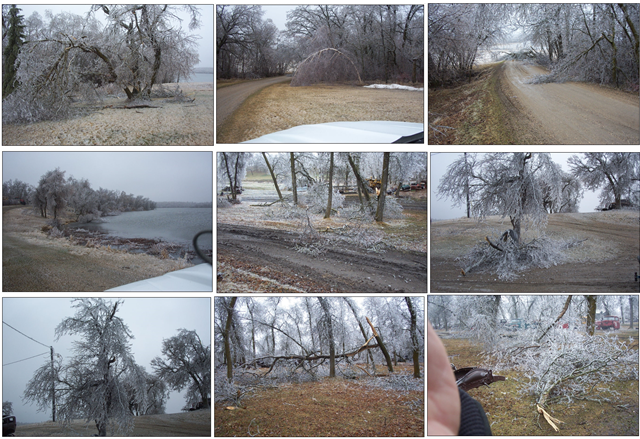 Posted by Neola Kofoid Garbe:  Bottineau & Minot, ND
Shatehya Lynn Azure | 1997 – 2
SHATEHYA LYNN AZURE
Shatehya Lynn Azure, age 18 of Dunseith, died on Friday, April 8, 2016 in a vehicle accident near Dunseith. Funeral services will be held on Thursday, April 14, 2016 at 10:00 A.M. in the St. Michael's Catholic Church of Dunseith. Burial will be in the St. Anthony's Cemetery of rural Dunseith. A wake will be held on Wednesday beginning at 4:00 P.M. with a prayer service at 7:00 P.M. in the Eagle Heart Cultural Center also of Dunseith.
Shatehya was born on August 4th, 1997 in Rolla, ND to Brad Azure Sr. and Tracy Lesperance. Shatehya received her wings on April 8th, 2016.
Our pretty baby girl was born with dark hair and dark eyes, and grew into a beautiful young woman! She attended school in Dunseith, graduated 8th grade from the Dunseith Indian Day School, and then went on to Dunseith High School. Shatehya always had a passion for baking and making the prettiest little desserts. When family had a get together, they could always count on Shatehya to do the baking and any desserts needed for any get together. She loved being with her horses and any chance she could get to ride, she would!! Shatehya loved being with her friends, and loved taking selfies. Her greatest moments were spent with her little sisters and brothers. She would take them out and do photo sessions and just loved capturing moments on her camera.
She spent many days riding four wheeler and her motor bike with her siblings. Loved to go mudding with her older brother and friends. She loved spending every moment with Daddy whether it be fixing cars, riding or grooming horses, cooking (which they both enjoyed) and spending time with family at holidays or get-togethers.
Shatehya is survived by her father Brad Azure Sr., her mother Tracy Lesperance, Brothers-Brad (Shakara) Jr., Chase James. Sisters-Sadie Lynn & Sophee Lynn, all of Dunseith, ND; Paternal Grandparents – Larry & Alva Gladue of Dunseith, ND; Maternal Grandparents – Anthony & Arlene Azure of Dunseith, ND; Uncles – Kendall (Heather) Gladue of Minot, ND. Loren (Kylie) Gladue, Dunseith, ND; Aunts – Holly (Derrick) Poitra of Dunseith, ND. Diana Lesperance of Bismarck, ND. Vanessa (Tyler) Gunderson of Savannah, GA; Friend Ryan, and many more uncles, aunts & cousins.
Shatehya was preceded in death by her baby brother Brett James. Great Grandmothers, Agnes Azure, Diana Lesperance, Kathleen Gladue & Louise Chase. Great Grandfathers Frank (Lum) Azure, Clyde Chase, John G. Gladue, Peter Lesperance & Peter St. Claire. Grandfathers; Robert Chase & Leslie Machippines. Two Uncles Terrance Lesperance & Anthony Azure Jr. Many more aunts, uncles and cousins, which are too numerous to mention.
Posted by Neola Kofoid Garbe:  Bottineau & Minot, ND