Folks,
With a few health issues, I have not gotten a blog posted since September 20th.
On Sunday 9/23 I had an upset stomach and was quite dizzy when sitting upright and standing. I attributed to a flu bug sickness expecting it to pass.
On Monday, our helpers strongly suggested I have my BP checked. It was very high. I immediately  went to the local hospital. Within an hour and half they were able to get it down to an acceptable level. On Tuesday I had a very thorough physical with all the Labs, ultrasounds and heart tests.
Wednesday when I was at Clinic for a follow-up on my lab tests, I got a message that Bernadette had fallen face down. The local hospital immediately sent her to the main hospital, where I just happen to be, for a CT scan of her head and other X-rays too. When she arrived she was accompanied with 7 of the local folks from our area inclusive of 2 of our helpers. The third helper was with me. She was admitted and spent two days in the hospital. Her CT scan was good and there were no broken bones. Our three helpers/caregivers stayed the entire time in the hospital with Bernadette too. She was well taken care of.
My Labs were all good. They are monitoring my BP for the next two weeks to get it stabilized at a target level. So far all is well.
This is my first time to be on BP meds. When I last had my annual physical 16 months ago, my BP was OK. Now that my BP is down, I feel so much better too.
Gary

Facebook comment from Lee Stickland ('64)
Gary you may want to back off on your social calendar. Just a thought. your blood pressure is could be driven up psychologically from your concerns for your dear wife also you have quite a crowd of folks that you're responsible for and that activity can help to elevate your physiological responses also no I am not a physician but I'm speaking as a friend. When I was discharged from Bismarck following my bypass surgery I got home to hear at the Evergreen in my blood pressure dropped out of sight that same evening so they put me in the hospital and gave me some fluids and 2 units of blood. It would be interesting to know what you're hemoglobin or hematocrit count is because you're burning up a lot of energy with how busy you keep and how many people you are being responsible to and for. It is so wonderful that you have those folks there to help you. It appears that the are there because they want to be not only because they know that they are needed. Bernadette is fortunate lady she has your love and she has the care of so many folks. Gary, I speak as a gentleman who has a graduate degree in public health, the day will come when it would be best for all, that Bernadette be placed in a care setting where everything is at hand immediately comfortably without episodes of problems developing out of the blue that need to be dealt with because she will be in a safe place where all is available at all times. When that time comes, your blood pressure will go down, your daily duties will become way less hectic and your service to your folks that you have around you can remain the same. Attention to Bernadette will not be amended but the daily cares will be accomplished by folks who do those things for a living everyday are very accustomed to helping others. Certainly, no one knows Bernadette better than the folks that have been caring for her for the past few years. You know that Bernadette and you are in my prayers daily. Lee

Gary's comment.

Lee, Thank you so much for your concerns and this reply.   A lot of what you said may be true. Getting older is a contributing factor too.
Posted by Vickie Metcalfe ('70):  Bottineau, ND
Stanley A. Casavant (Margaret Metcalfe '65)
July 09, 1940 – September 23, 2018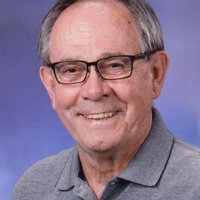 Stanley's Obituary
Stanley A. Casavant, 78 of Rolette, ND passed away peacefully on Sunday morning, September 23, 2018 at his home.
Mass of Christian Burial for Stanley will be held on Thursday, September 27, 2018 at 11:00 a.m. at Sacred Heart Catholic Church, Rolette with Reverend Paulraj Thondappa Thomas celebrating the Mass. Burial will be in St. Edward's Catholic Cemetery, rural Thorne, ND.
Visitation will be held on Wednesday, September 26, 2018 at the church from 5:00 p.m. until 7:00 p.m. with a Rosary and Scripture Service at 7:00 p.m. Visitation on Thursday will be at the church one hour prior to the funeral Mass.
Stanley Albert, son of Albert and Henrietta (Grenier) Casavant was born on July 9, 1940 at Bottineau, ND. He attended Russell Township School and Notre Dame Academy in Willow City, ND, graduating in 1958.
Stanley was united in marriage to his high school sweetheart, Rose Bachmeier on June 26, 1961 in Rugby, ND. They established their lifetime home on the farm at rural Thorne, ND where they lived, worked and raised their family. Rose died on April 13, 2014 after 52 years of marriage.
Stanley's passion was farming, but he worked at several other jobs in his life. He worked at San Haven, Harlow's, Pamida and as a rural mail carrier.  He was always very active in his church and the community.  He served on the Russell-Shell Valley Township Board, active in 4-H and was a Club Leader, a member of the Farmers Union Local.  The family attended St. Michael's Catholic Church, Thorne until it was moved to Rolette and then were active at Sacred Heart Catholic Church where he served as a Trustee for many years.  Stanley was a life member of the Knights of Columbus.
Stanley's life was very diversified. Stanley was the Thorne "historian, the "great ham" chef, a huge baseball fan, especially a Twins fan. At age 17 he pitched a no-hitter game, which he was very proud of, and played men's softball for many years. He was an animal lover and had cattle, pigs, angora goats and many dogs-always willing to take in the stray dogs that came around the farm.  Along with baseball, he watched all kinds of sports, especially the activities his children and grandchildren were a part of.  He tried to quit, but couldn't help himself and was a super Viking football fan.
Stanley was blessed to find love again and was united in marriage to Margaret Metcalfe Leonard on August 15, 2015 at Rolette where they made their home. These latest years brought much travel including trips to Australia, Tennessee, Missouri, Arkansas, Washington State, Ohio, Alaska, Ireland and Switzerland. Together, they were active in the church and community.
Stanley loved life, loved kids (he was a kid at heart), loved his Lord, loved his family and his many friends. May he rest in peace.
Stanley is survived by his wife Margaret; children Mark (Sue) Casavant, Minot, Deborah Anklam, Fargo, Jodi (Todd) Lagasse, Devils Lake, Brett (DeAnn) Casavant, Burlington and Lisa (Guy) Azure, Grand Forks; step children Nikki (Keith) Medalen, Towner and Chris (Lisa Kramer) Leonard, Cleveland Heights, Ohio; fifteen grandchildren Calahan Casavant, Shaydora (Matthew) Todd; Bobbi Jo (Dustin) Church, Krista (Cory) Wright, Nikki Anklam; Britton Lagasse, Jacob Lagasse (fiancé Alyssa Hornstein); Jayden Casavant, Jaren Casavant, Alyssa Casavant, Alyea Casavant; James Azure, Natasha Azure; Shamas Kirk; Oscar Leonard; six great grandchildren Alyvia, Aidyn, and Owyn Church, Brogan and Mox Wright, Weston Sebastian; brother Kenneth (Dorothy) Casavant, Pullman, WA; sisters-in-law and brothers-in-law Theresa (Frank) Brossart, Rugby, Marus (Bernice) Bachmeier, Phoenix, AZ and Emanuel Grad, Beulah; many nieces, nephews and cousins.
He was preceded in death by his parents; wife Rose; brother Conrad Casavant; sister Lorna Zeiler; father-in-law and mother-in-law Joseph and Katherine Bachmeier.
In lieu of flowers, memorial may be directed to the American Cancer Society
Gary's Comments:
I was so saddened to here this news of Stanley's passing. I had the opportunity to meet Stanley at our 50th DHS class reunion in July 2015. He was such a nice likable friendly gentleman sort of a guy. A very pleasant man indeed. Of course he was with and engaged to one the nicest, sweetest, down to earth ladies on the face of this earth too,  Margaret Metcalfe Leonard Casavant.
Margaret, Our condolences are with you and all of Stanley's family with his passing. I know you miss him dearly too. In the three plus years that you were with Stanley, you did so much together.    
Condolences
Posted by Vickie Metcalfe ('70):
Gary and friends
Sincere sympathy to Margaret , and the Casavant family on the loss of Stan.
My  first memories of Stan was  delivering our  rural mail to my
parents  farm.
He  always carried and held  respectful,  pleasant,  and  kind  qualities  which were reflected in his character  and personality.
Blessed be the memory of Stan.
Vickie Metcalfe
Condolences to the Joy Peterson Family
From Lyle Olson ('75):  West Fargo, ND
Deepest condolences to the family of Joy Peterson. I, along with many other boys from Dunseith, used to haul bales for Larrett and his father. The highlight of those hard days was the noon meal carefully prepared by Joy. A full meal followed by pie was enough to forget about day's wages.   I remember those days with great fondness.  She and Bill were also great friends to my grandparents, Bill and Mary Metcalfe.
Lyle Olson
Ella Berg Christianson/5 generation clipping
Posted by Neola Kofoid Garbe:  Minot, ND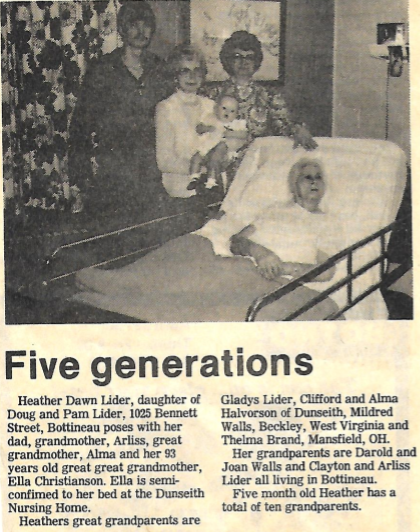 Cuppa
Posting from Vickie Metcalfe ('70):  Bottineau, ND
https://www.bbc.com/news/uk-scotland-glasgow-west-45548495
Gary and Friends of DUNSEITH School,
It seems where ever I have worked, the coffee pot is always on.  Workers like  coffee.
I have notice those of Scandinavian of Germanic heritage like their  coffee really strong and HOT.
I  admit, I am a weakling, lukewarm coffee drinker.  I figure It has to be in the genes
My Dad did not marry a person of Scandinavian heritage.  My uncle's, Lucky and Jim married women who made strong coffee.
Dad would  always say after  every late night visit to Jim's or Lucky's, "We won't sleep tonight.  "Ella/Jenny always makes a good lunch, but the coffee is too black".
Once I asked Uncle Lucky, "Should  I make another pot of coffee?" Adamantly he replied, ,"For goodness sake,  don't make it like your mother!"  Then kindly, " She  makes  a good lunch but I can see the bottom of  my cup under the coffee".  Uncle Lucky went on to tell of  a  woman, a Nelson, some odd relation to Jenny,  'Aminda?'_–NOW she could make coffee!  "Her coffee so___ good it's  black, thick  and strong the spoon stands straight up!
(_____ I'm sorry uncle I have no  magic coffee touch.)
My mom preferred  tea or very weak coffee. I've wondered if this was the influence of her  'Irish/ English/Penn'Dutch  parentage.
When purchasing tea, Mom always chose black tea and only made by… Lipton.
Whenever,  she expected John  Brennan  to be working at the farm, or a Brennan  to visit, she would  be certain to purchase Lipton  green tea.
She said,  "The Brennans only drink_ green tea."
I think back on my mother's statement now and think how  thoughtful folks were….  to graciously serve to the  personal preference of the guest.
My interest was piqued  when I came across the  BBC article  about  Thomas Lipton.
I  gathered he was a very admirable person; a  person born of poverty who worked hard  to succeed. And, a  gracious loser.
I was drawn to the statement ,  "It is said he banned all talk of religion or politics while on board."
In light of all the junk on the news, I'm thinking for the sake of  proper digestion, it would be a good idea  to ban talk of politics…….
while drinking  a good cuppa.
Until Later,
Vickie
==============================================
Blog (743) posted on March 14, 2010
Reply from Connie (Roger) Zorn: Bottineau, ND.
Hi Gary, It's allot of fun reading the Dunseith news. I didn't go to school in Dunseith so I don't know allot of the people who write in the news. I do know the Christianson's. Helen was a Rivard huh!! Is she related to Robert Rivard?? I knew Lillian Houle. She was a neat lady. I know her daughter Shirley. Doris Kessler wrote in the Botno Courant & did a good job. I see her allot @ Good Sam. take care Connie
Connie, Yes Helen Christenson is a sister to Robert Rivard. Both Robert and Helen are from my class of 65 too. Robert is married to Barbara Boucher. Her father and Mrs. Dale (Alma) Gottbreht are siblings. Robert and Barbara live on the Rivard home place near Rendahl church. Robert/Barbara and Helen/Duane plan on being at the reunion too. I've talked to them all, several times, in the past couple of weeks. Gary
Sylvia Bergan – Metigoshe Store:
Reply from Neola Kofoid Garbe: Minot & Bottineau, ND.
Hi Gary,
Sylvia Bergan baked pies (and other pasteries) for the "coffee shop" section of the Metigoshe Store. They were the BEST pies! I had never liked raisin pie; Mrs. Bergan's sour cream raisin pie changed that. To this day, sour cream raisin pie is one of my favorites (along with lemon).
Neola
Brian Fauske's (70) Wedding:
From his cousin Rod Hiatt (69): Bottineau, ND.
Hello Gary and all the Dunseith family
I believe Friday was the perfect day, the clear sky's, the sun shining for the first time in like months and the total warmth of the day. I actually felt that nothing could top this beautiful day, until my wife Suzy and I walked into the Vegas Motel banquet room in Minot to help celebrate the wedding of Brian Fauske and Deb Middaugh.
The happy couple met us at the door and the glow on there faces was by far more enlightening than the days sunshine, and the warmth you could feel from their love and sincerity was more soothing than the hottest sun rays of midday.
Arriving somewhat early(unusual for us), we had the opportunity of noticing how Brian and Deb greeted each and everyone that came to share in their joyous day. Both the bride and groom must be well known and very much liked as the banquet hall was filled to capacity with friends and family from Dunseith to the west coast, including Brian's sister's Connie, Carrole, Carrole's husband Laverne, and their daughter Melissa who drove in from Washington to surprise Brian and his new wife. Its always a great time when you have the opportunity to bring back the memories of cousins growing up in Dunseith.
I personally would like to welcome this beautiful woman into the Hiatt Family and thank her for putting that spark in my cousins eye.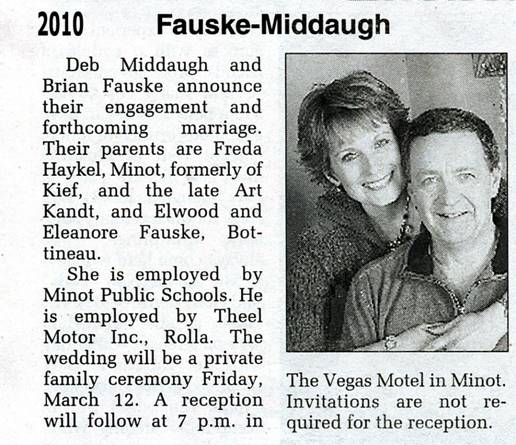 Rolette County History:
From Bill Grimme (65): Birmingham, AL.
A little bit of history…..
Dakota Territory was created in 1861 by a bill signed by President Buchanan just before his term ended. Two days after the territory was created, one of the first official acts of the new president, Abraham Lincoln, was to appoint his old friend, Dr. William Jayne, as Governor of the Territory, of which Yankton was then the capitol. By 1873, an act of the Congress divided North Dakota into counties and what is now Rolette County was then known as Buffalo County. Since then the boundaries were changed twice to form the present county and the name Rolette was given in honor of "Jolly Joe Rolette", a French-Indian fur trader who was a vital part of the development of the Great Northwest and what is now North Dakota.
In 1883, settlers were coming into the area locating primarily near St. John and Dunseith. Many of them felt the time had come for the county to be organized. In 1884 Arthur Foussard, M. Welton and Fred Schutte were named as County Commissioners. The newly formed board met near Dunseith to organize, Fred was named Chairman and Dunseith was established as the County Seat.
There were citizens who were not content to see Dunseith set up as the county seat of Rolette County. It soon became apparent that the people of St. John were prepared to make trouble. At any rate, St. John was determined to get the county seat at any cost. Although there is no record of any petition for a county seat vote, an election was held May 6, 1885. Much campaigning on both sides preceded the election and considerable ill feeling was engendered. Neither the Dunseith or St. John partisans had much respect for the intentions of the other.
On election day a committee from St. John came to Dunseith to watch the voting and a committee from Dunseith went over to St. John. But despite this vigilance, a large amount of repeating is said to have taken place. Although both sides accused the other of illegal tactics, St. John appeared to have been the worst offender — the charge being that 1,125 votes were cast by approximately 225 voters. Before the issue could be settled in court, St. John proceeded to set up their county government, even though a second county government was still functioning.
The county records for this period have the unique distinction of containing the minutes for two rival county boards of Commissioners. When the issue had finally been settled in court, officials from St. John went to Dunseith for the records. On the way back, one of the big safes fell into a creek, important books and papers scattered. The Dunseith citizens felt they had the last laugh even though they had lost their bitter fight. In 1889, the northern part of Dakota Territory was admitted to statehood as North Dakota and in the general election of 1889 the county seat was changed to Rolla and moved from St. John in 1890.
More cars:
From Dick Johnson (68): Dunseith, ND.
Gary and Friends,
Just wondering how many folks can remember the winter evening in about '62-'63 when a guy, coming south on Main Street, lost control of his car and slammed into the back of Rod Armentrout's blue and white '60 Pontiac. Rod's car was parked in front of the Garden Lanes. This happened because of the built up ice on the street and a little too much speed for the conditions. Rod's car was parked behind Dennis Espe's nearly new blue '62 Ford four door so Rod's Pontiac slammed into Dennis's car and slammed it into another car in front of it. About like a freeway pileup! I think Rod's car was totaled out as the back end was smashed nearly up to the back window. Rod bought another identical car and then made a sheet metal trunk portion on the wrecked car and drove it back and forth to town as a work car. The story goes on. In the fall of '67, Rod took a temporary position teaching automotive mechanics in the newly built DHS school shop. His good car needed an engine overhaul so he had the kids in shop class rebuild the engine. He used the engine from the wrecked car and the engine from the good car and took the best parts from each for the rebuild. When the good car was done, he told the kids to put the old parts engine back together and put it back in the wrecked car, just for the practice. John Bogus told me that when they finished, the junker engine ran just as well as the new one! I remember Rod put lots more miles on the old wrecked car with the homemade trunk section—and with the junk parts engine! Anyone remember any of this? Thanks Gary!
Dick
Lagerquist family – 1982 Dunseith Centeniel Book:
Posted by Neola Kofoid Garbe: Minot & Bottineau, ND.
Folks,
Neola asked me to combine these two scans into one for her files.
In doing that, I thought I'd also post. Gary