Reply from Margaret Metcalfe Leonard Casavant ('65):  Rolette, ND
Hi Gary
Just wanted to respond to your gracious expression of sympathy. Thank you for your genuine concern and caring.
My heart is broken while I praise God for the amazing gift Stanley was to me. We had a beautiful life; it just wasn't long enough.   I will love him always and miss him forever.
So sorry to hear of your health concerns and Bernadette's as well. You have been a good and faithful caregiver to her for several years now. It is such an inspiration to me to see how important those wedding vows are in a loving marriage. You are certainly a special God given gift to her. It is totally heroic the way you care for her. Take care of you too. May God richly bless you. My friend.
Margaret Metcalfe Leonard Casavant
Reply from Larry Liere ('55):  Devils Lake, ND Gary
Keep well BP is nothing to fool around with.  I agree with what Lee Strickland said below.
As you may remember Margaret married my 1st. cousin Chuck Leonard so Margaret has always and always will be part of our family.  We were at the wedding of Margaret & Stanley and were very happy Margaret found a great guy like Stanley after 15 years as a widow.  I told Margaret that she and Stanley did a lot of living in the 3 short years they were married with all the traveling and fun things they had done. She will have many good memories of their time together.
LARRY
Barn on highway #43 west of St. John.
Facebook Posting from Anita Larson Hovland
I'm so glad I took this picture in 2015 because that unique old treasure finally fell
Gary's comment
I'm sure the majority of us remember this old Barn. I know I sure do.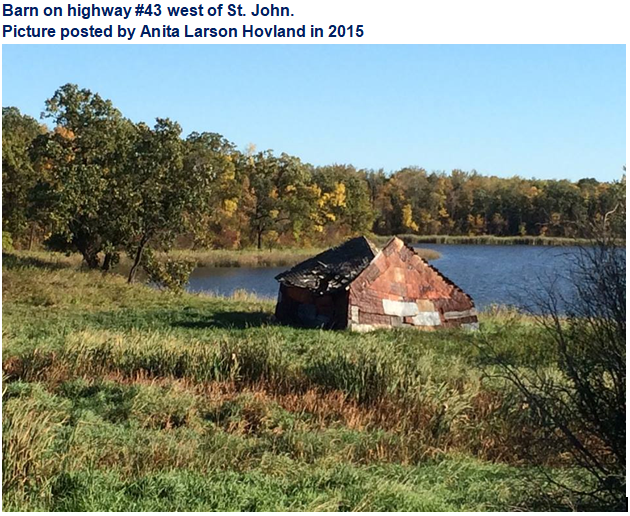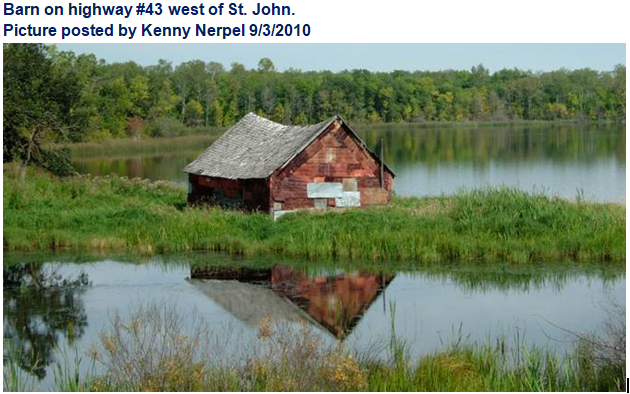 ==============================================
Blog (744) posted on March 15, 2010
Pictures from Larry Tooke (71): Souris, ND
Posted by Randy Flynn (70): Happy Valley, OR
Gary,
When we move away from North Dakota we always seem to remember the cold days but sometimes forget about the winter fun. Ice fishing on a sunny day is always a great time. Summer or winter, a bad day fishing still beats a good day at work. The attached pictures are of my cousins' (Larry Tooke's) family and my mother (Larry's aunt) Minnie Flynn ice fishing in the Turtle Mountains. There are some great fishing houses as well as portables for this winter pasttime.
Thank you for keeping us in touch with Dunseith.
Randy
Hi Randy,
We took Minnie fishing last weekend. Had a great time.
 I have attached some pictures.
Larry, Leslie & Boys
 The Fishin' Team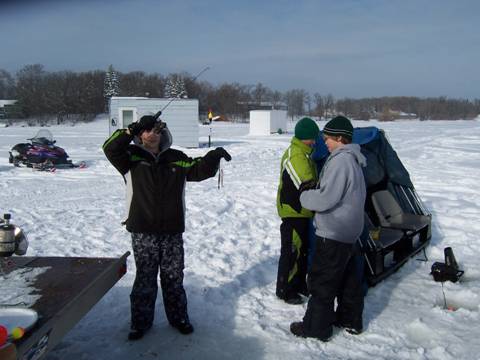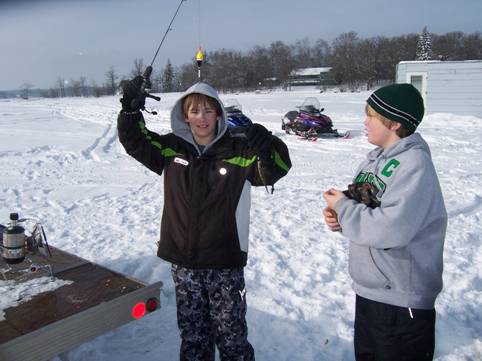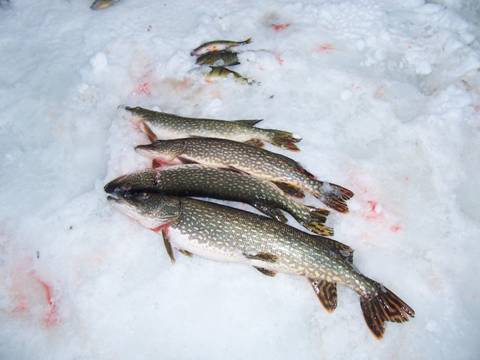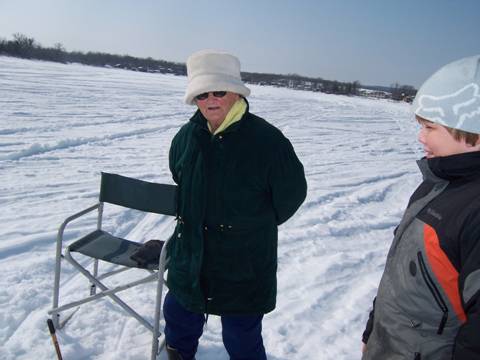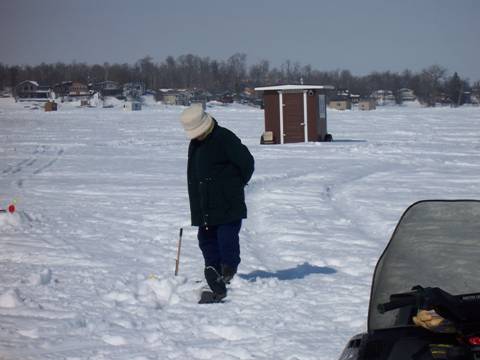 Folks, These are a few pictures from the Archieves. Gary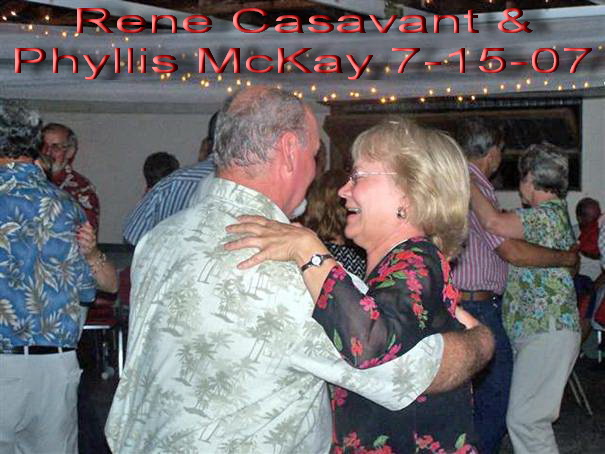 July 15, 2007
Dennis Dubois and Phyllis McKay. Note: Dennis will be at our reunion in May.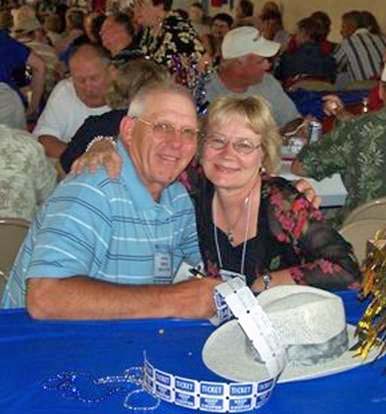 Dunseith Alumni Alaskan cruise – July 2009
Cheryl Haagenson with the judges of the singing contest she won