Condolences to Margaret Metcalfe Leonard Casavant
From Bill and Eunice Awalt ('61):  Lincoln, NE
Dear Margaret,
We were so sorry to hear about Stanley.  Our sympathy, thoughts and prayers are with you and your family.
Bill and Eunice Awalt
Don Corbin Memorial
There will be a memorial for Don Corbin in Garrison at the American Legion on Saturday, October 13th from 7:00 – 10:00 pm.  Anyone that would like to come is welcome.
Lydia Fauske LaCroix Beck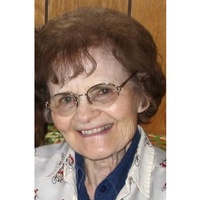 April 04, 1922 – October 03, 2018
View/Sign Guest Book|
Send Sympathy Card
Age 96, passed away peacefully at her home in Elk River, MN (formerly of Dunseith, ND & Virginia, MN) on Wednesday, October 3, 2018. Born on April 4, 1922 in Rock Lake, ND to John J and Anna (Ludvigson) Fauske. Lydia grew up in the Turtle Mountains of North Dakota where she married and raised her three girls (Judy, Donna and Joan) with Ernest LaCroix. She was a farm wife and worked as a nurse's aide at the State Tuberculosis Sanatorium in Dunseith, ND. After Ernest's death, Lydia moved to McKinley, MN when she married John Beck in 1973. Here Lydia loved all types of gardening with roses being her specialty. She was a proud supporter and dedicated much of her time (and caramel rolls) to Story Book Lodge Christian Camp and Virginia Bible Chapel. She is survived by her daughters Donna (Jerome) Allard of Elk River, MN and Joan Lannie of Olive Branch, MS; son-in-law Larry McGuire of Litchfield, MN; sister Ruth Clark of Valley City, ND; sisters-in-law Eleanor Fauske and Rosemary LaCroix of Bottineau, ND and Betty LaCroix of Kalispell, MT; grandchildren Lynn (Trent) Negaard of Litchfield, MN, Mark (Ruth) McGuire of Arden Hills, MN, Jill Truth of Minnetonka, MN, Janel (Bob) Kess of Owatonna, MN, Chuck (Tina) Allard of Elk River, MN, Jerry (Lori) Allard of Elk River, MN, Doug Lannie of Olive Branch, MS, Angie (Eric) Miller of Olive Branch, MS, and Melissa Lannie of Santa Rosa Beach, FL; nephews (like sons) Cleo (Char) Kelly of St. Paul, MN and Randy (Cathy) Kelly of St. Paul, MN; and 17 great grandchildren and 2 great-great grandchildren. Lydia was preceded in death by her husbands, Ernest LaCroix and John Beck; daughter, Judy McGuire, brothers Elwood Fauske and David Fauske; sister Naomi Kelly; brothers-in-law Harold Kelly, Eldon Clark, Leonard LaCroix, Alfred LaCroix and Oscar LaCroix; and son-in-law James A Lannie. A Celebration of Lydia's life will be at 4:00PM on Sunday, October 7, 2018 at Northridge Fellowship, 12522 Main Street, Rogers, MN with visitation starting at 3:00PM.
SERVICES
Visitation
Sunday, October 07, 2018 3:00 PM – 4:00 PM
NorthRidge Fellowship  12522 Main Street  Rogers, Minnesota 55374
Celebration of Life
Sunday, October 07, 2018 4:00 PM
NorthRidge Fellowship  12522 Main Street  Rogers, Minnesota 55374
Dorothy (Warren) Mae Schneider 1931 – 2018
Obituary posted by Vickie Metcalfe ('70): Bottineau, ND
Dorothy Mae Schneider, 87  of Bottineau, passed away October 1, 2018 at a Bottineau nursing home. A private family service will be held at a later date.
She was born on March, 12, 1931 to the late Dave and Bertha (Patnaude) Kraft. On April 16, 1949. she married Warren Schneider.
Dorothy attended Dunseith Schools and was a member of the Methodist Church in Dunseith. She worked at San Haven and Dunseith Nursing Home as a nurses aide, and  at Turtle Mountain Corporation for a time.  Warren passed away on September 15, 2004.
In addition to her parents and husband, Dorothy is preceded in death by a son Steve Schneider brother, Lester Kraft and sisters Annie Hills and Marlene Armentrout.
She is survived two daughters, Sandra (Kevin) Gilchrist of Bottineau, and Kimberly Schneider of Silverdale, WA; son Warren (Pat) Schneider Jr. of Bottineau; three grandchildren, Curtis (Judea) Prouty of Olympia, WA, Ryan Prouty of Bottineau and Lee Schneider of Bottineau; and 4 great grandchildren, Joshua, Ethan, Isabella, and Evelyn Prouty; sister Bertha Handeland of Pocatello, ID; sister-in-law, Alice Kraft of Oklahoma; and brother-in-law, Rodney Armentrout of Dunseith.
==============================================
log (745) posted on March 16, 2010
Gwen Grimme Eltz (68) & Brenda Hoffman (68) will be attending the reunion.
Reply from Gwen: Spokane, WA.
Hi Gary,
Thanks for the personal message about attending the Dunseith reunion. Since we don't finish our school term until mid-June, the reunion does come at a difficult time to get away. On the other hand, I really want be in Dunseith on May 22. So, I flipped a coin (LOL) and found that I should be at the reunion. Please add me (Class of '68) and my husband George to the list of people attending. If it's not too late to sign up for the meal, we'd like to be able to attend that event, too. I'll send in our registration fees this week.
Thanks again for the message. I'm really looking foward to seeing you and Bernadette at the reunion–and especially eager to spend a little time with my brother, Bill, and Irina!!! Telephone conversations are good, but there's nothing like being together in person.
See you in May!
Folks, I received a message from Brenda Hoffman that she will be attending the reunion too. She said she will most attend following the dinner sometime. Both Brenda and Gwen, as I understand it, will pretty much be in the area for just the week-end. This will be a whirl wind trip for both of them, with each coming from separate coasts too. Gwen from Washington and Brenda from South Carolina. It's so wonderful that both these gals will be attending. We are excited to see them both.
Reunion entertainment with Dick/Brenda Johnson and the Highway 43 band.
From Dick Johnson (68): Dunseith, ND.
Gary and Friends,
With the reunion fast approaching, I thought it might be good for me to mention the type of entertainment we will be providing for those in attendance. We know that people are going to be there to visit so we won't be playing so loudly that it will make it hard to hear over the music. We plan to play songs from all decades and all types and intermix the songs in each set . So if you don't happen to like the song, the next one might be one of your favorites. Kind of like North Dakota weather, if you don't like it just wait a couple minutes and it will change! We hope to have an area near the band where folks can dance. The current plan is to play sets of about 40 minutes and take a 20 minute break so everyone can visit—including us. At this time we are open to suggestions too. This should be a fun time for everyone in attendance! Thanks Gary!
Dick
Folks, we are so fortunate to have Dick providing us with their entertainment. I have heard nothing but outstanding reports of their music. They aim to please of which they accomplish very well. I have one of their CD's of which I listen to often. It's a wonderful piece of Art. Dick is great at keeping things spiced up a bit too. Dick has offered their services for free. Being part of us, he said this is something he wants to do. I have had several personal messages asking if we plan on compensating Dick and the Highway 43 band. The answer to that question is yes. We plan on having a donation Jar at the registration table for Dick and his folks. I too personally feel they should be compensated. Not all of the Highway 43 band members are Dunseith Alumni and they too have agreed to provide their services for nothing. What a wonderful group. Gary
Reply from Lynn Henriksen (64): Tiburon, CA
Dear Gary,
I had a moment this morning to take a look at your Dunseith blog, and I was glad I did.
The ice fishing pictures Randy sent in brought back delightful memories. In contrast, though, I don't usually think of the cold as much as I do about the fun we had. Randy is right, ice fishing (what a catch!) on a sunny day can't be beat – and neither can growing up in the Turtle Mountains. I have great memories of being "allowed" to run the trap-lines with my brother, Rick – now that was cold – great globs of ice stuck to wool socks and all, but I loved it. Then thinking about the hours Colette and I spent wondering the frozen wilderness our minds made the neighbor's pasture out to be, building igloos of sorts and retracing our thigh-deep, blue-hued steps back to Kelvin, lure me back to the innocence of a childhood I wouldn't trade for anything. Although at this stage in my life, I have to say that I wouldn't trade being warmed by SF Bay Area sunshine and cooled in her delightful fog for anything, either. Guess it nice to just be happy wherever you are and count the blessings of just being.
Thanks you.
Keeping Spirits Alive,
Lynn Henriksen, The Story Woman
President, Women's Nat'l Book Assoc–San Francisco
Blog: www.thestorywoman.com Website: www.telltalesouls.com
Red Room Author, Where the Writers Are
Reply from Marlys Hiatt (71): Dunseith, ND
Congratulations to Mr. and Mrs. Brian Fauske – I am delighted to hear about their wonderful day and how happy they are.
Marlys Hiatt
Fishing Memories of Minnie Flynn (47):
From Dick Johnson (68): Dunseith, ND.
Gary and Friends,
With the posting of Larry Tooke's fishing crew, I remembered a cute story about Minnie Flynn and fishing. I'm trying to remember which lake I was ice fishing on back in the 60s and ran into Minnie and Marlene Armentrout, who were also fishing. I just can't remember where. Anyway, I just stopped by to see how they were doing and they had caught some nice fish. I asked Marlene what they brought along for bait? She pointed at her minnow pail and mistakenly said, "Minnie." We all had a good laugh! The good old days. Thanks Gary!