Jean's Obituary
Jean Pladson, age 79 of Bismarck formerly of Bottineau died Monday at a Bismarck hospital.  Her funeral will be held on Saturday at 2:00 pm at the Lake Metigoshe Christian Center.  Visitation will be Friday from 1:00 pm until 9:00 pm with a prayer service at 7:00 pm at the Nero Funeral Home in Bottineau.  Burial will be a the Salem Cemetery near Bottineau.
Funeral Service
Metigoshe Lutheran Church 
Jean Hanson Pladson
Message from Audrey Hanson Aitchison Bottineau, ND
Gary and Friends,
It is with deep sadness to let you know my sister, Jean Pladson, passed away on Monday, 1/7. She was such a caring, loving person and helped and encouraged so many people. She called me two nights before she passed away and we talked for 1 1/2 hours. She was telling me she had appointments with 3 different Drs. for serious procedures. She has been in pain for over 20 years, but she always trusted in the Lord to help her through her struggles. She left a legacy of how much she loved the Lord and always trusted Him. Her suffering and pain are now over. She died instantly and didn't have to spend weeks or months suffering in a hospital with all her pain, that pain pills couldn't even control. She said she was "leaving it all in the hands of the Lord."  The last thing I told her was that I would be praying for her, and that I prayed everyday for her and all of our family for their health and for the Holy Spirit to be in each of our lives so none of us would be lost and we would be ready for Jesus to take us up to heaven with Him when He comes. The most important thing in her life was to be ready when the Lord comes so He could take her home. She is now resting in the hands of Jesus.
I talked to the Christian Center this morning and they said her funeral will be on Saturday at either 1:00 or 2:00. The pastor is meeting with her family this afternoon so it can be worked out. I will let you know when I hear this afternoon. Blessings to all of you.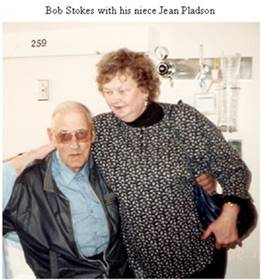 Jean Pladson Memories
From Toni  ('68):  Farimount, ND 
Yes, Jean was my first cousin as well. Her father, Burt, was my mother's brother. Gary, you are so right; Jean was so warm and loving. My sister, Beverly, was especially close to Jean, and the last time I saw her was at Bev's funeral. She was also very funny.
Toni Gredesky
Jean Pladson Memories
From Diane Larson Sjol ('70): Minot, ND
Thanks for the info on Jean. She loved talking about family history and I learned a lot from her. Frances Hanson Morinville,  her cousin, was my dad's cousin through my grandma Alma Hanson Larson. Morinville girls were our best friends growing up. whenever we made a trip back to Dunseith, it was the first stop.
Also, I can't find the post with Colette's question about the Viking caves. any idea when that was. am very interested in that as well as the morning stone Dick mentioned. Thanks.
Condolences to the Jean Pladson family
From Vicky Hiatt LaFontaine ('73): Grafton, ND
Condolences to Jeans family, I loved her smile and her loving heart.
Darrel (Bud) Stokes, Following 47 years of employment, is officially retired.
Folks, As of December 31, 2018, my brother Bud is officially retired. He worked for the City of Bottineau for 20 years. Prior to that he worked 25 years at Frykman Ford in Bottineau. He also work several years for Willard Lasher when he had the service station on Highway #5 in Bottineau.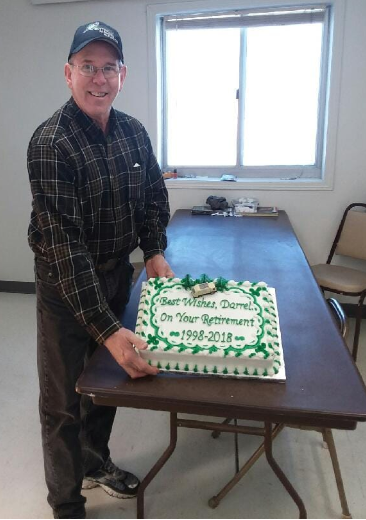 ==============================================
Blog (763) posted on April 4, 2010
Bill McDonald picture:
Reply from Tina Pladson Bullinger (78): Bottineau, ND
Gary, I remember Bill Mcdonald from workin g and living in Bottineau all these yeasrs, and I believe Karen is right. In fact, my mother-in-law used to play Bingo with Bill, if memopry serves!
Tina
Bill McDonald picture:
Reply from Neola Kofoid Garbe: Minot & Bottineau, ND.
Hi Gary,
Karen is right; the fellow in the picture has been identified as Bill McDonald. Thanks Karen/Dale.
Neola
Bill McDonald picture:
Folks,
I believe Bill McDonald has now passed on. I believe this is his death record that I found pasted below. In doing a search for Bill, I could not find any relatives other than for a John McDonald that was born in 1912 that lived at the same residence as Bill in Bottineau.
In doing my search for Bill I made a few phone calls with some leads I found. Those phone calls led me to a lady by the name of Carole McDonald who lives in Bottineau. I was so surprised when she told me she knew who I was and that she is a sister-in-law to Margaret Metcalfe Leonard (65) and of sister to Carmen (Floyd) Leonard Richard. She told me she knows LeaRae Parrill Espe (67) and that she is a next door neighbor to Helen (65) (Duane) Rivard Christenson. Talk about a small world.
Gary
| | | | | | | | | | | | | | | | | | | | | | | | | | | | | | | | | |
| --- | --- | --- | --- | --- | --- | --- | --- | --- | --- | --- | --- | --- | --- | --- | --- | --- | --- | --- | --- | --- | --- | --- | --- | --- | --- | --- | --- | --- | --- | --- | --- | --- |
| William MCDONALD | | | | Birth Date: | 13 Mar 1910 | | | Death Date: | 3 Jun 2004 | | | Social Security Number: | | | | State or Territory Where Number Was Issued: | North Dakota | | | Death Residence Localities | | | ZIP Code: | 58318 | | | Localities: | Bottineau, Bottineau, North Dakota | | Lake Metigoshe, Bottineau, North Dakota | | |
Pictures from the House warming last week-end at Kawit, Cebu, Philippines
Folks, I've got some extra room today, so I thought I'd throw in some pictures from our week-end excursion this past week-end. We attended a house warming for some friends of ours that have a beech resort located about 75 miles north of us near the north end of this island of Cebu. This couple purchased this beach property 29 years ago for a small fraction of what it is worth today. They recently sold a much smaller lot a short distance up the shore that they also purchased 29 years ago. The proceeds from that sale were more than enough to cover the expenses for their new house and miscellaneous buildings on this lot. They cut no corners. I'm guessing they spent close to several hundred thousand or more dollars to build what they have.
Note: I have posted a lot more of these pictures of our week-end up in Kawit on Facebook.
L to R: Barbara Kenny from the UK; Imelda ILanan who was a famous Filipina movie star a few years back with many reruns today; Bernadette & Dinah Craven the lady of the house.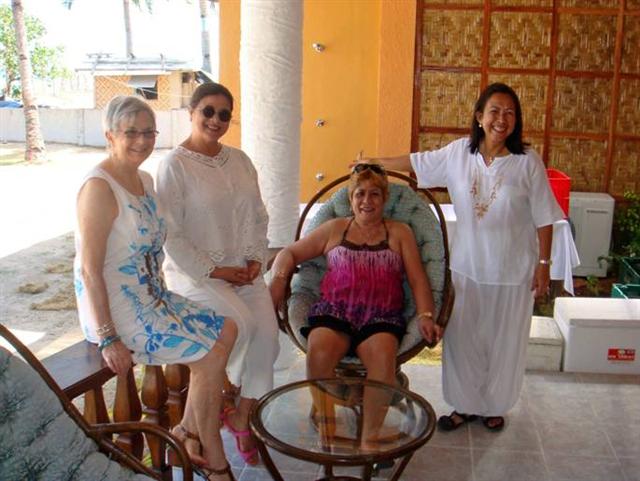 House warming dinner on the beach. This was our table. Bernadette is on the very end on the right side. I was sitting next to the guy with the red shirt. He is from Australia. The couple next to him are from the UK. The rest of us are from the USA. We have become very close friends with all of these folks, all of whom are retired here. The natives have difficulties understanding the English of the folks from the UK, Ireland, Netherlands, New Zeeland & Australia. One of their favorite expressions is "Bloody this and Bloody that".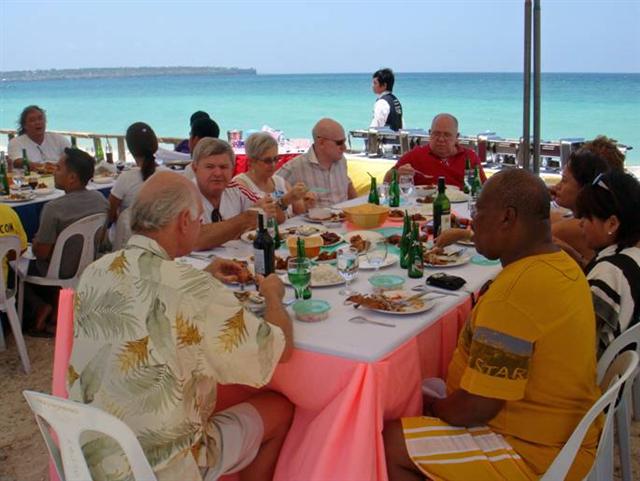 This is the beach front of the property of our Friends with the house warming. They have about 400′ of beach front. The cement bulkhead, that runs the entire length, was dug down into the sand 10′. It was dug that deep to prevent erosion from the sea. They said they had 65 folks working on this bulkhead last week to get it completed for the house warming. Thank god Filipino labor is cheap.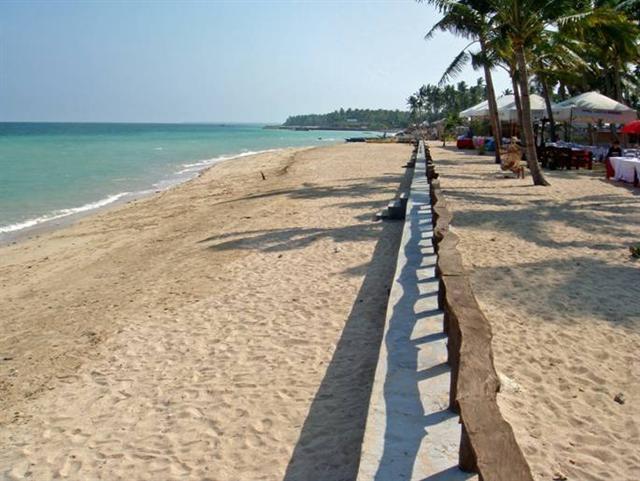 This is their house pictured with two one bedroom Bungalows for guests. The guy in the picture is Ian. He and his Wife Dinah are the owners. Ian is from the UK and Dinah is originally from Cebu, PI. Ian is still working part time. He works 2 weeks a month for an off shore oil drilling company in Singapore. He does a lot of his work on line, but his office is in Singapore. Singapore is about 800 or so miles NW of us across the waters.