Jean Pladson Passed away.
Folks,
I was so saddened to receive Cousin Audrey's message yesterday that Jean Pladson had passed away yesterday (Monday 1/7/2019) in her home in Bismarck.
Jean was one of the friendliest, nicest persons on the face of this earth with a so much compassion and love.  She will be dearly missed.
Jean was my first cousin and also a first cousin to the Joe Morinvelle children.  Jeans mother Olga was my dad's sister.
Jean was Married to Duane Pladson. Duane passed away a few years ago. Jean and Duane lived a mile south of the Rendahl hill, on  highway #43, on the Bottineau/Rolette county line.
I will be posting Jeans Obituary later. Jeans funeral will be at the Metigoshe Lutheran Christian Center. Date and time have not yet been determined.
Rest in peace Jean. You will be dearly missed.
Gary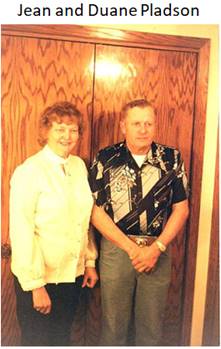 Barbara Counts LaRocque (DHS '72) Obituary
Posted by Neola Kofoid Garbe:  Minot, ND
Barbra A. LaRocque | 2018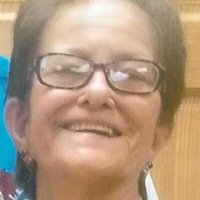 Call to Order Flowers by Phone 888-579-7953 Code: 69944
BARBRA ANN LAROCQUE
Funeral Mass services for Barbra Ann LaRocque, age 64 of Dunseith, were held on Friday at 10:00 A.M. in the St. Michael's of the Archangel Catholic Church in Dunseith. Officiating at the Mass was the Reverend Father Michael Slovak S.O.L.T. Special music was provided by Joe Parisien and Richard Turcotte. Pall Bearers were Jeffrey LaRocque, Conway LaRocque, Chris Lindteigen, Chad Parisien, Ernie Counts, Clarence St. Claire, Lloyd Counts III and Shawn LaRocque. Honorary Bearers were all friends and family.
Barbra Ann LaRocque was born to Lloyd Counts Sr. and Louise (Trottier) Counts on August 17, 1954 in Plentywood, Montana. She attended college at United Tribes Technical College and the Turtle Mountain Community College. On September 11, 1982 she married Stephen (Cheech) LaRocque. Barbra worked as a Certified Public Accountant (CPA). She also worked at Walmart, the Casino, the Public Defenders Office, and for the last 16 years as a Community Health Representative (CHR).
Barbra loved spending time with family and friends, whom she loved to cook for. She also loved gardening, canning, going to bingo, playing cards and rummaging. Barbra's favorite holiday was Christmas, and loved having her husband, kids, and grandkids all around her.
Barbra was a member of the St. Michael's of The Archangel Catholic Church in Dunseith.
Barbra passed away on Sunday, December 30, 2018 in her home.
She is survived by her husband, Stephen of Dunseith; Three daughters, Roxanne (Chris) Lindteigen, Valerie (Chad) Parisien, and Stephanie (Tony) Keplin all of Dunseith; Two sons, Jeff (Melanie) LaRocque and Conway (Amber) LaRocque both of Dunseith; 26 Grandchildren; 4 Great-grandchildren; Two Godchildren, Carrie Crawford and Sean Counts; Brothers, Clarence (Mary) Counts; and Ernest (Ernie) Counts both of Dunseith; Two Sisters, LouAnn (Clarence) St. Claire and JoAnn (Randy) Brunelle both of Dunseith; Special friend, Judy LaRocque of Dunseith; Several Brothers-in-Law and Sisters-in-Law and multiple Nieces and Nephews.
Barbra was preceded in death by her parents, Lloyd and Louise Counts; One Son, Brian LaRocque; and Brothers, Ronald Counts, Lloyd Counts Jr. and Clifford Counts.
Arrangement were with Nero Funeral Home in Bottineau.
==============================================
Blog (762) posted on April 3, 2010

Erling Berg's Birthday:
Posted by Diane Berg Rheault (79): Fargo, ND.
Gary, Erling Berg is 88 yrs. old today (Apr.2nd), We had a birthday party for him today up at the hospital in Rugby (3rd floor-long term care). Present were Delores Berg, Keith Berg, Diane (Berg) Rheault with husband Jim and daughter Jacqueline, friend Howard, and Art Rude Jr. stopped in to say hello and wish Dad a Happy Birthday. Erling got his favorite cake (spice with brown sugar frosting). He said he will not forget this day!!
Diane, We all wish your dad a very happy birthday. He was and is a very well known guy in the Dunseith community. My dad and others worked for or with your dad at San Haven for a number of years. Often times supervisors don't always have good approval ratings from their employees. Dad always had so much good to say for Erling. He is a great man.
 I don't remember your dad that well, but I sure remember his brothers Clarence and Hilmar. Hilmar celebrated his 90th birthday a year or two ago and is living in Bottineau. Clarence, deceased, was married to Mabel Berg also deceased. She was a Berg married to a Berg. Mabel's sister, Helga, was married to my dad's brother, Nels Petterson. Nels & Helga, now deceased, lived in Everett, WA. I saw Clarence & Mabel, many times, with their numerous visits to see Nels and Helga when we lived in Bremerton, WA. Hilmar spent several winters working in Everett in the late 60's too. He stayed with Nels and Helga. Gary
Condolences to the Berube family with memories of Billy:
From Aime Casavant (66): Jamestown, ND
Condolences to Jim, Tom and all the Berube Family. Although Bill was several years younger than me, he had one of those personalities that is always remembered. Memories of Bill. The evening of November 22, 1965. Bill (Billy to us back then) had come over to August Dionne's place in Dunseith, where I was living. I don't recall the exact reason but August was not there. I invited Billy in and we had one of those rare conversations one would not otherwise have, except on a spontaneous ocassion. Some time passed and Billy said, "Oh, Cassius Clay is going to fight Floyd Patterson tonight!" He asked for the radio, we found it. Billy started telling me about Cassius Clay and I recall he was very excited about it. I said to Billy, your really a fan of his, arn't you?"
Billy explained he did not know if he would consider himself a fan, but said his personality just makes me feel happy and its exciting – the way he acts. I did not know that much about professional boxing, but Billy, being the sports type of person ( like the Berube's) told me all about it. He told me about Cassius Clay's personality, how he shouted "I'am the greatest, I'am the king' and how Cassius Clay would say a rhyme on the round he would win the fight. We listened to the fight and sure enough, Cassius Clay then started his antics and Billy said excitedly to me "Aime, listen! listen!, he is saying he is the greatest ! Floyd Patterson lost by a TKO and I asked Billy what that was and he explained it to me.
Of course Cassius Clay went on to become Muhammed Ali and I watched his many fights and antics. In life, some things we remember, some things we forget, but whenever I watched Ali fight throughout life – I was reminded of that evening that Bill Berube introduced him to me.
About 8 years later I seen Bill for a short time at the University of ND. There was no doubt to me, Bill would go on to a successful teaching and intellectual life. Bill Berube was always to me, one of those persons that was one of the "greatest."
Several years ago I seen Jim at a Bottineneau/Vally City football game. I asked Jim about Bill. Jim explained he was a professor, teaching at (U of Wyoming?) at Laramie. I was not surprised Bill would end up becoming a professor. He had that keen, intellectual insight into things.
Viking Stone caves in the Turtle Mountains:
Reply from Dick Johnson (68): Dunseith, ND
Gary and Friends,
In answer to Colette's question, I think the stone arch cave northwest of Bottineau is still there, although I've heard some more deterioration has taken place. Nature continues to try to reclaim anything men change. There is a sign along the highway north of Carbury that points out an historic site to the northeast. I can only assume it is directing attention to the cave, although I haven't checked it out to see. One more thing for my 'bucket list'. Late last night I received an email telling me another mooring stone had been found much further east along the foothills. This one is in Rolette County and east yet of Butte St. Paul. This one was also checked out and documented by Ed Milligan and crew. I think Colette's depiction of the Vikings being a hardy bunch of explorers really sums it up. It would appear that they had little fear of what they might encounter–that would certainly be an advantage in traveling into unchartered areas. The Spaniards thought they would sail off the end of the Earth because it was flat. I guess the Vikings hadn't heard the news from Spain! Thanks Gary!
Dick
Spring time with snow in the Turtle Mountains:
Picture posted by Dick Johnson (68): Dunseith, ND
Gary and Friends,
The wind started to blow in the night and this is what we have this morning. It's spring in the Turtle Mountains! Thanks Gary!
Dick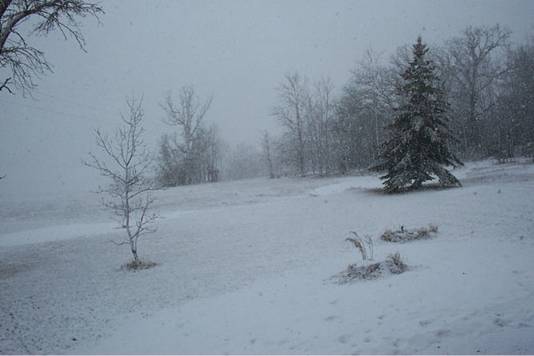 Picture possibly identified:
Reply from Dale and Karen Hagen (70) Simon:  Bottineau, ND
Gary, Dale Simon here, My Wife Karen Said that picture of the Missing identy of that man could be Bill McDonald. Karen said that she took care of Bill at the hospital and that it sure looks like him but the only thing is that he is from Souris,ND
Folks, Do any of you know Bill McDonald? The folks at Long Term in Saint Andrews get these messages too. Maybe they can be of some assistance for a positive ID. I trust Karen's instincts though, that this may be Bill. Gary