Happy Birthday to Charlene Pearson Woods ('67)
From Brenda Hoffman ('68): Greenville SC
Happy Birthday Year, Charlene!!! It seems as if it was just yesterday when I was knocking at your tunnel door to play with you.
Hubert J Allery (DHS '62) Passed away.
FB Posting from Judy Allery Azure ('65):
Hubert Allery March 20, 1943 – May 13, 2019 Hubert Allery, age 76 of Rolette, died Monday at a Belcourt hospital.
 FB Posting
Judy A Azure
May 14 at 12:02 AM ·
Tonight we lost our big brother Hubert J Allery, the Lord gained another angel. My heart is heavy with sorrow. How much does a family have to go through as we lost our big sister Jean Natwick, and a few months ago our brother Clifford Allery and now our big brother Hubert Allery. God please bless my family and help us to deal with all the sorrow.
Gary's comments.
Our condolences are with you Judy with the passing of Hubert. He will be missed.
Memorial Day Memories
Posting from Vickie Metcalfe ('70):  Bottineau, ND
May 9, 2019
Gary and Friends  of Dunseith,
At times I wonder if the true meaning of Memorial Day is lost.
https://www.history.com/topics/holidays/memorial-day-history
Just once during childhood, t'was end of 4th grade mom drove us into Dunseith to the old city hall for a  Memorial Day program.
Prior the program, Mom  pulled  a lilac spray from the bushes by the old white school building and  pinned on my dress.
Mrs. Conroy's fourth grade class participated in the program.
Dad didn't come.  He  worked out.  Plastering,  except on Sundays and holidays____ when he worked the farm.
He did all the heavier lifting work, whatever his wife and his children could not do whilst he was gone.
So, my childhood  memories  of Memorial Day are of the farm carrying or dragging  fence posts from the black Ford truck up and down hills.
We  carried  oak posts through the brush  and around trees where  dad awaited with the fence postmall.  Mom hammered the staples into the posts.
Mom packed a 'picnic' lunch of homemade bread  and  roast beef sandwiches, cookies, coffee and koolaide.
The gloaming, brought us home place to the quiet moos and milking the cows.
Days end would find us wiggling, looking and picking ticks.
Soon across the US of A,  most will be celebrating Memorial Day.
I hope to  embrace the full meaning of Memorial Day.
https://www.history.com/topics/holidays/memorial-day-history
I found the following   Rolette County Site.
It lists military people who lost their life far and away………
http://genealogytrails.com/ndak/rolette/military.html
(Lilacs make me SNEEZE)
Until Later may you all  remain tick free.
Vickie L. Metcalfe
Dunseith History
Posted by Larry Hackman ('66):  Bismarck, ND
Gary
A little history lesson that maybe was posted before but my before is not as sharp as it use to be, so I thought I would send it anyway.
The neighbor let me look at a book she has, but I now have and plan to return to her as soon as I finish it.  Does that make sense Mel?
Anyway it is called "North Dakota Place Names by Douglas A. Wick".  It lists over 3000 cities that have existed in the state and at one time all had post masters and so almost every township had a post office and some more than one.   The current official road map shows about 500 locales according to the book. What happened where did we go?  Maybe Dick knows?  Below is what it says about Dunseith.
Have a good day,
Larry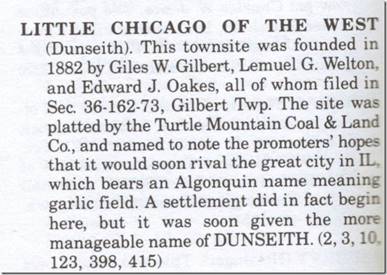 '
Adeline Halls Granddaughter Erica was recently named North Dakota Labor commissioner by Gov. Burgum
Posting from Vickie Metcalfe ('70):  Bottineau, ND
https://www.grandforksherald.com/news/government-and-politics/4610618-burgum-names-new-state-labor-commissioner
Gary and friends of Dunseith School
I always admired Adeline  Halls as a person and  caring educator.
Adeline Halls taught  many years at Dunseith School  primary grades with the likes of the Parrell sisters; Millie and Marie.
Mrs. Halls  grandfaughter, Erica  graduated from Bottineau High School and UND School of Law.
            And  WOW! 
Mrs. Halls granddaughter ,  Erica was recently named   North Dakota Labor commissioner by Gov. Burgum.
"Erica's ability to approach issues with impartiality and compassion and her commitment to fairness and justice for all North Dakotans will serve our citizens well," Burgum said in a statement.
Thunder received a bachelor's degree in political science in 2011 from the University of North Dakota, where she also earned a law degree and Indian law certificate in 2014. She is an enrolled member of the Mandan, Hidatsa and Arikara Nation
            I believe Adeline is smiling proudly down!
Sincerely,
Vickie  L. Metcalfe
==============================================
Blog (777) posted on April 18, 2010
Bryan Schimetz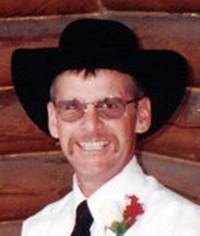 (Died April 14, 2010)
Bryan John Schimetz, 51, Bottineau, passed away in aMandanHospitalon April 14th, after a courageous 35 year battle with Multiple Sclerosis (MS). Mass of the Christian Burial will be celebrated on Monday at 10:30 am at the St. Mark's Catholic Church in Bottineau. Visitation will be Sunday from 1:00 pm until 9:00 pm with a prayer service at 7:00 pm at the Nero Funeral Home in Bottineau. Burial will be at the St. Louis Cemetery Dunseith.

Bryan was born on February 4, 1959, in Bottineau, to Louis and Stella (Richard) Schimetz. He was raised in Dunseith and attendedDunseithHigh School where he graduated in 1977. While in high school, he participated in football and basketball. After high school,Bryan was employed at Dale's Café in Dunseith for several years as a cook. He then attended the North Dakota State School of Science in Wahpeton. In 1985,Bryan graduated, with honors, earning an Associate of Applied Science in Electrical Technology. After college,Bryan made his home inMinot where he was employed at Main Electric and Holmes Electric as an Apprentice until he obtained his Journeyman License in 1990. He continued his employment atMain and Holmes Electric as a Journeyman until 2000, when he retired due to complications from MS. He then moved back to Dunseith. In 2007,Bryanmoved to the Good Samaritan Center in Bottineau, where he was residing during the time of his death.

Bryan enjoyed fishing, carpentry, woodworking, working with horses, reading western novels, and spending time with his family. He was a beloved uncle who always had a little extra time to play with his many nieces and nephews. He also enjoyed working on small home projects for his mother and helping anyone who needed a hand.Bryanloved getting company, especially visits from family, friends, and former classmates.

Bryan is survived by his mother, Stella Schimetz (Dunseith); siblings Mark Schimetz (Rolette); Kathy (Jim) Wood (Minot); David (Katie) Schimetz (Mandan); Kim (Bill) Zorn (Upton, WY); sister-in-law, Colette Schimetz (Bottineau); and several nieces and nephews (John Schimetz, Jennifer Zachmeier, Ryan Vandal, Matthew Schimetz, Rachel Vandal, Nicole Zorn, Jackie Zorn, William Schimetz, Daniel Schimetz, Jacob Schimetz, Kaitlyn Schimetz, and Tessa Schimetz).

Bryanwas preceded in death by his father, Louis Schimetz; brother, Reid Schimetz; three infant brothers; his grandparents, George and Anna (Boucher) Richard and John and Francis (Sasek) Schimetz.
Mass of the Christian Burial: Will be celebrated Monday, April 19, at 10:30 a.m., in St. Mark's Catholic Church in Bottineau.
Visitation and prayer service: Visitation Sunday, April 18, from 1 to 9 p.m., prayer service at 7 p.m., both at the Nero Funeral Home in Bottineau.
Burial: St. Louis Cemetery, Dunseith.
Arrangements were made with Nero Funeral Home in Bottineau.
Message/picture from Sharron Shen (59): Everett, WA.
I think it was 2002 when Mom wanted to travel home by rail. We actually stopped in Havre, MT overnight and picked up her brother, Ernest Boucher who was headed to GF. Alma, my mother and I had a great visit with Stella and Bryan. Bryan and I sat on the back porch smoking and viewing Stella's amazing garden. Between Stella and Dale's, I left with a load of tomatoes and train traveled back to Everett with super BLT fixings. Bryan talked of his years at Dale's, very self deprecating. He wanted a run down on the whole Gottbreht family. I talked Boucher family history and mailed him a hard copy of all I had soon after my return. Stella said all the begats and anecdotes were great fun for Bryan. I thought I attached the picture of Alma Boucher Gottbreht, Bryan Schimetz and Stella Richard Schimetz to the note yesterday? Place an underlay of emotion to my dummie computer skills and anything can happen. That Stella is all goodness and kindness.
Thanks for all you do Gary. Sharron
Alma Gottbreht, Bryan Schimetz & Stella Schimetz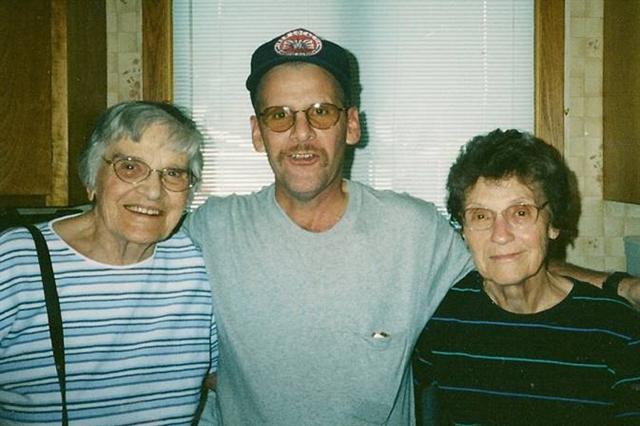 Condolences to the Schimetz family
From Roger & Connie (Zorn) Landsverk: Bottineau, ND.
To Stella Schimetz & families, So sorry about the passing of Bryan! He was a swell guy & will be sadly missed. We are sharing our condolences with all of you!! Roger & Connie (Zorn) Landsverk
The Following Newspaper Articles are posted by
Neola Kofoid Garbe:Minot & Bottineau, ND.
Gary,
Evan and Andrew are members of the MDN All Area Boys Basketball Second Team; this is quite an honor. There is an entire page about the coach/first team/second team in the Minot Daily.
Neola
Is Evan related to Dennis Dobois (63)? Dennis was a well known
Basket ball player in the early 60's.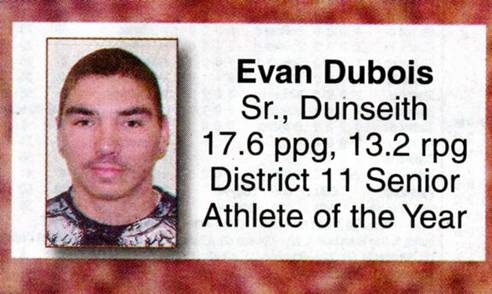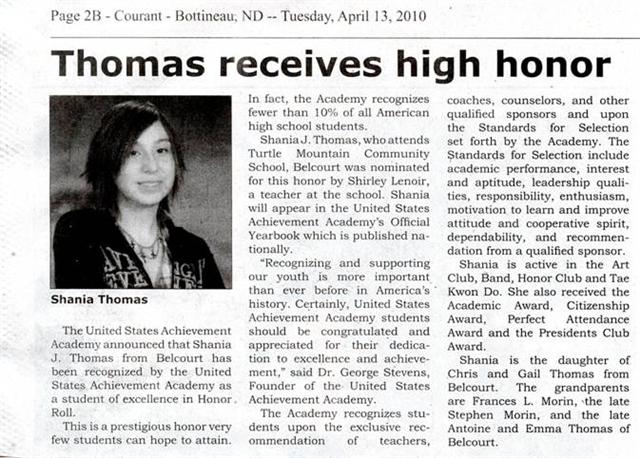 Brian is the son of Rodney (61) and Evelyn Kalk