Reply to Larry Hackman ('66): Dunseith History
From Marlys Hiatt ('71):  Dunseith, ND
 Larry – what does the book say about Ackworth.  I saw an old map about a year ago and Ackworth was on the map.  I think there may have been a postmaster at one time too.
Marlys Hiatt
 Gary's Comments
Yes Marlys, there was an Ackworth Post office. I think they only had mail carriers? I think they just had operators, not post masters? Your great grandfather, Harmen Albert Hiatt open the Ackworth Post office in 1901. As I have pasted below, Your relatives and my Great Grandfather, William Stokes, where all Ackworth operators and mail carriers
You are a bit younger than me, so not sure if you remember seeing the old Ackworth Post office building or not. It was located on the exact same spot where the Ackworth School was moved too, Its present location. I remember that build very well. Albert Hiatt owned the 40 acres on the corner where the Ackworth Post office was and the school is now located.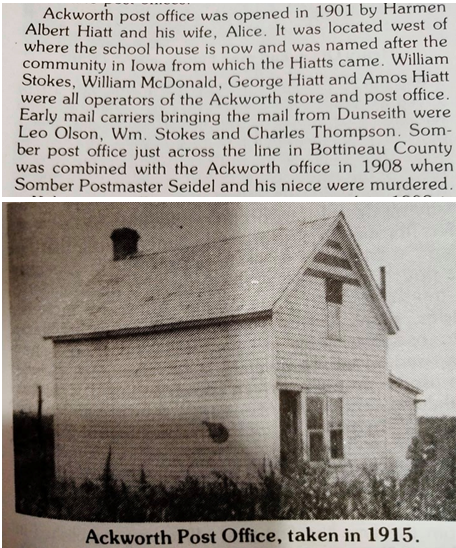 Condolences to the Allery Family
From Ginger Poitra ('65):  Belcourt, ND
Hubert Allery!  Judy, Beatrce and all Hubert's siblings and family. I am sending my condolences to all of you for the loss of your brother Hubert it is always such a sad time for the family.  I am also sorry for the loss of all others you have lost.
A friend always,
Ginger Poitra ( class of "65 )
Hubert Allery | 1943 – 2019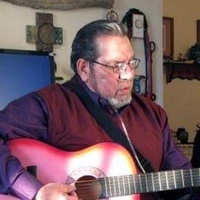 Hubert Allery
March 20, 1943 – May 13, 2019
Hubert Allery, age 76 of Rolette, died Monday at a Belcourt hospital.  His funeral will be held on Friday, May 17, 2019 at  St. Michael's Catholic Church in Dunseith.  Visitation will begin one hour prior to service time at the church.
Hubert J Allery, was born March 20, 1943 to Frank and Ernestine Allery.  Hubert's singing career began at a very young age.  Hubert made his debut at the age 10/11 at the Cole Harbor bar, where he entertained the patrons. The family moved to Williston, ND and Hubert was invited to sing on a weekly talent show and his singing career bloomed from there.  Hubert continued his singing career and entertained family and friends for many years.  The family moved back to Dunseith in 1961 and Hubert attended Dunseith High and graduated in 1962. Hubert was drafted into the Army in 1965  and received an honorable discharge in 1967.  Hubert later acquired his Drug and Alcohol license and opened a treatment center.  Hubert went back to school and received his degree from Valley City State and pursued his masters degree from Northern College in Aberdeen, SD.  Hubert had an antique store in Fargo, ND and later retired and moved to Rolette, ND until his passing.
Hubert passed away on Monday, May 13, 2019 at a Belcourt hospital.
Hubert was preceded in death by his parents (Frank and Ernestine Allery) Sisters: Jean Natwick and Darlene DeCoteau, Brothers: Francis (Sonny) and Clifford Allery. 
He is survived by sisters; Beatrice Raygo, Judy Azure and Jeanette DeCoteau, brothers;  Richard and Dallas Allery;  numerous nieces,  nephews, great and great great nieces nephews and many relatives.
Arrangements were with Nero Funeral Home in Bottineau.  Friends may sign the online register book at www.nerofuneralhome.net.
 ND names and places: Danielson Family
The following is a conversation between Larry Hackman ('66), Pat Danielson ('66) and Dick Johnson ('67)
Posted by Larry Hackman ('66): lmhackman@bis.midco.net Bismarck, ND
On May 13, 2019, at 9:00 AM, Larry & Marion Hackman <lmhackman@bis.midco.net> wrote:
Hi Pat
Ran across this notation in a book I have been reading about "North Dakota place Names by Douglas A. Wick".
Is this fellow (Post Master) a relative of yours?
You do have a brother named Dan?
Just curious and for your information?
Larry


      Jarves who had surveyed the area in 1897.  The post office closed Nov. 30, 1921 with mail sent to Carpenter.
A small community near Carpenter Lake
that was named after Henri Sharpenter who actually drowned in the lake in 1888
From: Pat Danielson
Sent: Monday, May 13, 2019 10:42 AM
To: Larry & Marion Hackman
Subject: Re: North Dakota Place Names
Hi Larry,
I do have a brother named Dan. Also had a grandfather named Dan. I haven't heard of family in the St. John area, though. My Grandpa Dan was from Vang, ND, (which no longer exists) located west of Walhalla. Thanks for asking!
I think place names are interesting. I heard that the tiny town of Vang was named after a family with the last name, Dahlvang…not sure that's correct, but…😊 Hmmm…now I'm curious and need to check that out. Pat D
From: Dick Johnson
Sent: Tuesday, May 14, 2019 11:05 PM
To: Larry & Marion Hackman
Subject: Re: Fw: North Dakota Place Names
Larry,      Don't you remember Dan playing basketball with Egbert and that age of guys?  He played guard and was pretty good.  Pat also has another brother named Peter and I think a little sister named Naomi—if I remember right?  Long time ago so the old memory might be foggy? Dick
On May 15, 2019, at 3:53 PM, Larry & Marion Hackman <lmhackman@bis.midco.net> wrote:
Pat
Do you remember?
Larry
From: Pat Danielson
Sent: Wednesday, May 15, 2019 6:09 PM
To: Larry & Marion Hackman
Subject: Re: North Dakota Place Names
Yes I do remember!
My brother Dan was a year ahead of me and was a good athlete. So was Peter. Dan left Dunseith when he was a sophomore — went to school at Hillcrest Academy in Ferguson Falls. He sang in choir as well as playing basketball—played on the MN Allstate team one year. Peter started high school the year after I graduated. He did a lot of music, drama, and I think he played basketball too. I missed seeing all that because I was in college by then. Naomi started high school the year after Peter graduated. She was learning to play the bassoon before our family moved away. I don't know what else she would have done. She was talented and very bright academically. Peter, Naomi and I all have fond memories of Don Johnson. He was a breath of fresh air in our lives. PatD
Sent from my iPad
On 5/15/2019 11:52 PM, Larry & Marion Hackman wrote:
Pat
I forwarded this on to Gary and Dick.  Maybe someone else knows if there was another Danielson family in the area?
Larry
Re: North Dakota Place Names
Dick Johnson djcars@srt.com
Thu 5/16/2019 11:15 PM
Guys,      There were other Danielson families in this area.  Where Jack Peterson lived, east of where our farm is, there was a Peter Danielson who had a son named Melvin Danielson.  Melvin was married and had two sons about my age.  He moved his family to a farm near Willow City where the family stayed for the rest of their lives.  One son, Bob Danielson,  still lives on that farm and is married to Hiedi Hanson whose mom taught a few years in Dunseith.  Heidi taught in Bottineau I think.  The grandfather and grandmother Danielson are buried in the small cemetery that is in the woods about two miles east of  our farm and located in the south east corner of the old Danielson farm.  Lots of info to try to digest but there it is! Dick
==============================================
Blog (778) posted on April 19, 2010

Condolences to the Schimetz family
From Lorraine Richard Nelson: Mesa, AZ
Thank you so much for all the news from Dunseith and around.. I feel so badly for Stella, she is my first cousin as I was a Richard, my dad had the service station in Dunseith when I attended high school in Dunseith. I find many memories from your web site. Thank you again.. I will be contacting Stella. Lorraine Richard Nelson..Mesa AZ.
Condolences to the Schimetz family
From Sharon Longie Dana (73):
So sorry to hear of Bryan's passing. Thoughts and prayers are with all of you during this time.
Sharon Longie Dana(73)
Condolences to the Schimetz family
From Shirley LaRocque Wendt (59): Tukwila, WA
I TOO WOULD LIKE TO OFFER MY CONDOLENCES TO SCHIMETZ FAMILY, MY DAD AND MOM WERE GOOD FRIENDS WITH STELLA AND LOUIS AS I WAS GROWING UP BACK THERE .

From Marge Longie Langan Wilcox (56)Vancouver, WA.

Gary,

I saw on the game channel this week that deal or no deal was in the Philippines.

Marge

Yes, The PI does have it's own version of "Deal or no Deal". We get a lot of the American channels too. We get "The Price is Right", Jeopardy, "Wheel of Fortune" and most all of the detective shows of which Bernadette is hooked on. The CSI series, I think, are her favorites.
From Ivy Eller Robert (74): Everett, WA.
Hi Gary……I received this poem from Susan Maleterre (69) today and it really touched my heart. I thought that others might like to read it as well, that is, if you want to post it!
Also, it's kind of funny, all of these years that I have been away from Dunseith (34), my sister Julie, who lives in Bottineau, would always keep me informed with who passed away in the greater Dunseith area. But since you started this blog a few years ago, I seem know it before she does now.
Thanks again for all you do……
Ivy Eller Robert (74)
APoem
He wasgetting oldand paunchy And his hair was falling fast,
and he sat around theVFW, Telling stories of the past.
Of a warthat heonce foughtin And the deeds that he had done, In his exploitswith his buddies; Theywere heroes,everyone.
And 'tho sometimes to his neighbors His tales became a joke,
Allhis buddies listened quietly For they knew where of he spoke.
But we'll hear his tales no longer, For ol'Bob has passed away, And the world's a little poorer For aSoldier died today.
He won't be mourned by many, Just his children and his wife. For he lived an ordinary, Very quiet sort of life.
He held a job and raised a family, Going quietly on his way; And the world won't note his passing,'Tho a Soldier died today.
Whenpoliticiansleave this earth, Their bodies lie in state, While thousands note their passing, Andproclaim that they were great.
Papers tell of their life stories From the time that they were young But thepassing of a Soldier Goes unnoticed, andunsung.
Is the greatest contribution To the welfare of our land, Some jerk who breaks his promise And cons his fellow man?
Or the ordinary fellow Who in times of war and strife, Goes off to serve his country And offers up his life?
The politician's stipend And the style in which he lives, Are often disproportionate, To the service that he gives.
While theordinary Soldier, Who offered up his all, Ispaid off with a medal And perhaps a pension, small.. It's soeasy to forget them, For it is so many times That our Bobs and Jims and Johnnys, Went to battle, but we know,
It isnot the politicians With their compromise and ploys, Whowon for usthe freedom That our country now enjoys.
Should you find yourself in danger, With your enemies at hand, Would you really want some cop-out, With his ever waffling stand?
Or would youwant a Soldier— His home, his country, his kin, Just a common Soldier, Who would fight until the end.
He was just acommon Soldier, And his ranks are growing thin, But his presence should remind us We may need his like again.
For whencountries are in conflict, Wefind the Soldier's part Isto clean up all the troubles That the politiciansstart.
If wecannot do him honor While he's hereto hear the praise, Then at leastlet's give him homage At the ending of his days. Perhaps just asimple headline In the paperthat might say: "OUR COUNTRY IS IN MOURNING, A SOLDIER DIED TODAY."
Tarsus School
Picture posted by Neola Kofoid Garbe: Minot & Bottineau, ND
Hi Gary,
Waiva Bergeron, Cherrille's mother, taught at Tarsus. One day when Bottineau didn't have school/or we were out for the year, Cherrille/her brother, Mike/Marvin Monson/I spent the day at Tarsus. it was great fun.
Neola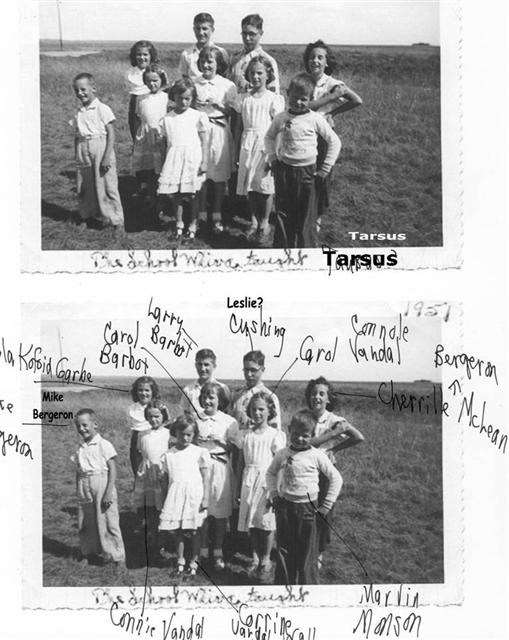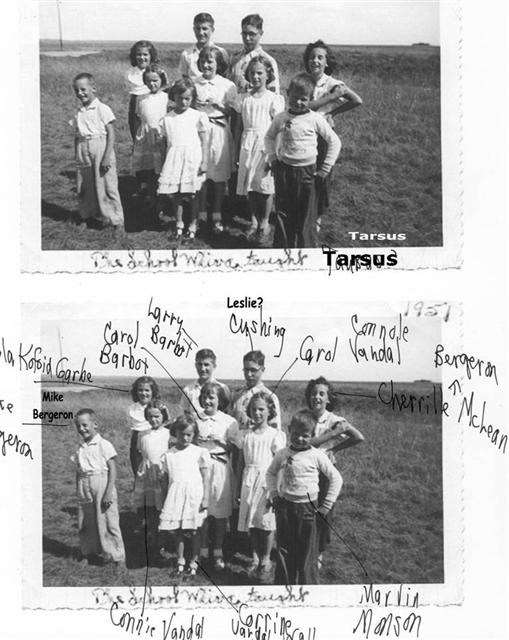 50 year news:
posted by Neola Kofoid Garbe: Minot & Bottineau, ND
Folks, Is Garry Counts from the class of 76 any relation to PVT Garry Counts, son of Mr. and Mrs. Walter Counts, who entered the Army in April 1956? Gary