DHS Class of 1969 held their 50th Class Reunion
Posting from Marvel Hill Thompson (69):  Bottineau, ND
The DHS Class of 1969 held their 50th Class Reunion on July 26 and 27.  We met at Dales Lounge with the start of visiting and eating.  Saturday, we had our class picture taken at the wheel, toured both the high school we attended and then onto the elementary to tour the new gym, WOW what a fantastic gym,  Capacity is 1985. Finished the event with  a banquet back at Dales and had  more stories and tears remembering our fun times.  We also had a short memorial in memory of the classmates who we lost way too soon.   Dales provided a private area for us.  Food and waitress were soooo great.
Thank you Staff of Dales.  Would recommend to any reunions.
See you later . Take care and safe travels Class of 1969.
Marvel
Condolences to Warren Anderson ('65)
From Ron Longie ('65):  Yakima, WA
Warren I'm so sorry to read of the loss of Cora please my sincere Condolences, prayers of strength go out to you, and Family
Raphael Poitra's ('65) sister, Cecilia (Tootsie) Delorme,  passed away
Posted by Vickie Metcalfe ('70):  Bottineau, ND
Gary and friends of Dunseith School
Cecelia was her family's matriarch.
Tootsie ( Cecilla)  was from a well-known  Poitra family,  North  of Dunseith proper.
She  was the  daughter of Ralph Poitra, sister of Raphael,
Niece of Alcide Lajimodiere, and mother of  '70  classmate Carol Ann (Parsien) Lavallie.
I extended sympathy  to her  entire family.
Sincerely Vickie L. Metcalfe
Gary's Comment;
I didn't know Cecelia, but Raphael I know well from our DHS Class of '65.
I extend my condolences to Raphael and all of Cecelia's family. Being a Brother to Raphael, I know she was a good person too.
Cecilia Mae Delorme
May 13, 1930 – July 21, 2019
Cecelia Mae Delorme, age 89 of Dunseith, died July 21, 2019 in a Belcourt hospital. Her funeral will be held on Monday, July 29, 2019 at 10:00 Am in the St. Michael's the Arch Angel Church in Dunseith. A wake will begin on Sunday at 4:00 P.M. in the church.
NOTE: Historical Event Saturday, July 27
Posted by Vickie Metcalfe ('70):  Bottineau, ND
Gary and friends of Dunseith Alumni
Tomorrow,10:00 a..m. – 1:30 p.m SATUR DAY, JULY  27, 2019, representatives of  Turtle Mountain Band  of Chippewa and the International Peace Garden will be working in conjunction to raise the Turtle Mountain Chippewa Tribal Flag.
I just heard  about this event on the Bottineau  Radio Station\ this morning. I understand there will be tribal drumming, slide show stories , traditional and Metis dancing   …….and traditional food.
1.I love history.
I enjoy people working  on mutual goals together .
I enjoy music.
I enjoy  trying different foods.
I enjoy the serenity of the Peace Garden.
After the Great Depression,
A paternal Uncle  Archie, like so  many other young men, worked  in the C.C.'s  building up the structures and grounds in the mid-thirties. My maternal Grandfather Robert E. Lamb and my mother (as a child) walked  from #43 East  many miles……
long,  long  ago  the day the  Garden was dedicated. The Lamb/Wicks families gathered at the picnic areas for many  a year.
Alas, the last few years  the cost to enter has grown to be more prohibitive. So I canna truthfully say how much a person has to pay to get in to this event.
Sincerely,
Vickie L. Metcalfe
==============================================
Blog (787) posted on April 28, 2010
Wesley Schnieder Story on a good ole ND Blizzard afternoon.
From Vickie Metcalfe (70): Bottineau, ND
Gary,
Today, October 27, was a very windy time here in ND. The wind brought wet snows and flung tree branches around.
Finding the school was shut down, I couldn't walk far with the fear of my dogs flying. OK. Actually, they just turned around and let me know there was no way they'd be enticed to go any where until this afternoon, I said, "Ok lets go see Wes and Ovidia." I had another story for Wes to approve the final draft.
My neighbors were doing fine, burrowed snug in their house. Buie sat dozing lazily, being gently stroked by Wes for a length of time. Thor relaxed at his feet. It was one of those old fashioned "snow days". I said Wes, "This afternoon I couldn't quite complete my "deep cleaning" chore I set out to do. I've been laughing, thrown back to a memory of my dad by one of your stories. So, I just had to sit down and put pencil to paper with this recent Wes story. " For what it's worth here it is. Vic
A Perfectly Good Pair of Pants Story
at first it twasŠever so faint. Then louderŠ.Grunts and slapping continued to ensue ____"ed–uhl UHL". _____One day, Wes age 10, heard a neighbors voice from a distance. Wes, and it seemed neighbors from miles around heard. "ed—uhl."
What was that? Another roar louder and more panicky again ! Then a final mighty, great roar! "ed——u!——– ed —–UH!——ED—-UHL!—-'" "Neighbors uncertain what to do, although they knew the neighbor was yelling for his wife.
Once upon that time, there was this fellow and his wife Ethel, living on land west of the Schneider farm. This fellow had a problem with vermin in his granary. One bright morning, "Lookin at his dog he came to a conclusion much to the demise of the—er ???!"
BRIGHT IDEA? humm-mmm-hmmM-MMMMM? He decided to outsmart those pesky vermin. So, he threw a board over one hole, and stood over another. In anticipation of a show down, he'd brought his loyal dog as back up with him into the wood granary. He had the hopes of the little dog killing the vermin.
The scene that followed was purely. Unfortunate.
When It, Mr. "???" couldn't get up one hole. Came up the other hole where he found himself lookin up, up, up,at the big man The man who weighed close to 300 pounds. STOMP_____. STOMP____. came down the big mans FEET.
Commotion and pandemonium followed. It seemed to the man it was a long battle. Oh my, that poor little ???! In fear, finally cornered, nearly dying of fright, did just about the only thing "IT" could. He ran up the mans big. booted foot and up, up up, the inside of an overall leg.
HUH???? EEEEEH! SLAP! ,SLAP "eeeEW" yelled the man to his wife at the house. Grunts and slapping continued to ensue "-"ED–uhl". Neighbors heard. Another, bellowing roar, louder, more panicky , again "ed——u!——–" "ed —–UH!"——"ED—-UHL!"
The man with his big hand had cornered a ??? in his pants —just above the knee. He hobbled to the house, "ed—uhl", "ED—HUL" "Det da scessors". "The wife came running, with the scissors, and cut a hole through the fabric . And pulled out —-a very, quite, DEAD-END of a R- A -T.
Sadly, the poor little dog had no more vermin to chase and sadder yet it twas the end of another perfectly good pair of pants.
A Wes Story, as told to, then retold and embellished by Vickie On one fine October Snow Day, 2010
Early ND Snow
Pictures from Dick Johnson (68): Dunseith, ND
Gary and Friends,
We are just now getting the end of a two day winter blast. The only problem is that it's still fall according to the calender. These are just a few shots I took today around the place. My haying equipment looks like it is now retired for the winter although it still needs to be cleaned up and put inside for the real winter The one picture is overlooking Horseshoe Lake from the north. It's pretty, but what a mess for a few days ahead! I bet my pal Bill Hosmer is glad he made it back south before this hit! As he says, "It kind of brings a tear to you eye, doesn't it." Thanks Gary!
Dick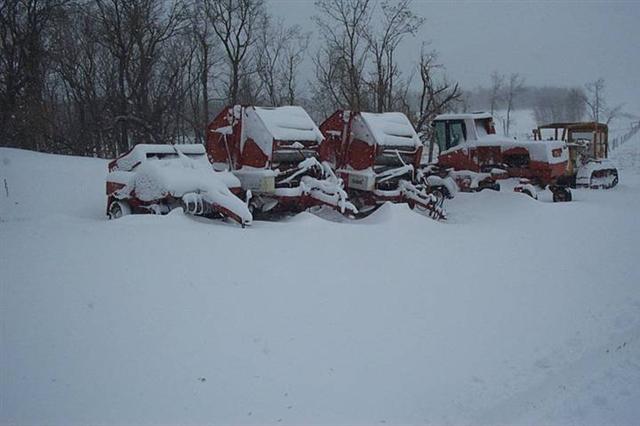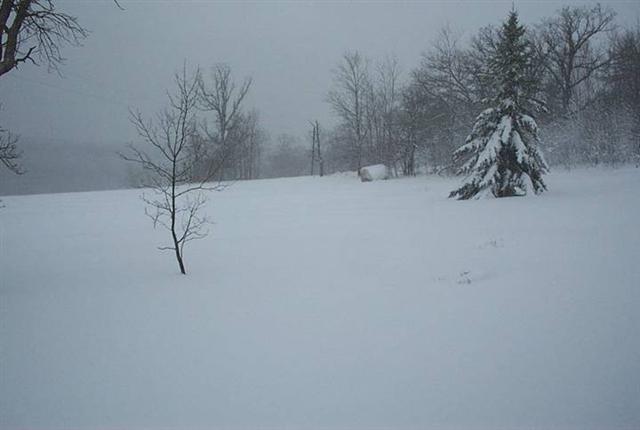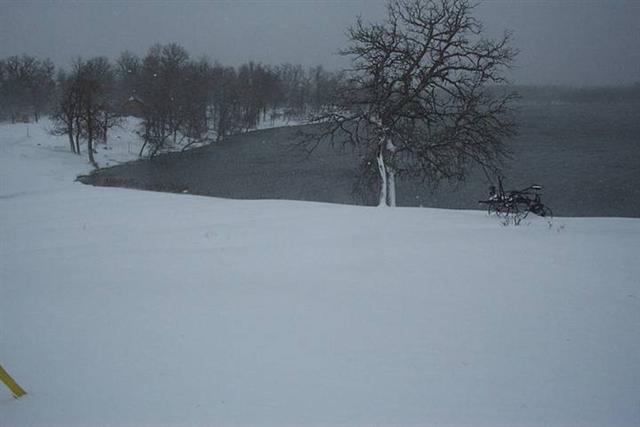 Stokes House addition in the Philippines
Folks, Several of you have requested pictures of our new house addition in progress. This is a 22″ x 40′ addition that includes a living room, master bedroom/bath and and an outside toilet accessible only from the outside.
Note: The blue tarp provides shade from the 90 degree heat.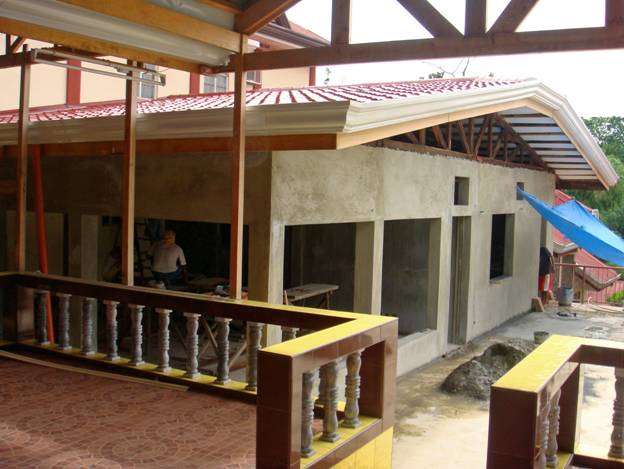 Living room, 22′ X 20′, with 4 large windows & two exterior doors.
The walls are ready for paint.
They are working on the ceiling.
Up to the ceiling, everything is cement.Very labor intense and time consuming.
I could never afford the labor costs back in the states for this kind of construction.
Looking out from inside the living room.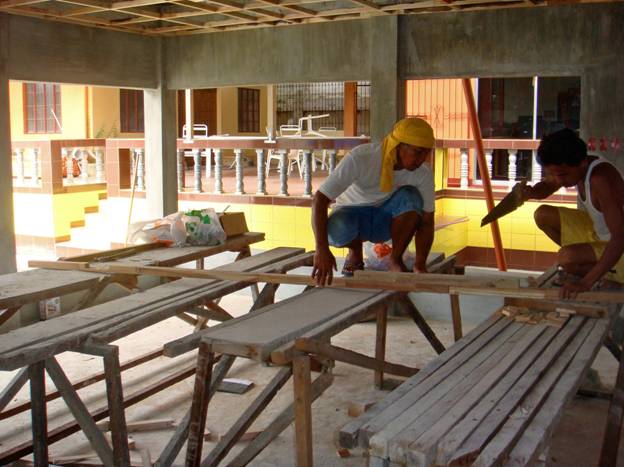 Looking out our kitchen back door into the newly constructed Pantry way entrance to the house. Rather than paint, we decided to tile (ceramic) the walls of this room. The building thru the door is our outside kitchen/laundry building.