Note to Vickie From Gary
Vickie, I forgot to post this with the last blog. Sorry for the oversight.
Sympathy to Raphael Poitra ('65)
From Vickie Metcalfe ('70):  Bottineau, ND
Dear Gary, Raphael Poitra, and friends of Dunseith Alumni, 
Raphael, sympathy on the passing of  your sister Cecilia (Poitra) Delorme.
            She  always shared her sweet beatific smile while visiting. She'd  often share  about people she treasured; her children and grandchildren, her family and her friends.
            I  truly enjoyed  visiting with her, whenever we met.
Sincerely, 
Vickie L. Metcalfe
Coconut Tree in the Stokes Compound Backyard in the Philippines
Following a long draught, with all the rain in the past several weeks, this lone coconut tree in our back yard has really blossomed.
When we developed our property in 2004, we cut down about 20 mature coconut trees.
This tree is one that has grown back. A mature coconut tree has a trunk length of 60' to 80'. The fruit is all on the top. There are no branches on the trunks. This tree is still growing. It has a trunk length of about 8'.
These coconuts are heavy. Falling from a height of 80' can be very dangerous. Before cutting them down in 2004, several fell on our tin roof making big dents.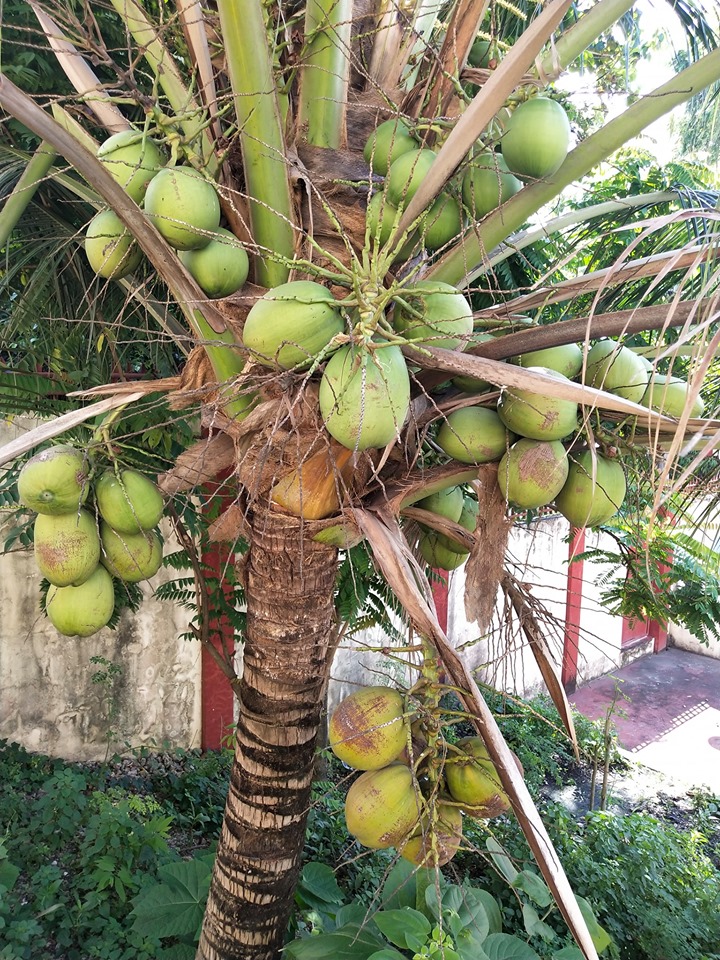 ==============================================
Blog (788) posted on April 29, 2010
Obituaries
Joseph Frank LaFountain (March 19, 1939 – October 26, 2010)

JOSEPH FRANK LAFOUNTAINJoseph F. LaFountain, age 71 of Dunseith, died Tuesday in his home. Funeral services will be held on Friday at 10:00 A.M. in the St. Michael the Archangel Catholic Church in Dunseith. Burial will be in the St. Benedict's Cemetery. A wake will be held on Thursday beginning at 4:00 P.M. with a prayer service at 7:00 P.M. in the Church.

Joe Frank LaFountain, a son of Joe and Mary (Champagne) LaFountain, was born on March 19, 1939 at Belcourt. On January 18, 1959 he was married to Shirley Gunville at Belcourt. This marriage later ended.

He is survived by his companion, Shirley LaFountain of Dunseith; 2 sons, Les LaFountain and Jeff LaFountain both of Dunseith; a daughter, Rhonda Poitra of Dunseith; 7 grandchildren; 5 great-grandchildren; brothers, Gerald (Judy) Lafountain, James LaFountain and Benedict (Diane) LaFountain all of Dunseith; sisters, Theresa Tetrault, Dorothy Davis, Virginia LaFountain, Florence LaFountain, Sharon Lafountain, Ramona (Jimmy) LaFountain all of Dunseith, and Rita LaFountain of Rolette.

Arrangements are with the Nero Funeral Home of Bottineau. Friends may sign the online register at www.nerofuneralhome.net.
Lucien Casavant
Reply from Lucien Casavant (69): Fort Mill, SC
Gary, For sure Lucien Casavant is our Uncle…the nicest uncle ever…and his wife Alma, was a scream…we loved our Aunt Alma. She had this Lucille Ball type personality. Aggie
Follow up reply from Aggie
Hey Gary, It's me again. I think the gal in the picture with Stella S. is her daughter Kathy S. Haven't seen her 43 years but I'm positive it's her. Aggie
Reply to Dick Johnson (68) form Aggie:
To Dick, Wow those snow picture really were jammed packed with winter memories of N.Dakota. Really caught me off gaurd… I guess just surviving half a dozen tornados ripping through the Carolinas this past couple days makes a person forget that it's almost Christmas… Loooking at those pictures,I can almost smell the snow…Beautiful… Simply Beautiful..thanks for sharing…Aggie
To Gary, you need to go on that show the Apprentice with Donald Trump…He would probably hire you with all the construction you;'ve been doing. looks Great! Aggie
Aggie, you are right, folks identified the gal standing with Stella as her daughter Kathy. Gary
 Reply from Lynn Halvorson Otto (75): Boonton, NJ
Hi Gary, very nice addition to your home! It is fun to see it all come together. Lynn Otto

Thanks Lynn,

 

We currently have our master bedroom upstairs. As we get older we feel it would be a lot nicer to have it on the ground floor. We were limited for real-estate space too, when we build our house. We did not have the adjacent lot at the time. The initial plan was for this to be a temporary house while we built in a development. In the middle of construction, Bernadette decided she would like to live here next door to her sister, so we then made this our permanent home.

 

Gary