Lorraine Pritchard Thom Obituary
Posted by Neola Kofoid Garbe: Minot, ND
(Virginia) Lorraine (Pritchard) Thom
(Virginia) Lorraine Pritchard Tohm, 83, longtime Hereford resident, passed away Sunday, September 15, 2019 at her residence. Funeral services will be Thursday, September 19, 2019 at 2:00 PM with Pastor Joe Andrajack officiating at the Mendez and Mullins Family Funeral Home Chapel and visitation will be Thursday morning from  9:00 AM-12:00 PM at the funeral home. Funeral services are also scheduled for 10:00 AM, Monday, September 23, 2019, at Nero Funeral Home in Bottineau, North Dakota with visitation one hour prior to service time. Interment will be in the Zion Lutheran Church Cemetery in Gardena, North Dakota, beside her husband. Lorraine Pritchard was born in Dunseith, North Dakota, on September 30, 1935, to Robert and Dorothy Pritchard. She was raised on a farm near the Canadian border. Lorraine met and married LeRoy Tohm of Gardena, North Dakota, after he completed his service in USMC during the Korean War. Following their marriage, the couple lived in approximately 14 different cities in western North Dakota while he worked for an oil drilling company. In 1960 they moved to Egeland, North Dakota, where LeRoy farmed for 13 years. In 1973, they moved to Texas where LeRoy accepted a mill manager position with a cattle feed yard in Hereford, Texas. Lorraine was a homemaker who filled her time with various craft activities, including many beautiful crocheted items for family and friends
Lorraine is survived by her children: Virginia Cartwright, Florida, Audrey Rose (Mike), Texas, Jeffrey Tohm, Texas, Debra Pittman (Leon), Arkansas, and Jacqueline Meyers (Mike), Minnesota, 13 grandchildren, and 6 great-grandchildren. She is also survived by 2 sisters, Lois Beckman, Colorado, and Carol Corzine, Texas, and 2 brothers, Darold Pritchard, Mississippi, and Dale Pritchard, Louisiana.
 Lorraine was preceded in death by her husband, parents, one sister, Shirley Zahn, and one brother, John Pritchard
Gary Stokes comments
The Pritchard's lived one mile south of our farm in the Ackworth community in the Turtle Mountains. Lorraine and her sisters Shirley and Lois were a bit older than me and had left home prior to the time I can remember. There were 7 siblings. The younger 4, Darold, John, Dale and Carol I remember very well. The Pritchard's had a lot of milk cows and sheep. Each of the kids had their specific chores to do too and they were many. Believe me. Robert was a professional welder and did a lot of welding requests for all of the neighbors. Good neighbors. Good memories.
I extend my condolences to all of Lorraine's family with her passing.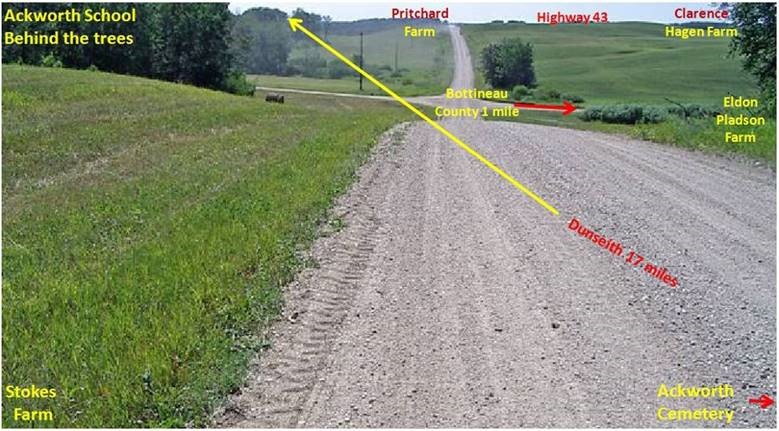 Reply from Bob Lykins:  Hutto, TX
Gary,
How fortunate you are to have these ladies helping you tend to your wife.  From my memories of my days in the Philippines, such dedication is not at all rare in their culture.  They will be in my prayers tonight.
Bob Lykins
Gary's comments
Yes Bob, I am blessed. This picture was taken in April when Bernadette was unconscious for 20 days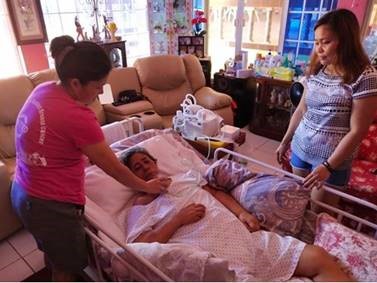 The Right Place
Posted by Vickie Metcalfe ('70):  Bottineau, ND
Gary and Friends of Dunseith Alumni,
 I grew Up at The Right Place
My thoughts today flashed back to the "Wright Place".
Land which was located in Willow Lake township which my parents purchased from Aunt Mary and Uncle Bill in the mid 60's.
I was in the 7th grade, the year, I "cut my teeth" on the D – John Deere sweep raking hay to  Dad who drove the John Deere Farmhand whilst  stacking hay.  Haying was a big family affair. Everyone had a job   Sisters tramped the hay down in the frame. Early mornings, after milking, Mom planned, prepared meals and lunches.  Everything was home grown or homemade from scratch.
The first hay put up was the tame hay; alfalfa, sweet clover, Timothy or Brome grass. Hay from the meadows  was last of haying. It was put up after the hot summer sun dried the soft moist meadow soil to a firmness.  Pugnant meadow hay  triggered frequent sneezes, coughs,  and watering eyes amongst all of us..
The Wright Place Hay meadows  due to distance and  navigating its  hillside were always the last.
We were in Allelulah happy stage then!
My Dad was wonderful thoughtful father who shared stories and would talk about feelings.
But hay season brought out the worst in him …."stress hollering" .  (He'd take time off from plastering to get the haying done.   The farm depended on the livestock, who depended on hay.)
Dad used his strong arm muscles to manually, forcefully crank the D-John Deere  to get it started.  And once started it was never shut off until the end of the day.  The smell of gas permeated the air.
One hot afternoon down in the depth of a  still, stifling, warm, meadow there was absolutely no breeze. Dad 's stress got to him, motioned signals with his hands.  I didn't understand. He hollered and became more animated!
I felt FRUSTRATED . Whaaat?? turn ..?…left… back up…push hay toward, turn around slow down?  Whaaat?"
Finally, I stood up on that D- John Deere.  Hollering back. "I have had enough!"   "I don't know what those hand motions mean.!"
I pulled the clutch which killed the power.
Stiff muscles, I crawled off that D- and started walking, never looking back.
I walked thoughts stormed across my mind.
"I am running away but I don't know where to go, but it won't be home!"
"Dad  is either going to beat my butt…"
"or he won't do a thing  just let me go….."
and I …I will not be able to go home again."
In the hot summer sun, I felt a cold fear "I knew he would never  beat me.  The stark fear. "Where will I go" I can't go home again."
Dad stopped the farm hand.  And came from behind. He walked beside me.
I said, "I don't understand hand signals, I don't like hollering. I'm done!"
I felt,total surprised hearing words spoken in kindness.
He said, "Vickie I am so sorry I hollered."
"I love you".  'I am sorry I hurt your feelings. Would you please forgive me.?" I nodded.
Snottering, I crawled  back on the D.
I wasn't  a  bit  feeling guilty while he worked to get the  D- engine turning over. I knew our relationship had changed
Dad and I  strengthened and forged  into something  special; deep understanding, mutual respect, appreciation and forgiveness.
I grew up at the Wright Place.
Until Later,
Vickie L. Metcalfe
September 16, 2019
PS To all the former DHS choir members, In closure, do you recall Mr. Johnson leading us in the Fall song below. Does the melody is play in your head too?.
Lyrics …"Autumn Leaves Start to Fall"
The falling leaves drift by my window
.The falling leaves of red and gold
.I see your lips the summer kisses.
The sunburned hands I used to hold.
Since you went away the days grow long.
And soon I'll hear old winter's song.
But I miss you most of all my darling.
When autumn leaves start to fall.
Since you went away the days grow long.
And soon I'll hear old winter's song.
But I miss you most of all my darling.
When autumn leaves start to fall.
I miss you most of all my darling.
When autumn leaves start to fall.
Songwriters: UNKNOWN
==============================================
Blog (791) posted on May 3, 2010
Update from DeAnn Gottbreth O'hare: http://www.caringbridge.org/visit/deanngottbreht
Only two weekly Chemo treatments left! Patrick's dad brought me down for my latest treatment on Friday while Connor stayed with Grandma Jan. All the help from our family is greatly appreciated. I don't know what we would do without them! The chemo is running me down more and more so I am looking forward to a break. I will switch to one treatment every 3 weeks after I finish these next two treatments so that will be nice. Hopefully the side effects of the chemo will be easier then. I meet with my doctor again this week when I go for my treatment to make our final plans for my future treatments. It will also be nice to spend more time at home as a family. All this traveling really runs me down.
Connor had his 2 month appointment at his Pediatrician's Office this last Monday. He was up to 8lbs 10oz already! He is growing so well. Of course he looks more like a newborn than a 2 month old but he is filling out nicely. He had his shots that day as well and he only cried right when the nurses gave him the shots so it wasn't so bad. I didn't even cry this time while I watched and his daddy comforted him afterwards so Connor was just fine. Connor is still only eating about 2-3 ounces every 3 hours but I'm hoping to start increasing it some so he will maybe sleep a little longer in between feeding. I really enjoy those times when he sleeps for more than an hour at a time! His reflux will be a problem for probably the first year of his life but we have plenty of burp rags and bibs to keep up with it. Doing his laundry will definitely keep me busy.
Thanks again everyone for all of your cards, gifts, and support. We appreciate you all so much. It has been quite a journey but things are improving, life is getting better every week!
Mark Peltier (84):
Gary,
Please include Mark Peltier (1984) graduate to your list.
His email is
Thank you
Mark, It is my pleasure to add you to our distribution list. Doing a find for your name I found locations for you in Dunseith, Anchorage, Kirkland & Seattle. I'm assuming you are living in one of those places? It looks like you have lived a lot of same places as Larry St. Claire? Gary
Pictures from the achieves:
Hubert Allery DHS class of 52

Marlin Williams DHS class of 55
Born July 10, 1935 – Deceased April 6, 2003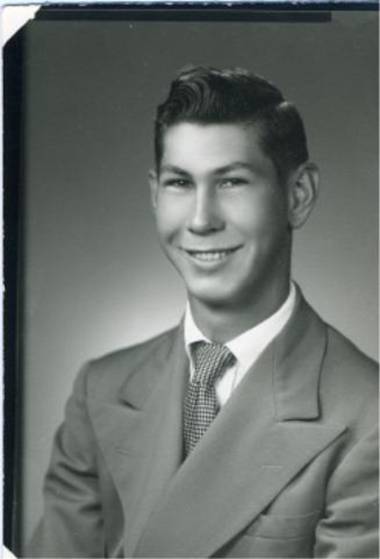 Marlin (55)/Doris Peterson (53) Williams Family