Covid-19 Update in Cebu Philippines
Posted by Gary Stokes
Last Wednesday, April 20th,we were released from 8 ½ weeks of Quarantine Lock Down. We are allowed to go out only in our own town of Consolacion. We need a border pass if we have a need to go to or pass thru any of our adjoining towns or cities. They are very strict. Each area of our town has been designated 3 days that we can go to the mall and major shopping areas. Our days are Sun, Mon and Thu. To Patronize most businesses, one needs a quarantine pass. One pass was issued per house hold. Multiple names can be on the pass, but only one user at a time is allowed to use the pass. I added my name to our helper's pass.
Our local mall reopened on the 20th also with about 60% of the businesses being open. Yesterday when I went to the mall there were about 200 people in a waiting area waiting to go into the supermarket. Being senior over the age of 60 I was allowed immediate access without waiting. They really cater to the seniors here. Sometimes I feel guilty for having head of the line privileges. The Supermarket was pretty crowed inside too, so those waiting were having a long wait.
The Philippines has only a fraction of the percentage of Coronavirus cases per million population as compared to the USA. I think this virus thrives better in colder dryer climates. We have had only one case in our town of about 150,000.  Some of the communities here are so densely populated that they don't have enough space to provide the required social distancing requirement of 6 feet.
Lots of the locals here that are unemployed due to the closing down of businesses for Covid-19 are out of food with no money to buy more. The government provided some relief but not nearly enough.
That's the latest here.
I down loaded a Pedometer App on my phone. Pretty neat app.
Yesterday I walked over 7 miles. I walk a mile in my garage parking area every morning and evening. In addition to that I walked another 5 miles in the course of the day with general activities.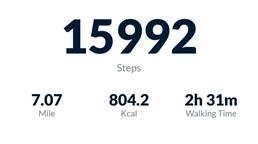 Gary
4-H Memories
Posting from Vickie Metcalfe ('70):  Bottineau, ND
May 20, 2020
 Friends of Dunseith Alumni,
                I once was invited and attended a Mountaineers winter sledding party where I witnessed  
a feeling of total neighbor comradery across generations and gender.  Everyone had fun!  
                 Thanks for the memory share Gary about Orvin Hagen who was an endeared 4-H mentor and community member.
                Dave Slyter, you hit the nail on the head summarizing the 4 -H fellowship community.
 "I will always remember the great friendships we had with our neighbors and all the hayrides and holiday parties
we had up in the old Ackworth School building right next to the Willie and Margie Hiatt farm.  Great time and great memories."               
Until Later,
Vickie L.  Metcalfe
Don Vick, Forestry Math Teacher passed away
Posting from Vickie Metcalfe ('70):  Bottineau, ND
https://www.nerofuneralhome.net/obituary/dr-donald-vick
Gary and Dunseith Friends,
I attended "The Forestry", AKA " NDSU BB",  Dakota College:
I feel sad reading of this loss.
Don Vick was a excellent math teacher at college especially for those of us who were math shy.
…….I had Math anxiety.
He was a patriot.
He was a veteran of Korea,
where he held a fascinating position whilst serving.
I recall those years while attending college, I believe he mentored many young… Viet Nam Vets..
He was a truly nice person.
Vickie L. Metcalfe
I Packed Your Parachute
Posting from Tim Martinson ('69):  Anchorage, AK
Charles Plumb was a US Navy jet pilot in Vietnam. After 75 combat missions, his plane was destroyed by a surface-to-air missile.  Plumb ejected and parachuted into enemy hands.  He was captured and spent 6 years in a communist Vietnamese prison.  He survived the ordeal and now lectures on lessons learned from that experience!
One day, when Plumb and his wife were sitting in a restaurant, a man at another table came up and said, ' You're Plumb! You flew jet fighters in Vietnam from the aircraft carrier Kitty Hawk. You were shot down!
'How in the world did you know that?' asked Plumb.
'I packed your parachute,' the man replied.
Plumb gasped in surprise and gratitude.
The man pumped his hand and said, 'I guess it worked!'
Plumb assured him, 'It sure did. If your chute hadn't worked, I wouldn't be here today.'
Plumb couldn't sleep that night, thinking about that man.  Plumb says, 'I kept wondering what he had looked like in a Navy uniform: a white hat; a bib in the back; and bell-bottom trousers.  I wonder how many times I might have seen him and not even said 'Good morning, how are you?' or anything because, you see, I was a fighter pilot and he was just a sailor.' Plumb thought of the many hours the sailor had spent at a long wooden table in the bowels of the ship, carefully weaving the shrouds and folding the silks of each chute, holding in his hands each time the fate of someone he didn't know.
Now, Plumb asks his audience, 'Who's packing your parachute?' Everyone has someone who provides what they need to make it through the day.  He also points out that he needed many kinds of parachutes when his plane was shot down over enemy territory – he needed his physical parachute, his mental parachute, his emotional parachute, and his spiritual parachute.  He called on all these supports before reaching safety.
Sometimes in the daily challenges that life gives us, we miss what is really important. We may fail to say hello, please, or thank you, congratulate someone on something wonderful that has happened to them, give a compliment, or just do something nice for no reason.  As you go through this week, this month, this year, recognize people who pack your parachutes.
I am personally sending you this as my way of thanking you for your part in packing my parachute.  And I hope you will send it on to those who have helped pack yours!
Sometimes, we wonder why friends keep forwarding jokes to us without writing a word. Maybe this could explain it!  When you are very busy, but still want to keep in touch, guess what you do – you forward jokes. And to let you know that you are remembered, you are important, you are loved, you are cared for, guess what you get?  A forwarded joke.  So, my friend, next time when you get a joke, don't think that you've been sent just another forwarded joke, but that you've been thought of today and your friend on the other end of your computer wanted to send you a smile, just helping you pack your parachute.
Sent from my iPhone
I keep this site bookmarked
Posting from Vickie Metcalfe ('70):  Bottineau, ND
Friday, May 22, 2020
Gary and Friends of Dunseith Alumni,
Someone mentioned the folks, including Dorothy Lamb helping lead 4-H.
That reminded me of Lamb cousin adventures.
http://www.thepastwhispers.com/Texas_Spring.html
Texas in May beauty, was truly "Texas Spring"
This is site is one of my FAVORITE go to places! I don't need to leave my house.
I let music flow and photos guide me into warm Texas Spring.
I went to Texas one glorious Spring!  A road trip south, this time of year.
I enjoy learning about American West History. 
I delight in turning off main road to look/see every scenic byway.
And I did all the way to South Texas.
Once at College Station, I spent a week with my best- est childhood buddy, Cousin L. Dean.
When we were kids in school learning to read. He was the tortoise I was the Hare.
Which lead him into focused study skills and he became an excellent scholar.
Dean went on to teach post graduate veterinary work at Texas A and M.
He allowed me to stay at his bachelor trailer house…I cleaned house!
Whilst there on campus, his students tried to bribe me into telling them what the L. stood for In Dr. L. Dean Lamb.
                Bribery never worked on me! 
Actually, it was a remnant of our childhood,  Cousins, we held onto loyalty to the end!
Dean took time off to take me to S. Texas where we met up with his Ralph Jasper cousins.
As our little group grew, we adventured over the Rio Grande River into Mexico.
And the white sands of South Padre Island.
Back at Texas A & M, Dr. Dean and his students took me on a late-night veterinary emergency run.
Oh my!  Texas skies at night were inky dark and lonely, kind of like Montana open country.
They doctored a sick horse.
        While I?  I encountered FIRE ANTS! I stepped and stomped!
 Dean made no comment
          I'd been bamboozled.
One Saturday night a group went dancing at a huge dance hall saloon/bar out in the country
West Texas Western Swing couples … 4 a Brest circled the floor.
Hundreds of couples circling the floor dancing Western Swing feels awesome!
My favorite thing we did.  I absolutely loved DANCING!
and
                That was the night…  I fell in love with Cotton Eyed Joe.
Until Later, 
Vickie L. Metcalfe
May 22, 2020