Murl Watkins Hill (DHS '50) passed away
Posting from Neola Kofoid Garbe:  Minot, ND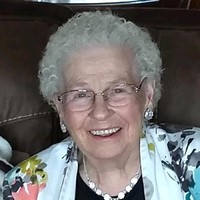 – May 25, 2020
Murl Hill
Murl Hill, age 88 of Dunseith, died Monday, May 25, 2020 at an Enderlin, ND nursing home.  A private family service will be held.  Graveside services will be held on Saturday, May 30, 2020 at 11:30 am at the Riverside Cemetery at Dunseith.  Visitation will be Friday from 1:00 pm until 9:00 pm at the Nero Funeral Home in Bottineau.
Reply to Tim Martinson's story of Charles Plumb
From Manny Cuadrado (63): Omaha, NE.
Gary,
Thank you for your posting of Tim Martinson sharing the story of Charles Plumb, a true hero.  I have been lucky to meet and hear in person Mr. Plumb twice.  Both times it was very moving.  Mr. Plumb also shared how they communicated among the prisoners.
Regards,
Manny Cuadrado
Dannette (Boucher) Klebe Passed away.
Posting from kaye Lystad Kirk:  Fargo, ND
HI Gary,
This is a little late, but would you please post this obituary in your newsletter? It's for my brother-in-law's sister, Dannette (Boucher) Klebe.  (My brother-in-law is Merle Boucher, who is married to my sister, Susan.)
Thanks,
Kaye
Dannette (Boucher) Klebe
August 25, 1956 – April 28, 2020
On Monday, April 6th, 2020, Dannette Klebe, loving wife, mother, grandmother, and friend passed away peacefully with her husband at her side, at the age of 63, after a three-year long battle with ovarian cancer.
Dannette was born in Rolla, North Dakota on August 25, 1956, to Alfred and Doris (Goodsell) Boucher, and grew up on a small farm with her older brother and sister, Merle and Vicki. She graduated from Rolette Public High School and attended the University of Mary where she obtained a Bachelor of Science Degree in Nursing in 1979. In October 1980 she married Douglas Klebe and began their life together in Fargo, ND where she started her long career as a Registered Nurse, primarily in critical care. Dannette and Doug subsequently moved to Pueblo, CO, Clearlake, CA, Newport, OR, Merced, CA, and Cypress, CA, before coming to Roseburg in 2012.
Dannette and Doug had two children, Damon Klebe who resides with his wife Samantha in Chino Hills, CA, and Desirae Allen, who resides with her husband Scott in Sandy, OR. Dannette is a grandmother to five-year-old Skylar, born to Desirae and Scott. Skylar was Dannette's greatest joy.
Dannette enjoyed quilting, golfing, good wine, camping and having a good time with her family and many friends. She will long be remembered for her contagious smile, caring heart, and generous spirit, as well as her courage, dignity, and determination she exemplified during her battle with cancer. She was a nurse through and through and always put others before herself no matter the circumstance. We hope and pray that her spirit will live on through her children, granddaughter, friends and co-workers she touched during her lifetime. She had a beautiful life and will be greatly missed by all.
Dannette is survived by her husband Doug, two children Damon and Desirae, her granddaughter Skylar, her brother Merle, and sister Vicki.
A celebration of life will be announced when restrictions for social gatherings are lifted.
Scotty & Thelma Thompson and Gary Poitra: Band
Picture and Message from Dick Johnson ('68):  Dunseith, ND
Gary Stokes Comment
Scotty and Thelma were very close friends of my Dad's Brother Emil and Lillian Petterson in Bottineau. Scotty work at the Bottineau Pride Creamery for a life time too. One of his first jobs at the creamery, that he is well remembered for, is Delivering Milk to the Bottineau Homes. Scotty and Thelma were very well known for their musical talents. 
Gary,     I think the bloggers might like to see what Scotty and Thelma Thompson looked like. We asked her if she would like to join us for the jams, we had in Bottineau years ago but she said she just lost interest after Scotty died.   They probably all knew Gary Poitra too from all his years singing with his brothers in this area.  They were well known as a very musical family.
I lived in a house in Grand Forks while I was at UND and one of the guys staying there was from the Wahpeton ND area and he had a big old 'reel to reel' tape player right next to the room Tim Hill and I stayed in.  He was a wild man and when he got off work,  he headed to the bar and then came home after closeup and fired up his tape player and his favorite tape was 'Cindy and The Turtle Mt. Boys' that he got from a friend in Rolla.  If you listen to that at 2 AM enough nights,  you even learn the words to the songs.  We would have to get up and yell at him to put his headphones on or shut it off so we could sleep.  He would put the phones on and not even turn the volume down so we could usually still hear it in the next room THROUGH his headphones!  Sometimes I would go into his little hallway space and just unplug it from the wall and he wouldn't even flinch when it went from ridiculously loud to silent.  He was a good guy with a college degree but went to Vietnam and came back all messed up and just worked at whatever job he could get.  He loaded potatoes, ran a cement grinder,  stuff like that to make a few bucks.  When he passed out,  we would check to see if he had his old alarm clock set and if he didn't, we would set it for 5:45 AM and turn it on.  A couple hours later,  we would hear about two dings and he was up and off to work in a few seconds—unreal!  Luckily,  I was told he got himself straightened out and is/was doing OK.  I haven't heard anything now for a few years.  I'm getting a bit long here but it's funny how the picture of 'Cindy and the TM Boys' can bring back memories from 50 years ago this year.  Thanks Gary! Dick
Gary Poitra, Scott & Thelma Thompson
Roger Thingvold on fiddle?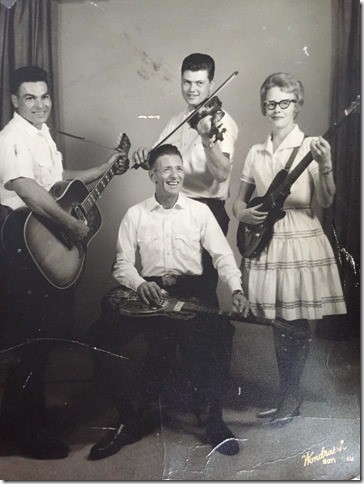 Subject: Bubba the Tiger
Posting from Tim Martinson ('69):  Anchorage, AK
Not sure how true this is, but it's plausible and an interesting read–!!
Bubba the Tiger, Better Than Waterboarding
We lived with, and flew in support of the Green Berets out of Forward Operating Base (FOB)-2 in Kontum, Vietnam 1967-1968.  Here is a re-post on Bubba.
We got the tiger pup in Laos after his mom tramped on a land mine. He was only two days old, but I had him in my jungle jacket wrapped in a towel and when we were extracted we fed him milk and got him on his way.
He did well because he got much larger than an Asian Tiger usually grew to. His weakness was real beer (He had two cans a day) which he slurped down, went to a corner of the hooch, rolled on his back, showed his junk and snored like the last day!  If the bubster wanted to get in your bunk with you, you just rolled over and dealt with it. It's such a shame so many tigers were killed over there because most were killed for sport and not in human defense.
When we cycled out, the question was what the hell to do with Bubba? He couldn't survive because he only knew SOG, Special Forces, Seals etc. Here is where we got creative. We had access to things normal military didn't.  So, we got creative and a phone call went to a research zoo in Sidney, Australia, and we asked if they wanted a free tiger. When the lady at the other end realized we were for real she said, "Yes, but how do we get him?"
I don't want to reference Air America, but we flew the Bubster to his new home, and I got off the airplane with him walking beside me like a dog on a leash. They all went nuts when he walked to the lady and heeled by her side looking at her for instructions.  He must have had a very good time and life there because he sired tons of babies.
When I was back in Sidney in '87,  I saw a bronze plaque telling about the Special Forces Tiger that came to them in 1969, and made lots of great baby tigers. That part of my life is gone like Bubba who lasted to '85, but every time I hear a Tiger make those special noises my head and heart goes back to a tiny little baby, we found in Laos in 1968.  God, I miss him!
BTW, the Bubster never lived in a cage. He was always shown love from a bunch of very dangerous men whose hearts melted when they met him.  To discipline him, you grabbed a handful of hair and flesh on his shoulder and simply said "No."  He never retaliated, he just complied.
When I said he never lived in a cage, the decision about the zoo where he ended up was a research zoo that was very excited because of gene diversity. It also had the new concept of no animals in cages. People were the ones in cages or behind glass.  It took a bit for him to get back to being a tiger, but after he figured out the male/female thing, nature took its course and he was off to the races and made a ton of tiger babies who are in zoos around the world. God Bless to my knowledge was the only Special Forces tiger in the history books.
An interesting side note is that SF and MACV were in many ways involved with the CIA.  The coats and ties back in Langley, VA, couldn't understand how our intel was so accurate.
Picture a NVA prisoner strapped into a chair and questioned. Also, picture the prisoner telling us in multiple languages to go F-ourselves. So, a hood goes back on and the prisoner was told to spill the beans or we were going to feed the zip to our tiger.  They all laughed their asses off and said we were crazy.
Enter the Bubster and have his head about two feet from the prisoner, pull the hood off at the same time I would pinch the back of Bubbas neck. He roared in the dink's face with his extremely nasty tiger breath, and the prisoner pissed his pants or worse while he sang like a member of the Mormon Tabernacle Choir.
God, I miss that stuff.  BTW, our intel was so accurate the pencil necks were amazed and never found out how we did it.
Sent from my iPhone=