Bernadette is a lot better today. She is still having coordination problems with her hands. If is very difficult for her to eat, getting the food on her utensil and then to her mouth. She is independent and doesn't want help, but in the end she did let the girls give her a hand eating her dinner this evening. From about 1:00 PM yesterday until this morning, she remembers nothing. She was really out of it.
.
.
Austin Fauske (Russell/Glenda) – Sworn in by the Supreme Court in Bismark
Picture posted by Connie Fauske Monte ('62):  Fort Myers FL
Message from Glenda Fauske:  Dunseith, ND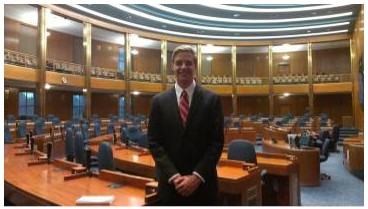 Gary

We have been gone for a few days and just got back to checking the email.  I'm very sorry to learn about Bernadette's "turn for the worse."  No matter how you think you are prepared to handle things like this that you know are coming … it is very hard … no matter what your age.  She will be in our thoughts and prayers.

Yes, we are very proud parents.  Austin graduated from UND in Grand Forks this May with his law degree.  He took the bar in July and was sworn in at the capitol in Bismarck on September 27 (Russell's birthday).  It was a happy day for the entire family.  We took Elwood and Eleanore with us to see their youngest grandson.  He started full-time with a Bismarck law firm on October 1.  He did work for the firm the last two summers.  We are very proud of how dedicated he was to his studies and, hopefully, it will pay off for him in the near future.  He is already very busy at work and learning a lot.  He is doing a little bit of everything at the present time.  He took a lot of oil and gas lease classes as that is the big thing in ND right now, but may focus in on Medicare/Medicaid issues in the future as that also seems to be a growing need as our baby boomers age.  The picture was taken in the House Chambers as that is where the ceremony took place.  Sixty three people were sworn in that day.  ND has a "big old book" that ALL the lawyers must sign.  That was pretty cool, too.

Best wishes to you all over there.  Looks like a wonderful time, beautiful cake, and happy smiling faces!

Glenda and Russell
.
.
Trying to locate Angie Charrier Oleskiew of Yorkton, Sask
Reqest from Kay Hosmer ('77):  Crown Point, Ind
From Kay Hosmer ('77):  I was so sorry to hear of the passing of Scott Charrier.  If this blog is received by his sister Angie, please let me know.  I would like to be in communication with her.
.
.
Scott Charrier's sister Janna  Ronsberg from Bismarck passed away
Message from Neola Kofoid Garbe:  Bottineau & Minot, ND
Back again with more sad news.
Claudia Harrison Trebas (Mickey/Muriel Bergeron Harrison's daughter) sent this news to me earlier today.
Scott's sister, Janna, passed away yesterday morning. Scott's service was really beautiful and touching. You can let people know about Janna. Many people from Bottineau knew the family. 

Neola's comment: I understand Janna also had cancer.
.
.
Does anyone recognize these buildings?  A cousin would like to put a description to them.    They are from Dunseith .
Thanks, Susan
.
.
Basin Transload receives Patriot Award –
Virgil Rude's Nomination.
from Neola Kofoid Garbe:
 Bottineau & Minot, ND
Virgil Rude is the son of Alfred and Viola Bjornseth Rude.
Virgil is a member of the Bottineau High School Class of 1953/ a former teacher at Bel Air School in Minot/ Supervisor of Elementary Grades for Minot Public Schools/ member of the National Guard–Colonel/ member of the Hostfest Board of Directors/ member of MANY of organizations/volunteers/etc.