Happy Birthday Leona (Lee) Hosmer: Wilsonville, OR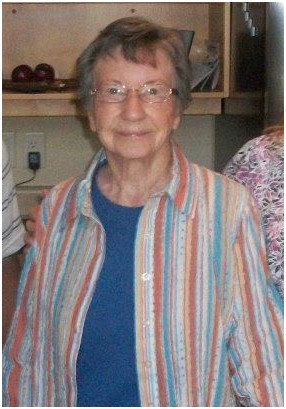 .
.
Happy Birthday Joan Tremblay Johnson (DHS '79): Dunseith, ND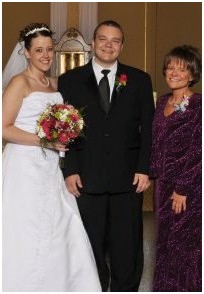 .
.
Happy Birthday Mildren Nelson Parrill (DHS '43): Bottineau, ND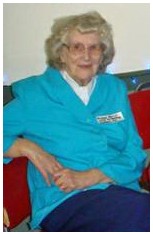 .
 My mother, Mildred Nelson Parrill, class of 43 celebrated her 88th birthday today (12/6).  We will celebrate a little more next weekend when her sister Marie Nelson Parrill, class of 43 returns from her bus trip to Branson. Mom turned 16 the day before Pearl Harbor was attacked by the Japanese.Dec.7,1941.
Mom taught school for 36 years, the last 26 in Dunseith.  2013 has been much better for her than 2012.  In 2012 she was in Minot's Trinity hospital three times and ended the year at Good Samaritan in Bottineau.  She was dismissed from the home in January 2013.  She uses a walker most of the time, but her memory is so good, it is amazing. One can  always get her going on  telling stories about all her "great students" she had in first and second grade.  Terry and I ventured out tonight (about -40 with the wind chill) to bring her an angel food cake and some caramels I made.  She was on a roll with stories about DHS students from her high school days.
One of the students she mentioned was Bill Sanders who was the editor of the school paper.  He was at the 1982 reunion and they looked at some of the old issues, noting that the boys basketball scores were low, like 18 to 22.(" Why Danny Peltier has been known to make more points in one game than those two scores combined! "she remarked. )  There was no father in the Sanders home and Mrs. Sanders  got a job working for WPA.  She walked through the hills interviewing some of the Native American elders at the time to get their family  histories.  This information was stored in Bismarck with the historical society and mom said that Alice McKay retrieved some of those interviews and put the information in the Dunseith Centennial Book.
She reads a lot and is currently finishing an older book Poland by James Michener and is waiting for an interlibrary loan of the book

Blink

by Malcolm  Gladwell.  She wants to read Blink first before she gets my copy of David and Goliath by Malcolm Gladwell which is currently on the best seller list.

Tipping Point

and Outliers are two other books we've read by this author. His books are very interesting and quick reads.
.
.
Mr. Ben Grossman (DHS Teacher)
Reply from Dennis Dubois ('63):  Minneapolis, MN
Ok, Ben Grossman is dead so the truth can come out. That was me that  shot Grossman, I was never a very good spit wad shooter, not like Bill Henry or Dan Machipiness. I must say that Sharon Peterson and I were Grossman's pets, so all he told me was he was disappointed in me. I did see him throw a Counts kid across the room, over desks and chairs, one time. He really had a temper. The class of 1963 was a class of miscreants, but we've all slowed down, as evidenced by our gaits at our 50th class reunion last summer.
Follow up reply from Dennis
Upon further reflection, I'm not so sure that the incident that I commented on earlier, may not be in error. It may have been an eraser that I threw, that hit Ben Grossman. The other details are correct.

.
.
Reply from Lola Metcalfe Vanorny ('68):  Dunseith, ND
In response to Dick's story — I just love it  cause it brings back the old senses of smelling that wood cutting- the sounds-  on a very cool fall day – !!- Beautiful colors and ultra fresh air !!!!   I remember Dad (Jim Metcalfe)   taking us in his old '50 pickup to talk to "one eye Jackson"  a guy with a sawmill–  they would cut up the winter wood and also lumber– and the high pitched  sounds and smells of the wood cutting and the fresh cut wood is something if you never smelled it — you missed out on a lot!!_and then the wood burning stoves–  I still  miss that smell–  and heat– so much warmer and thorough than our current heat pumps and thermostat–  awesome- !!
Jay and I burned wood up until 2 years ago – he enjoyed the cutting with the chain saw– and burning-  but very messy — and I still miss the feel of the real wood heat- !!!

.
.
Reply from Keith Pladson ('66): Roanoke Rapids, NC
Reading Dick Johnson's and your input (in issue 1906) on sawing wood brought back a lot of memories for me.  We had a stationary saw rig with a twelve horse power engine on it that ran the saw blade.  The way it was built you laid the log up on this wood beam and then pushed the log through the blade.  This required no less than three people – one to remove the sawed off block and at least one person on each end of the log being pushed through the blade.  One of the thing I remember was that the person or persons at the far end of the log had to make sure he or they kept up with the movement of the log through the blade so that the blade wouldn't bind up in the log.  The person on the other side of the blade would grab the block being sawed off and then once it was sawed all the way through would toss it up in the wood pile behind him.  This wasn't so bad when it was smaller logs, but could be quite a chore when it was bigger ones.  For the most part, it worked very well and we could cut up a lot of wood in what seemed like a relatively short amount of time.  For many years I was too little to clear the sawed wood, but as I grew older it became my job.  That old 12 hp engine had no problem cutting through even the biggest logs as long as Dad kept the blade sharp (he was really good at sharpening saw blades of any kind).  Thinking back, that was a rather dangerous machine and I am glad no one ever got seriously injured when we used it.

It's funny, maybe because we used only wood for both heating and cooking when my siblings and I were growing up, I have always burned wood as an adult (as a backup source of heating).  My wife and I have owned four different houses since we got married and the one we live in now is the only one that doesn't have either a wood burning stove or a wood fireplace (we do have a fireplace, but it burns propane gas).  Perhaps the most ironic thing about this is that two years ago when hurricane Irene hit this area so hard, we had thirteen huge oak trees go down.  Since I couldn't stand the thought of all that wood going to waste, I sawed up (with my chain saw) and split (with my wood mauls) all the wood.  I place an ad in the local paper last month and within a week I had sold it all.  I'm glad I did it (it was good exercise and provided a little extra cash for Christmas this year), but I'm also glad that it is now all gone.  What I learned from that endeavor was that anyone who cuts and splits wood for a living works very, very hard for their money.
Keith Pladson (66)


.
.
Posted by Dick Johnson ('68):  Dunseith, ND.
An old cowpoke wrote to Sears and Roebuck and asked if he could buy 10
rolls of toilet paper.  Sears wrote back and said they couldn't take
handwritten orders anymore and that he would have to order it from their
new fall catalog.  He wrote back and said that if he had their new fall
catalog,  he wouldn't need their toilet paper.

Dick
.
.
Posted by Neola Kofoid Garbe:  Bottineau & Minot, ND
.
.
Posted by Neola Kofoid Garbe:  Bottineau & Minot, ND
Eugene 'Gene' DeLorme
Aug. 10, 1928-Dec. 2, 2013
December 7, 2013
Minot Daily News
Save
|
Post a comment
|  
Eugene DeLorme, 85, Minot, died peacefully with family present on Monday, Dec. 2, 2013.
Eugene Edward DeLorme was born Aug. 10, 1928, the son of Peter B. and Ida (DeCoteau) DeLorme, in Belcourt. He was raised and educated in Belcourt.
Eugene married Alma Marie Dionne on Aug. 31, 1949, in Belcourt. Their union was blessed with four sons: Eugene Lynus, Duane Allen, Gary Joseph and Steven Blaine. Gene and Alma made their home in Belcourt, Rockford, Ill., and Portland, Ore., before returning to Belcourt. The family moved to Riverdale when Gene and his father joined a construction crew to build the Garrison Dam. The two men then moved to Minot and helped build the Minot Water Treatment Plant where Gene was offered a permanent position after its completion in 1953. He was eventually promoted to water department foreman and remained with the City of Minot Water Department for 39 years until his retirement in 1992. Alma passed away April 16, 2010.
Gene was a member of Our Lady of Grace Catholic Church and the Knights of Columbus, both of Minot. He most loved fishing and spending time with his family.
The family would like to offer a special "thank you" to the staff of Trinity Home Health and Hospice for your support and committed care for our father.
Those who shared in his life include: his sons, Eugene Lynus (Carolyn) DeLorme, Manvel, Gary Joseph (Kathryn) DeLorme, Minot, and Steven Blaine DeLorme, Rockford, Ill.; nine grandchildren, Carolyn M. (Jared Verke), Christine (Steven Shockey), Jamie (LaDonna), Jordan, Andrea, Marriah, Mikayla, Joshua and Devan; four great-grandchildren, Jeremy, Owen, Carter and Eli; siblings, Genevieve (Frank Brant), Grand Forks, Marion (Earl Houle), Belcourt, Evangeline Braun, Minot, Theresa (Mike Mabin), Bismarck, and, Cyprian (Barbara), Stillwater, Minn.; and numerous nieces, nephews and cousins.
Eugene was preceded in death by: his wife, Alma; son, Duane; his parents; brother, Clifford; and an infant sister, Doris May.
Mass of Christian Burial: Monday, Dec. 9, at 10 a.m., at Our Lady of Grace Catholic Church, Minot.
Interment: Rosehill Memorial Park, Minot.
Visitation: Sunday, from 2 to 5 p.m., at Thompson-Larson Funeral Home, Minot.
Vigil Prayer Service: Sunday, 5 p.m., at Thompson-Larson Funeral Home, Minot.
Those wishing to sign the online register and share memories may access the online obituaries section at (www.thompsonlarson.com).
.
.
.
Blog posted on January 3, 2008
Rhonda Hiatt's (75) Reply
Hi Gary,
It has been great reading everyone's different memories. I remember Mom would take us kids into Sister Rose's store also. I can't remember who said it about the moth balls but they were right.
For whatever reason my sister Brenda (73) would tease me and call me Sister Rose. She finally dropped the sister part and has called me Rose ever since. I honestly can't remember the last time she has called me Rhonda, it has been years. Now one of my granddaughter's middle name is Rose (named after my nickname from Brenda).
Happy New Year To All!!
Rhonda Hiatt
AmWest Entertainment
301 S Garfield Ave Suite #7
Sioux Falls, SD 57104
605-331-0880 work
605-331-3080 fax
502-664-9168 cell
.
.
Hey Gary thanks for all the memories. I have enjoyed everyone of them. I read some of them to my brother Garry LaRocque. I remember working at the Crystal cafe.Yes when the Canadians came to Dunseith to go thru customs. I do remember the bakery and the red owl grocery store. Thanks again Shirley LaRocque Wendt Seattle
.
.
Dave Slyter's (70) Memories:
Bev: So sorry to hear about your illness. My thoughts and prayers are with you. Hope you have a full recovery. Keep a positive attitude and keep praying to our God almighty and things will be back to normal, sooner than you think.Mel: Ha Ha Who could forget Mel Kuhn. ha Thanks for all the memories of the good ole dances. When I lived up there in the hills we use to go to so many dances around the area. I too, love to dance to that ole time fiddle music. I know of Jim and Ruby quite well as Jim's brother LeRoy was married to my dad's sister Delores and lived mostly out in the state of Washington. But I too, remember Jim and Ruby cutting a rug. There were so many good bands up in the hills back in the 70′s and 80′s The Poitra brothers and there dad were really good. Then of course there was the Tickle Pink, the Metcalfe sisters. They were really good also. Had the pleasure of playing with them one night up at Kelvin Klinic. I wasn't really to good on the drums, but the girls didn't mind. I tried to keep up to them. ha Then Dennis Decoteau played in a band but can't remember what the name of the band was. But he could really sing a song well. I am glad to hear Dick Johnson is in a band. He would be really good with the back ground of music he had. Who else plays in the band?Nice to hear from a class mate Mel. Stay well.
Dave
.
.
Gary,
So sorry to hear of the passing of Vance Bailey. I think he had only just begun to share his memories. It would be great if others of that era could share even more. I spoke to my mother of this and she was familiar with many of the characters that he mentioned in his writings. When she was a teen she worked at a hardware store on Dunseith's main street that was owned by a man by the name of Iver Lo (sp?). She rented an apartment from a Bailey family, probably Vance's grandparents. She is now 83 years old, doing well and living in Dunseith. Her sister Alice worked at Hosmer's store. I'm wondering if Colette's mom remembers Alice Metcalfe. By the way, Colette, you were probably unaware of the drooling because as shy as most of the guys were back in those days most of the "drooling over the ladies" was done covertly. Ha!
This winter Sherry and I continue to go through the many years worth of belongings that we have accumulated in our basement. The idea being that we would like to have everything in some type of order so that our children will not have such a mess to go through in the event of our demise. I believe that I have stumbled upon a picture of the Commercial Hotel taken in 1957. Our primary residence at that time was the lake home near Kelvin Store, but my father worked in building construction for many years and when that employment stretched into the winter months we were forced to move into the city because the snow made the trail to our home impassable. I believe we spent the winter of 1957 at the Commercial Hotel with the Grimmes and their boarders. I remember Sarge and Charlie fairly well. I remember that Charlie loved bowling. He delivered the ball as slowly as it could possibly be thrown and still make it to the end of the alley. He still got good results. Billy's mom was an accomplished pianist and singer and I believe Carl played the guitar.
In later years we rented a house owned by K. C. Sine, who has been mentioned in previous E-mails, that was adjacent to the property where Mr. Ben Grossman and his family lived. One night after much carousing, probably with Billy Grimme, I arrived home and attempted to enter the house. It had a porch with three steps but I could only negotiate two of them before falling over backwards onto the ground. As a wise man once said, "damned alcohol". After many attempts I decided I would just get as comfortable as possible under the clothesline (remember when everyone had those) and spend the remainder of the evening there. Early the next morning I was awakened by one of the loudest voices I have ever heard singing "How Great Thou Art". It was Mr. Grossman out doing some early morning yard work.
There really wasn't much to do in Dunseith in those years. You had to improvise. Applying tape to gym door latches during school and returning later with a basketball was one of the things I remember doing to help pass the time. I don't think I ever got to see the Thunderbirds. I remember that it was a really big deal for the town and I think that sometimes false rumors would get started that they would be buzzing the town and I would be disappointed when they didn't show up. When they actually did make an appearance I was out of town. Like Warren I had many close encounters with the F-4 when in Vietnam. Since then I have always admired the skills of pilots. They saved many American lives. We had one of the "greatest of all times" that grew up on the streets of Dunseith.
The Jack and Lorraine Metcalfe that are mentioned by Mel Kuhn are brother and sister to my mother Eleanor. I remember many family gatherings when they would bring their instruments and sit around and play and sing for hours. They also were members, along with Ole Bursinger, of a group called the "Stump Jumpers". Mel, are you related to Marvin Kuhn? I remember working with a fellow by that name in the early 70's.
Kenny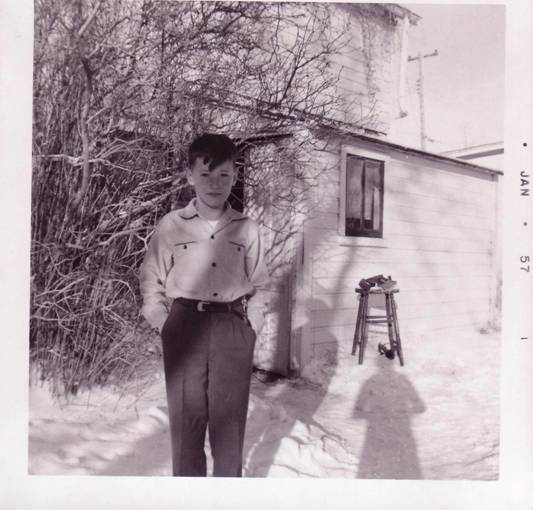 Picture: Kenny Nerpel in front of the Commercial Hotel – Jan 1957