Trish Larson Clayburgh ('73) receives award.
Congratuations Dr. Trish,
With a PHD in Nursing, this is your correct title too.
This award couldn't have been given to a better person. I so very much agree with Christine Southard's comment too. You have one of the best minds ever. Not sure how you manage all that you have going on in your life, with your horses and all. With some of our middle of the night FB chats on your end, I know you burn the candle at both ends.
You are one amazing gal Trish, with so much to offer.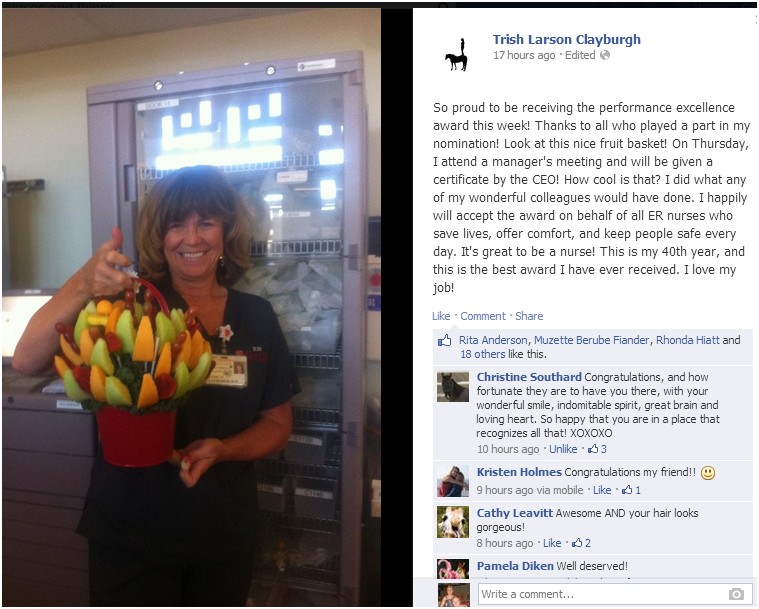 .
.
Reposted to include the Article and Picture that I forgot yesterday.  Gary
Reply from Dick Johnson ('66):
 Dunseith, ND
Gary and Friends,

Vance Bailey's memories are truly historical treasure for sure!
Many of the places and situations he described are right on the money.
He spoke of Jule Waldron,  the City Deputy.  When John Boguslawski and I
hauled a bunch of boxes to the dump ground from under the temporary
typing room over the bleachers in the old school,  I found a box or old
papers and letters that were dated way back 30-40 years earlier.  I kept
the boxes just to see what was in them and I found a letter from Jule
Waldron to the city of Dunseith applying for the job of deputy.  I still
have the letter somewhere in another box.  There were also a couple
notes from parents explaining why their kids had missed school.  I have
those notes too as well as other interesting papers that were just going
to be burned.  This was the same clean-out were I got the old leather
DHS football helmet and the band uniform which I also kept.  I got all
this stuff about 47 years ago in 1966.  Who is old now?  Vance also made
mention of Spencer Teal (46) in one of his comments. I'll attach a
picture of Spencer Teal and LaRose Ketterling and the newspaper article
about his death in '66 on Mt. Fuji, Japan in a plane crash.  Gary,
thanks for rerunning these early postings.  It will definitely stir some
interest and some more memories.
            Spencer Teal and LaRose Ketterling
.
.
Reply form Ivy Eller Robert ('74):  Arizona desert
Hi Gary,
    Reading Dick Johnson's posting stirred up a memory about Spencer Teal, or rather his costumes. I think our class was putting on the play, Aaron Slick from Punkin Creek. An there was a 'Lady in Red' character in it and we needed a dress for her. Darla Robert Armstrong played the part. Someone said that Mrs. Teal still had some of Spencer's things stored at her house. My mom had talked about Spencer a few times, that she had went to school with him and what he had went on to do in life. So a couple of us went over to Mrs. Teal's house and told her what we wanted and she brought out a beautiful red sequined strapless floor length dress w/feather boa to go with it. If I remember correctly, she said Spencer used the dresses in show to dress up as a women. Anyway, we ended up not using the dress, it was not the right size and we were told not to alter it. So, I think Darla's Mom, Dorothy made her a 'red dress' that she used for the play and Spencer's dress was returned to Mrs. Teal.
   I hope I got the facts right about the story. I swear I still have 'chemo brain', at times. It's just when seeing the name Spencer Teal, that story popped into my head.
   I hope everyone back home in North Dakota is staying warm. I'm trying to, I'm in Arizona for the winter. My sister Julie & I drove down here in October to get away from the good old North Dakota winter. And boy now for sure, I don't regret my discussion. It's a little below average here, but still in the 50's, 60's & 70's, at times. We are in the middle of a desert area, north and west of Phoenix about 30 miles, so at night, it does get down to 32 sometimes. But over all it's pretty nice around here.
Ivy (Eller) Robert ('74)
.
.
Reply from Lynn Halvorson Otto ('75):  Boonton, NJ
Hi Gary, thanks for reposting these memories. I especially enjoyed the letter that Mrs. G Watkins wrote to her husband. I could almost picture in my mind all that she was sharing. Letter writing has gone by the way side which is a shame. Our children are missing out on a relaxing way to share thoughts and ones life with others.
Snow has finally come to New Jersey! The first snow is always the prettiest.
Lynn Halvorson Otto
.
.
.
Blog posted on January 5, 2008
A few days ago someone was asking about some of the Cuban folks. They were asking about someone in the class of 70 or 72 if I remember correctly. I forgot to reply to that message at the time and now I cannot quickly find it. Anyway, we have found some the former Dunseith Students that were from Cuba. They are on our list and are include with all these messages. I've listed their names below.
Manuel (Manny) Cuadrado (63): Manny lives in Omaha, NE.
Santiago (Sandy) Lopez (64): Sandy lives in Rockford, IL.
Maria Parlade (62): Maria lives in Coral Gables, FL.
I also had a requests from Gary Metcalfe (56) and Murl Watkins Hill (50) requesting to be added to these distributions. I have added their names to our master distribution list so they are now receiving these messages. I am working with the classes of 70 & 71, putting their class list together, so those folks are being added as I'm contacting them too. I'm pretty much finished with the class of 70. I'll be sending their class list out shortly. I periodically send out updates to the master alumni email list as time goes on.
.
.
Message from Susan Fassett (65):
I am sitting in a motel in Mesa, AZ as my daughter, Johnida, is getting married at 4:30 tomorrow afternoon in the Botanical Gardens in Phoenix. I have been reading all the memories and enjoying so many of them. I remember most all of the people that have sent memories. Carol and Emery Carbonneau are part of my extended family, Carol being a cousin to my mother. Sharon Monson Carbonneau's husband Charles or Charlie as we always called him, and I spent much time together as kids. Charles Watkins that Bill Hosmer mentioned was always known to me as Uncle Chick. He and his wife lived just south of the Methodist Church in Dunseith and I used to love to go there to visit on my way home from school, because they had so many neat knick-knacks. My mother's step father was Glen Watkins, brother to Chick .Carol Carbonneau, Murl Hill , Jeannine Robert, and Elaine Watkins dad was Roy Watkins, also a brother. When I get home, I will find some info on Deer Heart Lodge that someone was asking about. I have much info on Dunseith and the people who lived there. It was an interesting place to be from, even though many of us didn't realize it when we were growing up there. I also remember Lucy Hill that Tim Martinson talked about. We lived for a time in Helen Watkins home just north of the Martinson's and we used to take meals over to Grandma Hill. She was at an advanced age and not very mobile at that time. She is remember by me as a sweet little lady. Who out there was related to her? I'm looking forward to more memories. Hugs and Prayers—-Susan
.
.
Clorice Hackman's (67) reply via her brother Larry (66):
I will try it this way.
By the way I was reading the last Gary Stokes email and Deb Morinville was talking about Iver Lo as being across the street from them. That house was the Spaeth house next to the Stone Church. Lo's lived across the the street from us in the white house before the Grossman's moved into it. They had 2 daughters at the time — Sonya and Lana who probably was about 2-3 when they moved. I remember Betty playing with Sonya. The next house to the north of Iver Lo's was where Arnold Lilleby lived (owned the Althea Theatre for years before Leonard Cote). Iver Lo operated the Hardware in the building north across the street from Hosmer's Store. I remember them selling soft serve ice cream out of a window of the hardware next to the Beauty Shop. Mrs, Rodney Lagerquest (Marlene Kraft) made and sold the ice cream. ohhhhhhhh-so-good.
Love Clarice
.
.
Rhonda Hiatt's (75) reply:
Thanks to Deb Morinville for reminding me who it was that talked about the moth balls. There have been so many e-mails to read I didn't want to go back and try to find it.
To Tim Martinson: Where is Tara at now? Tara, Brenda Birkland and I used to hang out together, and I remember going to the bakery all the time.
.
.
Bev morinville's (72) reply to Rhonda Hiatt (75):
Well I remember calling u boney fingers HA wow those were the days . U were a party girl ever hear from your old side kick GI GI . Remember parting with the Dobby Brothers at the Hotel in Minot after there concert? Yeah we all know why they called themselves the Dobby Brothers lol . OH who could forget Father Wolf he scared us to death (why I am not sure) my mother thought the world of him. Maybe it was just respect. Ronnie Longie I remember u cause my sister Toni was sweet on u I think . I do remember Patty how is she doing? This is so much fun to remember all the old times. thanks for making my day once again. I look forward to reading all the e mails . And once again Gary thanks for all your work. love Bev (Morinville) Azure melvin clarence talks about u guys every once in awhile .
.
.
Dave Slyter's (70) reply to Deb Morinville (70):
Hi Deb,
Sure am glad to hear from you again. I was wondering what happen to you. Yes I too, remember the good ole days of partying. Remember the graduation party up at the butte and the lightning hit? First I couldn't see then I thought the a-bomb had landed. I wasn't drunk but I don't think a lot of people were after that experience. It sure was close. ha
Can you e-mail me. I have a few trivia questions for you
Thanks Deb
Dave Slyter