Happy Birthday Karen Larson (Bottineau Spectrum)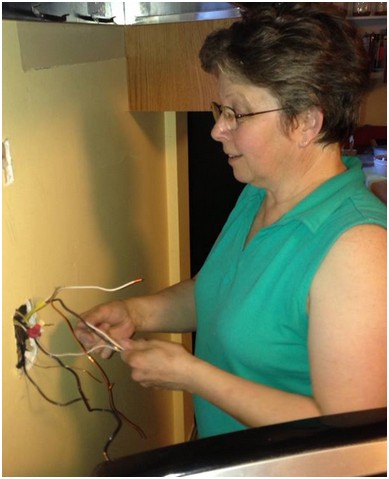 .
.
Reply from Keith Pladson ('66):  Roanoke Rapids, NC
Gary,
Some thoughts/comments in response to Lynn Halvorson Ottos's item on writing.  I'm sure it saddens many that writing personal letters has become a lost art form.  And I believe that because of that society in general will experience a major loss of recorded family histories.  Here in NC (and I believe in VA also) there has recently been discussions to stop teaching cursive in public school.  It would be easy to consider that a dumb idea, but from a practical point of view, it seems to fit with the direction of and advancements in technology and the way most people choose to correspond today.  Not only has personal communications become a matter of short emails, text messages and tweets, but more and more business in being conducted in the same manner.  Less and less correspondence is being carried out via hand written letters (or even typed letters).  And we can see one effect of that by just looking at the sad shape of the U.S Postal Service.In my personal life I have spent virtually all of my adult life on the East Coast.  So up until her death in 2001, I exchanged several personal (written) letters with my mother every year.  It was our way of communicating.  I always looked forward to receiving letters from her because she not only had such beautiful penmanship but she could, and did, pack in all kinds of news about each of my siblings as well as news on everyone I knew (or may have known).  Foolishly, I did not keep all those wonderful pieces of correspondence from my mother – something I will now regret for the rest of my life.  But all was not lost.  Unbeknown to me, my mother did keep all the letters I wrote to her and upon her death I got them all back.  What a wonderful gift she gave me.  In those letters I now have a somewhat chronicled personal history (one sided only, unfortunately) of my life and all the events in my children's lives as they were growing up.  I plan on making copies of all those letters so I can pass that family history on to each of my children.
Thanks Gary for providing us this unique forum.  And, I do hope Bernadette is doing well.
Keith Pladson(66)
.
.
Art Hagen:

Breakfast this morning on his balcony in Cebu – 86 F – Sunshine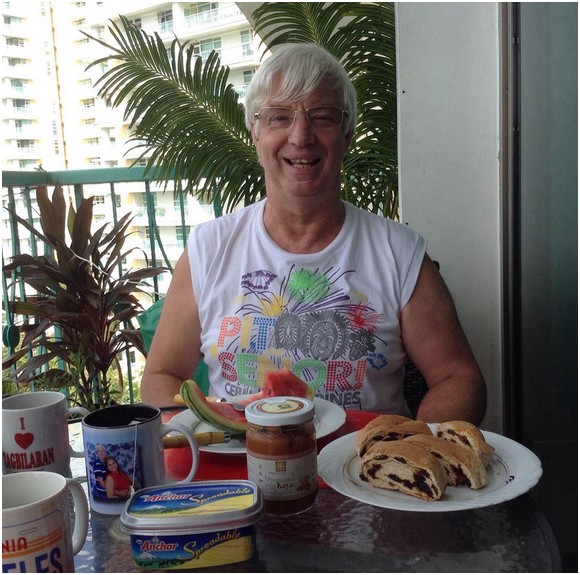 .
.
Posted by Don Malaterre ('72):  Sioux Falls, SD
The priest who won't call a golf cheat a naughty name.
A fellow was getting ready to tee off by himself on the first hole when a tall, stately, grey haired gentleman approached and asked if he could join him.
The first man said that he usually played alone, but agreed to the twosome.
They were even after the first two holes.
The tall, stately gentleman said, We're about evenly matched, how about playing for five bucks a hole?'
The first fellow said he was a pretty good player, and that he wasn't much for betting, but agreed to the terms, thinking we're pretty even so far, so why not?
The stately gentleman played 'straight & true' golf the rest of the round and won the remaining sixteen holes with ease.
As they were walking off the 18th green, and while counting his $80, the tall, stately golfer confessed that he was the teaching pro at a neighboring course and liked to pick on suckers.
The first fellow revealed that he was the parish priest.
The pro got all flustered and apologetic, offering to return the money.
The priest said, 'You won fair and square and I was foolish to bet with you. You keep your winnings.'
The pro said, 'Is there anything I can do to make it up to you?'
The priest said, 'Well, you could come to mass on Sunday and make a donation. And, if you want to bring your mother and father along, I'll marry them.'
.
.
.
Blog posted on January 6, 2008
Folks, It was brought to my attention that the first publications of the 1982 Dunseith centennial books did not have indexes. For those of you that have those books and need an index, please let know and I can forward one to you. Gary
.
.
Message from Gary Metcalfe (56):
Thank you for getting me included on your list Gary. It will be interesting to read these stories, thank you also for being the one that does the work of getting them out for us to enjoy.
My wife and I both remember your parents and went to church with them at the Christian Center. Bob was always ready with a smile. Elaine worked with the residents from San Haven with us too, as did Bob. We had a program that they would bring a few ambulatory residents once a week for the day. Good memories.
We have had several visits with Harvey Hiatt in Arizona and got caught up on some information on all the people in the Ackworth community. Will send you some stories about some the older amazing people in Dunseith later.
Oh this story comes to mind so will continue it tonight.
High school days, to make spending money, I set pins in the bowling alley. It was about 100 degrees in the pin setting area and nearly freezing in the Lake Sisters upstair apartment. This was in January. Get into bed and have so many blankets that I could not even turn over. My 10 cents a line for setting pins did not go far especially with Mrs. Hoopman and Bertha Myer teaching me how to play Smear, but at a high cost. Everyone knew that Bertha was not only sharp, she was very lucky. It seems that Bertha had, "high, low, jic, jack and game" quite often. Fun memories.
.
.
Message from anonymous:
I don't want my name mentioned but the ice cream server Clarice is remembering is Mrs. Rodney Armentrout, not Lagerquist – "I remember them selling soft serve ice cream out of a window of the hardware next to the Beauty Shop. Mrs., Rodney Lagerquest (Marlene Kraft) made and sold the ice cream.
.
.
Gary
We made a error on that last message. The girl that use to serve the soft seve ice cream out of the window is now Mrs. Rodney Armentrout, Marlene Kraft. Sorry about that Marlene. Dementia must be starting to settle in somewhere.
larry
.
.
Message from Rhonda Hiatt (75):
Gary,
With all the responses to your e-mails, do you get a chance to sleep? Did you ever think it would snowball like this? It's been fun reading though.
Bev,
I forgot about bony fingers. ha Today that is the look. I was trying to start the trend, it's just taken this long for everyone else to catch up. ha ha
On the Doobie Brothers, I thought we were in Bismarck. lmao I think we need to get GiGi's input on this. (Question, who is GiGi? Gary)
Rhonda (75)
.
.
Message/Picture from Neola Kofoid Garbe (Gary Stokes' cousin):
Note: Bert Hanson was a brother to Frances Morinville. Bert was married to my Dad's sister Olga. Their children, Audrey and Jean, are cousins to both me and Toni, Deb, Bev & Duane Morinville. Mel, you will have to show this one to Ruby. It's been more than 50 years since I've seen Jim & Ruby Birkland. When they were newly married they lived on the Johnny Hiatt farm, now the Fauske farm. We were their closest neighbors. I remember them well. Gary
.
.
Hi Gary,
Ruby was mentioned in an email not long ago. Here's a picture of her when she was young.
I hadn't seen Ruby since they moved from the house by Bert Hanson's (Bennett street in Bottineau) until Wade/Lynette Hamel DuBois' wedding. She was one of the ladies serving the reception. Wade's mother, Eleanore, and Jimmy Birkland, Ruby's husband, were siblings, or am I wrong about that? I didn't recognize Ruby when I saw her. I happened to hear someone mention her name, so I checked to see which one of the ladies was Ruby. I think she said she had recognized me.
Neola
Ruby Birkland