Henry (Hank) Salmonson ('38) Passed away.
Message from LeaRae Parrill Espe ('67):  Bottineau, ND
Dear Gary, I have meant to write and thank you for great time we had on the cruise as it was so memorable.
Today(Tuesday) I am writing to let everyone know that Terry's uncle, Henry Salmonson, passed away Monday morning around 6AM at the Rugby Hospital.  Hank's son Bradley and his wife Colleen arrived early today and have planned a graveside service at Ackworth Cemetery at 2 PM  Wednesday (tomorrow). Viewing with be from 9 AM to noon tomorrow at the Nero Funeral Home.  Pastor Dorn from the Mission church North of Dunseith (Alliance Church, I believe) will officiate. Rachel Morin Romine and Jade & Cindy Moberg plan to provide music at the cemetery.  Friends and relatives will gather at the Senior Citizens Bldg following the service.  Everyone welcome.
More information may already be on the Nero Funeral Home web site.
Hank's son could not get much time off so he has had to plan the funeral on short notice. 
Thank you, LeaRae Parrill Espe '67
We are so sorry to hear of Hank's passing. Up until recently Hank has been in pretty good health too. I recently heard that he was in the Dunseith Nursing home too.

 

The class of '38 has recently lost several other folks too. Borg Landsverk in April 2011 and Maxine Radley Hiatt in May 2011. Maxine is also berried in Ackworth.

 

Hank, Mae and Bradley lived 1 3/4 miles east of us up in the Ackworth community. Hank and his brother-in-law, Albert Hiatt used to sheer our sheep every spring.  They were good neighbors.   

 

Our condolences go out to Bradley and the rest of Hanks family with his passing.  Hank will be missed.

 
Henry "Hank" Salmonson


(September 18, 1920 – May 14, 2012)

Send Flowers
Send Sympathy Gifts
Send Sympathy Card
HENRY "HANK" SALMONSON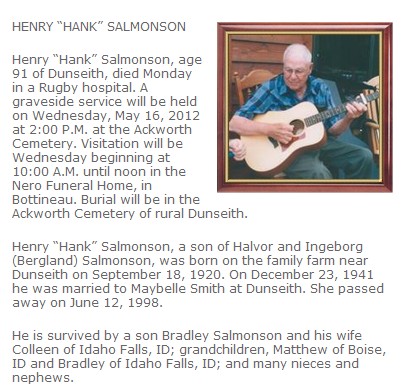 1970 Bottineau FFA picture
Posted by Neola Kofoid Garbe:  Bottineau & Minot, ND
I am willing to bet that a lot of you folks are in this picture. I think I see one of the Parrill boys too, top let.
This came from Ruth Sletten Gust.

 

I recognize some of these guys. It is a BIG group compared to now. 

My brother John

Sletten

is in the third row from the front, third person from the left. 

 

I see Wes'

)Schneider)

boy Dale top row second person from left.

 

Second row, second from left I think is Keith Pritchard.  There are others that look like people I know, but they shouldn't still be in school in 1970.

 

John and Judy are on vacation in the South of France right now, but I'll send it to his computer so he can see it when he gets home. Thanks.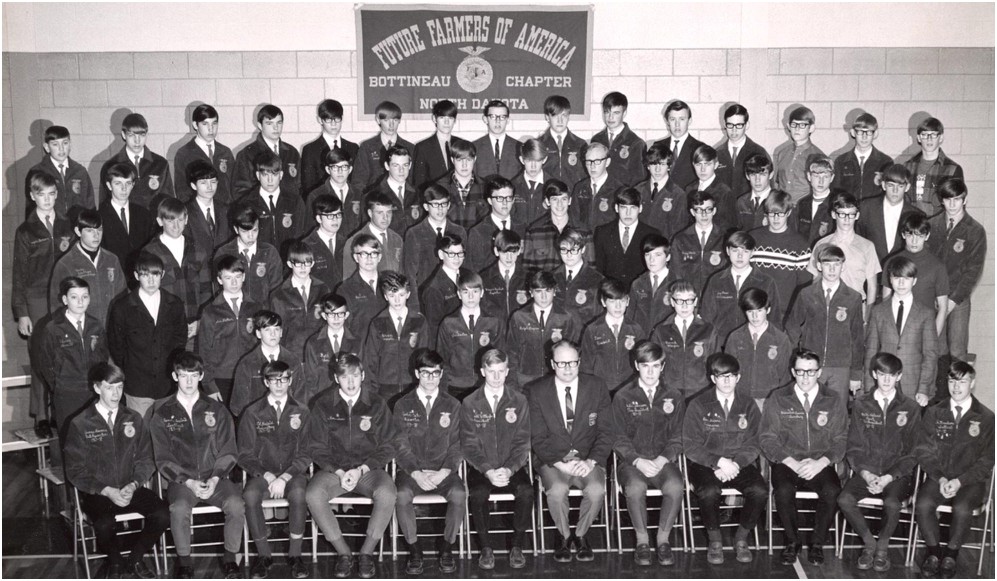 Posted by Neola Kofoid Garbe:  Bottineau & Minot, ND
This fellow graduated in 1966, but I'm not sure from which school.  Do you recognize this fellow?  I'm also checking with Lynnette Vinje, Kenneth Vinje's sister.  Kenneth graduated from Bottineau in 1966.