Condolences to Al Johnson's family
From Pamela Fugere Schmidt ('73):  Mandan, ND
My heart goes out to Linda, Joe, and Al's children.  My memories of Al are from my early junior high and high school years, when he was a Junior and Senior.  I remember Al as a thinker,  a dreamer, and a great conversationalist…a friend with a memorable personality and a heart of gold.  I'm only sorry we didn't have a chance to stay in touch over the years.
Gas Engine Washing Machines
Reply from Dale Pritchard ('63):  Leesville, LA
Gary,
Ginger LaRocque's reference to a gas engine washing machine reminded me that we had one of those when I was a little guy. Mom was washing clothes one day and just dropped out!  She got a few too many carbon monoxide fumes.  She had come-to and was still sitting on the floor when my dad found her.  Needless to say, that was the last time it was used.  My dad rewired an old electric motor that someone had given him and hooked it up to the washing machine; no more fumes.  I learned about this many years after the incident.  I would say that Mom and the rest of us got lucky that time.  Be Safe!
Dale Pritchard
Darrell Abbey Passed away
Posted by Neola Kofoid Garbe: Bottineau & Minot, ND
DARRELL E. ABBEY


Darrell E, Abbey age 87 of Dunseith, died Friday, January 8, 2016 in a Minot hospital. Funeral services will be held on Tuesday, January 12, 2016 at 2:00 P.M. in the Peace Lutheran Church of Dunseith. Burial will be at Riverside Cemetery, also of Dunseith. Visitation will be Monday, January 11, 2016 beginning at 4:00 P.M. until 8:00 P.M. and Tuesday, noon until service time in the church.
Photo (Carroll Carlson) from Ursella Carlson ('44)
Posted by Vicky Metcalfe ('70):  Bottineau, ND
Gary.
I was delighted to receive a Christmas Card from Ursula , Carroll's sister.
She  sent   the photo.
It was great to hear from her.
I hope someone can help identify.
Back row,
Carroll is the young man in the middle.
Ursula wrote one of the young ladies is Mary Evans I am not sure which one.
The young man in front  ?Cook
Thanks Gary.
Vickie
Folks, Please identify – DHS class of 1934. My guess – Gary
Back: Mary Evans, Carroll Carlson, Lodena Sanders
Front: Robert Cook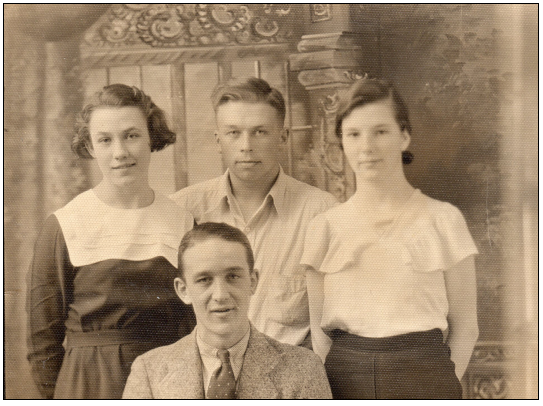 Memories 1981 and 1982
Posted by Neola Kofoid Garbe:  Bottineau & Minot, ND
Gary and friends,
I read  about an Owls in the Canadian news, today and   thought of the winter of "81-'82.
I'm recalling the cold North Dakota winter of '81-'82 I lived in a graduate student dormitory at UND pursuing a graduate degree. I drove to East Grand forks for practicum, which meant, frequent trips to a back lot and starting the car often!
It was a cold trudge through the snow to the student parking lot on a late afternoon as the darkness drew close. I was relieved despite December's cold of 1981, had not affected starting of my car.
The heat was on full blast as the car sped west/north to my parental home while listening to radio's Christmas music as I peered through the windshield.
Finally the hills of home!
Turning on the gravel road and seeing the familiar Carlson lights off in the distant hills beyond the 'homestead meadow'. The front two-wheel drive car effortlessly pushed through the light snow, up the big hill, past the mailbox, turned into the farmyard.
The garage door was open thanks to thoughtful parents.  I drove in, sigh of relief, opening the door grabbing a suitcase, glanced to the right.
At the front of the garage sitting by dad's old workbench was a winter-wonder sight.
Look again!
No, not imagination but quite alive, were two, a wee duet of fluff, small white owls.  Each was no more than 6-8 inches tall gazing without fear sitting in on a board four feet above the garage floor well out of winter's fierce windy cold.
Wishing not to disturb, the creatures, I climbed the steps.  The dogs, 'Chilou', dad's blue heeler and 'Shiloh' his border collie wagged and wiggled their welcomes.
Opening the door into the entryway, I was greeted with flavors of mom's kitchen and her hug. To the right, I peered into the living room for dad' in his recliner.
His feet were propped up greeting me as I smoothed his warm hands.
I asked, "When did the owls move into the garage?"   Mom said she had not seen any thing earlier that day in the garage. My dad who was without sight said with a grin, "I haven't seen any thing".  Then said, "Don't disturb them they will stay or they will leave when they are ready."
I wondered if the owls were eating. They seemed still except for watchful eyes. And seemed to quietly move around in their sitting places when we were not in the garage.
Of course over the vacation, we used the cars, the dogs were always greeting with wags and wiggles but they did not disturb the owls. Each day we drove Dad to his local coffee spot the fourth stool in Dale's café.
The owl duet sat.
The owls stayed in the garage the entire weeks I was home.  They were quite content when I left going back to university.
One week into my last semester studies an early morning phone call from mom notified me that Uncle Emil had passed away.
I talked to my advisor, with defrosters on high headed through the North Dakota Winter's Cold, home to grieve with family.
With anticipation of mom's warm kitchen the car plowed through the snow into the garage.  I crawled out of my car greeted by dogs.
One little white owl.
Opening the door I went into the stillness of a grey house…. Dad quiet in his chair and mom quiet in the kitchen.
The Metcalfe Clan gathered at Peace Lutheran, Little Prairie Cemetery, and Kathy's house where we grieved together for Uncle Emil.
One little owl continued to sit solo in the garage. I wondered if he was lonely missing the other?
I left to resume university studies semester student counseling practicum at a K-12 school in East Grand Forks.
On an icy morning, ten days after my return into my studies, mom telephoned more sorrowful news.  Uncle Jim had passed away in the night.
Icy cold highways and snowy drifts returned me to home. The farmhouse atmosphere was now a heavy, heavy grey. The dogs had greeted me.
Walking through the door to greet me? Pain.  My father's loss was overwhelming.
The Metcalfe family clan returned to mourn at Peace Lutheran, and Little Prairie for my James A. Metcalfe, my uncle and Godfather.
Remember the winter of '81-'82?I think and recall a burden on my heart colored a heavy grey.
And I remember and wonder about owls.
Later,
Vickie L. Metcalfe
====================================
Blog (407) posted on March 24, 2009
03/24/2009
Posted on March 24, 2009
Weather forcast from Bill Grimme (65): Birmingham, AL



Weather forcast from Lee Stickland (64): Dickinson, ND

Big storm forecast for us for the next two (2) days, much snow so I may be shoveling partly cloudy from all the sidewalks of the apt complex that I TRY to manage.

SNUF Lee

Reply from Vickie Metcalfe (70): Bottineau, ND

The family photo that Neola refers to in blog #406 as Lundy is the
LaRocque Family, In the Photo…Linda, Jackie, Annette,etc.
Mrs. LaRocque was the niece of our dear family friend Genevieve
(Delorme) Morin wife of Emil Morin.
Vickie Metcalfe
—
Vickie L. Metcalfe



Message/Pictures from Dick Johnson (68): Dunseith, ND

Gary and Friends,

With tournament time rolling around again, I thought I would send a
picture of the 1967 Dunseith Dragon basketball team and the Dist. 14
Tournament program. We won the first game with Rolette, 68-62 but lost
to Wolford by one point in overtime! Les Halvorson was one of the
Wolford Wolves that year! They came into the tournament with a 11 win-1
loss record. Although I can't say for sure, I believe they went on to
win the tournament. I bet Les remembers! Thanks Gary!

Dick


 

Tickle Pick postings from Bill Grimme (65): Birmingham, AL

Gary,

Eight new tracks of Tickle Pink songs are now on the ftp site. Access instructions below:

To download and play the tracks, walk through the following:

Using your browser, navigate to http://webpages.charter.net/wgrimme

You should see a page that looks like this:



If you place the mouse on a track and click the left button, the selection will play using Quicktime, but you will not download the track with this method. To download, place the mouse cursor on the track, click the right mouse button and you will see a pop-up menu. Select "Save Target as…." and you will be taken through the download process to put the track on your computer. From that point, you can play the track with about any music program, such as Windows Media Player, iTunes, etc.

Let me know if you have any trouble.

Bill