Glen Williams (DHS '52) Passed away
Face Book posting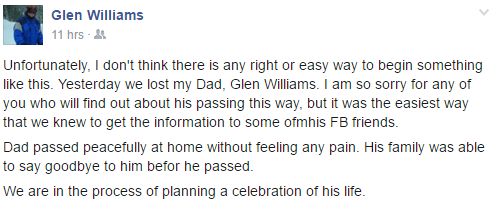 Jan Hosmer Cobb (DHS '60) Passed away
Posting / Obituary from Colette Hosmer ('64): Santa Fe, NM
Hello Gary,
Thanks so much for waiting to announce Jan's death until you received the obituary.  It was a dual effort between her son and I and we both needed time to reflect and collaborate.
I appreciate your blog entries and look forward to each one.
My Best,
Colette
––––––––––––––––––––––––––––––––––––––
Janet Louise Cobb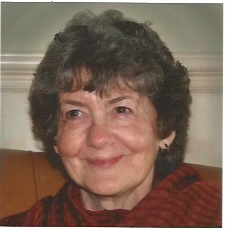 Nov. 30, 1942 – February 7, 2016
Janet "Jan" Louise Cobb was the oldest of the three Hosmer Girls born to Bob and Leona Hosmer. Jan fit the prototype of a first-born child in that she worked in the family grocery store throughout grade and high school, and successfully managed the town's, soft ice-cream drive-up window at the tender age of 13.
Jan graduated valedictorian of her Dunseith, ND, high school class in 1960, and went on to earn a Bachelor of Arts degree from the University of North Dakota.  There she met and married Bill Cobb, her husband of 47 years. Jan and bill lived and worked in Canada for the first few years of their marriage before to Albany, Oregon in 1970, where Jan gave birth to son, Michael Ryan, before the year was out. Wilderness near the Willamette Valley, in Oregon's forest, coastal and mountain landscapes, drew the young family out of Albany with greater frequency as Michael grew into a feral-spirited outdoors-loving kid. Throughout the remainder of the 70's, Jan's love for wild places flourished as she experienced and acquainted herself with the rising tide of the Women's Movement and re-engaged with higher education.  She subsequently earned her Masters of Social Studies which launched her into many years of meaningful and successful work. Jan's development as a passionate teacher and talented writer created fertile ground for the beginning of strong friendships, many of which she would celebrate for the rest of her life.
In 1980, when the Cobb family moved further north to West Linn, Jan quickly acquired a position at Marylhurst University, where she was a celebrated contributor to topics of personal psychology. It was during these years that Bill was diagnosed with type 1 diabetes. Bill's long life of hard work and unflappable family support came to an end in 2010.
Once stabilized, Jan became a voluntary "pilgrim" at every opportunity, immersing herself in strange foreign places and always cracked-open-happy about the inner growth it catalyzed.  She took great pride in her exceptional friendships, winning at competitive bridge with her partner/mother and in her Oregon roots, but found deep resonance with the rhythms of life while traveling solo––living "in-between" comfortable patterns and the complete unknown.  Jan identified with the German word, "fernweh"; far-sickness, an ache for distant places; the craving for travel.
It was apparent that Jan was experiencing exciting levels of self fulfillment through writing and solo travel during the final years of her life and it helped to prepare her for meeting her death with earnest intention, honest reflection, and bravery. In the midst of these vibrant years, cancer provided an insurmountable obstacle. In 2015, Jan was diagnosed with aggressive metastasized lung cancer. She handled the challenge of a terminal diagnosis with great courage and grace, all the while supported by family and a tight circle of friends. In her wisdom and grace, and with the blessing of her family, Jan chose her own end, using Oregon's Death with Dignity Act, and was expertly guided by empathetic volunteers from the Compassion and Choices organization. Jan met her untimely demise with grounded presence, surrounded by her loving family.
Jan was preceded in death by her father, Bob Hosmer and husband, Bill Cobb.  She is survived by her son, Michael Cobb; mother, Leona Hosmer; sisters, Nancy Baldwin Kontzie and Colette Hosmer; nephew, Scot Furgason; nieces, Christine Westwood and Samantha Furgason; grand nieces and nephews, and many, many loving friends.
do not take this life for granted
this is the moment
and this…
and this…
Janet Cobb
Dinner at the Quest Hotel, Cebu City Philippines
My cousin Jack from Edmonton, AL, Canada is here visiting again. He arrived yesterday. Jack also visited us in January. As you can see the primary purpose of this visit is to see Rona. We have known Rona for about 11 years. She is a good honest sincere gal and will be true to Jack. She will treat him well. Jack will be here until May 20th. Jack's mother and my Dad were twins.
Bernadette & Gary             Jack From Edmonton, AL, Canada & Rona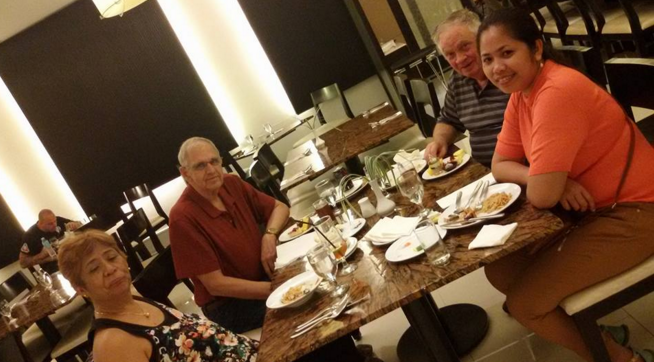 ====================================
Blog (447) posted on May 6, 2009
Reply from Bonnie Awalt Houle (56): Becker, MN
Dear Gary,
For some reason I haven't received any of the messages lately, I have been having Marshall send them to me. Haven't received any since your computer went down. I just don't enjoy my morning cup of tea as much without your morning message to go along with it. Thank you for all you do.
Bonnie Awalt Houle (56)
Bonnie, For some reason you got dropped off my distribution list when my hard drive got reformatted. You are back on now though. I'm just hoping that no one else got dropped off that I did not retrieve? Gary
Replies to the Roy family posted yesterday:
1. Reply from Geri Metcalfe Munro (59): Fargo, ND
GARY
The picture of the Roy family in today's blog is the Arda & Chris Roy family of St. John. Valri (Snook)
lives on main street in St. John (post office bldg) and her mother lives in St. John. Arda was the postmaster in St. John for many years.
Geri
2. Reply from Bernard Morin (76): Dunseith, ND
I think the Roy family is from the Rolla- St John area. The young lady in the back row on the right is Connie Roy-Thibert. She was my youngest daughters 3rd grade teacher in St- John, I talked to her tonight and will be giving her Neola's e-mail as she was interested in that photo. I,ll also contact Neola with what info that I have.
Thanks. Bernard
3. Reply from LeaRay Parrill Espe (67): Bottineau, ND
Gary, The Roy family is from St. John.
4. Reply from Mel Kuhn (70): St. John, ND
Howdy Gary,
The picture of the Roy family is from St. John. I'll print it out and get the names correct.
Mel
5. Reply from Dick Johnson (68): Dunseith, ND
Gary,The Roy family is from St. John.
Dick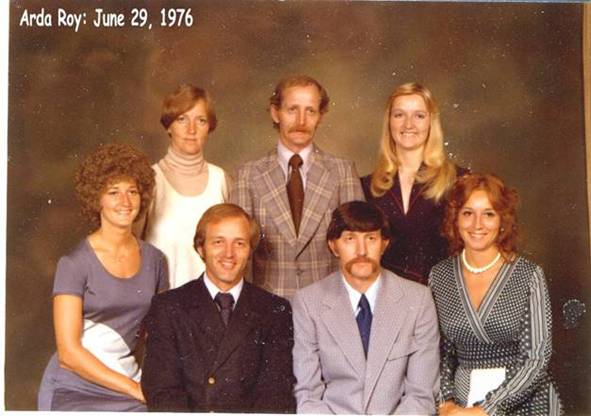 Reply from Florence Hiatt Dahl (50): Anchorage, AK
Gary.Bless your heart. I think of the time you must spend on all this and it boggles my mind. I had no idea that Harmon had been married three times..Of course He and my grandmother were dead before I was born and it was never talked about. Too busy just living………Have been gone from N.Dak so long that I feel disconnected. Alaska is home. And my children of course feels no connection. Not into this geology thing. So again I say thank you and bless you Florence
Ackworth Cemetery:
Folks, thanks to Evon Lagerquist for doing a hands on visual recording of those buried in Ackworth and with Carrie Salmonson Johnson, the Ackworth Cemetery association secretary, for providing the cemetery records, I think we have a pretty complete list of all those buried in Ackworth. I have attached the Excel file and have pasted a copy below.
If someone can provide similar info for some of the other smaller cemeteries in the Dunseith and Turtle Mountain areas, I'd be glad to put those list together too.
Vance Bailey (deceased) put together some very detailed listings for some of the other larger cemeteries. Doreen, Vance's wife, has provided me with the cemetery records that Vance had for Riverside, St. Lewis, Mount Saint Mark (Bottineau County), Inherred Lutheran (located Near #43 & #14 on the west edge of the Turtle Mountains) and Salem Cemetery ( located 3 miles into Bottineau county on #43).
Doreen, I was very surprised when I saw the Innerred church pictures and cemetery listing. My dad's brother Emil Petterson and his wife Lillian were members of that church.
Once we get the smaller cemeteries squared away, I'd like to update Vance's records starting with River side and St. Louis Cemeteries. I think what everyone sees on the NET for Rolette county cemeteries was pretty much provided by Vance Bailey. Having to use a 3rd party for posting, I think it was difficult for Vance to keep the posting of these cemetery records current.
As we get these lists squared away, I'd like to post them on the Dunseith Alumni site that I have. Once these lists are brought up to date they can easily be maintained and kept current on the WEB site. I can give others rights to this sight too, so they can go in an update these records as well.
Gary
Ackworth Cemetery

Name

Birth

Death

1
Berglund, John (Johan)
11/09/1843
1/2/1929
2
Berglund, Margarita (Margareta)
03/19/1847
4/1/1918
3
Crawford, Alma
06/06/1887
3/8/1957
4
Crawford, Dorian
08/04/1898
1/27/1938
5
Crawford, John
09/29/1895
5/16/1984
6
Fell, George
1/11/1917
9/2/1993
7
Fell, Maurice
2/18/1926
11/12/2001
8
Grieg, Allen E.
12/9/1916
11/29/1918
9
Grieg, Elsie V.
2/16/1915
1/9/1922
10
Grieg, (no first name)
11
Hiatt, Albert
7/26/1915
7/3/1985
12
Hiatt, Alice
8/21/1909
12/9/1999
13
Hiatt, Alida
08/27/1896
10/25/1918
14
Hiatt, Arnold
8/31/1945
8/12/1964
15
Hiatt, Baby Girl
3/8/1923
3/8/1923
16
Hiatt, Beatrice V.
6/4/1918
11/1/1918
17
Hiatt, Charlotta M.
8/18/1900
6/19/1920
18
Hiatt, Dennis
2/25/1940
6/28/2000
19
Hiatt, Eva L.
12/11/1892
4/xx/1984
20
Hiatt, George F Jr.
7/17/1928
9/14/1984
21
Hiatt, George F.
09/12/1887
12/2/1949
22
Hiatt, Harmon Albert
1854
10/2/1923
23
Hiatt, Harry I.
4/27/1903
10/15/1955
24
Hiatt, Irene E.
4/26/1926
11/14/1999
25
Hiatt, John J.
11/27/1893
8/1/1977
26
Hiatt, Latieff E.
6/10/1985
1/31/1986
27
Hiatt, Laurel
7/10/1933
10/1/1934
28
Hiatt, Louisa Alice
1865
9/8/1913
29
Hiatt, Margaret (Margie)
11/13/1903
9/25/1993
30
Hiatt, Minnie Margaret
05/10/1897
10/9/1988
31
Hiatt, Norman
1/16/1924
10/17/1999
32
Hiatt, Will J.
12/11/1891
11/30/1973
33
Hiatt, Willie E.
10/29/1913
3/29/2008
34
Kerr, Hazel Marie
7/9/1941
8/30/1941
35
Lagerquist, John
8/8/1901
9/27/1990
36
Lagerquist, Trey M.
5/10/1992
5/17/1992
37
Parks, Traci Louise
6/25/1984
6/26/1984
38
Pederson, Kate
1858
1940
39
Pederson, Olaf
06/13/1861
3/29/1938
40
Pederson, Samuel
01/18/1896
7/2/1963
41
Peterson, Darrell (Jack)
2/19/1931
6/14/1989
42
Pritchard, Ida M.
09/10/1879
1/28/1959
43
Pritchard, John R.
10/2/1943
10/3/1984
44
Pritchard, Lincoln
1916
1986
45
Pritchard, Norman
1920
1978
46
Pritchard, Robert
4/22/1911
3/21/1993
47
Pritchard, William
12/12/1867
5/16/1947
48
Radley, Amber E.
11/05/1890
10/2/1952
49
Radley, J. Alvin
1/6/1892
4/??/1968
50
Radley, Leonard F.
11/23/1866
9/14/1940
51
Radley, Lillie A.
02/15/1867
11/14/1960
52
Radley, Willis E.
1925
1925
53
Rindahl, Rebecca
11/24/1885
3/6/1943
54
Salmonson, Clarence
5/1/1904
9/26/1985
55
Salmonson, Edna C.
1/12/1911
4/19/1976
56
Salmonson, Maybelle O.
5/18/1918
6/12/1998
57
Stokes, Elaine A.
7/21/1921
7/10/2004
58
Stokes, Robert D.
9/2/1915
8/23/2000
59
Stokes, William H.
06/05/1855
3/28/1946
60
Zahn, Shirley Ann
9/6/1934
4/21/1999