Dennis Espe



Born: August 30, 1937
Died: May 02, 2016
DENNIS DEAN ESPE
Dennis Dean Espe, age 78 of Dunseith, died Monday, May, 2, 2016 from complications of pneumonia at a Minot hospital. Cremation has taken place. Memorial services will be held at Peace Lutheran Church on Wednesday, May 25, 2016 at 2:00 P.M.
Obituary
Glen I. Williams (DHS '52) passed away peacefully Saturday, April 30, 2016, in Missoula surrounded by his family.
He was born April 12, 1934, in Bottineau, North Dakota, and spent his formative years in Dunseith, North Dakota. Glen is survived by his wife of 56 years, Shirley; and his three children, Lynn (Manuel) Barragan, Lisa (Gene) Stephens and Andrea (Eric) Schambion. He was blessed with three grandchildren, Brandon Jacobsen, Melissa Blodgett and Victoria Stephens; as well as four great-grandchildren, Bo, Cheyenne, Jaden and Hudson.
Glen had an inquiring mind and enjoyed being in the classroom as a teacher and student.
In retirement he enjoyed traveling the world, crossing the United States and Canada in an RV, photography, skiing, reading, volunteering and taking classes at the Missoula Lifelong Learning Center.
Glen spent most of his working career as a university professor and administrator. He also served on several not-for-profit boards including the University of Montana Foundation, Community Medical Center Foundation, Opportunity Workshop and the Kiwanis Foundation of Montana. He was also active in his church and volunteered for many local organizations.
A celebration of Glen's life will be held at Grace United Methodist Church, 10th Street West and Garfield, at 11 a.m. Thursday, May 5.
If you wish to remember Glen, please consider a gift to Grace United Methodist Church or the charity of your choice.
====================================
Blog (450) posted on May 9, 2009
Posted on May 9, 2009
Reqest from Denise Lajimodiere:
Gary,
I'm writing an article on what folks did during the depression to survive, or did or still do to be thrifty: Example – save old coats to make quilts, save buttons in cigar boxes, save the tissue that fruit came wrapped in. Can you put this out to the wonderful folks on this blog to see what memories we all have?
Thank you!
Denise Lajimodiere
Denise, It's great hearing from you. Other than for your email address, I do not have any your contact info recorded in my records. If I remember correctly you are living in the Grand Forks area? I think you are a PHD professor at UND? Did I remember all this correctly? If I didn't, then it's a close friend of yours that I have in mind. Gary
Correction from Debbie Poitra Rondeau (77): Dunseith, ND
Hi Gary
I have to correct myself I was looking at the April calendar when I wrote the date wrong for Clifford George Counts he passed away on May 6, 2009. Not May 8, 2009 Sorry Everyone
Reply from Bonnie Awalt Houle (56): Becker, MN
Dear Gary,
Your e-mails came through just fine. Thank You. Also really enjoyed our visit on the telephone today. Hope some day to have the opportunity to meet you.
Sincerely
Bonnie Awalt Houle (56)
Folks, Bonnie was having a problem not receiving these daily messages, so I called her. We truly had a wonderful visit. Bernadette left shortly after I called Bonnie and came back about an hour later surprised that Bonnie and I were still talking. That hour just evaporated. Bonnie told me that they are having a family reunion with just the Awalt Siblings the first week of June. They will be having this reunion in Lincoln, NE. That is where Bill Awalt lives. Bonnie and the rest of you, We'd love to see some pictures following this reunion.
The Awalt Family
Awalt

Lloyd

1025 Main St

Bottineau, ND 58318

(701) 228-3268

lata@min.midco.net

44

Awalt Stickland

Eleanor

1 Longview RD W

Bottineau, ND 58318

(701) 263-3366

lenlnor2@srt.com

47

Awalt

Marshall

369 Danny Garner Rd

Newport, NC 28570-6725

mandj@ec.rr.com

51

Awalt Jolliffe

Emma Jean Gary

2452 E Morelos St

Chandler, AZ 85225

(480) 792-9221

54

Awalt Houle

Bonnie

16809 127th St Se

Becker, MN 55308

(763) 262-3534

houle@izoom.net

56

Awalt

Bill

1331 Silver Ridge Rd

Lincoln, NE 68510

(402) 327-9403

Wdawalt@webtv.net

61

Awalt

John

11433 Quinn St NW

Minneapolis, MN 55433-3636

(763) 755-5691

C612-812-6289

gerriawalt@mac.com

65
Reply form Larry St. Claire (66): Anchorage, AK.
Hi, it's Larry StClaire in Anchorage Alaska. The picture of the 2 little girls are my nieces, Tracey and Robin, who are my sister Renee's daughters.
Larry, Where do Tracey & Robin live today? Neola would love some contact info for them and also Renee. Thanks, Gary
                Tracey & Robin St. Clair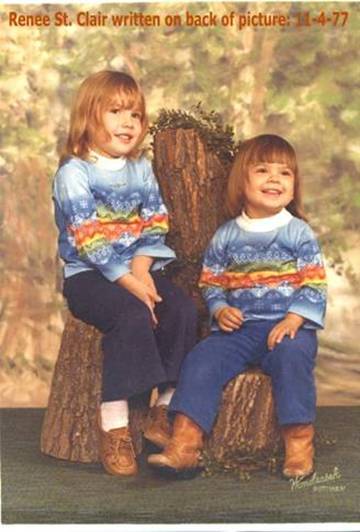 Question from Ivy Eller Robert (74): Everett, WA.
Hi Gary….
I thought I knew all of the cemeteries around the Dunseith area, but where is the Ackworth Cemetery? I don't recall knowing about that one!
Thanks…..
Ivy Robert
P.S. The Roy Family is from the St. John area! : )
Ive, The Ackworth Cemetery is located 17 miles NW of Dunseith. To be exact, it is located on the Willow Lake road 1 1/8 miles north of Highway 43. I was born and raised across the road from the Ackworth Cemetery. We now have a complete up-to-date list of all those buried in Ackworth posted on the Dunseith Alumni WEB site.http://garystokes.net/default.aspx Gary
Ackworth Cemetery taken from the Stokes farm yard. Dan Pladson's buildings are in the back.
My Great Grandfather
William Stokes, donated one acre of land to the Ackworth community for
this cemetery in the early nineteen hundred's.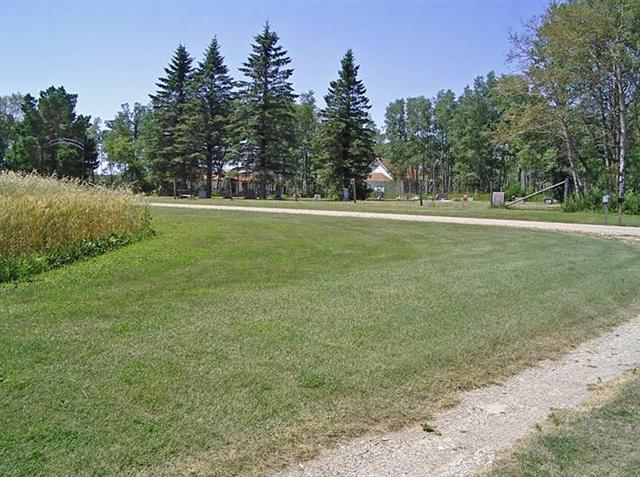 This is the Willow lake road looking south from the Ackworth Cemetery. Highway 43 is one mile
south.
The Ackworth school was originally located 1/2 mile east from the intersection. In about
1981
the school was moved to just behind the trees on the left. That is where the Ackworth Post
Office was located.
Properties in the photo: (1) Stokes' to the left before the intersection, (2) Original Stokes place now
owned by Danny Pladson to the right before the intersection, (3) Albert Hiatt's property, not sure
who owns it now, to the left on the other side of the intersection. I think the Lagerquist's probably
own Albert's now. (4) Clarence Hagen's property to the right just beyond the intersection.
Note: Evon Lagerquist lives 3/4 mile south from this intersection. She lives on the Robert Pritchard
Farm.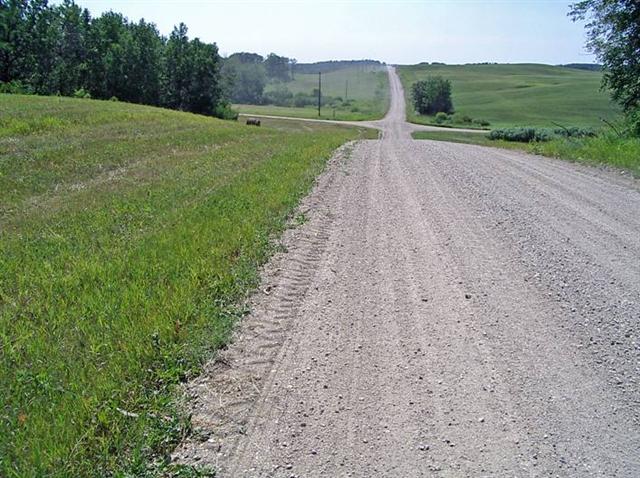 This is the Willow Lake road looking North from the Ackworth Cemetery. I'll bet this looks
pretty familiar to all you Fauske folks? Your farm, located on the original John Hiatt farm,
is locate one mile north and about a half mile west from this location. Russell and Glenda
Fauske are currently living on your farmstead. This road eventually leads into Canada two
and a half miles to the north.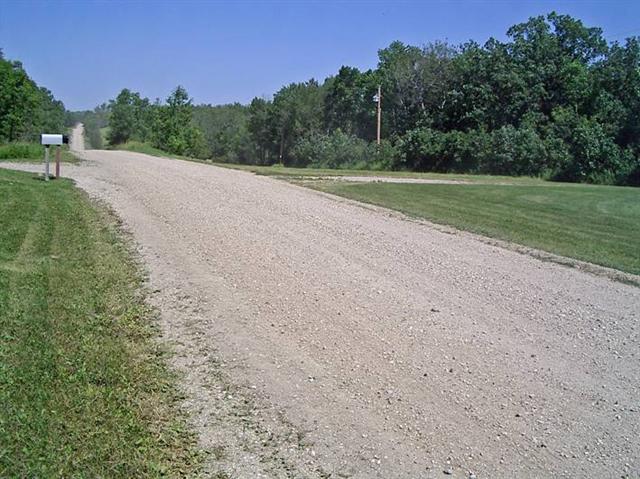 Note/Picture from Neola Kofoid Garbe: Minot & Bottineau, ND
Kenneth Bergman is the son of Otto/Elizabeth Fraser Bergman (Page 10 in Centennial Book)
Marian is the daughter of Gerald/Leah Richard Bergeron (Page 241 in the Centennial Book)
It's a small world: When Gerald passed away, Leah moved to Bottineau. My apartment is upstairs in the house Leah lived in for many years. Until a couple of years ago, I thought Leah had moved this house to Bottineau. To me, it was "Leah Bergeron's house". I've learned this house is an Aasheim farmhouse. I think Jean Aasheim Zorn (Leo–Page 287 in the Centennial Book.) said it came from her grandfather's farm.
Jean's parents were Joe/Mabel Ihla Aasheim. Joe and my dad worked at Haugerud Garage back in the 1940's. Oscar Vikan owned it when Dad started working there.
I scanned this picture to send to Gary Berg (son of Alvina/Lillian Torgerson Berg) for his Class of '59 website. Then I decided to include Gary Stokes, as I think he might be interested in it, too. Next, I added more info and decided to include some of my relatives, as Ed Kofoid, son of
Fred/Wilma Bosch Kofoid, is married to Leo/Jean's daughter, Nancy. There is no end to the connections!
Lynne Bergman Boettcher, Kenneth's sister, is my classmate, so I'm including the Class of '57 in this email, too!
Neola
With Marian's mother, Leah, being a Richard, she is related to a whole bunch of you folks.
Ron Bergman (Bottineau Sears Store), I Believe Ken is your brother. The Bergman family is a large family too. Gary