Good day folks,
I don't have any posting this morning so I will just go with the reposting of prior postings from 2009.
Tyler, our grandson, will be arriving tomorrow morning from Tacoma, WA. He will be here until June 14th. Everyone here is excited for his coming. He spent a week with us just before Christmas too. He liked it so  well here and asked if he could come back in May/June for about a month. He is a people person and especially likes kids, very much the same as his Great Grandfather, Bob Stokes.  He is very mature too, easily mingling with the old as well as the young too. He just finished his freshman year at the University of Puget Sound (UPS) in Tacoma.
Needless to say, Bernadette is in cloud nine for his arrival.
Gary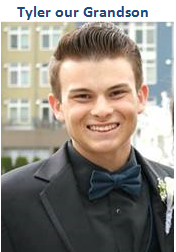 ==============================================
Blog (598) posted on October 21, 2009
Posted on October 21, 2009
Janice Metcalfe Poitra (71) Obituary
Janice PoitraOct. 4, 1953-Oct. 18, 2009
POSTED: October 20, 2009
DUNSEITH Janice Leigh Poitra, 56, Dunseith, died Sunday, Oct. 18, 2009, in her home.
She was born Oct. 4, 1953, to Emil and Elizabeth Metcalfe in Seattle. She married Raphael Poitra in September 1978 in Valley City.
Survivors: husband; son, Jaime, Dunseith; daughter, Kelly Olson, Bottineau; two grandchildren; sister, Elaine Metcalfe, Grand Forks; brother, Travis, Meza, Ariz.
Funeral: Thursday, 10 a.m., Peace Lutheran Church, Dunseith.
Burial: Little Prairie Cemetery, rural Dunseith.
Prayer service: Wednesday, 7:30 p.m., in Nero Funeral Home, Bottineau.
Visitation: Wednesday, 10 a.m. to 9 p.m., in the funeral home.
Condolences to the Robert and Metcalfe/Poitra families
From Aggie Casavant (69): Fort Mill, SC
To The Dorothy Robert & Janice (Metcalf) Poitra Family
So much saddness right before the holidays…My thoughts, prayers, and sympathy goes out to both families. Sincerely, Ms. Aggie Casavant

DOROTHY ROBERT, 76, Langdon, formerly of Rolette, died Sunday in a Langdon hospital. Funeral Friday, 2 p.m., Sacred Heart Catholic Church, Rolette. (Elick Funeral Home, Rolla)
Lucille Strietzel was Don Johnson's (Dick's Dad's) Aunt.
LUCILLE STRIETZEL
March 25, 1924-Oct. 17, 2009
POSTED: October 20, 2009
ST. JOHN Lucille Louise Strietzel, 85, Rolette, formerly of St. John, died Saturday, Oct. 17, 2009, in a Rolette nursing home..
She was born March 25, 1924, to Ernest and Rose Dawson in Rolla. She married Carl Strietzel on June 27, 1943, in Portland, Ore.
Survivors: sons, Ronald, Anaheim, Calif., Carl, Huntington Beach, Calif., Donald, Lakewood, Calif; daughters, Carlette Timm, Anaheim, Sheryl Aird, St. John; 14 grandchildren; 13 great-grandchildren; sisters, Louella Timlick, Issaquah, Wash., Evelyn Albright, rural Rolla.
Funeral: Wednesday, 10 a.m., St. John Presbyterian Church, St. John.
Burial: Rolla City Cemetery, Rolla.
Visitation: Wednesday, one hour prior to the service, in the church. (Elick Funeral Home, Rolla)
Memories of Janice Metcalfe Poitra
From Daina Honsey Fiebiger (71): Cooperstown, ND
What a schock. I have great memories of playing with Janice when we were younger. The fun we had sitting around singing with her sisters. Our prayers go out to the famiy. Janice was a beautiful person and will be greatly missed.
Diana Fiebiger (71)
Update on Florence Pladson Sime (62)
From Keith Pladson (66): Stafford, VA
Response to Neola Kofoid Garbe, Re: Florence Sime. Thank you for the web site to send messages to those in ICU at Trinity. I use it daily to send short messages to my sister. She has had surgery on her elbow, her shoulder and her hip and will have surgery on her wrist on Wednesday morning. She is doing pretty well, but has a lot of pain. Her wrist is the most painful, but she also has trouble breathing as she suffered eleven broken ribs in addition to all the other broken bones. I would not want to ever go through what she is going through, but she is a very strong person, so I'm sure she will meet each challenge she will have to face going forward. Thank you again, Neola. Keith Pladson (66).
Repost of Neola's message
Reply From Neola Kofoid Garbe: Minot & Bottineau, ND.
Gary,
I was shocked/stunned/etc. to read of Florence Sime's accident. I'm including a site where emails may be sent to her. I think the emails are read once per day (probably morning)/the messages are printed on card, along with who sent them/delivered to the patient later in the day. Wally received several of them when he was hospitalized. I'm sure Florence would enjoy hearing from friends/family/etc.
Neola
http://www.trinityhealth.org:80/Greeting/MailPatient.asp
San Haven
Reply from Mona Dionne Johnson (48): Bottineau, ND
When you were hospitalized at San Haven, the capacity was 350 !, and at
that time, we had them in the halls – I believe about a
367 census ! That was top for all the years that San Haven was ! If
only North Dakota had listened to other states that had tried out group
homes for the mentally challenged (retarded at that time), San Haven
would never have closed, the residents wouldn't have been moved out of
their home, and possibly part of it could have become a nursing home.
But then, the" powers that be" would not listen to all of the people
affected. What a beautiful place it was. And, I really enjoyed
learning of some of the doings of our children back then, Brenda.
Mona Johnson '48
Brandon Halvorson, Curt & Denise's grandson, injured
From Vickie Metcalfe (68): Dunseith, ND.
Gary and friends, I just spoke with Amy (Berg) Hanson, she said it is quite alright to share and print information about her nephew, Brandon Halvorson's recent accident I shared with her you, Gary are very careful about getting information out to share with concerned people, no sensationalism,and that makes you, such a great creator/editor of this Dunseith blog. Thank You.
The weather conditions last week in this area of ND were much less than perfect. As you all have probably heard for a time there was snow, wind, sleet, freezing rain, snow and icy road conditions creating hazardous travel.
The hills and foot hills were covered with between 5-8 inches of snow.
Under the snow was muck. Toward the later part of the week conditions changed. An autumn warm up began and folks started wearing the muck on their shoes.
Fall is gathering time on a cattle ranch, everyone who can helps out. Be it the one who stands patiently waiting at the gates, to the cowboy bucking the brush. The drive is on as folks begin first steps of the gathering to bring herds closer to home. Riders of the foothills-hills, including Brandon were rounding em' up.
As I understand, the ground was nasty; it twas slickery over all the muck! Under Brandon, his mount slipped, slid, and had dirty fall battling, scrambling,trying to regain it's balance……finally, rolling over Brandon's head. The cowboy did his best, the horse did it's best. The slickery mucky conditions were just too much!
Brandon was taken to the Minot hospital intensive care, with a very severe head concussion. He's in a lot of pain as his cowboy body is very sore. Now, because of the head injuries he's having some trouble with his short term memory. However, visiting with Amy, she said, yesterday was a break through when he remembered twice which horse he was riding….Was it the black or the buckskin?
Further note; Brandon has lots of Dunseith-Bottineau hills and prairie connections. He's loves and lives the cowboy way. Son to Brian, Son of Becky (Berg), brother of Cory, Grandson of the Curt Halvorson's and Ed Bergs, Great- grandson to Tillie, nephew and cousin . He's a friend to many young and old.
Please join us all in wishing the best for Brandon and keep him in prayer as his body heals.
Thank you. As ever, Vickie
Gary and friends,
I sent my… Metcalfe Kith and Kin the exact same info regarding Brandon, in today's + a personal note.
Within a few hours I received from Laverne our Canadian Cousin,(her father was.. a James Alexander Metcalf) We met Laverne only once in person at our 1980 Metcalfe reunion. Her response I'd like to share with all family and friends of Brandon.
Thanks for the unfortunate news about Brandon Halvorson. Sorry to learn about his accident. I have placed him on our intercessory-prayer list. He'll be prayed for every night.Would you keep us up to date on his progress?
We'll believe for the best for this young man. We'll see a real blessing worked out in his life!!
take care, love , Laverne.
Reply from Pam Lagerquist (68):Minneapolis, MN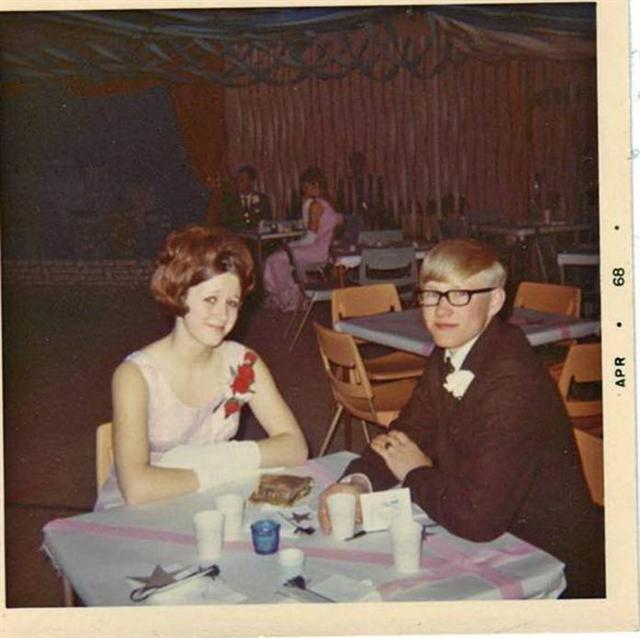 Thanks so much Gary, this morning knocked me over! I've tried to go to classmates to find someone I went to school with and there was no information, I can remember from it. thank you again and God Bless you. Pam Lagerquist
Folks, It's taken me two years to find Pam Lagerquist, but I found her. I first located her mother and she was able to give me Pam's phone number. She remembers her Senior year well at Dunseith. She was only in Dunseith the one year.
Note: Pam is not related to the John Lagerquist family. Gary
Pam Lagerquist & Dan McKay
DHS Class of 68 pictures & Lawrence/Eve Struck Article
From Paulette LaCroix Chisholm (68): Newark, Delaware
Hi Gary,
Got your email the other day suggesting I send some pictures of us 4 classmates who try reunite on a regular basis. While going through boxes of old photos, I found a picture of our '68 class and one of the Grimme twins taken at our 25th HS reunion ( more than a few years ago.) Thought it would be nice to see the two of them together. Betty Hackman, Beverlie LaValilie, and Janet Parril were at the union, but somehow we missed getting them in the picture. I'll send more of "us girls" later. For now I'm almost literally knee deep in photo albums and don't know how I'll put these back!
Thanks,
Paulette
Gwen & Greg Grimme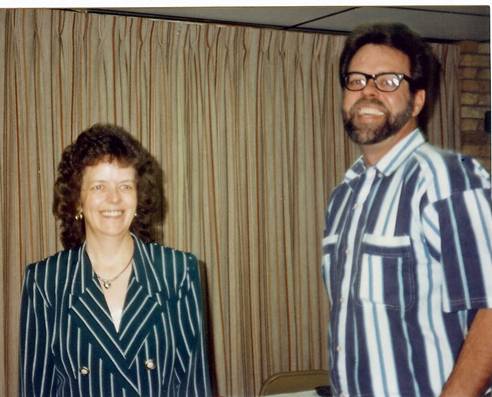 This is a great photo. I recognize a lot of you folks in this photo, but not nearly enough of you to start listing names. I need some help. I will repost with names. Thanks, Gary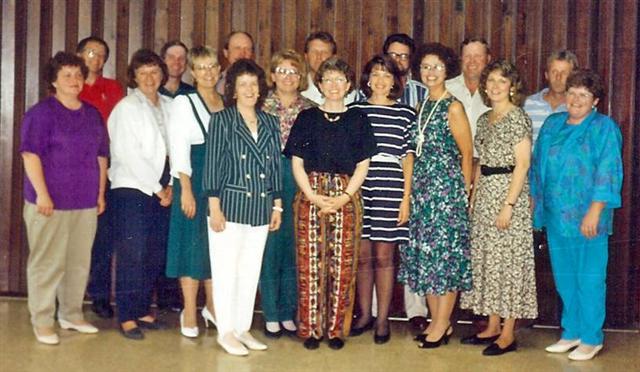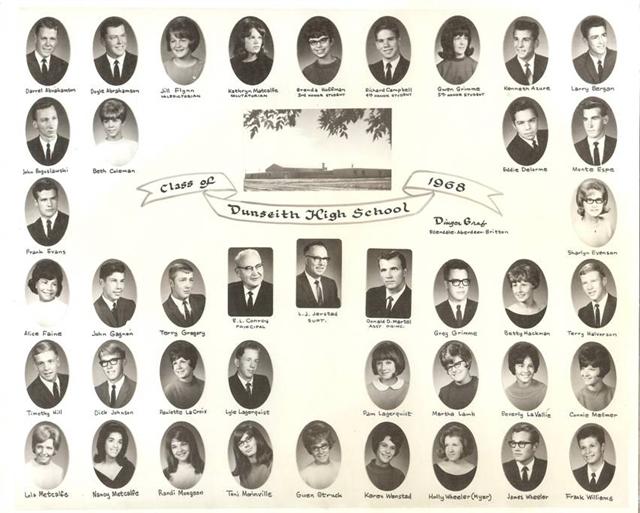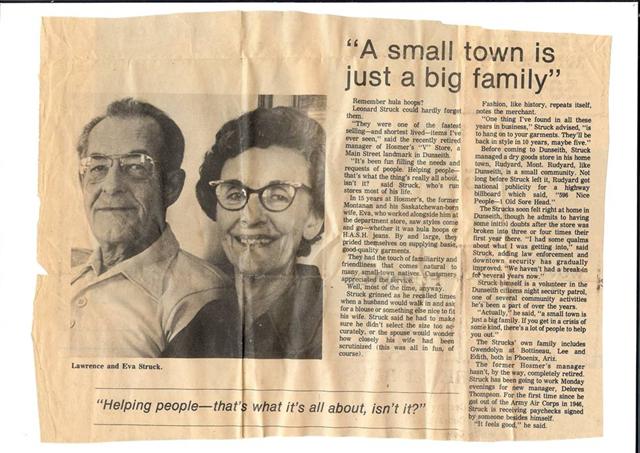 Bowling in the Philippines
Folks,
Today is Wednesday, our Bowling day. Bernadette and I Joined a bowling league. Everyone is for themselves. Their are no teams or team competition. It's all for fun. The league consists of about 30 guys and 15 women. We guys are mostly all foreigners, in our mid to late 50's & 60's, and from English speaking countries (England, Ireland, New Zealand, Australia & USA). Most of the gals are Filipina. This league was organized in 2001, so it's been around for awhile. The facility is a modern 48 lane Bowling Alley. The league cost is $1.00 per game and $0.50 shoe rental. We play the normal 3 games and of coarse our games and averages are recorded and distributed to us via email. My first game last week was 81 and my second game 181. What a come back. I've got a whopping 125 average.
Gary