Hackman Relative located her cousins
Message from Lori Domina:  Kansas
Hello Gary and family in North Dakota
I stumbled upon the site and am so happy I found it. First, I'm not sure if we are related, as I am  related  to the Hackman family. Marian (Kraft) Hackman was my aunt, she was my mom's sister-my mother's name is Regina (Kraft) Bertsch from Rugby, ND. I had read a school reunion blog on this site awhile back and recognized a name and picture of Henry Hackman (he is my cousin), and I remember his graduation  picture sitting in my mom's china cabinet.
It would be a delight if family contacted me.
Lori (Vetsch) Domina
Kansas
Reply from Bob Lykins (DHS business teacher):  Hutto, TX
Gary,
Always great to get photos of you and your family and friends and to learn of your activities.  It must be a pleasant burden to be surrounded by so many lovely ladies.  Thanks for all you do to keep us all informed about the folks from Dunseith.
Bob Lykins
Bob,
Yes a great pleasure indeed. Makes me feel young too.
Gary
Lloyd Await Remembered – From: Alan Wondrasek
Posted by Vickie Metcalfe ('70):  Bottineau, ND
For Lloyd Awalt American Legion BB was a big part of his life. His wife, brought in his VFW Jacket and his American Legion BB Jacket. The Veterans Honor Lloyd for all his years as a veteran, VFW member and American Legion Member and Baseball. Lloyd loved BB and Loved the American Legion. His uniforms are with the American Legion BB Hall of Fame.
(Yes, we saved a spot in the middle for Mr. Baseball – Harley – when he is gone.
Al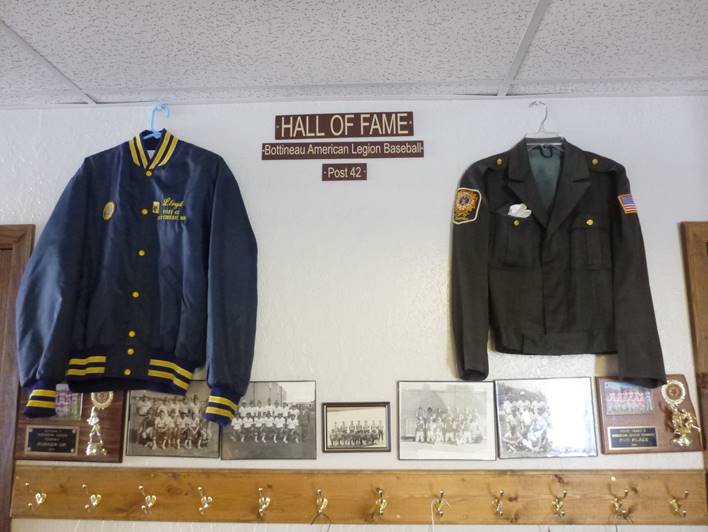 Doris Ione Halvorson Kittleson Obituary
Posted  by Neola Kofoid Garbe:  Bottineau & Minot, ND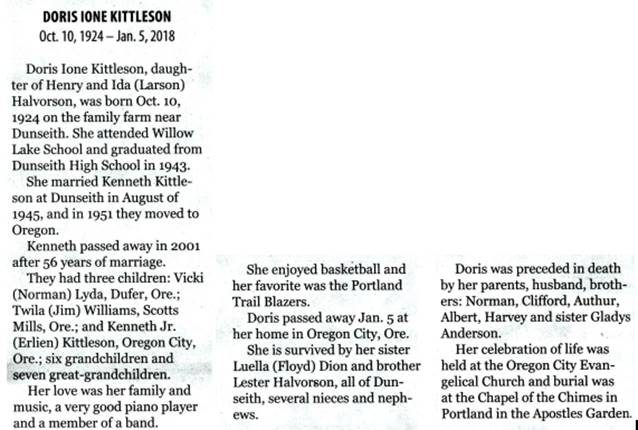 Posted by Vickie Metcalfe ('70):  Bottineau, ND
Gary,
This  painted a thousand words. "CEBU" 
 Meanwhile, 
……back in ND at the foot of the a TURTLES
We've  been day dressing _ layer, upon layer & yet another layer.
Cautiously crossing slick streets__ waddling like plump mummified penguins .
Followed by  another shivering 1 dog night,  turning up heat_ again,  again & again. 
The best of  today?  
___________________Blue skies, sunshine, no snow and no wind!
Until later, spend  your trophy money wisely
Vickie Metcalfe
Vickie
I'm in Bowling for the Camaraderie.
Yes, I know you guys in ND have been have a cold spell.
You are welcome to visit us anytime here in Cebu. Today's it's raining and about 82F.  a bit cooler than Normal.
==============================================
Blog (674) posted on January 6, 2010
Birthday Card shower for Dorothy Pritchard:

Folks,

Dorothy Pritichard will be 97 years young on January 25th. Dorothy has been a resident at Saint Andrews long term for several years now. She's a little slow moving around, but her mind is sharp as ever. The hospital prints off all of these daily messages for her to read, however the copy they get from me today for Dorothy will not have this posting of her. This card shower will be a surprise for her.

Dorothy and Robert Pritchard and family were our Neighbors to the south up in the hills. Their children John (62), Dale (63), and Carol (67) graduated from Dunseith. Robert was a brother to Corbin and Winifred Eurich.

If at all possible, please send Dorothy a card. Your cards will for sure brighten her days.

Gary

Dorothy Pritchard

Room 109

316 Ohmer St

Bottineau, ND 58318

Questions from Erling Landsverk (44): Portage, WI

Hi Gary and All:

I have been meaning to tell you that the picture of me on my book was taken on a pile of freshly peeled logs in front of our home, and there was two pictures taken of me, the one on the book and the other one is of me sitting on tom Hagens lap and tom was laughing on the photo, which he did quite often. He and my Dad were close friends, and worked together quite a bit. The question I have is this; Our very near neighbor to the northeast was Norin and Mabel Erickson and their daughter sylvia. They moved away, and somehow we lost track of them. I believe Mabel was a Windom, Hans Windom's daughter. The other question I have is about the Greig Family. They lived northwest from us, possibly a little over a half mile. I attended school with Violet, Bernice, Sally and Jimmy, I knew their older brothers Raymond and Martin, I believe their fathers name was Bill. I know they moved to the west coast, and perhaps they simply vanished into the seattle or tacoma area, but I can't help wondering what happened to them. I know they had a tough time of it there in the hills, but the children were certainly bright and well mannered. I know that Raymond served in the military in WWII, but has since passed away. So I guess if anyone has a clue especially about the younger ones, that would be Bernice, Sally, and Jim. Jimmy is about in his late seventies, and I think they left and completed their education out on the west coast. That of course is a guess. I want to wish everyone on your blog a HAPPY NEW YEAR, and Thank you Gary for doing such a splendid job of maintaining this collection of old friends.

Erling

Erling, there is a short write-up about the Bill Greig family in the 1984 Bottineau Centennial book on page 559. Jimmy is deceased and Sally and Bernice were living in Idaho. There married names are not listed. There were 16 children in that family. Hopefully someone has more info about this family. Gary

Cora Westby Obituary:

From Vickie Metcalfe (70): Bottineau, ND

Note: Vickie, Seeing Cora had been a teacher in Dunseith, Neola sent us Cora's obit too. We were seeking more info about her before posting. Thank you so much for this added info about Cora. Your timing was perfect. Gary

Gary,
Mrs Cora Westby taught with and along side Mrs.A. Halvorson, Mrs.
Ruth Peterson, Mrs. Esther Maute, Mrs. Mary Ann Hagen, Mrs. Diane
Pedie, Mrs. Mary Ann Brennan, Mrs.A. Halls, Mrs. Marie and Millie
Parrill, Mrs. F. Williams, Miss Anna Nelson and many others under
the leadership of Mr. Art Rude in the "new Pods" at Dunseith
Elementary in the late 60's early 70's.
I believe she taught my younger brothers. Vickie

Cora Westby

Sept. 1, 1917-Jan. 2, 2010POSTED: January 5, 2010

Cora Arvilla Westby, 92, Rugby, North Dakota, died Saturday, Jan. 2,
2010, at Heart of America Medical Center in Rugby.

She was born on Sept. 1, 1917, at Overly, North Dakota, the daughter
of Thorvald and Ronnaug "Rosie" (Moe) Johnson. She attended grade
school and graduated from Overly High School in 1935. She earned a
teaching certificate from Minot State Teachers College in 1937. She
taught school in South Valley and Wolf Creek Consolidated Schools in
Rolette County and the Dunseith Public School.

She was a member of Willow Creek Lutheran Church in Overly, where she
taught Sunday school and vacation Bible school for many years. Later
she became a member of Valle Lutheran Church in Rolette. She was a
4-H leader for many years.

She married Leo Edward Westby on Nov. 21, 1941, in Rolette. They
lived on a farm in Wolf Creek Township until moving to Rolette in
1980. They spent twenty winters in the Rio Grande Valley in Texas.

Mr. Westby died on Nov. 13, 1998.

In 1998 she moved to the Haaland Manor in Rugby. She was a member of
the Valle Lutheran Church , W.E.L.C.A. Dorcus Circle, Birthday Club,
and the North Dakota Retired Teachers Association. She enjoyed
crafts, reading, playing cards, and doing puzzles.

She is survived by: her son, Randy Isak and his wife, Deb Westby,
Minot, and a daughter-in-law, Linda Westby, Valley City. Surviving
grandchildren are Coralee Demers, Andrea Rall, Krista Oehlke, Jill
Westby, Clarissa Westby-Bullen and Ryan Leo Westby; and 9
great-grandchildren.

She was preceded in death by her parents; one brother, Leonard
Johnson, in 1989; her husband; and a son, Harley Dale, in 2003.

Visitation and family service: Visitation today, Jan. 5, from 3 to 9
p.m. at the Niewoehner Funeral Home, Rugby, with a family service at
7 p.m. at the funeral home.

Funeral: Will be at Valle Lutheran Church in Rolette on Wednesday,
Jan. 6, at 11 a.m. The Rev. John K. Hesford will officiate.

Casket bearers will be her grandsons, Ryan Westby, Mark Demers,
Alexander, Joel, Jonah, and Joshua Rall. Margaret Wittmayer will be
the pianist.

There will be reviewal at the church one hour prior to the service.

Burial will be in the spring in the Rolette Cemetery in Rolette.

Memorials: Memorials are welcome to the Willow Creek Lutheran Church
Centennial Fund. (Niewoehner Funeral Home, Rugby)

My brother Darrel (Bud) & Debby Stokes:

Folks, This is a picture of Bud & Debbie on our Alaskan Cruise this past summer. We recieved their Christmas card several days ago with this nice picture of both of them. Gary

Debby & Darrel Stokes