Happy 102nd  Birthday Lillian Thompson Bergstrom (DHS '36): Superior, WN
Lillian is the oldest living to have ever graduated from Dunseith High School. She graduated with the class of 1936.
Lillian's mother was a Stokes. She and my dad were first cousins. She was a sister to Ella (Eldon) Pladson and Easter (Edmar) Tangen.
Last report I had, Lillian was still of very sound mind. She had a little loss of hearing is all.
Lillian, you are looking great! We wish you the best. Happy birthday.
==============================================
Blog (678) posted on January 10, 2010
Posted on January 10, 2010
Folks,
I had a really nice chat with Gary Metcalfe when he called me yesterday. In the course of our conversation he said to me "you are a cousin to Jean Pladson Aren't you" and of course I proudly said "Yes". He said "I leaned to know her and a lot of the folks that attended church at Metigoshe when we went to church there". This morning, evening in ND, I decided to call Jean of which I did. As always we had a good visit. Gary & Sue, she remembers you guys well. She remembers Leah, your daughter too. Jean is also first cousins to the Morinville siblings. She was telling me about visiting and spending time with Bev when she was in the hospital for the last time. She also saw Deb when Deb visited Bev in the Hospital in Minot. As most of you know Deb had a stroke a year or so ago that has left her paralyzed on one side and affected her speech. Jean said she for sure knows people and had an emotional bonding with her. Jean is still living on the farm in the hills. She lives a half mile south of Highway 43 on the county line.
Gary
Reply from Mona Dionne Johnson (48): Lake Metigoshe, ND.
My son, Ross, no longer lives in ND. He did live in Kenmare many years,
working in the Bank there, but in 2002 moved to Lake Havasu City and
started up a bank with three others. I just returned from visiting them
for a few weeks over the holidays.
Mona (Dionne) Johnson '48
Reply from Diane Larson Sjol (70): Minot, ND.

Allen, I really enjoyed the pictures of the Pigeon family and Gary is
right, you are the spittin' image of your uncle Ydola…and I always
thought you took after us Richards…:)
I had to smile at Bernadette getting her nails done….I could handle
that. Good to see a photo…sure had fun on the cruise.. We are
sitting her in Minot with about 36 inches of snow and so happy that it
is going to be 20 above today. It has been very frigid weather…20
below…for the past several days…and that is too cold for me.
Still we bundle up and go out and about. Reminds me of the time in
fourth grade at the old white school house in Dunseith when one of the
kids dared me to put my tongue on the metal bar outside…he said it
would stick and I didn't believe him..so, of course I did it with
several kids watching. Lo and behold, my tongue was stuck and I was
saying " Go and get the teather…go and get the teather…while my
tongue stayed on the metal bar…she poured some water on it and it
came loose…can you spell dumb?
Hope everyone has a good weekend.
Orvin Hagen Memories:

From Vickie Metcalfe (70): Bottineau, ND.
Gary and friends,
The name Orvin, brings warm smiles on many faces of recognition!
Just this week Wes and Ovida Scheinder and I were discussing
the difference between lefse and tortilla's. Wes was reminded of his
brother Warren's childhood friend Orvin Hagen. One afternoon, Orvin
walked south cross country from the Hagen farm four miles to visit
Warren. That evening, Orvin was invited to stay the night. , Mrs.
Schnieder went to off to bed and the house became quiet, the boys
had the "hankering" for a treat. Orvin knew just the thing. As
Orvin and Warren proceeded to mix up some dough, the wood stove was
fired up. They didn't eat the first piece, Mrs. Schnieder was
aroused to a house full of smoke and a floury mixture burning on top
the kitchen stove. And the Schneider family was formally introduced
to lefse by Orvin.
Some years ago, Floyd and Dorothy Lamb celebrated their
wedding anniversary at the International Peace Garden. Orvin and I
were somehow talked into, by the very convincing Martha and Dean to
re-enact a wedding. Those two were always very convincing
cousins……I was shy , Orvin was not…….Dean insisted I was to
act the groom's part because I looked like a Lamb. Giving in, I
slicked my pulled hair back under the collar of a white dress shirt
and tie, someone drew a mustache under my nose. Wearing trousers, I
stood alone in front of the lodge. People were puzzled,still, very
quiet. Me, I was quit sober wondering "what am I doing, Oh yeah, I
'm doing this for Floyd and Dorothy." …….I didn't have to act
nervous …I was trembling. I stood there with shaky knees
pretending to be Floyd awaiting his lovely Dorothy. Suddenly,Uncle
Floyd's booming laughter filled the lodge as Orvin decked out in a
wig and dress came simpering down the aisle carrying a bridal bouquet
of rhubarb leaves. Soon, the whole lodge was filled with laughter.
Thanks to Orvin the day was filled with joy.
Vickie Metcalfe
Folks,
Orvin will be at the "Turtle Mountain Country School" Reunion this coming June 1st. This reunion is being organized by Linda Gardner and will be held at the Twin Oaks at Lake Metigoshe. I posted the registration form yesterday. For those of you interested and need the form, please reply to this message and I will forward a copy to you.

Orvin was very well know throughout whole area and beyond. He was the head gardner at the Peace Garden for years. He was also our 4-H leader, a job of which he held for over 20 years. Since retiring, Orvin has lived in Kindred ND. Kindrid is a small town near Fargo. Orvin continues to be very active in community affairs. Orvin continues to be young at heart and he is the same ole Orvin we have always known.
Gary
Wes and Ovida Schneider:
From Vickie Metcalfe (70): Bottineau, ND.
Hello Gary and friends.
"Are you all wintering well?"
My across the street to the north neighbors are Wes and Ovida
Schneider. Buie watches for them out the window and loves to visit
them in their warm cozy kitchen. Wes gives him just one treat,
gently strokes and scratches him behind his ears. Ovida puts out a
dish of fresh water. Buie is so happy and relieved of winter "cabin
fever".
Wes tells stories, some of his siblings. One story is of his
older brother Sal's friend Jim Metcalfe, coming to stay overnight,
in the morning Wesley and his younger brother Warren, woke to hear
the older boys….young men in the process of breaking a horse.
The battle between young men and the horse was underway. Wes and
Warren peered out the upstairs window watching when Jim
…….finally managed to stay on the horse and galloped away for
a long time. Riding back later into the yard the horse was more
manageable.
Wes also boxed with the Metcalfe boys, he was a little older
than Emil. He said Emil was quite strong and held back. on his
punches. He thinks he may have boxed with Clifford. I asked him if
he boxed Leona? (My dad Cliff said Leona was quite good….as he
finally managed to win a match with her when he was….17. ) Wes
said he hadn't ever boxed Leona, so maybe she only sported with her
brothers..
Wes told me there were also boxing gloves at Dunseith school
which students could us and box at times.
Wes also recalled times when his parents drove up into the
hills to pick up some of the Metcalfe family to attend church at
the Dunseith Stone Church. After church,they would then, all eat
Sunday dinner at his parents, Pete Schneider (the elder) home 5
miles west of Dunseith. Rose Metcalfe's beautiful voice would
entertain them all with hymns and favored songs. ( I need to ask Wes,
if any of his own musically gifted sisters accompanied grandma on the
piano or drums? In the later afternoon, one of the Schneider's
would drive the Metcalfe family home
His father Peter (the elder) drove school bus, farmed with
horses, and milked cows. Cream cans were hauled twice a week into
the Dunseith depot train station and shipped to Minnesota.
And, he remembers the local Dunseith rural mail carriers Glen
Williams and Adrian Egbert.
Yes, I am very fond of my neighbors, Wes and Ovida. I don't
get dog treats or scratches behind my ears….Ovidia puts out a
"little lunch and tea"……..And then, they treat me with a nice
visit. All the while, my wee white dog contentedly, sleepily
drowses with Wes' strokes as we listen to wonderful history.
Keep cozy and winter well. As ever. Vickie
Freida Schneider Ferguson's Obit reposted with picture:
From Neola Kofoid Garbe: neola@min.midco.net Bottineau & Minot, ND.
Freida Ferguson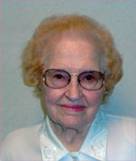 (Died January 6, 2010)

Sign Guest Book| Send Private Condolences
Send Flowers
Freida Ferguson, age 97 of Bottineau, died Wednesday at a Bottineau nursing home. Funeral will be held on Monday at 10:00 am at theGraceLutheranBrethrenChurch in Bottineau. Visitation will be Sunday from 1:00 pm until 9:00 pm at the Nero Funeral Home in Bottineau. Burial will be at theRiversideCemetery in Dunseith.
Freida Ferguson, a daughter of Peter and Elizabeth (Koch) Schneider, was born on June 27, 1912 at LaCrosse, KA. On July 31, 1955, she married Wallace Ferguson at Carrington. Wally passed away on July 15, 1990.
She is survived by her sister, Dorothy Gonsales ofSan Francisco,CA; brother, Wesley Schneider of Bottineau and nieces and nephews.