Don Corbin (Former DHS Teacher/Principal) Passed away
Facebook message from Don's sister, Pat Miller Corbin.
Message dated Wednesday August 29. 2018
Gary, I'm sorry to tell you that my brother, Don, passed away early this morning at 3:47 in Fort Collins, Colorado. Services will be held at a later date.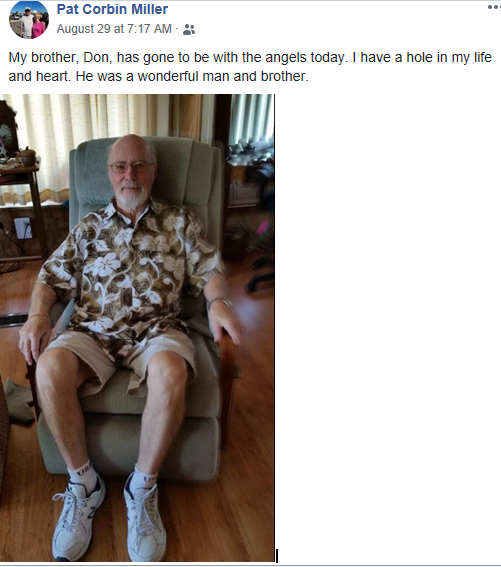 Don Corbin
Reply from Bob Lykins (DHS teacher):  Hutto, TX
Gary,
Sorry to learn about Don Corbin.  He was truely one of the "good guys" on the Dunseith staff.  He was of great help to me as I began my first year of teaching at Dunseith in 1962.  Don was an active officer in the National Guard attached to the Bottineau company.  I worked out with him a few times in the gymnasium on self defense moves.  Being the skinny little guy that I was it didn't take much for him to flip me up and over.  You are right about him being a no nonsense kind of guy but he always had a great sense of humor.  Great memories.
Bob Lykins
Joe Peloe (Pilloud): Question from Ron Peltier ('70):
Reply from Floyd Dion (45): Dunseith, ND
 Gary:
Joe Peloe  (correct name Joe Pilloud) was my half-brother and operated  Joe's Trucking.
He owned a building half mile north Dunseith, now belong to the tribe.
He passed away in 1976 at age 57.
My father was a brother of Toni Gredeskys grandmother (Eve Dion Peat) so Toni
Is my second cousin.
Todd Boguslawski Obituary
Posted by Vickie Metcalfe ('70): Bottineau, ND
Gary and Dunseith friends,
Earlier this week, while reading the Minot paper I noted passing of  Todd.
He was a well known friend to many.( including my brothers)
Todd  also had many extended  family members in the area.
I wish to extend  to the family of Todd on his passing
______ Todd  always acknowledged and greeted people whenever he met them..
He was one of the   good guys!
Sincerely,
Vickie L.  Metcalfe
http://www.thompsonlarson.com/obituary/todd-boguslawski
"Todd was born on June 27, 1965, in Rugby, North Dakota to Joseph and June (Boppre) Boguslawski. He was raised in the Dunseith area and graduated from Bottineau High School in 1983."
"While in high school, Todd worked on both the family farm and at Dale's Truck Stop"
"Todd is survived by his sisters: Kim Boguslawski and Kay (Tim) Jacobson; nephew Taylor (Kayla Reierson) Parisien; grandmother Eloise Boppre; numerous aunts, uncles, and cousin; and his many friends."
Posted by Neola Kofoid Garbe:  Minot, ND
 Gary's comment:
How well I remember Earl Thompson from the Metigoshe Lutheran Churches in my growing up days. Earl was one of the nicest persons on the face of this earth. A real gentleman too. Now both he and Glen Rude are gone. A great loss for the whole community. I extend my condolences to Earl's family with his passing.
Earl Thompson
Earl Thompson, age 87 of Bottineau, died on Thursday, August 30, 2018 on his farm north of Bottineau.  His funeral will be held on Monday, September 3, 2018 at 10:00 am at the Lake Metigoshe Christian Center.  Visitation will be Sunday from 1:00 pm until 9:00 pm at the Nero Funeral Home in Bottineau.  Burial will be at the Nordland Cemetery.
(Nero Funeral Home – Bottineau)
 Exhibit at Bismarck Posted by Vickie Metcalfe ('70): Bottineau, ND
http://www.valleynewslive.com/content/news/The-Horse-in-North-Dakota-exhibit-opens-491760001.html
Gary and Friends of Dunseith School,
            This looks to be a new exhibit at the State Heritage Center.
It is titled "The Horse in North Dakota".
            Many folks can  recall every model of car they owned.
Some with personal experience with horses on working farms probably can recall with fondness,
 every name, color, temperment and etc.
            I grew up listening to horse  stories.  
I was told my paternal grandmothers eldest  brother, was a known  as a "horse whisperer".
And the other side of the family were also horsemen.
            My neighbor  Wes, told of  a daring young Jim Metcalfe riding  a Schneider horse which  wasn't broke.
Dad told of haying  and putting in crops with the Seim's draft horses.  And I remember Art Seim driving a prancing sorrel team, 
with braided tails and mane and sleigh bells.
            Dad pitched hay in to the hay rack and fed cattle every day in the winters before he owned a tractor.
Dad  told of being a child and open range in the hills riding to collect cattle.
            i remember  Dad saying, "Ward Anthony  had up to twenty some horses.  And……Not a one he could drive or ride."
            I have a picture of my Uncle Bill with his 3 horses plowing.  
He was one of the last horsemen using 3 bottom plow and cutting hay  pulled by horses.
In the spring of 1962 he  was  breaking a young team and had a serous run away. Whilst he was  in the hospital, 
I made him my first May Day Basket courtsey of  Mrs. Conroy's  4th grade.
Yup~  "Horse in North Dakota" should be interesting.
            Until Later, Vickie
==============================================
Blog (737) posted on March 8, 2010
Request from Alan Poitra (76): Bloomington, MN
Hi Gary, can you add my sister and her husband to the email list . Leslie Peterson (Poitra) was from the class of 90 and Scott Peterson was from the class of 79. Thanks!!
They farm north of Kelvin Bar. Interesting but they did not know of the mini-reunion this summer in Dunseith. I know it was in the Turtle Mtn Star awhile back but not sure if there was anything posted.
I look forward to the get together in Dunseith. It will be nice to catch up with the old gang once again!!!
Al Poitra (class of 76)
Alan, We will see about posting some fliers around town. That's a great idea.
Leslie & Scott, I have added you to our daily distribution. We are hoping to see you guys at the reunion on May 22nd too. Gary
Request posted on the Dunseith Alumni Website:
From: Rod Parrill E-mail: Message: Please add me to your list of update recipients.
Rod, It' a pleasure to add you to our list. I know you transferred to and graduated from Bottineau with redistricting. I'm guessing you were in the class of 73, so I will include you with that year. Please correct me if I'm wrong.
Your parents, Thurman & Marie Parrill are my god parents too. Gary
Cote Sister's photo posted yesterday:
Reply from Connie (Roger) Zorn Landsverk: Bottineau, ND
hi Gary, I would like to comment on the photo of the Cote sisters. It's nice photo. I've known all 5 of those ladies from working @ the Good Samaritan Center. I had lots of visits with Evelyn–& I visit with Alice each time I volunteer or stop @ Good Sam. I guess Evelyn is living in Rugby now. I think @ a Nursing Home. I think there was some boys in that cote family too!! Take Care Connie
Leona Hosmer:
Reply from Jan Hosmer Cobb (60): Wilsonville, OR
Gary,
Thanks for the warm welcome you extended to my mother, Leona Hosmer. To answer your question:
Leona lives in a lovely apartment just a mile from me in Wilsonville, Oregon. Wilsonville, like Dunseith, is a small town. She walks everywhere: grocery store, bank, dentist, hair dresser, drug store, library, community center, restaurants, parks, and even a fun pub "where everybody knows your name" – are all within a few blocks.
We play bridge together, occasionally competing in tournaments. She is still my teacher and with her lead, we usually do well. We have over 100 Master Points.
It is such a treat having her close by at this time in our lives. She models for me every day on how to grow older with grace, intelligence, charm and and curiosity. She is always surprising me with her desire to expand her world, to see and try new things. Learning computer skills and joining the community you have created is just the most recent of her adventures.
Jan (Hosmer) Cobb
Reply From Dick Johnson (68): Dunseith, ND.
Gary and Friends,
Dale Pritchard remembers Dale Hoffman's black and yellow '55 Ford. Dale, do you remember Dale Hoffman's first car? He had a bright red Model A Ford coupe that was the nicest little coupe in the country! His little sis, Brenda (68) had a pretty pink and white '55 Ford Victoria two door hardtop. Those were all real cream puff cars that their dad located for them, I believe. Harvey had an eye for classy cars! Any time I ever saw Harvey, he had a clean and shiny car no matter what time of the year it was. Thanks Gary!
Dick
Message from DeAnn Gottbreht's Carringbridge Website:
http://www.caringbridge.org/visit/deanngottbreht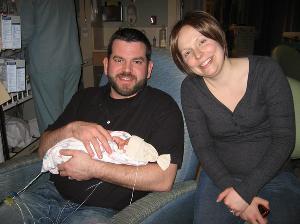 It has been an amazing couple of weeks! Patrick and I were married on Wednesday March 3 at 6:30 pm in a gazebo in Island Park here in Fargo. My dream of having an outside wedding came true! The gazebo is in the middle of the park surrounded by trees and snow. It was a cool night but the ceremony was beautiful in the twilight. Now I am a very proud wife and mother! We will still have our large wedding in October so this one was just for us and Connor.
Connor is doing great. I just left the hospital a little while ago and he was sleeping soundly. The doctor increased his feedings amount a little today and his weight is up to 4lbs 3oz. He is completely off of IV's now and hopefully will start growing quickly. We do not know how long he will have to stay in there but the doctors tell me he is doing great so what more could I ask for!
Hello from Costa Rica:
Message/Picture from Trish Larson Wild (73): FORT COLLINS, CO
Just finished a morning ride on Criollo ponies in a town called Mal Pais, which means "bad country" because the rough mountains come down to the shore. My horse won the race down the beach…! I return on march 9th and have decided to get my act together as soon as possible for living on horseback. Pura Vida!! Trish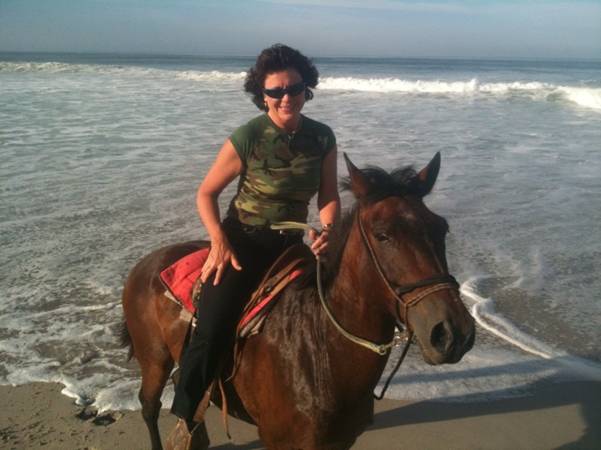 Conrad/Mildred Atherton Langehaug's Family Picture:
Posted by Neola Kofoid Garbe: Minot & Bottineau, ND.
Gary,
Here's Myron email:
Hi, The missing names are Marilyn, GloriAnn, Rodney, Arnold, and Kenneth. And now here's the story behind this photo. My mother insisted that we have a family picture before I left for the Army. The time is December 1969 on the day that I left for Active Duty Fort Leonard Wood, Mo. Thanks Myron
Neola, Evie is married to Rodney Kalk (61). Rod & Evie live up at Lake Metigoshe.
Conrad/Mildred Atherton Langehaug's Family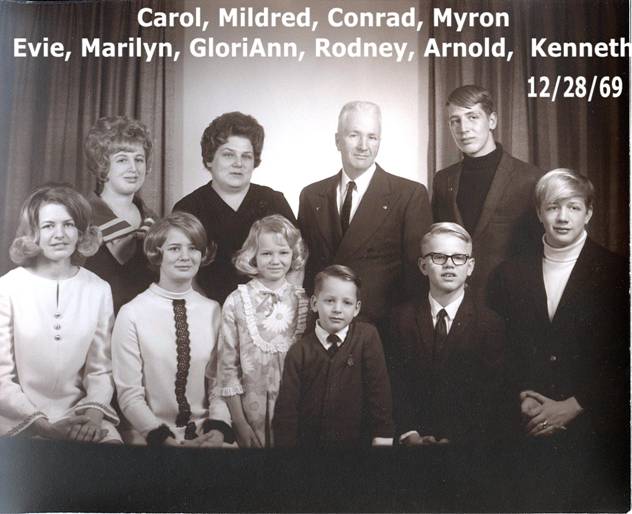 Confirmation Picture:
Posted by Neola Kofoid Garbe: Minot & Bottineau, ND.
Folks, I know I know most everyone in this photo, but I don't want to start guessing.
That looks like one of the Lagerquist boys in the back with glasses?
Please reply with names. I will repost. Thanks, Gary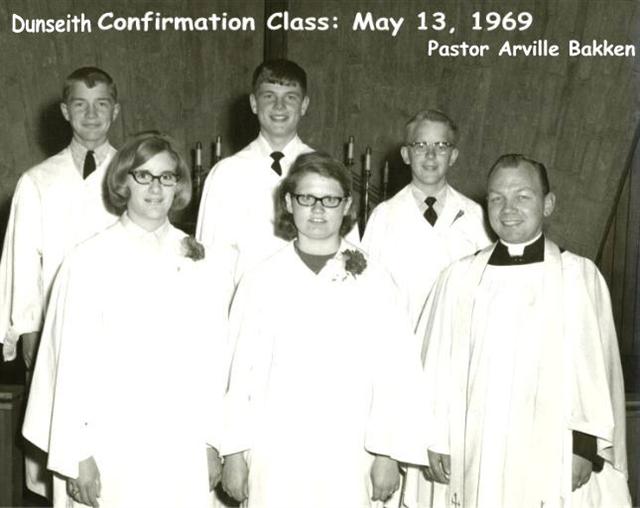 Confirmation Picture reposted with correction:
Neola Kofoid Garbe: Minot & Bottineau, ND.
Hi Gary
Thanks to Dick Johnson and Eileen Brudwick, I now have the correct "first" name for Pastor Bakken.
Neola