Gwen Grimme Eltz has identified all but three in this photo taken 40 years ago.
NDSU-Bottineau Business Club Photo
Neola Kofoid Garbe's message to Gary Stokes and Dick Johnson
Hi, Gary and Dick.
Another Wondrasek picture.  I don't know if any of your readers might be in this picture.  I recognize Joan McLean Bonn, but that's it.
Neola
Brenda/Dick Johnson's reply
In the bottom row last one on the right side is Mrs. Syvertson and next to her is Gwen Grimme Eltz.  Looks like it was taken at the School of Forestry some time in 1968-69 in the gym.
Brenda
 Gary Stokes Forward to Gwen Grimme Eltz
Hello Gwen,
Dick and Brenda identified you in this picture. How many others do know?Thanks,
Gary 
Gwen Grimme Eltz Reply:  
Hi Gary, Thanks for sharing the picture. It was taken, as mentioned, on Fall Quarter 1979 when I taught at NDSU-Bottineau. The group is our Business Club, and I remember the names and hometowns of the people in the pic, with the exception of just two or three of them.  I'll print the pic tomorrow and attach names and hometowns. The nice thing about teaching at that school is that we really got to know the students well and I still stay in touch with many of my former students. I also got well acquainted with my Washington state students, but once they graduated it was harder to stay in touch with them. I started teaching at NDSU-Bottineau in 1974 and retired from teaching at Spokane Falls Community College in 2014. Teaching was always my passion! I'll be back in touch with the names of the students in a few days, Thanks again!
 Hi Gary,
Attached is a .pdf file that contains the names/hometowns of the NDSU-Bottineau 1979-80 Business Club students in the picture that you asked about. It was a good memory test for me! Thanks for sending the pic to me!
 Gary's comments
Thanks Gwen, You did very well remembering all these people and their home towns too, 40 years later. What a fantastic memory. You only missed three and I'm sure some of our readers will be able to identify them
NOTE: A PDF copy of this picture is attached.
NDSU-Bottineau Business Club 1979-80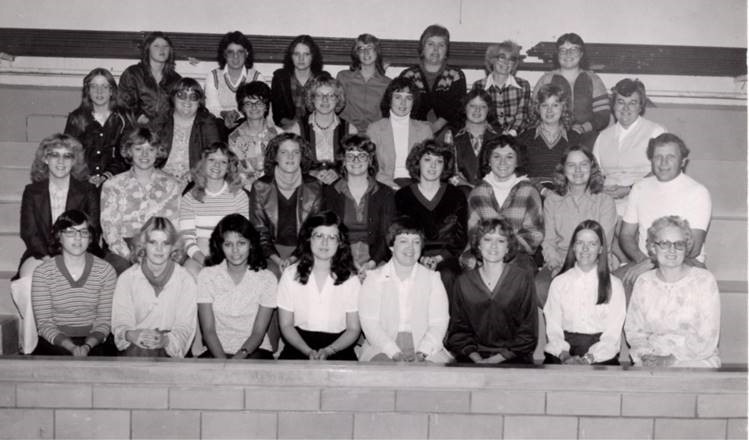 Bottom Row (L to R):  Marlene Gores/Bisbee; Kim Pritchard/Bottineau; Doreen Counts/Dunseith; Barb Geinert/Nortonville; Bonnie Henry/Newburg; Cindy Schmaltz/Towner; Gwen Grimme Eltz, Instructor/Marjorie Severson, Instructor.
Row 2: (L to R) Bernadine Blomquist/New Rockford; Theresa Floberg/Westhope; Kim Teigen/Maxbass; Juliene Getzlaff/Bottineau; Cheryl Bertsch/Rolla; Lana Pigeon/Rolette; Delores Knutson/Kenmare; Margo Laviguer/Souris; Dave Olson, Instructor.
Row 3: (L to R) Carrie Heilman/Rolla; Connie Heilman/Rolla; Alberta "Birdie" Haakenson/Bottineau; Cheryl Gessner/Newburg; (Unknown); Fran Indegaard/New Rockford; (Unknown); Shirley Beith, Instructor.
Top Row: (L to R) Kim Rude/Bottineau; (Unknown); Jackie Belgarde/Belcourt; Suzanne Swenson; Portal; ? Thurston/Bottineau; Ardelle Ostrom/Bottineau; Melanie Brudwick/Bottineau
Kathleen Brennan Anklam (Margaret 'John' Bedard's Sister) Passed away
Posting from Vickie Metcalfe ('70): Bottineau, ND 
KATHLEEN'S OBITUARY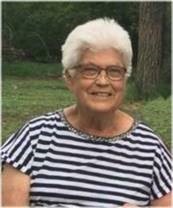 Kathleen Ann "Kathy" Anklam, 80 of Rolette, ND passed away on Friday morning, November 1, 2019 at the Heart of America Medical Center, Rugby, ND.
Funeral Services for Kathy will be held on Wednesday, November 6, 2019 at 11:00 a.m. at Valle Lutheran Church, Rolette with Reverend Jim Odden officiating. Burial will be in the Rolette Cemetery.
Gathering of family and friends will be held on Tuesday, November 5th at Valle Lutheran Church from 6:00 p.m. until 7:00 p.m. with a Prayer Service at 7:00 p.m.
Kathleen Ann was born on November 29, 1938 to Ross and Hazel (Wickman) Brennan, the oldest of seven children. She grew up in the Turtle Mountains on the shores of Carpenter Lake.
After graduating from high school, she continued her education at Minot State College, earning her Teaching Certificate. She taught at Shell Valley, a one room country school. One day the bachelor farmer "Donald Anklam" showed up at the school with a very original alternative motive to meet the single school teacher.  He asked her if she wanted to go "hunting rabbits". He had a shot gun with him, hoping she would say yes.
Kathy was united in marriage to Donald on September 21, 1959 at the Lutheran Parsonage in Rolette. They purchased the "farm homestead" on mile South of Rolette on "April Fools Day", 1964 where they raised their 2 daughters Karen and Wendy.
Once Karen started school, Kathy returned to teaching kindergarten. She also took classes at Turtle Mountain Community College in Belcourt and after the daughters left home, she worked to earn her Bachelor's Degree in Education at Mayville State College and with hard work and dedication received her Master's Degree in Education at the University of Mary in Bismarck, ND.
She was a beloved teacher at Rolette Public School for many years and eventually was the Grade School Principal. Prior to her retirement, she was a Reading Specialist at the school.
For the past 20 years since retirement, she and Don traveled extensively throughout the United States.
Kathy was a very active member of Valle Lutheran Church and the WELCA. She enjoyed bird watching, quilting, fishing, gardening-both flowers and vegetables. There was a large accumulation of fabric for the countless baby blankets that Kathy made to give to relatives and anyone who she knew having a baby.  The International Peace Garden held a special place in Kathy's heart, since her father had worked their while serving with the CCC (Civilian Conservation Corp).
Kathy was all about family. She made it a point to be present for the many milestones in her grandchildren's lives and felt blessed to be a great grandmother. Kathy never missed the yearly Brennan family reunions and so many other get-togethers with her extended family.  She knew how important it was to bring together the constantly growing family and treasuring all the laughs and memories shared.
Adjectives that best describe our precious Kathy include welcoming, inquisitive, supportive, respectful, encouraging, positive and most of all loving which was shown in her many gifts and ways.
In late August, Kathy entered Hospice Care at Heart of America. At the admission meeting, we were told to focus on "quality of time-not quantity". We want to thank the staff for their many efforts of kindness and care shown to Kathy.
Kathy's loving family include her husband Donald, now of Rugby, formerly a resident of Rolette, ND for 87 years; daughters Karen (Wayne) Hopfinger, Bismarck, ND and Wendy Anklam, Minneapolis, MN; siblings Carol Desper, Bismarck, Margaret (John) Bedard, Bottineau, ND, Betsy (Gary) Snidak, Stow, OH, Jack (Evie) Brennan, Fargo, ND and Gail Fox, Mankato, MN; grandchildren Jerett, Derek, Travis and Caitlin; great grandchild Radrick; numerous nieces and nephews.
She was preceded in death by her parents and sister Peggy Johnson
==============================================
Blog (79) posted on May 8, 2010
Verena Gillis Appreciation:
From Vickie Metcalfe (70): Bottineau, ND
Gary,
I'd like to express my appreciation to Verena. Wow! Thank-you for all the thoughtfulness, communication and hard work you are doing to make such an organized school homecoming!
Cool rainy, weather has been in our picture the past 2 weeks . Rhubarb was coming up nicely, as it likes the cool spring moisture. I woke up today wondering if my rhubarb crop will fail as it's peeking through a light snow covering. Then, I wondered about juneberries which can be touchy about frost.
Oh well, looking at the positive, the cold clime keeps my mind on school! And I'm not longing to be outdoors in the frosty muddy glop yard cleaning.
Take care when re-filling your cuppa …. fill your day with some laughter too.Vickie
Vickie, I 2nd your words of appreciation for Verena. She has done and is doing a wonderful job coordinating all of the logistics and organizing for our reunion. She's a super woman with great communication and organizational skills. Thank you Verena. Gary
Email address change:
From Leland Hagen (50): Bryan, TX.
I am changing internet service effective today, 7-may -2010. Please make this correction to your address book.
lghagen1@ verizon.net
Thanks, Leland
David Houim, Cousin to the Hackman siblings, was killed in a tree cutting accident:
Posted by Larry Hackman (66): Bismarck, ND. 
Note: Larry, Neola sent me David's obituary several days ago. I was waiting for more info and connections before posting. Thanks, Gary
Gary
Since David Hoium was brought up and some people know him.
I thought I would send my first cousins obituary.
He was the youngest son of my mothers sister.
He died much to young and left a wife and three children behind that will miss him.
He joins his daughter, and his mother and dad in heaven.
He was a good guy.
He will be missed.
God bless him, his family and all of you,
Thank you for your prayers.
Larry Hackman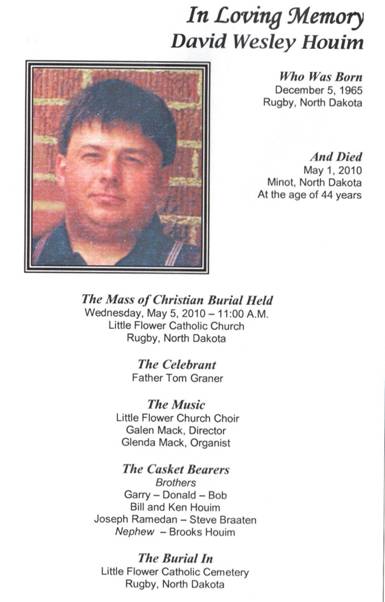 David Houim
Dec. 5, 1965 – May 1, 2010
David Wesley Houim, 44, of Rugby, died at the Trinity Medical Center in Minot, North Dakota, on Saturday, May 1, 2010, from complications related to injuries he suffered during a tree cutting job on Tuesday, April 27.
David was born Dec. 5, 1965, to Virgil and Frances (Kraft) Houim of Rugby, N.D. He was raised in Rugby and after high school went on to Bismarck State College to complete his training as an electrical lineman. He spent four years working for the Boylston Municipality in Massachusetts before returning to Rugby, the community that was always home to him.
On April 29, 1989, he and Nancy Heilman were married at Little Flower Catholic Church in Rugby, and made their home in Rugby and started a family of their own. Over the years, many people came to know David through his business, "Dave Houim Tree Service," and from the rental properties that they owned and managed in Rugby. His wife, Nancy, was always proud of the integrity and honesty that David brought to their businesses.
When away from work, he enjoyed a number of outdoor activities, including hunting, fishing, canoeing, downhill skiing and particularly camping. He also took great pride in the remodeling jobs that he completed, not only with the rental properties, but his family home as well. We will always remember his trademark laugh and a smile that made you feel at ease when you were with him. He had a great sense of humor and always had time for a good joke or recalling an amusing situation.
David was a man of conviction, committed to doing what was right and instilling that in his children. His kind heartedness was extended to so many people. He was willing to do anything for anybody, even if they were complete strangers. The unfailing devotion he had for his family was even more evident when they went through some difficult days and challenging times. He was always willing to make sacrifices in order to care for his family. They were his priority and they brought a great deal of love and joy to his life.
Survivors include: his wife, Nancy; his children, Joshua, Ashley and Amber, all at home; three sisters, Darlene (Garry) Rose, Rugby, Karen (Stacey) Koster, Mayville, and Carol (Don) Clarkson, Detroit Lakes, Minn.; five brothers, Garry (Lana), Mandan, Donald (Judy), Grandin, Bill (Brenda), Minot, Bob (Monica) and Ken (Kathy), all of Rugby; his father-in-law and mother-in-law, Raymond and Rosanna Heilman, of Portage, Wis.; aunts, uncles, nieces, nephews, other relatives and many, many friends.
He was preceded in death by his daughter, Abby, on May 31, 2001; and his parents.
Mass of Christian Burial: Will be held at 11 a.m. Wednesday, May 5, in Little Flower Catholic Church in Rugby, with burial in the church cemetery. Fr. Tom Graner will be the Celebrant.
Friends may call today, May 4, from 4 to 7 p.m., at Little Flower Catholic Church in Rugby, and Wednesday, from 9 to 10:30 a.m., at Anderson Funeral Home in Rugby. There will be no reviewal in the church on Wednesday.
Rosary and vigil prayers: Will begin at 7 p.m. today in the church.
Music: Little Flower Church Choir.
Casket Bearers: Garry, Donald, Bob, Bill and Ken Houim, Joseph Ramedan, Steve Braaten and Brooks Houim.
Arrangements with Anderson Funeral Home of Rugby.
North Dakota forever:
Posted by Mike & Sandra Zeiler Vandal (62): Elk River, MN
Here's an article by Chris Jones from a Dec. '09 issue of Esquire that I thought you might appreciate:
The Emptiest, Loneliest, Highway in America
There are only about 640,000 people in North Dakota. For five hours — unbroken by a pause, a turn, or even a lane change — I was blissfully one of them.
I've never believed it's about the journey; for me, it's always been the destination that counts. My destination was Montana, so I wanted North Dakota to disappear.
Even before I found myself on the otherwise empty I-94, I'd been told that the 352 miles of four-lane between Fargo and Beach were among the most desperate in the country to cross. Except for Bismarck, rising above the middle of the state, there would be nothing to mark the distance. I'd made things harder on myself by crossing Michigan's Upper Peninsula, Wisconsin, and Minnesota before I tackled our most barren country. After so much uninterrupted green, my Corolla had already become a kind of sensory-deprivation chamber, like one of those metal tubes in which divers get over the bends. I'd even turned off the radio. (When I caught myself singing along to Whitney Houston's "I Wanna Dance with Somebody" outside Brainerd, I feared permanent damage to my self-esteem.) In Moorhead, I stopped to top off the tank and buy a bag of beef jerky. I had five hours to empty them before North Dakota would fall along with the night. At first, the prairie opened up in a way that made it seem romantically panoramic. Through the dead bugs on my windows, I scanned a massive blue sky and great flats of grass. But after twenty minutes, it all became too overwhelming, too anti-mountain, for my mind to take in anymore. To get by, I tried to home in on the details, catching them the way a climber finds cracks in the face of a rock. I convinced myself that there was a beauty in power lines and the undersides of overpasses. And maybe there was something beautiful about them, those small artifacts of industry. Watching North Dakota's human landscape pass by was like watching a noble but ultimately futile fight. The sky and the space were always going to win, but there was something in the struggle against them that took hold in me. By the time I'd put Bismarck behind me, its lights just coming on to fend against the semidarkness, it had somehow become about the journey after all. Because how often do we sit for five hours, chewing beef jerky, watching the sun set? In silence? In dreams? It never happens anymore, except in Canadian hospital emergency rooms, but even then, there's something to watch other than the sunflowers turning west. Without having to make so much as a single lane change, I'd entered the closest thing to a runner's high that a fat man can feel. I had rolled clean into bliss, my mind as open as the fields around me. Squinting into orange, I thought about those things that we never let ourselves think about — those things that we actively defend ourselves against thinking about by having so much other stuff to look at and listen to. On that godforsaken highway, I had revelations. I witnessed miracles. I saw every mistake I had made. I made peace with my regrets. And then I looked forward, ahead to the first few folds in the earth, to the canyons and the Continental Divide. I saw the rest of what I wanted out there. I saw the battles I still wanted to wage, the people I still wanted to meet and meet again, the trophies I still wanted to hang on my walls. I saw nearly every place I wanted to go between now and the end, and by the time I saw that big blue sign in my headlights, WELCOME TO MONTANA, I saw, too, that I wanted North Dakota to last forever.