Carlyle and Ramona Nelson Memories
From Tom Hagen ('51 & Orvin's Brother):  Mesa, AZ
Hi ,
Carlyle Nelson and I went to Beaver Dam for about 3 years, then we moved.
You knew he had a sister, Ramona (in the picture below, middle row wearing a hat) , who was Joyce, My sister's classmate and a nurse.
Love Tom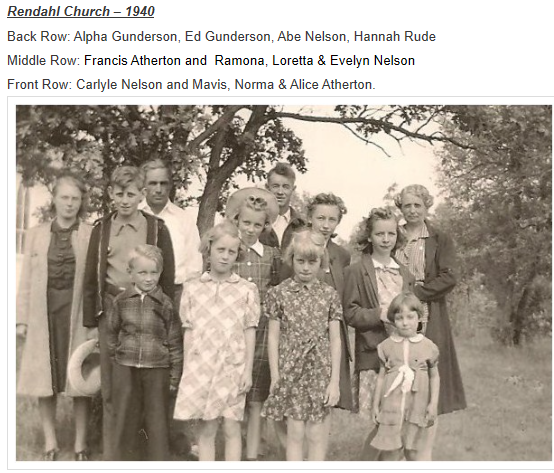 Reply to Vickie Metcalfe ('70)
From Stick-Lee-Leland Stickland ('64):
Vickie,
Sounds like YA got things going YOUR way. I managed another outside excursion this morning; went to the Orthopedist to get a shot of Cortisone in R shoulder, I need a new ball & cup but that is an "elective" procedure that can wait till things amend. I will have the #6 surgery on my R foot during the 90 days I must wait between injection to my shoulder and surgery,  for sale of carefulness re: infection.
Your dog would be a great companion these days.  I last had one on 3-20-95, day B4 my divorce, came home and dog was not there?
Stick-Lee-Leland
Reply to LeaRae Parrill Espy (67) (Nelson family)
From Vickie Metcalf (70):  Bottineau, ND
April 18, 2020
Hello Gary, LeaRae, Terry,   and Dunseith Alumna Friends
I number of years ago, my brother and drove over dry Montana Prairies and steep Rockies to Seattle.
The Pacific NW has its own lush Mountain Evergreen fresh smell to inhale and behold.
On this trip, once again I stayed with Jean, Dad's youngest sister.
Two of my paternal aunts were about the same age and friends of the Nelson sisters (Millie and Marie)
And my Uncle Lucky was married to their sister, Aunt Jennie.
Dad was very fond of Jennie Nelson as they both worked at the Seim farm in their youth.
Whether in ND or in Seattle, I felt much loved and welcomed by all of my Metcalfe family.
Aunts and Uncles and their spouse's personalities embraced me as valuable and of worth as a child,
and continued on to adulthood.
Of course, whenever with any of the Metcalfe's love of music,  there was also enjoyment of storytelling.
They were role models of the skill, "telling some tale with ability to laugh at themselves".
My youngest brother was entertained royally by Aunt Jean to countless homemade goodies,
card games of SNERT and WAR, and chasing away homesick farm feelings she sensed.
She never was weary or impatient.  With a tender adoringly smile, in delight of him with every time he came
at her with a card deck.   He found a skate board and rolled around the outside of her home for hours.
The Seattle Center, Woodlawn Zoo, Pike Place Market, The Locks, Washington Ferry trips,   over the Cascade Mt to Wenachee,
were regional Pacific NW day trips taken with, Jean's daughter, 'City girl'.
One early morning after another substantial breakfast, 'City girl' gathered us into her car to drive West to the mighty Pacific  Ocean.
This day trip took us to the height of anticipation, with it came the reward of salty Ocean air.
Jumping out of the car with bare toes in the sand, we raced on the hard sand to chase waves,
whilst on the lookout for sand dollars.
After finding many treasures,  we gathered around a huge driftwood log to find more treasures of hard boiled eggs,
bread and butter, brownies which fed our hearty appetites and Kool aide inside the cooler packed by Jean.
Fond Memories
Soon it was Sunday,  we found time to be heading back to Dakota.
But awaiting was another surprise!
Uncle Lucky and Aunt Jennie (Nelson) Metcalfe had contacted and gathered everyone.
(Aunts, Uncles, and countless cousins)  to their home.
Aunt Jennie who enjoyed flea markets presented me with a depression era look alike bowl.
Years previously, she had given my other brother a reproduction of Blue Boy,
which he treasured for years until somehow, it disappeared when he and his wife lived on the Kavali farm
Oops back to my tale.
Hugs, music, laughter, cards and coffee drinking continued through that Sunday.
Cousins once played together as children, enjoyed the coming together as adults.
It is fun to finally grow up and enjoy cousins into adulthood who share common traits.
On a trip to the kitchen, looking for more of Aunt Jennies Julakaka,
I noticed the coffee pot was empty.
I said to Uncle Lucky.  " Shall I make another pot of coffee?
Responding in a gruff voice loudly.
"Don't make it like your mother! ( I was taken a back)
Then a voice kind and soft, "Your mom is a good lady."
"But Jennie and I always say, after leaving your parents,
Lottie makes a good lunch,  BUT, the coffee!"
(he shook his head with a serious sad expression)
"….a person can see the bottom of the cup."
His face softened in memory.
"There is a lady ? Minda Nelson? related to Abe Nelson… of the hills ( "she was a real character")'
"She made coffee like it should be made!
GOOD and BLACK and so STRONG .
A person could stand up a spoon in the cup."
He expounded more about various Nelson's … I did not know.
Finally, saying, "Now go ahead and make some coffee!"
After all these years and one coffee lesson.
I still can't make coffee ….like a Nelson STRONG and BLACK with a spoon standing straight up……..
But Lea Rae, I got a lesson today on blog about the Nelson's from you. Thanks.
I would really like to hear more about the Nelsons and
in particular,  if you know that Nelson lady who Uncle Lucky recalled as ,"a real character".
I love hearing about,  Dunseith Real Characters!
and,  Thank You Gary for keeping the dialogue flowing.
Until Later,  continue  to Be ND smart,
Vickie Metcalfe