Thank you to Vickie Metcalfe ('70)
From Bill Krause ('74):  Dickinson, ND
Thank you Vickie Metcalfe for those kind words about our Mother, Ruby Krause. They are very much appreciated!! She will definitely be missed…Bill Krause
Condolences to the Ruby Krause Family
From Larrett Peterson ('71):  Crosby, ND
Hi Garry ,
Hope you're doing great at Cebu with Bernadette…..Larrett was sending his sympathy to the Family of Ruby Krause…………
Regards to everyone !
Yola ( Larrett Peterson )
Reply to Nancy Holter's Posting:
From Geri Metcalfe Munro ('69):   Fargo, ND
 Nancy Holter's posting
My grandmother was Charlotte Fairles, daughter of Annie Fairles. Her uncles were Murrays.  They lived by Butte St. Paul and Lord's Lake.
Geri Metcalfe Munro's reply
Dwain Coleman was related to his aunt, Marion Fairless–any relation to the Coleman's??  Or, Sue Gilmore Metcalfe?
Birthday Greetings to Jerry VandeWalle, ND Supreme Court Justice
Jerry's brother Virgil, A Community Icon, was an Ag and FFA teacher in Bottineau for many years.
Face Book posting by Virgil's daughter Mary VandeWalle Kuntz.
Mary Graduated from Bottineau HS in 1973:
Gary's comment
Folks: Jerry Vandewalle's brother, Virgil VandeWalle (deceased) was an Agriculture and FFA teacher at Bottineau HS for years. Many of you on this distribution were his students. He was a community Icon.  He also facilitated the Monday night farmers classes that many of the local farmers attended including me. I was in High School at the time. I attended those classes with my dad and Robert Pritchard.
Jerry very much resembles Virgil too.
I have included Mary With this distribution.  
Mary's FB posting
August 15 is my uncle Jerry Vandewalle's BIRTHDAY I would so appreciate cards sent to him as he is still dealing with Covid. Send me a PM if you would like to do this. Thanks to everyone for your concern and kind messages and comments Most of you know Jerry and he knows you but if not could you tell him how you know me???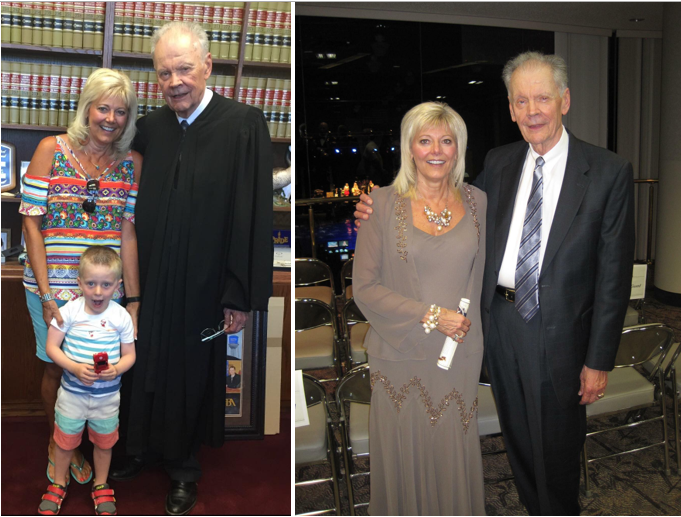 August 14, 2019 ·
Happy birthday to this man … Chief Justice Gerald VandeWalle….. better known as uncle Jerry or Jerry by his namesake Lincoln Gerald. This man has been like a father to me as his brother ( my dad) died at a very young age. Thank you Jerry for all you've done for me and all you've done for the state of ND . Your life has been the Supreme Court but you have also been there for me or anyone else whenever the need is present. You are most definitely a man of integrity, character, empathy and kindness. Lincoln should be so fortunate to have you as his great great uncle. Rock on Jerry….. we love you beyond words
Meteor shower this week!
Posted by Vickie Metcalfe ('70):  Bottineau, ND
Weblink
https://www.cbc.ca/news/technology/perseids-2020-1.5678617
August 9, 2020
Gary and Friends of Dunseith,
When I was a child one of my  very  favorite earliest  summer memories was going up to Jim and Ella' Metcalfe's farm home close to the border on a Saturday night.
Those wonderful  girl cousins taught us how to play 'Ante aye Over'. (Annie, annie  i over)
Later darkest dark, darkness descended.
While the grown-ups visited over coffee in the house the Girls brought out a blanket.
We all lay down on our backs,  elbow to elbow, looked up and gazed at the stars in the sky.
In the Jim Metcalfe yard,
I discovered  the  Milky Way, the North star, the  Little Dipper, the Big Dipper… and watched for falling stars to wish on.
Look for the  Meteor Shower this week.
I  plan on making a wish.
Please, join me in gazing at the stars and wish for a vaccine!
Vickie  L. Metcalfe
GRAND – OPENING GAGA BALL AT THE BOTTINEAU TURTLE PARK
Posted by Vickie Metcalfe ('70):  Bottineau, ND
FYI
This is Dakota's Scouting   project. 
 Dakota is Jay ('66) and Lola Metcalfe ('66) Vanorny's grandson.  Great Grandson of Jim and Ella Metcalfe.
                        The Bottineau  Veterans  supported Dakota on his project.
 He is making a difference for Youth  in the  Bottineau community.
The Corley family moved from Kansas last year.  
Tina, his mom is an EMT here in Bottineau.
Tina and her husband Christian are very involved in  many  Community Service projects 
Later, Vickie
VFW Posting
ALL
Everyone is invited to come.  WE, the Legion, AMVETs, VFW have donated to this project. would be great to see as many come as possible
GRAND-OPENING GAGABALL ARENA: (Please share this post! Tx!)
Everyone in Bottineau is invited to the Grand Opening of the Gagaball Arena in Tommy Turtle Park on Tuesday, August 18th from 6pm to 8pm. We will be social distancing and masks are encouraged. Don't miss the Mayor Ribbon Cutting Ceremony at 7pm. Dakota Corley is working on his Eagle Scout (the highest rank in Scouting) wanted to build the Gagaball arena to give back to the community. Gagaball is a "friendly version of dodgeball", lots of fun for kids of all ages & built by the Scouts of Troop 528 with lots of support from local organizations including Asst Scoutmaster & home builder Bud Saykally & family. Come out on Tuesday to enjoy hotdogs, chips, drinks and s'mores, as we celebrate this awesome addition to the community. Any questions, call Dakota 701-404-9400. See you there!
Al Wondrasek