Reply to Gary Stokes
From Ginger LaRocque Poitra (65):  Belcourt, ND
Hi Gary,
I sure wish that Bernadette was well and could come back here to see everyone with you.
If you come after all this crazy covid19 is over, I look forward to seeing you.
With blessed prayers to you and yours,
Ginger
Gary's Reply
So sad to say, Bernadette's traveling days are over. Comparing her to last year at this time, there is massive deterioration. She requires 100% assistance inclusive of eating. She has to be fed. She is unable to get up on her own, but can squirm in her recliner with fear for us of falling on the floor breaking a few bones. She can sit for short periods of times in a chair. Her speech is severely affected too. We can only understand about 10% of what she says. She still recognizes and knows those around her and some of or friends, but not all. She is not cognisant of the moment or the time. Starting this past March, I brought on 24/7 help. I sleep in our former upstairs bedroom. Bernadette sleeps in her hospital bed in our bedroom and the Helper/Caregiver sleeps in our Bed. With her present condition, I will not be able to get away, even for a few days. Bernadette is a handful, both emotionally and physically.
Reply to Leland Stickland (64):
From Ginger LaRocque Poitra (65): Belcourt, ND
Memories to Leland Stickland
Hey Leland!
Ginger LaRocque Poitra, here. Just saying how much I too love the scenery out in our Turtle Mountain area. It is so beautiful all summer. I drove around the Metigoshi area looking at the green trees so thick with their leaves I love it!
Now that fall is coming I sure would like to drive around to see the leaves change to their lovely shades of orange, yellow, red.
Then the snow lightly falling from the skies changing the ground to white, when it is white and untouched for the time it can be untouched it is beautiful and the sky looks so blue when it is finished falling and the stars shine all is as breath taking as the best drawing of landscape moonlit picture.
I just love looking at the scenic views anywhere,
Thanks for reading,
Ginger
September 3, 2020
Joyce Murray Anderson (DHS '73) Passed away.
Posted by Ivy Eller Robert (74):  Everett, WA
Gary,
It's with very sad heart, I'm telling you that my cousin, Joyce Murray Anderson passed away Tuesday Sept. 1st. Her daughter informed me that she had a heart attack at home in Roy Washington. There was nothing they could do for her by the time the paramedics got there. I guess she had COPD as well.
She lived in Dunseith from birth to 1972 or 73. I don't remember the exact year she moved to Washington state. Her first husband was Terry Gregory and had a daughter. After his death she remarried a few years later, and had 2 girls and a boy with her second. They divorced and several years later she remarried for the third time.
Her daughter said she will be cremated. It had not decided, as of yet, due to Covid, what kind of service or where she will be laid to rest.
Her mother and my grandmother were sisters. Joyce just turned 65 on August 3. I just talked to her a few weeks ago to let her know that I was in Washington state and would dearly love to see her, but wasn't going to because of Covid. My heart hurts that I didn't get to see her one last time. We talked about her retiring. She said she didn't know when. It's sad to know this is her retirement.
Ivy Eller Robert  (74)
"The Girls" 1949 in Dunseith
Posted by Cheryl Larson Dakin ('71):  Bedford, TX
Hi Gary
I found this picture of my mom, Verdellis Richard Larson, and her friends titled "The Girls" 1949 in Dunseith. They would all be about 22 years old. From the left is:  ?, her sister Jerrine Richard,  ?,  Joyce Evans?, her mom my Grandmother Johanna Richard, ?, my mom Verdy Richard Larson. Would love to fill in the blanks.
Thanks
Cheryl Larson Dakin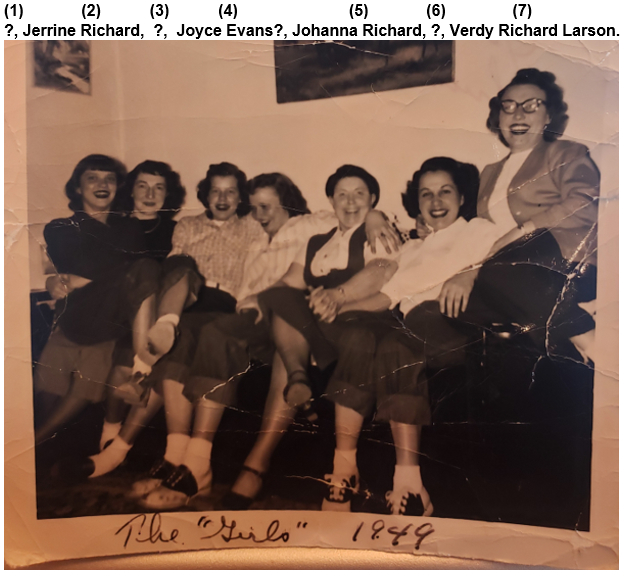 Walter Hiatt Family Picture
Facebook picture posted by Robin Grandbob Scott
 Gary Stokes Comment:
Walter Hiatt married Julia Johnson. They raised their family in the Dunseith area. They moved to Renton, WA in the fifties.
Freddy and Wallace are the only siblings I personally knew. The rest, to my recollection remained in Renton, WA.  As a child I claimed to have known who all the Hiatt's were and the families they belonged to. My memory has faded now though.
Freddy and Margo's children were (Richard, David & Bobby Slyter), Brenda, Rhonda, Kim & Julie
Wallace and Arla Hill Hiatt, If memory serves me right had two daughters, Jacqueline and Jarilyn.