Gary Stokes Comments
Covid and Travel to the USA
The covid restrictions are very fluid here in the Philippines. At the moment they are only letting Permanent Resident Aliens (Me) and Philippine Citizens enter this country flying in from other countries. Before boarding the plane from a foreign Country we must have an 8 day prepaid quarantine reservation at an approved Hotel. They will do a covid test on the 7th day. If Negative they will allow you to go home with supervised home quarantine for the next 6 days. Not so sure I want to go thru all that on my return trip from the USA. Hopefully this requirement will be lifted soon.
Covid Vaccinations
Message from Vickie Metcalfe ('70):  Bottineau, ND
Best of luck on your upcoming vaccination!
I completed the (two) Moderna with no side effects.
I read last spring  elementary children do not have as many achy muscles etc. after flu shots as adults
…… if  they are physically active.
…………So I thought  like a kid and walked alot…..v
Gary Stokes Comment
I received my first Sinovac Covid Vaccination on April 20th. I am scheduled for the 2nd one this coming Thursday May 20th.
Less than 2% of the Philippine population has received their first shot and I am one of them. Front liners first followed with the seniors. My next door neighbor is one of the ones in charge of administering the vaccinations, so I kind of had a bit of an advantage. All legal and above board though.
Covid Vaccinations
Reply from Ron Rieke ('69):  Meridian, TX
Gary, glad to see you're  getting the vaccine.  My wife and I both had Covid-19.  Very mild, less problems than a common cold.  It does however affect different folks harshly.  Our family doctor recommended we get the vaccine and have completed both doses.  By end of May when you travel ,herd immunity should have kicked in here. Safe travels.
Ron
Ralph Bjornseth
Picture provided by Neola Kofoid Garbe:  Minot, ND
Folks,
Neola sent this picture to a few of us for positive identification. Not sure how long ago this was taken. Before cropping the picture I could tell It was taken at the Bottineau Senior Citizen Center.
Ralph is married to Luella Boardman Bjornseth ('49). They were married in July 1951. This July will be their 70th Wedding Anniversary. Ralph celebrated his 90th birthday 6 years ago. He will be 96 this year. Last message I received a few months back from Luella, she said they are both doing fine. They live in Bottineau.
Ralph's parents were Jacob and Cora Bjornseth. Their farm was 1 ¾ miles west of our farm in the Turtle Mountains. The Bottineau / Rolette county line was between us. Off the top of my head, I believe Ralph is the only surviving of his family. His Two sisters, Gladys and Viola married twin brothers. Albert / Gladys Rude and Alfred / Viola Rude. LaVerne Rude, married to Carrole Fauske ('66) is the son of Albert and Gladys Bjornseth Rude.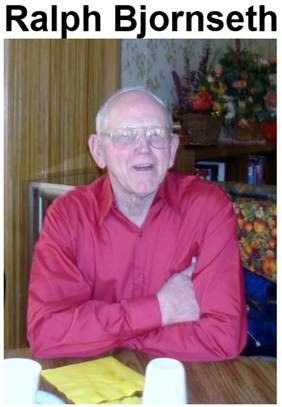 Pastor Moren  Memories
Posting from Jeanne Sizemore.
Moren family
Thank you so much for the update. Pastor Moren
was my Pastor in Warren. He also confirmed me and my brothers.  I called him about a year ago and he remembered me. I'm to hear of his health.  He was our favorite Pastor we've ever had. Please tell him I asked about him and I'll be praying for him.
Jeanne Pokrzywinski Sizemore.