Dear Dunseith Alumni and Friends,
It's been over a month since I posted a blog. Too long.
We have had company. Dennis Dubois ('63) has been visiting since November 6th. He will be here until December 5th.
My cousin Jack arrived from Edmonton Alberta arrived on October 18th and left on November 15th. Jacks mother and my dad were twins.
We truly enjoyed and are enjoying their company. Lots of eating out. For sure I have to cut back on my intake for a few days.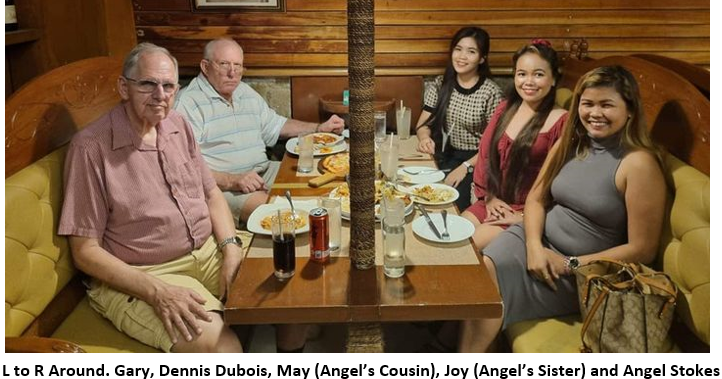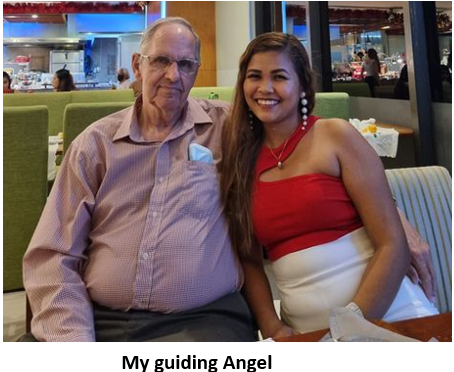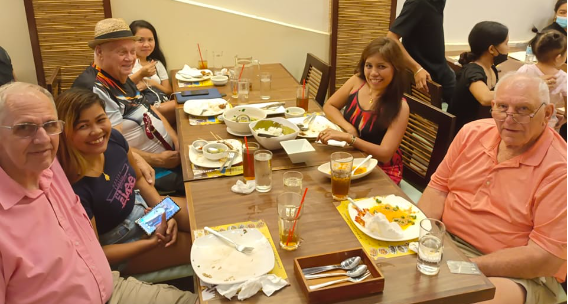 L To R Gary, Angel, Jack (Cousin), Jennifer & Mary (Jack's friends) and Dennis Dubois
Brian Halvorson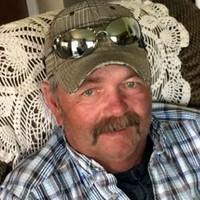 Gary's Note: We extend our condolences to Curt and Denise Halvorson for their tragic loss.
We are all here for your support. I can tell he was a very nice guy too.
Brian Halvorson, age 57 of Dunseith, passed away on Wednesday, November 2, 2022 on arrival at a Rugby hospital.  A memorial service will be held on Monday, November 7, 2022 at 2:00 pm at the Peace Lutheran Church in Dunseith.
Brian C Halvorson, a son of Curt and Denise Halvorson, was born on August 29t 1965 in Rolette, ND. He was raised in Dunseith where he continued to reside until his death on November 2, 2022 from a short and aggressive battle with cancer. Brian attended Dunseith Public School and graduated Dunseith High School in 1983. After high school, Brian headed south to Caldwell, KS working for Hutton Construction. The ranch lifestyle called him home where he started his welding career. On Sept 27, 1985 he married Rebecca Berg and had two boys, Brandon and Kory. Along with the two boys, they started a PMU horse ranch. The marriage later ended, but Brian and Becky remained close friends. When the mares were sold, Brian took on various construction and welding jobs for: Western Manufacturing, Rugby Manufacturing, Sund Manufacturing, Marion Construction, and currently with Mikkelsen Aggregates.
Brian enjoyed roping with Brandon and friends, following Brandon on the rodeo trails, and shared a passion of drawing with Kory. His favorite nickname was Papa and loved nothing more than teaching Jasper and Arlo swear words. Brian liked coffee on the deck with his sister Shelley, working cattle with his dad and brother Dennis, and eating his mom's meatballs. His favorite past time was cruising the hills with cousin Terry and Sunday morning coffee visitors.
Brian was a member of the Peace Lutheran Church in Dunseith and Dunseith Rodeo Club. He had an active role in his family's lives as the early morning birthday greeter.
Brian is survived by his parents, Curt and Denise Halvorson of Dunseith, sons Brandon (Laura) Halvorson of Dunseith, Kory Halvorson of Grand Forks, grandsons Jasper and Arlo Halvorson of Dunseith, sister Shelley Counts (Kurt) of Dunseith, brother Dennis (Lori) Halvorson of Dunseith, and numerous nieces and nephews. Brian was preceded in death by his grandparents and cousins Doug Lider and Gayle Lider.
Reply to Picture posted by Larry Liere
From Janice Leonard Workman ('56): janice_workman@earthlink.net Auburn, WA
 Gary, I think that this picture was identified before.(#2571)  Larry also sent in another formal school picture of this bunch of kids. 
The back row left to right:  Viola Hobbs, Barry Shelver. Larry Liere, Bob Hosmer, Gayle Bedard (?), Arline Lamoureux, Ann Lamoureux, ?.  Front row l to r:  A Tennancour girl, Bob Dailly, A Tennancour girl, Janice Leonard.
That's my best guess.  The two girls in front (Tennancours) I'm not sure of but I think they lived across the street from Charlie Lamoureux's big house(on the creek side).
 Gary's Note:
Janice, it is so nice hearing from you again. I think of you often wondering what happened to you.
1 of 3000 Calicos cat is Male
Posted by Vickie Metcalfe (70): dogdays@utma.com Bottineau, ND
November 28 2022
 Hi Gary and Dunseith alumni friends,
I was recently reading about cats as many friends have adopted cats.
My own parents tolerated a variety of pets  because they adored by their children.
I found it interesting how unique calico cats are
Our family had a couple of excellent huntress cats
A few who were also affectionate and may haps long suffering…………
 My younger sisters  first cat gifted to her by Family friend, Walter DuBois.
A wee little  grey tabby kitten christened, Twinkle  Toes.
Twinkles  had a  wonderful! personality.
She was a huntress and excellent mother cat, who lived 17 yrs.
Twinkles once had a litter of kittens. One was a female calico.
She became Archie's, he named her Mallty.
Mallty was also a huntress, and oft times a  reluctant performer.
She and  Archie,  formed a loving lip  snicking  duet.
The two of them often performed a lip since duet  in our front room,  accompanied by the Johnny Hortons LP,  "Sink the Bismarck ."
They had many   standing OVATIONS and repeat performances, for reverent  laughing audiences, family and friends.
Mallty  who often looked chagrined  whence performing.
Especially, " whenever added actions was added to the routine.
The best was, "In 1814 we took  little trip, "Battle of New Orleans".
( I love this  memory) and Wishing you all happy memories on Thanksgiving.
Vlmetcalfe
Betty Faine Norman memories
Posted by Vickie Metcalfe (70): dogdays@utma.com Bottineau, ND
Hello Gary and friends Dunseith Alumni,
     I noticed the class list you sent had Betty Ann Faine  as a member of that class.
As a kid, I never knew her as a class mate or upper class mate.
     However, years ago, I became an elementary teacher at Dunseith,  I had the privilege of working with Mrs. Betty Norman. 
As an Dunseith Elementary School Secretary, Betty Faine Norman was warm and kind to students, and accommodating and helpful  to staff.
When necessary, she could also be strong and assertive when displeased with misbehavior or disrespect.
        Betty had a fun sense of humor, her expressive eyes and smiling face would fairly twinkle!
Betty had loves in her life;  Her husband Duane, The extended Faine Family, and….ELVIS.
      She and her husband Duane purchased the Conroy home.
In later years, I always treasured visits of a minute or two whenever seeing Betty in passing.
     Despite  many physical infirmities, and loss of family members including her dear Duane,
Betty carried her  "sparkle"  and   FAITH.
Vickie L. Metcalfe
October 23, 2022