Condolence to Curt and Denise Halverson
From Rob Olson
Hi Gary-
Please send our condolences to Curt and Denise and the family. I knew Brian and enjoyed his company and wit. Such a nice guy. He was a genuine person and will be missed.
Rob  Olson
Robert Slyter ('70) Passed away
I received word that Robert (Bobbie) Slyter Passed away about a year and a half ago. We don't have any details of his passing other than that he wasn't well.
Reply to Vickie Metcalfe's ('70) Song
From Loretta Neameyer Wall ('72):   West Fargo, ND
Enjoyed Vickie's song she posted. "The Little Ski-doo".
Have a great trip to Taipei. Merry Christmas!
Loretta Wall
Taipei Taiwan Trip New Years Trip
Loretta, you mentioned our Trip to Taipei Taiwan
We had a wonderful 4 day trip. We returned on New years day. Taipei is beautiful clean, super friendly, safe developed city. Very little crime. The Natives speak very little English, but we always managed to find someone that spoke a little English. We were three couples. The temps were in the lower 60'sF with constant mist or rain. Angle was very cold, so she purchased a heavy coat that kept her warm. We spent a lot of time in their many underground shops and facilities. They have many underground trains that travel numerous places. Their driverless trains travel at 160 MPH speeds. They approach like bullets. Everything is well marked, so it's easy to get on the right trains to get where you are going. We took several above ground tours of the City too. We had NYE dinner in Taipei 101, one of the tallest buildings in the world. Skinny and tall, like a tall post. With the overcast, we didn't go up. We were just on the bottom floors.
We had a nice 4 Star Hotel with many good Restaurants. They had the first warm toilet seats that I have used too. Our hotel was about 20 Miles from the Airport. Good freeways with 75 MPH traffic. Taipei is located on the north edge of Taiwan, about 1,000 miles straight north from Cebu Philippines, hence the colder December, January Temps.
This was Angel's first trip out of the Philippines and Experiencing colder temps. She loved and wishes to return.
Dot Hagen's Obituary
Posted by Vickie Metcalf ('70):  Bottineau, ND
https://www.eversonfh.com/obituaries/Darlene–Dot-Hagen?obId=27027678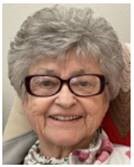 7/7/1936 – 1/13/23
Dot Hagen was married to Tom Hagen. Tom is Orvin Hagen's youngest Brother.
Donny Nelson's mother was Orvin and Tom's sister too.
She passed away in Williston on January 13th.
Please click on the link above to view her obituary.
We extend our condolences to Tom and Dot's family with her passing. Tom and Dot were/are good sound wonderful folks. Orvin always spoke highly of both of them. Orvin pretty much raised both Donny and Tom. They were both young when Donny's mother and Orvin/Tom's father passed.
Joseph "Joey" Hussein Murray (DHS '72), 69, of Fairview, Montana Obituary.
Posted by Vickie Metcalf ('70):  Bottineau, ND
 https://www.fulkersons.com/Obituary/5595/Joseph-Hussien-Murray
 Please click on the link above to view his obituary
Sorry Cheryl for the late posting – Gary
Posted by Cheryl Larson Dakin ('71):  Bedford, TX
Merry Christmas to all! I hope you and Angel have a wonderful trip to Taiwan.
Lots of weather happening in the states. We had tornadoes here in N Texas on Tuesday. Sirens kept going off as I was trying to leave for work, rain was pouring down. So I waited it out,  and when it cleared, I left for work to find out that a tornado had struck about half a mile from my work about 45 minutes before I got there. Took part of the roof off our Sam's Club building and damaged a couple others in our immediate vicinity. Timing is everything,  isn't it? Talked to my sister Karen in Rock Lake ND. She's praying that the power lines hold up under all the snow from this latest blizzard. I hope all of you in ND stay warm, stay safe and everyone near and far have a very Merry Christmas and a Happy New Year!
Cheryl Larson Dakin
Posted by Vickie Metcalf ('70):  Bottineau, ND
 https://www.kxnet.com/studio701/community/amber-takes-a-ride-in-nddot-snow-plow-darth-blader/