Reply from Kay Hosmer (77):
From Kay Hosmer (77) – to Marlene Armentrout, I hadn't remembered that you have done the news column for so long in the paper! It reminds me of my maternal grandmother Ila Selzler who did the column in Towner for probably 50 years? Good job, Marlene!
Folks, Kay is the Daughter of Don (Bill & Bob's Brother) and Jesslyn Selzler Hosmer. Kay is currently living in Indiana. Her mother Jesslyn taught school in Dunseith for a number of years. She had the class of 65 and others in their elementary years.

Debbie Armentrout Metcalfe, Can you relay this message of Kay's to your mother? She has been doing a darn good job of posting the Dunseith news to both the Star and the Courant for many years. She is to be commended for such dedicated service. Gary
Reply from Sharon Longie Dana (73):
My condolences to you and your family. Thoughts and prayers are with you during this time.
Reply from Loraine Neameyer Haas (72):
Gary, I believe the piano teacher in message 328 is Alice Solberg from the Rolette area. She is deceased but her son Peter is living in that area. Very often Peter plays guitar with Rocky LaRocque (Floyd) at the Dunseith Nursing Home and the residents do enjoy their music.
Loraine Haas (Neameyer) – Director of Nursing at the Dunseith Nursing Home.
Reply from Dale Pritchard (63):
Good Morning Gary,

Ships were not my thing during my military time. However, the picture
of one with a hole in the side reminded me of the USS Cole after
terrorists got done with it. They carried the "Cole" home on a barge.
I had a email video showing how the barge was submerged then moved under
the ship and brought back up with jacks under the ship at critical
points to stabilize it. The video got lost with everything else when my
hard drive decided its time was done. It was interesting.

Talking about left over WWII equipment reminded me of all the rusted
hulks at Diego Garcia, an island off the tip of India. I went through
there many times during the 70s on trips to Djakarta, Indonesia and Iran
and finally had time to act like a tourist.

Dale
Dale, Debby provided some great pictures of your mother posted below. She's looking great! You mention Diego Garcia. I've been there too. As I recall it's located about 800 or so miles south of the tip of India. It's below the equator. The island is so small, that it's listed as a mere fly spec on maps. With my trip to the Subic Bay, PI in 1978 we had to do some ship checks, under way, on the USS Enterprise. We got stranded on the ship out in the Indian Ocean and were flown off the ship to Diego Garcia. We spent 6 days there waiting for a flight back to Clark Air force base in the PI. At the time there were about 1200 US Military stationed on the island. There were also no women on the island. It was a beautiful place. Gary
From Mel Kuhn (70):
Finally I can say Merry Christmas and Happy New Year. I say finally because they're finally over with, Geez—-don't they just go on forever? We have a grandson that lives with us—finally he's back to school. Finally the wife is back to work on a daily basis like she should be. It's bad enough when they leave you these honey do lists but when they're right there telling you what they want done—-day after day after day. Now Lola is gonna tell her what I said again and here goes the circle again—day after day. Women—Geez—-OK Paula have at it, go ahead I can take it. I kind of roamed off of the holiday stuff, finally the credit cards are full and the checking account is empty and everyone is happy. Finally the house is back to empty and I can have some peace and quiet. Thank you, thank you, thank you!!!!!
HAPPY NEW YEAR EVERYONE!!!!!!
Message/Pictures posted by Debby (Darrel 70) Stokes:
Here are 2 pictures I took at Dorothy Pritchard's birthday party today. Her birthday isn't for another 3 weeks but they celebrated it along with Winifred Eurich at St. Andrew's Long Term. Winifred is 90 and Dorothy will be 96. Dorothy seems to like it at St. Andrew's Long Term, but she still misses Oak Manor.
Thank you Debby for sharing these pictures. Dorothy is looking great! You can see the spark in her eye and I know in her mind equally as well. Joanne Smith Fuchs from our class of 65 has been her hair dresser of a number of years.

Folks, Debby is married to my brother Darrel or better known as Bud among a lot of us. Debby retired from a life long career of teaching several years ago. In retirement she chose to help out 3 days a week with the noon meals that are delivered to Oak Manner. Dorothy had an apartment at Oak Manner for a number of years. She recently moved to Saint Andrews. The Lagerquist boys or I think Lyle purchased Robert and Dorothy's farm following Robert's death. The Lagerquist boys sister Evon is currently living on the Pritchard home place located one mile south of our old home place up in the Turtle Mountains. Believe it or not, there are a number of our Senior Dunseith Alumni currently living at the Oak Manner apartments in Bottineau. With your visits to Bottineau feel free to stop down there and see them. Noon is a good time to catch them out in the dining area. They are a friendly bunch of folks.

Back to my brother Darrel (Bud). He works for the City of Bottineau and also farms. He's one busy guy. Bud is in charge of the Bottineau Land fill and transfer station located less than a half mile north of the fair grounds on the west side of the road. If you have any garbage to get rid of, he's the guy you will see. He welcomes friendly visits too, even without garbage. Gary
Dorothy Pritchard & Darrel Stokes (70):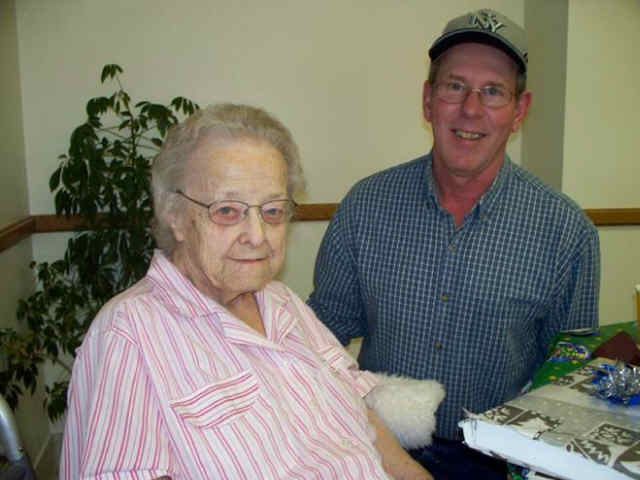 Dorothy Pritchard several weeks prior to her 96th Birthday.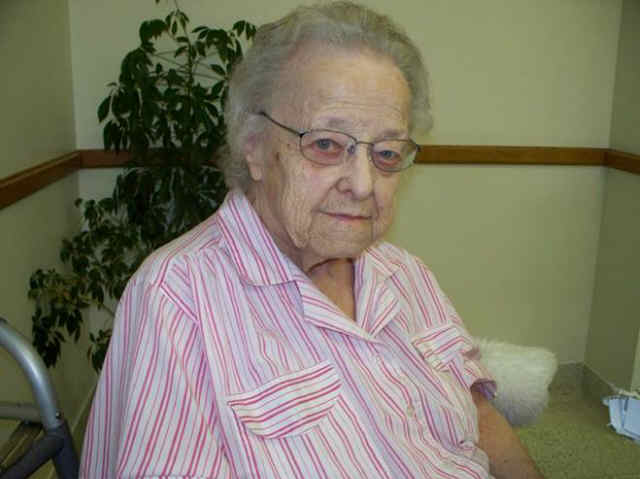 Reply from Dick Johnson (68):
Gary and Friends,
A note to Bill Hosmer– saddened to hear of the loss of your flight
leader. It sounds as though he did a lot for his country and it's
citizens, as well as his friends. Just a point to check; at the
beginning of each township chapter in the Dunseith Centennial book there
is a map of the township with home sites shown in the early days and
then another with a newer map. The homes are shown as a black dot. It is
interesting to see how many people lived on each parcel back then.
Ivy— We are sorry of the loss of your brother. It's good that you got
to know him in these later years.
When we were talking about trails and sleighs, I remembered another
trail story. In 1967, Ernest LaCroix passed away and Dad bought his
black angus cattle. I remember going to look at them with Elwood Fauske,
who was Ernest's brother-in-law and was handling the sale for Lydia, his
sister. If I remember right, there were about 30 cows and a bull that
had been wintered about three and a half miles straight south of our
farm. There is no road through the trees, just some trails that link
together to go through the 'jungle'. On a Saturday morning Dad and Randy
Kelly and I went cross country through deep snow and started the long
cattle drive on foot. The cattle had no idea where we were chasing them
so they took every wrong turn and spread out through the brush every
chance they got. Dad was in front of the herd with a tractor and hay
rack. Randy and I had to run through the hazelbrush and get them back to
the trail time and time again. We started the day thinking it was a two
hour hike. About eight hours later we finally got them all to our place.
We were so worn out and hungry we could hardly get in the pickup for the
ride back to town. That evening Dad took us to Dale's and told the
waitress to give us anything we wanted. We each had a Jumbo and fries
and a chocolate malt. When we finished that, we each had a sundae! If I
tried to eat HALF that much today, I would croak! Randy and I had some
good times together when he lived in Dunseith. He went back to St. Paul,
MN and graduated there in '69. He later was a state legislator and most
recently mayor of St. Paul. I've often wondered I he remembers some of
the stuff we did as kids? Thanks Gary!
Dick
Dick, Randy Kelly's mother was a Fauske, sister to Elwood and Lydia LaCroix. Randy is currently on President George Bush's staff. I'm assuming that most of President Bush's staff will be replaced with our new President? With his status, I've been unable to get in touch with him. I'm hoping that he has been recieving some of these messages via some of his family members? Randy is well remembered and was well liked by those from his school days. I think Randy spent a lot of time at the LaCroix's in his growing up days. Gary
Randy Kelly (69) & Donna LaCroix Allard (64)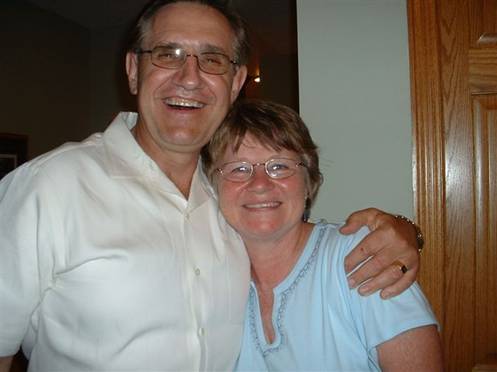 Folks, This picture has been posted several times before, but now we have a story to go with the folks in this picture.
Yes, Lydia looks like one of the girls. She's retained that Fauske youthful appearance over the years. Gary
Ernest LaCroix family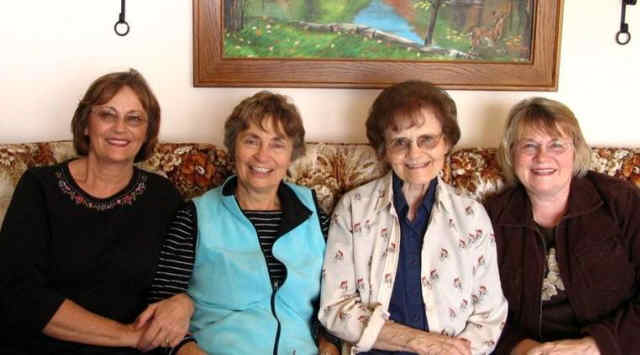 Joan, Judy, Lydia & Donna LaCroix – 2007
Reply from Neola Kofoid Garbe:
Gary,
I was quite sure I (Dad's) have a copy of Rolette Counties (the one I'm assuming this page came from.) I just found it tonight. If anyone in the Bottineau/Dunseith area would like to borrow it to scan pages, they are most welcome to do so. I'm guessing many of your readers also have this book, so this is can be a "back-up", if you need one. I'll take it along to Bottineau the next time I go and will have it there. 228-3917, or send an email to me.
I'm trying to remember what all I have to do while I still have two "good" arms. I think I've heard you aren't suppose to lift anything heavy for a week, or so, after a lumpectomy. I also have to remember to not eat/drink after midnight. That might be the hardest of all! I drink a LOT of liquids, so going 8+ hours (until the surgery) will be challenging. I'll have to leave notes around the kitchen, reminding myself not to drink anything; I always have a mug of something on the counter and drink without even thinking about it.

I'm still fine with the surgery tomorrow. I probably should be concerned about it, but, as yet, I'm not. Because I stayed up so late last night (10:00 this morning), I slept all day. I suppose I'll be up all night. That's OK. That might make it easier to be at the hospital by 8:30 A.M.
I'll try to send an email later tomorrow. I'm not sure when I'll get home, but I'm guessing by maybe three-four o'clock in the afternoon. I'll have to see how much energy I have/how I feel later in the day. I can hardly believe how many people are saying prayers for me. They must be working already being I'm so calm about all this. It's wonderful.
I'm checking into attending Ann Kofoid's funeral on Tuesday afternoon at Nero Funeral Home. I've contacted someone who might be willing to take me to Bottineau/visit her relatives while I attend the funeral/lunch, depending on how I feel, of course. As you can tell, I don't plan on being "laid up" for very long. I might be over-confident, but that's OK.

Neola
Neola, you've got the right attitude. Please keep us posted. You are in our prayers. Gary

 
Reply from Mark Schimetz (70):
Jack Flynn is wearing the Dark glasses (1st Picture) behind him is Kay Flynn (Richard) in purple, Jill Flynn's son next to Kay, and Jill is next to her mother Minnie. Randy is to the right of Jack in a green sweater. Behind Kay is her son and to his right Kay's Daughter Brook, Other than that. Randy will have to fill you in.
The Bottom Picture is Stella Schimetz, Jennie Took and Sharon Tooke
It was a wonderful Tribute for a stellar individual of our community and the program was so well done with music and singing from family and stories abound. It is so great to see something like this done while the person is still alive.
There just wasn't enough time to visit with everyone as the church was near full, not enough coat rack space. Larry, Tooke and his wife along with Linda Kay Tooke came in from Westhope, Jeannie Tooke came in from Mandan. Randy from the South I think he said Alabama, anyway it was a blast. mark
Thank you for posting the pictures from Minnie Flynn's Birthday Party. It was very nice of Mark Schimetz to take the pictures. This was the first time MiniGran's Children and Grand Children were all together in one place in 15 or 20 years. We had a enjoyable weekend.
Gary keep reaching out and dusting us all a little each day.
L-R Back Greir Huck Flynn (Randy's 2nd Son), Liza Southwood (Friend of Wyman Flynn), Brooke Silbernagel and Patrick Richard (K's Daughter and Son), Elizabeth Richard (Pat's Spouse), Dr. John Tinjum (Jill's 2nd Son), Tally Tinjum (John's Spouse), Stephanie Tinjum (Jill's 3rd Child), Larry Tinjum (Jill's Spouse)
Middle – Wyman Flynn (Randy's Oldest Son), K Richard, Richard Tinjum (Jill's Oldest Son)
Front – Laurice Flynn (Randy's Spouse), Randy, Rio Flynn (Randy's Daughter), Jack Flynn, Minnie Flynn, Jill Tinjum, Sonja Tinjum (Jill's Youngest Daughter)
Randy Flynn Family
Randy Flynn, Greir Huck Flynn, Jack Flynn, Rio Flynn, Wyman Flynn, Liza Southwood, Minnie Flynn, Laurice Flynn
3 Amidas ?
Stella Schimetz, Jean (Tooke) Berger, and Sharon (Tooke) Parkhouse
Reply to Minnie Flynn's birthday pictures from her daughter Jill Flynn Tinjum (68): jbtinjum@yahoo.com
We had a great time celebrating with Mom. She wanted her party at the end of the holiday season so all our families had time to get up to Dunseith, before commitments of school and work. Thanks to so many family and friends who came out in the nasty weather. We had such a nice time visiting everyone. It was a great party! Thanks, Mark, for the pictures.
Sibling family color code – Please correct me if I'm wrong. Gary
Randy's family
K's family
Jill's family
Top row:

Greir Flynn, Liza Southwood, Brooke Silbernagel

,

Patrick Richard, Elizabeth Richard,

John Tinjum, Tally Tinjum, Stephanie Tinjum, Larry Tinjum.
Middle row:

Wyman Flynn,

K. Jacqueline Richard,

Richard Tinjum.
Front:

Laurice Flynn, Randy Flynn, Rio Flynn,

Jack Flynn, Minnie Flynn,

Jill Tinjum, Sonja Tinjum.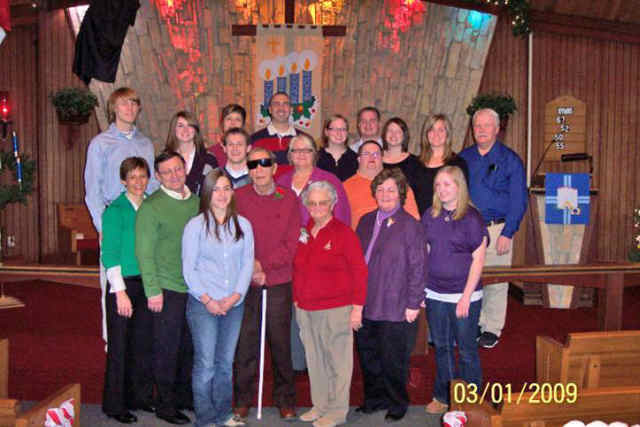 Randy with his family and his parents
Randy, Greir, Jack, Rio (middle), Wyman (Back), Minnie, Liza, and Laurice.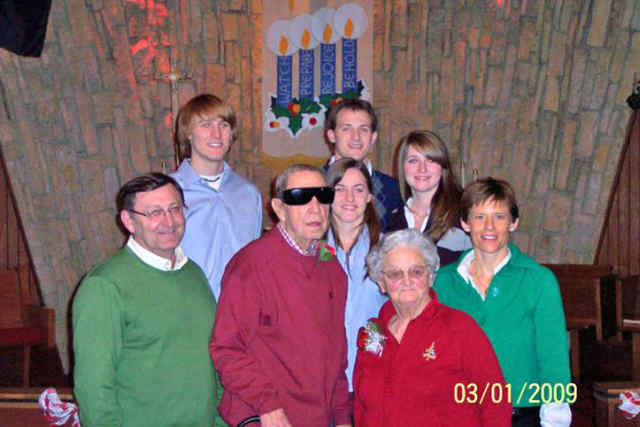 Reply from Diane Larson Sjol (70): nrsnice@min.midco.net
In the photo of the three ladies supplied by Minnie Flynn's family,
the gal on the left in the red sweater is Stella (Richard) Schimetz.
I don't know anyone else. Diane Sjol
Reply from Evon Lagerquist (77): lagerquist@srt.com
Gary, I think the 3 ladies in the bottom picture are Stella Schimetz, Jean Tooke, and her older sister, Sharon.
Picture taken at Minnie Flynn's birthday party: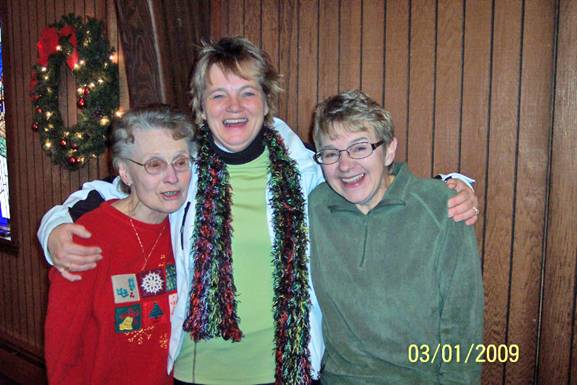 Stella Schimetz, Jean Tooke Berger, Sharon Took Parkhouse