Taps Reply
From Sharon Longie Dana (73): MIssoula MT
I had never heard the Taps played like that before and I had to share it with my sailor husbad and send it on to many others. That little girl has a gift. I have been to many funerals where Taps were played and that rendition was quite amazing. thanks for sharing.
Sharon Longie Dana (73)
Reply from Ele Dietrich Slyter (69): Dunseith, ND
TAPS was awesome..so young to have so much talent..but that doesn't surprise anyone who calls the Turtule Mts. home as there is talent all over this place that is untapped and seldom heard or seen.
Larry's story today reminded me of another talent in this area…years ago when the Gathering Cafe was still open there was a garage/repair shop located in the same building..I think one of the Lagerquist boys was the operator/owner at the time…any way I had stopped to get gas and was inside paying for it when one of our local "comedians" stopped in also. He got to telling how he had a bunch of kittens for give away and how cute they were. Of course everyone, myself included, just had to see these super cute kittens so he went out to get them out of his truck. He came in carrying the box, normal as all get out, but when we opened the top of the box a darn skunk jumped up and scared the you know what out of us. Needless to say we have a taxidermist in our midst and he had cut a hole near the bottom of the box to put his hand in to 'activate' that skunk. I still laugh when I remember my reaction and that of the others in there that day. Thank you for the laughter and memory David Abrahamson!!!!
ele
Reply from Patti Metcalfe Woods (67): Peace Garden Customs agent
I had to chuckle at the Coyote on the back of the taxidermists pickup.
It reminds me of the stuffed skunk David Abrahamson carried with him when he did refrigeration repairs.
He would set it down in the aisle of the store where he was working and chuckle at the reaction of the store customers.
The grin on David's face was precious.
Thank you for all the work you do keeping up this blog.
Wishing you and Bernadette a special 2011!
Patti, Bernadette and I so enjoyed our visit with you on our way back thru customs last May while your folks inspected our car. After having visited the Peace Garden, our number came up for a full blown inspection on our way back into the good ole USA. By the way, thanks for opening the big roll up door to let us out. While visiting with you inside, I think your folks had given up on us going back to our car.
From Trish Larson Wild (73): FORT COLLINS, CO
Hey Gary. I have a proposal for the folks reading your blog. How about everyone tries to remember the funniest joke you have heard lately and submit it so we can all have a laugh?
Here's mine:
Knock knock.
Who's there?
Interupting cow.
Interupting cow wh…..
Mooooooo!
Cmon you guys. I know you've got at least one in you….
Trish Wild
The Equine Nomad
Memories/picture from Paula Fassett (71): North Branch, MN
I thought I would send this photo that I received recently from my cousin Lenette. It is some of my relatives that some of you out there may (or may not) recognize and/or remember. (Susan should be doing this – I'll probably get it wrong!!!) Anyway, the man in the middle is Harold Amundson. I THINK he is 93. He is the youngest brother of Helen Nelson, Ernie Amundson, Dagny Haagenson and Alpha Gunderson. The lady on the left is his daughter Sharon (I don't remember her married name, sorry). The lady to the right of him is his wife Mildred (Millie) – who, I believe is originally from Rolla – formerly Mildred Hudson. On the far right (this one I'm SURE of…) is Lenette Hoover-Brauer. Lenette is the daughter of Lenore (Watkins) Hoover, my mother's sister. Lenette was visiting Spokanne, WA, so stopped in to see the relatives. Unfortunately, since this photo was taken, Uncle Harold has become gravely ill and is currently under hospice care at his daughter Sharon's. It's a difficult time for their family – please remember them in your prayers…..
Paula Fassett
Sharon Amundson, Harold Amundson, Mildred Amundson & Lenette Hoover-Brauer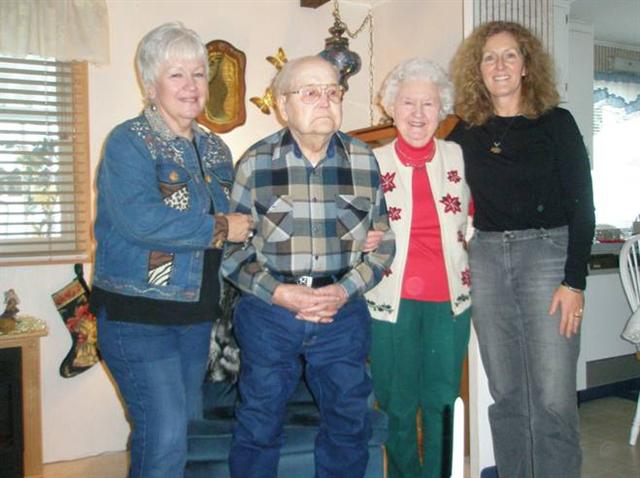 Viet Nam 1966 – Ann Margaret
Posting from Lola Metcalfe Vanorny (68):
Thought this might be a good one for the blog!



Ann Margaret….


Viet Nam1966

Richard, (my husband), never really talked a lot about his time in Viet Nam , other than that he had been shot by a sniper. However, he had a rather grainy, 8 x 10 black and white photo he had taken at a USO show of Ann Margaret with Bob Hope in the background that was one of his treasures.

A few years ago, Ann Margaret was doing a book signing at a local bookstore. Richard wanted to see if he could get her to sign the treasured photo, so he arrived at the bookstore at 12 o'clock for the 7:30 p.m. signing.

When I got there after work, the line went all the way around the bookstore, circled the parking lot, and disappeared behind a parking garage. Before her appearance, bookstore employees announced that she would sign only her book and no memorabilia would be permitted.

Richard was disappointed, but wanted to show her the photo and let her know how much those shows meant to lonely GIs so far from home.
Ann Margaret came out looking as beautiful as ever and, as second in line, it was soon Richard's turn.

He presented the book for her signature and then took out the photo. When he did, there were many shouts from the employees that she would not sign it. Richard said, "I understand. I just wanted her to see it."

She took one look at the photo, tears welled up in her eyes and she said, "This is one of my gentlemen from Viet Nam and I most certainly will sign his photo. I know what these men did for their country and I always have time for 'my gentlemen."

With that, she pulled Richard across the table and planted a big kiss on him. She then made quite a to-do about the bravery of the young men she met over the years, how much she admired them, and how much she appreciated them. There weren't too many dry eyes among those close enough to hear. She then posed for pictures and acted as if he were the only one there.

Later at dinner, Richard was very quiet. When I asked if he'd like to talk about it, my big, strong husband broke down in tears. "That's the first time anyone ever thanked me for my time in the Army," he said.

That night was a turning point for him. He walked a little straighter and, for the first time in years, was proud to have been a Vet. I'll never forget Ann Margaret for her graciousness and how much that small act of kindness meant to my husband.

I now make it a point to say 'Thank you' to every person I come across who served in our Armed Forces. Freedom does not come cheap and I am grateful for all those who have served their country.

If you'd like to pass on this story, feel free to do so. Perhaps it will help others to become aware of how important it is to acknowledge the contribution our service people make.