Greg LaCroix and Sue Berg
I missed your recent birthdays. I am so sorry about that. I am hoping you both enjoyed your special day.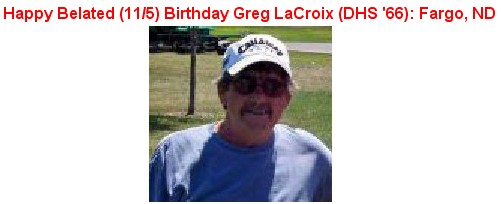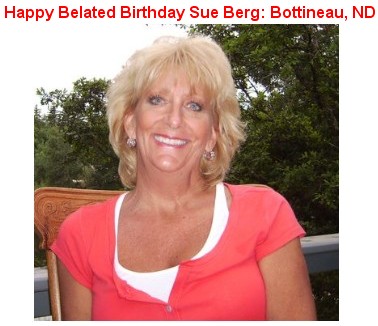 Message from Cheryl Larson Dakin ('71): Bedford, TX 
I just spent 8 days at home in Bottineau where we ran the gamut from fog to drizzle to overcast skys to finally lots of snow. I was so happy for my youngest son and his family to come along so that Matt could introduce his wife Jessica and their 6 week old son, Cooper,to Dad. I am including a couple pictures. Funny, last Wednesday the prairie was a beautiful golden yellow with the sun shining on the wheat stalks and on Friday, they were just white with snow. It reminded me of our Texas weather….if you don't like the weather now, wait a little while, it'll change. A great big Thanks to my sister Diane for all her hospitality and for taking time off from work. I love hanging out with you.  And of course, we had to go to Dales!
Thanks for all you doGary. Have a great time with Rose and Art while they're there. And to Connie Landsverk, I'm so sorry to hear you 've been sick. I will keep you in my prayers for a quick and uneventful recovery.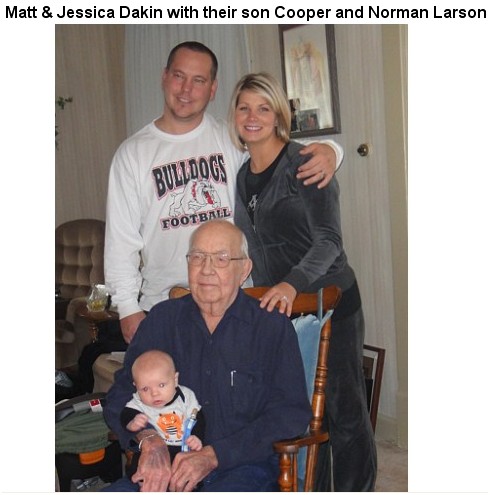 Reply from Iris Wolvert:  Willow City, ND
Leonard Cote had a bar in Dunseith..looks like him in back of the bar