Folks, I have been getting a little careless with the numbering of these messages lately. I sent out two number 452's. Yesterday's message should have been 453. Rather than skip a number, today's is 453. Sorry for the confusion.
I just got a phone call from our neighbor, originally for the Los Angeles area, letting me know his mother died this morning. She has been living with them here in Cebu for several years now. She was 110 ten years old last November. Up until about a year ago, she was able to function pretty much on her own. Her eye sight, hearing and mobility all have been failing this past year. She had a good sound mind right up to the end. For her age, that was remarkable. Gary
Reply from
Denise Lajimodiere:
Moorhead, MN
Hi Gary,

I got my doctorate in Eductional Leadership at UND. I am now an Ed. Lead. professor at NDSU, Fargo and living a wee bit across the river in Moorhead, but far enough away to escape the major flooding.

Beside keeping, and soon to write from, all of my mom's (Lola Lajimodiere) history papers and extensive tribal research, I enjoy writing poetry. I'm shopping a manuscript around, and am now working on a second manuscript.

I am hoping to develop a little chap book on Lajimodiere history, especially as it applies to those of us remaining in the US after Louis Riel's hanging. My great grandfather 'homesteaded' in Dunseith. His father, Joseph, was first cousin to Riel, and had to flee Winnipeg. All family members moved back to Canada except my family, where we eventually settled in both Belcourt and Dunseith. My father, Leo, considered Dunseith our family home.

We had relocated to Oregon in the mid '50s and returned 14 years later to Dunseith. I began my Junior year at UND North Plains Indian Teacher Corps and was placed at the Dunseith Elem. school when Art Rude sr. was principal.

Denise
Denise, I almost had everything right except for the college. I was thinking you were working at UND. We did get several replies for your request that I have included with today's message. I believe Gary Metcalfe and others knew one of your uncles or a relative of yours quite well in the Turtle Mountain area.

David Slyter, I know you are working at NDSU too. It's a big place, but possibly your paths will cross one of these days.
Brenda Hoffman's (68) reply to Denise Lajimodiere
Greenville, SC
My grandmother in Denhoff, ND was extremely thrifty. She made quilts and pillows out of old coats as obviously did Denise's relatives, but my favorite was that she saved and cleaned plastic bags and used them to make lovely hook rugs – which were of course perfect for wiping muddy feet. Grandma Schick was a seamstress and until her late 80s created all sorts of clothing – without a "store bought" pattern. She merely looked at the item in the store or the catalog, measured someone and then cut the pattern out of newspapers. She was known throughout the county as a wonderful seamstress and created wedding gowns, cheer leading costumes and whatever else came her way. When she broke her hip, which necessitated her permanent move to the nursing home, she was only concerned that she would be unable to finish the McClusky cheer leading outfits. The paramedics had to reassure her that someone would finish them before she would leave her house. The paramedics kept asking her where her medications were so they could make sure she didn't miss any doses. Their ongoing questions about meds truly confused her as she didn't take any! Oh yes, before my grandpa died, they maintained an acre flower and vegetable garden and canned most of the vegetables.
Sybil Johnson's Reply to
Denise Lajimodiere:

CHEYENNE, WY
Gary and all,

Yes, about the saved buttons; I have a tin box full of them. They came from both my mother and grandmother. When I was a
kid, I always wondered what they were for. Leave Tuesday for Wisconsin, for my granddaughter's wedding. August Johnson
and our son DJ will be there, also. Dick, I will let him know about that subject we talked about. Everyone have a peaceful and
quiet day.

Sybil Johnson
Reply from Dave Slyter (70): (Fargo) Sabin, Mn
Gary:

Thanks for the awesome pictures of the Willow Lake Road and the Ackworth cemetary. Its really odd to see buildings behind the cemetary. Its nice to see that Danny built on the home place. The Willow Lake Road in your pictures bring back so many memories. Traveled that road a lot thru the years that I lived in the hills. Going to visit or helping out Aunt Margie Hiatt. Thanks for the memories and all that you do for us thru this blog site.

Dave Slyter (70)

Reply from Rhonda Hiatt (75): Battle Ground, WA
I didn't realize there are so many Hiatt's out there that we don't know. Thanks for all the work that you put into this. Once again a great job!!!
Also, Happy Mother's Day to all the Moms out there.
Message/Picture from Bill Grimme (65): Birmingham, AL.
Gary,
Saturday in New York. Saw "Hair" (again). Great show. L-R; Irina, me, Sanya (Irina' daughter), Kais (Sanya' s husband). I have a friend whose daughter is in this Broadway play. Met her after the performance. Great, high energy performance.
Bill
Sent from my Verizon Wireless BlackBerry
Bill, this is a great picture. When you called me last week, I didn't realize you were headed for NY. You probably told me and it just went right over my head. With all your travels, I can tell you are truly enjoying retired life. In several months you & Irina will be on the other corner of the United States, Seattle, when we go on our cruise. Gary
L-R; Irina (Bill's Friend), Bill Grimme, Sanya (Irina' daughter), Kais (Sanya' s husband).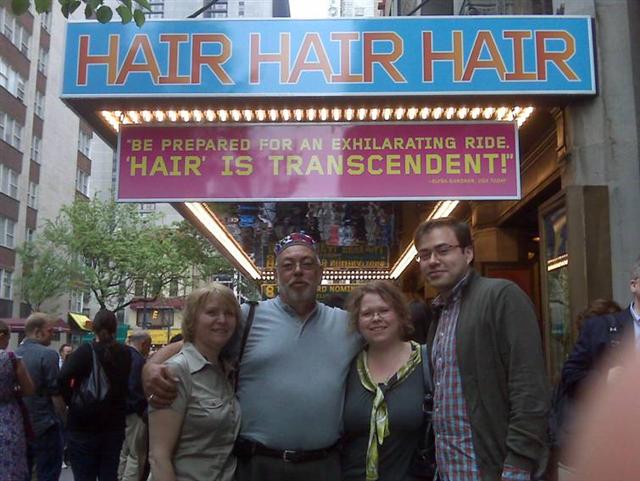 Reply from Dick Johnson (68): Dunseith, ND
Gary and Friends,
The picture of all the ladies and Father Wolf has me wondering if it
could be the church organization called 'Catholic Daughters'. When I
hung out with John Boguslawski, there were times when his mom, Alice,
went to meetings of a group called 'Catholic Daughters' or 'Catholic
Daughters of America'–or similar name. It appears all the ladies are
Catholic and with the priest in attendance, it would fit. This is only a
guess though. Thanks Gary!
Dick
Reply from Sharon Longie Dana (73):
Reply to picture of Ladies with Father Wolf: to think those glasses they wore then are coming back.
Reply from Gloria Robillard Patnaude (69): Belcourt, ND
Hi Gary, When I was looking at the picture of the Ladies of Rolette County I noticed the Lady on the far right ,
the one with the dark hair and partially cut from the picture , is my Aunt Melvina (Robillard) Schneider .
Gloria (Robillard) Patnaude
Gloria, You and LeaRae have both identified Melvina. You mention she was partially cut from the picture. There are two more ladies in that row to the right of Melvinal on the original picture. I'm hoping everyone is a recieving full picture? Gary

Reply from LeaRae Parrill Espe (67): Bottineau, ND
Gary, In the picture of the Catholic ladies-the one identified as Sophie(Mrs. Pete) Schneider is Melvina Schneider (Mrs. Hank)
Both of those ladies were in the Happy Home Homemakers Club with my mother. Sophie was Methodist.
The pictures of the Ackworth cemetery and Willow Lake Road are great. Terry's aunt Maebelle Smith Salmonson is buried there.
Reply from Cecile Gouin Craig (61): Windsor, CO
Hi Gary, just read my daily fix down memory lane. Thanks for all you do.
In the picture of all the ladies (e-mail #452) I believe one of the ladies in the 3rdrow the sixth one in from the right, Is my Great Aunt Eva Morrinville Peat. She was my Grandmother Rena Dion Daoust's eldest sister. Cecile Gouin Craig.
Reply from Mel Kuhn (70): St. John, ND
In the picture of all the ladies, the one listed as my mom Alice Kuhn is actually her sister Lillian Allard.
Catholic Ladies Photo:
Folks, there are only two unknowns in the 3rd row not identified in this photo. Can any of you identify these ladies? We've almost got it. Gary
Row 4; Stella Schimetz, Esther Fugere, Lorna Zeiler, Josie Dionne, Katherine Berube, Eugenie Malo Grenier, Leona Picard, Alma Gottbreht, Phyllis Barbot, Maxine Barbot, Leona Mongeon
Row 3: Rebecca Cote,_________, Alice Christianson, Eva Siem, Josephine Fugere, _______Volh, Cora Mongeon, Eva Morrinville Peat, Elise Picard, Sylvia Heffelfinger, Melvina Schneider, Flora Casavant, Emeline Boucher
Row 2; Olivine Allard, Beatrice Robert, Lillian Allard, Helen Haberman, Alma Casavant, Frances Morinville, Loretta Boguslawski, Alice Boguslawski, Dorothy Robert, Mary Ann Malo, Rita Boucher, Irene Pigeon, Lenore Malo, Alma Berube, Germaine Barbot, Lillian Houle
Row 1: Eva Trafford, Stella Vandal, Esther Neameyer, Emma Cooper, Father Wolf, Lenore Lamoreux, Alice Evans Berube, Hermine Dionne, Gail Lamoreux, Janet Evans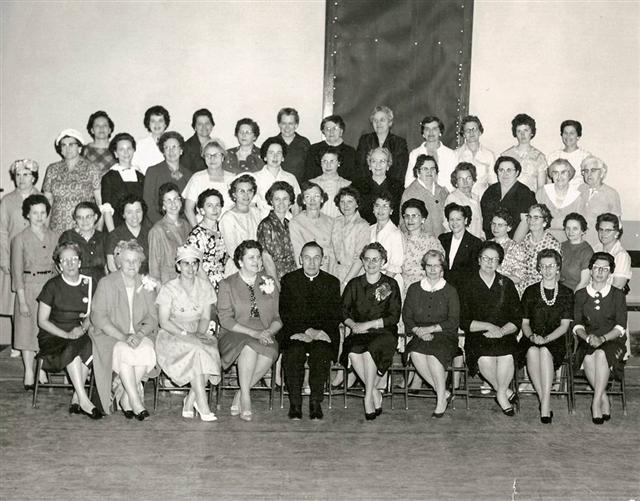 Reply to the Bursinger picture from Evon Lagerquist (77): Dunseith, ND
Ole was Lyle!
Reply to the Bursinger picture from Susan Fassett Martin (65): Spearfish SD
Lyle John Bursinger is Ole Bursinger. Born 12-25-1919
Reply to the Bursinger picture from Dick Johnson (68): Dunseith, ND
Gary and Friends,
The best way to explain is—Lyle 'Ole' Bursinger. The picture Neola
sent yesterday is of Julius and Clara Overby, Ole's father-in-law and
mother-in-law. Ole's son John confirmed that for me last fall. Those of
you who saved the messages can look in #261 for the explanation on who's
who. Thanks Gary!
Dick
The following to the bottom of the page is posted from message 261 (10/23/08):
Neola, Ole and Lyle Bursinger are one and the same person. Ole was German, but raised by the Norweigan. I would almost swear that is not the Lyle Bursinger I knew.
Thanks all for keeping this going. It brightens my day. Gary Metcalfe
Gary, You are so right about Ole Bursinger. Read What Dick found out and has to say below. Gary
Reply from Dick Johnson (68):
Gary and Neola and Friends,
The old picture that has 'Lyle Bursinger' on the back is of Mrs. Ole

Bursinger's parents. I asked John Bursinger and showed him the picture

and he said it is Julius and Clara Overby, Glenice's parents. In order

to keep from being confusing, Ole's real name is Lyle and 'Ole' is just

a nickname. Thanks Neola and Gary.
Dick
 

Gary,

Ole's son, John, lives about a mile south of Ole's place, which is about
4 miles north and east of my place. Ole's daughter, Sue, lives in a
newer house with her family in the same yard that Ole lived in. I trade
old cars and parts with John quite often. That is what I was up there
for today, so just printed the photo and took it along. John said his
grandfather used to drink whiskey by the gallon and never even
staggered!He also told me they lived along Highway 43 a couple miles


east, near the Haas's. I think they died many years ago.

Dick
Ole (Lyle) Bursinger's in-law's:
Name
: Clara Overby

Birth Date
: 05 January 1888 (
Historical Events)
Death Date
: June 1966 (
Historical Events)
Issuing State
: Washington

Residence at Death
: Saint John,Rolette,North Dakota 58369

SSN
: 538-20-9071
Julius and Clara Overby