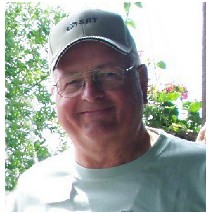 Thanks for all the birthday wishes, e-mails, calls etc. Yes, those school bus driving days are memorable hauling all you kids from the hills. I could share lots of stories!?! A bunch of really good kids. Kind of sad there are no kids up in this area any more.  Those were the "good ol' days" gone by.
Thanks to you Gary for all your efforts keeping us all connected.
Stan Salmonson (61)
Well written General analogy of the Dunseith Alumni folks
From  Vickie Metcalfe ('67):  Bottineau, ND
It has been said, "1 picture is worth a 1,000 words".
It is remarkable how well the people who read "The Dunseith Blog", enjoy being connected and continue to communicate on all the photo's submitted.
The older pictures bring out the  "Sleuths".  There are many  who keep us all thinking .  They  are the blog's "Sherlocks and Watsons."
Recently, those who  "ponder history " are having fun working their "Magic Brains".  (Gary uses his magic jack, with the ability to reach out and  connect with specific questions),  while others are busy computing with their talented brains.   Dick deducts by examining details.  He sees the shiny bar top void of  bottles,  patrons who are all men poised for the eye of a camera.  Floyd with his keen mind and eye, and memory adds to responses. Others come forward with affirmative  or corroborate submissions.   
Is it all good fun for the rest of us, as we eagerly await another piece of the puzzle to be put in place.  We're now all hooked, who is that fellow with the hat?
I identified the look of pride with the  grandfather,who has calm wisdom sitting next to his daughter.  And, she with the utter wonder and glow of a mother's love holding her contented babe.
In the recent birthday photo of Don, Carrolls nephew, I deduced from his hat, "Someone believes fish fear him". He must fish!  Ha! Me,  a  Miss Marple, want 2 be.  I just read too much (Thanks Mrs. Conroy wherever you are.)
Finally,I all notice the relaxed camaraderie with the Cebu folks on the other side of the world.   Thanks Gary for  the connectedness you, have provided.
Vickie
Reply from Trish Larson Claybaurgh ('73):  Portola Valley, CA
So glad to hear that Bernadette has a treatable ulcer.  I hope the pain quickly goes away with the new medicine.  Abdominal pain is a frequent complaint of patients coming to the Emergency Room, and sometimes it can be very serious, so I'm glad to hear that it was only ulcers.  Still, that's no fun either and I hope she's better very soon.
Wishing everyone out there on the North Dakota blog a happy Thanksgiving.  May we all be thankful for everything we get to experience in this life.  Even if we have challenges and pain – at least we're still alive!
Personally, I am so thankful for my 3 wonderful sons.  And of course for my beloved horses.  Lately I've been making progress with my training and jumping higher fences.  It's something I've always dreamed of doing, so I'm really excited to have the right horses and trainers to help me.
I'll be working on Thanksgiving this year, and I'll be thankful to be working in the ER rather than coming in as a patient!  My job makes me thankful every day I work.  There is a lot of terrible suffering in the world, and I am constantly amazed what the human spirit can survive and overcome.  
Happy and Healthy Holidays to all of you out there…
Cheers and thanks to you for all you do Gary.
Trish

Carol Pritchard Corzine ('67) with her Granddaughter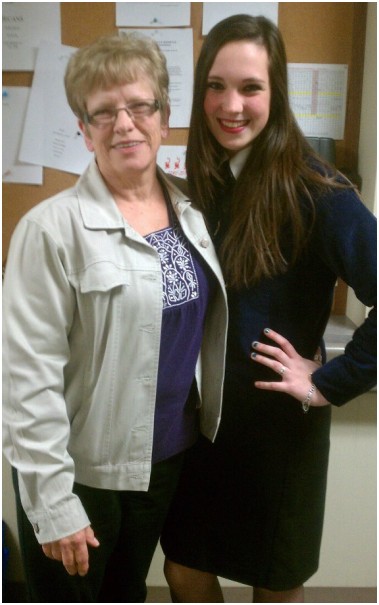 Reply from Dale Pritchard ('63):  Leesville, LA
Gary,
Stomach ulcers are not a good thing!  If they start bleeding it can get bad real quick.  I have had two episodes in the last few years with bleeding stomach ulcers.  The first time took 3 units of blood and a week in the hospital to get back on track.  The second time took 4 units and a week and a half.  If Bernadette starts feeling like she has acid reflux you need to get her to a doctor as soon as possible!  Acid reflux was my self-diagnosis both times, both of which proved why I'm not a doctor!!
Dale Pritchard
Dunseith Story – Marble Boards
From Larry Hackman ('66):  Bismarck, ND
A few people have told me to go write a book. 
This is the first chapter of my book. 
I thought I would use the technique used by the star Wars episodes.
You know, starting with the fourth episode then working ahead then back to the beginning. 
I think it worked well for them, but please don't hold your breath until the next chapter gets written by me.
I hope you have room for this,  If you don't just stick on a page a day,
or do it anyway you want to.
Marble Boards constructed by me after learning the game from the Suttons back in the late 1950's.
The 1st one shown was used by my family.  When my mother passed on the family returned it to me.
I constructed 8 of these boards last winter and passed them out to the family. 
We had trouble getting the marbles.  My daughter finally ordered them from some place in New York over the internet.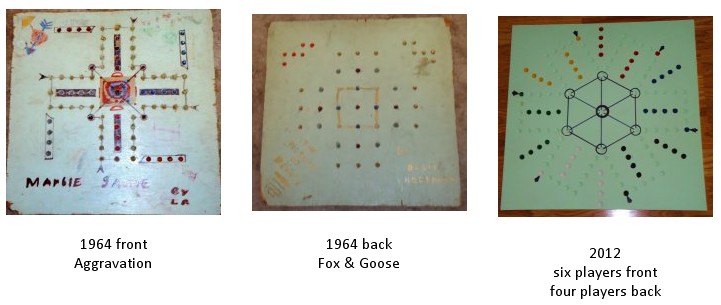 I thought I'd share this nice picture of Bernadette. This picture was taken last Monday at the Re-Grand opening of our friend Marina's, Xing Restaurant.
Marina offered to cater a genuine American Thanksgiving dinner for our group of folks too with Turkey, Ham, Yams, American Pies and the whole nine yards. She said she needed a minimum of 20 folks to do this. The cut off time was Noon (Monday) today to have their names on the list. I just sent Marina a list of 78 folks that will be attending this Thanksgiving dinner that she is catering for us. She is having live music too, so it should be a fun evening.
Gary and Bernadette Stokes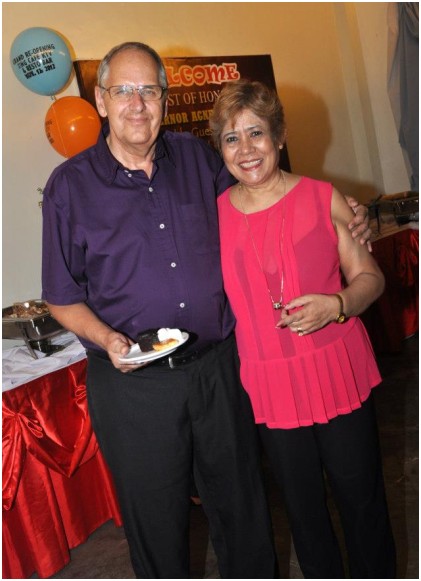 Posted By Larry Liere ('55): Devils Lake, ND
Ole walked into a bank in New York City and asked for the loan Officer.

He told the loan officer that he was going to Paris for an International
redneck festival for two weeks and needed to borrow $5,000 and that he was
not a depositor of the bank.

The bank officer told him that the bank would need some form of security
for the loan, so the Redneck handed over the keys to a new Ferrari.  The
car was parked on the street in front of the bank.

The Redneck produced the title and everything checked out.

The loan officer agreed to hold the car as collateral for the loan and
apologized for having to charge 12% interest.

Later, the bank's president and its officers all enjoyed a good laugh at
the Redneck from ND for using a $250,000 Ferrari as collateral for a
$5,000 loan.

An employee of the bank then drove the Ferrari into the bank's private
underground garage and parked it.

Two weeks later, the Redneck returned, repaid the $5,000 and the interest
of $23.07.

The loan officer said, "Sir, we are very happy to have had your business,
and this transaction has worked out very nicely, but we are a little
puzzled.

While you were away, we checked you out on Dunn & Bradstreet and found
that you are a Distinguished Alumni from The University of North Dakota, a
highly sophisticated investor and Multi-Millionaire with real estate and
financial interests all over the world.

Your investments include a large number of oil wells around Williston, ND.

What puzzles us is, why would you bother to borrow $5,000?"

The good 'ole boy replied, "Where else in New York City can I park my car
for two weeks for only $23.07 and expect it to be there when I return?"

His name was Ole… .

Keep an eye on these ND boys!

Just because we talk funny does not mean we are stupid.