Thank you Reply from Vickie Hiatt LaFontaine (73): Grafton, ND
I want to thank every one for their e-mails kind words and prayers. It has been a tough time losing my husband but God never gives us more than we can handle and I kling to his promises so I will survive and be stonger. Vickie Hiatt LaFontaine
Edna (Susie) Knox Millang (60) Retiring:
Posted by Jule Knox Seier (82): Minot, ND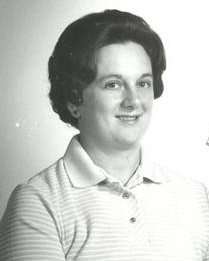 Good Morning Gary!

I was wondering if you would please post for me…

Retirement party for Edna (Susie) Knox Millang.
Friday, May 22, 2009
7:00 pm
Potluck…sandwiches, salads, hotdishes. Cake
will be served. Come and join us to celebrate Susie's
retirement!

Oh and onion sanwiches! So good with a piece or two of fried
side pork! Yummmmm!

Thanks for all you do Gary!

Julie (Knox) Seier
Minot ND
Susie, Congratulations on retirement. From where are you retiring? Gary
Reply from Vickie Hiatt LaFontaine (73):
Grafton, ND
I too remember the onion sandwiches but on toast with real butter. I also have fond memories of going to Arleen and Norris Knudson and Arleen and I eating fresh homemade bread with fresh farm cream and sugar. Gee I wonder why 45 years latter I'm still not a size 12. Vickie Hiatt LaFontaine
Vickie, Bread and cream with lots of sugar made for a mighty fine meal. It was such a treat when we were able to use cream. Most of the time at our house it was bread and skim milk. We had to sell the cream. I had my share of Bread and Milk & Bread and Cream meals over at Norris and Arleen's too, when I worked for them in the summer months. Gary
Gerald Brudwick Passed away:
Message sent by Neola Kofoid Garbe: Minot & Bottineau, ND
My uncle, Gerald Brudwick, passed away in his sleep sometime during the night. When I have more information about the funeral arrangements, I'll send it.
It's sad to lose Uncle Gerald, but he had been wanting "to go" for some time now. He missed Delores tremendously. He had a stroke about 3/4 years ago, and hasn't been able to do much for himself since then. Life isn't much fun when you need to depend on others to do everything for you.
Mom and Alvina are the two remaining siblings. Mom lives at Good Samaritan in Bottineau; she was 92 years old on May 5. Alvina lives in long term at St. Andrew's Hospital in Bottineau. Both Mom/Alvina still get around by themselves. Mom uses a walker; I think Alvina does, too. Alvina is the third of Andrew/Ellen Johanna Laugsand Brudwick's six children; Mom is the oldest. Uncle Gerald was the youngest.
Message sent by Eileen Brudwick

:

Fargo, ND
Sad news today… In case you haven't heard Mike's uncle Gerald passed away in his sleep last night during the night sometime. We will be attending his funeral. We haven't heard the arrangements as yet. I am sure his body can be viewed at the Nero Funeral Home, like all the other family members were until the funeral. Most likely that will be at the Metigoshe Christian Center, at Lake Metigoshe. Gerald was such a wonderful man, and will be so dearly missed. He has wanted to be with his deceased wife since her death, so now it'll be a happy reunion once again for them. We were hoping to see him in June sometime, but I guess uncle Gerald wanted to depart sooner.
Neola, Eileen & Mike: I know a lot of our readers from the hills remember Gerald. We are so sorry to hear of his passing, but he is now with Delores. The real loss is with his family. Our condolences are with all of you with his passing. Gary
Reply from Sharron Gottbreht Shen (59): Everett, ND
Onion, butter, salt and pepper on fresh bread. Yes! Also, banana slices & peanut butter on rye – so good.

I am trying to remember who wore a garlic necklace in grade school, McCoy or McKay, Bill or Jim? Never saw garlic at the Gottbreht table. Mom was a marvel at home cooking but now wonder how she managed to make everything taste so good without garlic. Grandma Evelyn Gaudet Gottbreht used fresh cloves in her chili. When visiting the Shens home where the aroma of saute garlic would permeate the house every evening, mom would call out from her easy chair "Now go easy with that garlic."

Be well, Sharron
Reply from Geri Metcalfe Munro (59): Fargo, ND
HI GARY,
Speaking of onion sandwiches,my mom was a full-blooded Norwegian and my dad, Jim Metcalfe , loved anything Norwegian. We always had good beef and pork (roasts) that we raised on the farm, and we always put lots of good (raw) onions, mustard, catsup on homemade bread sandwiches, along with wonderful gravy. SO GOOD! We complained that we didn't get "boughten bread" like the kids in town did; of course, Herman Martinson's bread was a special treat if they did buy bread. We thought that was really "stylin it" in rare cases where Mom didn't get a chance to bake. Larry, so fun to read your stories; you were much younger than I, but I remember your family so well from Hilltop.
Geri Metcalfe Munro '59 Fargo, ND
Reply from Bob Hosmer (56):
Lynnwood, WA
Since the subject is on onion sandwiches, I'll throw my two-cents worth in. I never had any straight onion sandwiches growing up in Dunseith. However, When I was on a construction job on Fremont in Seattle years ago. I opened my lunch bucket to a sliced onion and orange sandwich my wife made for me as a surprise. I cannot describe the flavor. It was neither onion nor orange, but something else entirely. I did finish the sandwich–not so much out of enjoyment, but because I was tremendously hungry and had four more hours of work that day.
Bob Hosmer, WA Chaplain
Marketplace Chaplains USA
Cell: 425-299-0928
Email: Website:
www.MChapUSA.com
Correction from Gary Metcalfe (57): Forsyth, MO
In my airport letter yesterday the 150,000 figure should be 150 million . Gary Metcalfe
Hello everyone, The occasion this weekend was the opening of Branson Airport. The first privately developed and operated commercial service airport in the United States, $150,000 airport. The fire chief, Ted Marten fulfilled a life long dream as he was selected for a one hour ride aboard a Thunderbird F16. Does Lt. Col. Derek Routt ring a bell with you Bill Hosmer? I guess the Thunderbirds stole the show, but don't sell the single engine planes short, they did a night show that was fantabulous, along with the parachute crew. The Stealth Bomber made a very short appearance. I guess they did it alright as they were around for four days. Gary Metcalfe
Reply from Eileen Brudwick:
Fargo, ND
Gary, you just give me too much credit!

Thank you for your kind words of praise!! I hope I can live up to it. I truly enjoy helping people do geanealogy, even if they aren't related to me in any way. It also helps me to occupy my time since I no longer work. I don't know how on earth I did all this when I was working full-time.

Reply from Alan & Phyllis Campbell: Minot, ND
Just a quick comment on both the onion sandwiches and "old Joe Vanorny"…Alan and his
Dad both loved onion sandwiches and also radish sandwiches – just butter and bread- and they were not German! Good Scotsmen apparently had the same favorites! Re" Joe Vanorny" – – when we moved here in the Wellington in Minot, one of the first couples we met wer Russ and Jeanne Vanorny….Virgil's brother. They are our "table mates" at our delicious meals here every day. Russ is a big man and both he and Alan have hearing problems so guess who does most of the talking? Jeanne just celebrated her 90th birthday but doesn't look it. The family had a big party for her in the dining room a couple of Sundays ago and Jay and Lola were there so we got to say hello to them! Enjoy those daily blogs,Gary, and congratulate you on doing your tireless (and tiring??) job.
Campbell family Picture provided by Neola Kofoid Garbe:
Alan Cambell Family stamped November 27, 1970:
Top: Rich (68), Phyllis & Alan (42)
Bottom: Jeff (76), Cathy (73) & Dave (71)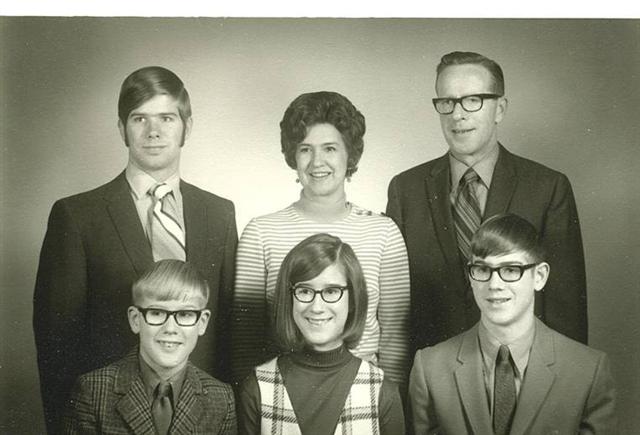 Reply from Sharon Zorn Gerdes (62): Windsor, CO
Gary, in the photo with Charlotte Nichol crowning the homecoming queen, the third person from the left is Mary Bott, I am certain. I remember her making her dress by hand and completing it minutes before she had to wear it. She is beautiful, inside and out. Thanks, Sharon Zorn
Gerdes.
Sharon, Now that you mention it, that sure looks like Mary Bott (62) to me too. What are the comments from some of the rest of you? Yes Sharon, Mary was always a very pretty girl. Mary does not have email. She lives in Linton, ND. Bobby Bott, what do think, is this your sister? Gary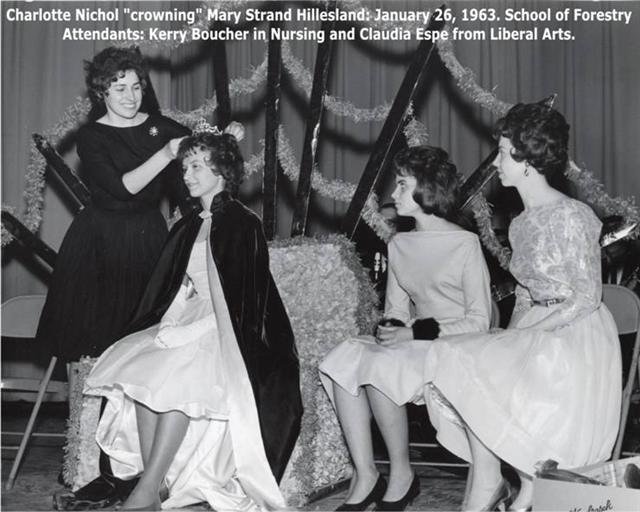 Reply from Sharron Gottbreht Shen (59): Everett, ND
Kerry Boucher Vedquam [1944-1989] would be voted "best in show" in any competition. The picture posted and the picture I've chosen give just a glimmer of her quiet charm and beautiful features. She passed too young because of DM I. If I remember correctly the Vedquam family had celebrated Kerry's birthday that noon [July 21] and she laid down for a nap and slipped away while she slept. Kerry's husband Wayne, her children Aaron, and twins Jean and Joan were devoted to her and she lived every moment for them.

Kerry and I shared a common interest in Boucher/Casavant family history and genealogy. Kerry's mom, Alice Fassett Boucher, wife of Albert, also loved family history and she gave us much encouragement. We corresponded often, all by snail mail. I would search the extensive records of the St. Louis City Library and Fur Trader Records and she the Bismarck Archives. We made time at every visit to exchange and copy files. Like myself, Kerry was a nurse anesthetist. When we met at national meetings, I would deplore her very lean physique – she was so strict with her management of diabetes. Smart gal, she was an inspiration.

If I remember correctly, Peggy and I received some parental words of reprimand that day. Grandma Margaret Casavant Boucher was grandpa Victor Boucher's second wife – she is center top. The next row left to right would be Sharron Gottbreht, LuAnne Brunsell, Joel Boucher, little Gary Boucher, Jerry Boucher, Peggy Boucher standing. Across the bottom: Barb Boucher, Ronnald Tennancour, Jeff Boucher, George Gottbreht, Evie Gottbreht, Carol Jean Boucher, Kerry Boucher and another brother, Jim Boucher. EJ and Carmen were there I'm sure, but already adult enough [13] for other amusements.

Thank you Gary. Sharron
Picture L to R:

 

Center top: Grandma Margaret Casavant Boucher

 

Center:Sharron Gottbreht, LuAnne Brunsell, Joel Boucher, little Gary Boucher, Jerry Boucher,

Peggy Boucher standing

 

Bottom: Barb Boucher, Ronnald Tennancour, Jeff Boucher, George Gottbreht, Evie Gottbreht,

Carol Jean Boucher, Kerry Boucher and another brother, Jim Boucher

 
Memorial Day reminder from Crystal Fassett Andersen (70): Walhalla, ND
Yes, I am back to remind everyone to not only remember our Veterans but to send their donation to the cemetery association where these veterans and our ancestors are buried. If everyone would send $10 or MORE dollars to Little Prairie,Ackworth, Riverside,etc. It would help pay, to keep our little country cemeteries clean and neat. Remember the people who died so that we all can live and do all this reminiscing. Have a safe and Happy Memorial Day (and maybe go to a ceremony instead of fishing)…just a thought . Thanks again Gary. Crystal Fassett Andersen Here is a picture of the Fassett's on Memorial Day 1960 Bill,Susan,Paula & Crystal Fassett and one of my grandparents and parents
Bill, Susan, Paula & Crystal Fassett
Dunseith & Turtle mountain Cemeteries

Points of Contact for donations

 

 

1. Riverside: ————————–Rod Medrud (701) 244-5829 – Work (701) 244-5438

Make Donations out to "Riverside Cemetery"

 

PO Box 194 A,Dunseith,ND58329

 

 

2. Little Prairie: ———————Joan Salmonson (701) 263-4613 – Work (701) 244-5438

RR

1 Box 130

, Dunseith ND 58329

 

3. Rendahl: —————————Pat Pladson (701) 228-3943

9540 Hwy 60, Bottineau ND, 58318

 

4. St Louis & St Mary's Catholic:Floyd Dion (701) 244-5764

PO Box 186

Dunseith, ND 58329

 

 

5. Ackworth: ————————-Martin Peterson (701) 263-4061

RR 1 Box 86, Dunseith, ND 58329

 

6. Saint John's Lutheran: ———Darrel Abrahamson (701) 244-5151

HCR

Box 20,Saint John,ND58369

 

 

Thank you Crystal for this reminder. I have had it in the back of my mind to mail my contribution to Ackworth, but just have not gotten around to it yet. With this reminder, my check will be in the mail tomorrow.

 

I have posted the points of contacts above for sending donations to. Folks, please let me know if this list needs any updating.

 
Kermit & Alvina Hiatt Thompson family posted by Neola Kofoid Garbe: Minot & Bottineau, ND
Folks, Alvina Hiatt was a sister to Leola, Albert, Nettie, Ikie, Ena and that family of a 12 siblings. George and Eva Crawford Hiatt were their parents. The Thompson's lived in Landa, but were very active in the Ackworth community in my growing up days. They were also very active members of the Bottineau Senior Citizens. Gary