Condolence to the Bob Leonard family
From Jean Tooke Berger ('75):  Mandan, ND
My condolences goes out to Bob and his family, I have many wonderful memories of Donna, she was a card to be around.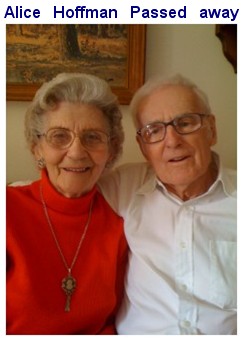 Message from Brenda Hoffman ('68): Greenville, SC
Alice Hoffman was born on May 12, 1926 near Denhoff, ND and died on November 26, 2012 at Minot Trinity Hospital.
Alice and Harvey Hoffman lived and worked at San Haven from the early 1950's until their retirement in the 1980's. Their children, Dale, Brenda and Cindy, graduated from Dunseith High School.

Services for Alice Hoffman will be 9 am Friday, November 30 at the Anderson Funeral Home in Rugby, followed by burial at 3 pm at the North Dakota Veteran's Cemetery in Mandan, ND.
She was preceded in death by her husband Harvey, who died in January of this year, her parents, and a number of brother and sisters-in-law.
 

So sad. Your mother was doing so well too. Our thoughts and prayers are with you, Dale and Cindy with your mothers passing. She was a beautiful human being both inside and out.

 
Posted by Neola Kofoid Garbe:  Bottineau & Minot, ND
DONNA L. LEONARD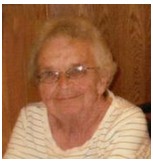 Donna L. Leonard, 78, of Dunseith, North Dakota passed away at St. Andrew's Medical Center in Bottineau on November 25, 2012. Donna was born on July 15, 1934 to Henry and Florence Sunderland in Rolette, ND. She grew up in Dunseith and attended grade and high school there. She graduated from the University of North Dakota in January 1956 with a BS Degree in Occupational Therapy and had the distinction of being one of the first two graduates with an O.T. Degree. She worked as an O.T. in Pennsylvania at a State Mental Hospital for 2 years. She returned to North Dakota and was married to Robert Leonard in the United Methodist Church in Dunseith on August 31, 1958. They lived in Grand Forks for a year, Stanley, ND for a year and then returned to Dunseith in 1960 when Bob started working at Security State Bank.
Donna was active in Community, Social and Church activities over the years, however her main passion was raising their four children, supporting and educating them in every way to be sure they turned out to be responsible adults. She insisted and made sure they all graduated from the University of North Dakota. She had a humorous and wonderful personality and was always trying to please her friends, liked to clown around keeping everyone off guard, including her husband. She liked pets and had a dog for all of her married life which provided great companionship and comfort to her. She was a great sports fan with a particular fondness for the Green Bay Packers and a collector of their paraphernalia. She was very excited at Christmas, 2011 when she received a share of Packers stock from Santa.
She is survived by her husband Bob, Dunseith, her children Patricia Dinger, Boise, ID, Michael (Anita), Alexandria, VA, Timothy (Trisha), Dallas, TX, and Janet (Peter) Conlin, Bismarck; grandchildren Karin Gasparotti, Walla Walla, WA, Justin Dinger, Fort Collins, CO, Carly Leonard, Dallas TX, Meghan Conlin, Bismarck, Mac Conlin, Bismarck, Riley Conlin, Bismarck and a great grandchild Evelyn Dinger, Fort Collins, CO. Sisters, Shirley (Joseph) Fazio, Naples, FL, Patricia (Stanley) Warburton, Lake Charles, LA and nieces and nephews. She was preceded in death by her parents.
Funeral Services are scheduled for Friday, November 30, 2012 at 10:00 A.M. in the Peace Lutheran Church in Dunseith.
Internment will be held at Riverside Cemetery, Dunseith.
Memorials may be made to Camp Grassick, P O Box F, Dawson, ND 58428, in Donna's honor. Their web site is www.elkscampgrassick.com
Eugenie Walker, Marie and Mildred Parrell's sister, passed away
Message from LeaRae Parrill Espe ('67):  Bottineau, ND
My condolences to the family of Willard Lamb, especially Betty. We lived just up the road from Sophie and Pete Schneider. When I was in first grade Pete drove the bus (his family car) and picked up me and the Samski kids and of course his son Larry.  Betty was working at the Security State Bank and once in awhile she would ride.  That was mom's first year of teaching town school (55-56) and she had 37 of us.  Sometimes Mom  would wait for Betty to get off at the bank and take her home and then also pick up Clark who Sophie babysat.  Mom taught until Christmas the following year (Dec 56). I asked her if we had gone to Betty and Willard's wedding and we had not because Joel was to be born Feb 12 and Jan 6 was a very stormy day, anyway that's how mom remembered it.  Mom was out of the classroom for about three years and when she came back to a second grade opening Sophie was called upon to babysit Joel.  To this day when mom and Betty see each other they pick up right where they left off even if it is several years in between.
Today my aunt Eugenie Walker passed away at age 92. She was born March 15, 1920.  Now out of the nine children of John and Marie Nelson only the two youngest mom (Mildred) and Marie Parrill are still with us.  Funeral arrangements are pending. 
Eugenie (Genie) moved to Bottineau from West Covina, California in June 2002.  She and her German born husband, Hugo G Walker, moved to the Los Angeles area shortly after the war. Hugo worked as a pattern maker, a trade he had learned in Germany. Hugo passed away in 1969.  Her only daughter Carol Jane Walker passed away July 2001 of cancer and  since she had no other family there we convinced her to move back to ND.  She lived independently until this past Sept when she was admitted to St. Andrew's Hospital and was moved to long term care status on Oct 18.  She was told in September that she probably had lung cancer and she opted not to have any treatments or even go to Minot for a biopsy. Yesterday she was having trouble breathing and it was confirmed she had pneumonia in all four lobes.  It took her in less than 24 hours in her frail state.
My mother is currently taking rehab at Good Samaritian in Bottineau.  She fell and broke her wrist a few weeks ago.  She is doing better.  While I was in Minot for mom's wrist surgery I stayed at the Guest House across from Trinity. There I ran into Bob Leonard and he told about Donna and all the things that had happened in the last while.  I was so sorry to hear that she had passed. I really thought she was finally on the road to recovery.  Our sympathy to Bob and his family

.