No email address. Please pass along to Raphael
Sandy Hook:  Little girl that was killed was a friend of Eric (Leland) Stickland ('64)
Message from Leland Stickland ('64):  Dickinson, ND
4 1/2 years ago I held and played with a smiling,  little, dark haired girl
On  Friday  December 14,  2012  her life ended, shot by a military rifle
GONE forever : my son, his wife and my grand son, as friends, remain
There is  no way to absorb,  to express  or  to explain  the intense pain
Yes, Gary we never know.  Avielle Richman went to school just as always, never to return home.
Avielle's Dad and my daughter-in-law are peers; knew each other from mtgs, etc when in Calif.  Some years 
ago I went with Eric and Kim and Sam to visit at the Richmans' home.  He also is a PhD Chemical Scientist.  
They had moved to the east coast a year before Eric, Kim and Sam did.  
Sam and Avielle were THE GREATEST FRIENDS!!
  This may be posted to let our classmates know that tragedies elsewhere can and do sometimes touch close to home.
Carl Melgaard – Gary Stokes screw-up
Reply from Keith Pladson ('66):  Roanoke Rapids, NC 
Gary,
I just a few things:
First, let me say Alice and I are so saddened to hear about Bernadette's health.  I hope she gets better soon and can enjoy life to it's fullest again.  It just goes to show how quickly one's health can change.  Our prayers and best wishes are with you guys at this time.  (I would have responded earlier, but I've been having some computer problems and haven't been able to open, read or send emails for several days.  We have been up at one of our daughter's in Virginia this weekend and so am using her computer right now.)
Secondly, I am also saddened to hear of Carl Melgaard's health issues.  As I think you know, I worked for Carl and Shirley one summer while I was in high school (and of course I'm also related to Shirley).  The last time I saw them was at a benefit in Bottineau for my Sister-in-law, Margaret, in 2006 – I believe.  Before that it had been close to 40 years or so.  They both looked great when I saw them and I was delighted as they played and sang at the benefit.  A real treat for me as I knew Carl played and Shirley sang, but I had never had the opportunity to see and hear them before.  I will try to contact Vonda directly so she can pass on my thoughts and prayers to her dad and mom.
Also, you credit me with having sent in the Joke of the day about Jonah and the whale.  You show an email address for me as keithp@standrewshealth.com.  That is not my address and since I have not had use of my email for about a week, I'm guessing the joke actually came from Keith Pritchard.  It's no biggie, but the credit should go to Keith Pritchard if my assumption is correct.
Thanks, Gary for all you do.
Keith Pladson (66)
 

You are so right. I really screwed up the last two days "Joke of the Day" credit line. I should have caught that one with the email address being Saint Andrews Hospital.

 

Keith Pritchard, you are just so polite and so modest.  I can see you take after your dad, Corbin, who was a gentleman in scholar. Today's "Joke of the Day" credit line is correct. 

 
Little Prairie Church Picture
Reply from Geri Metcalfe Munro ('59):  Fargo, ND.
I see Jessie and Carl Millang to the right of the picture and maybe next to Jessie is her sister, Effie Espe.
We moved to the farm in 1946-47 and this was taken some years before that date.  I remember the folks that were identified by Dick. (John Seim had probably died by 1946).  I'm surprised that I don't see Tom and Hannah Kirkwold, unless they're partially hidden on the picture. 

Posted by Neola Kofoid Garbe:  Bottineau, ND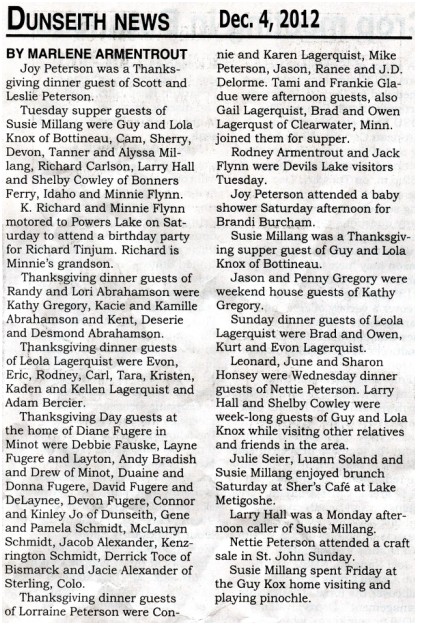 Posted by Keith Pritchard:  Bottineau, ND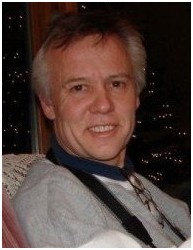 One day a little girl was sitting and watching her mother do the dishes at the kitchen sink. She suddenly noticed that her mother had several strands of white hair sticking out in contrast on her brunette head.

She looked at her mother and inquisitively asked, 'Why are some of your hairs white, Mum?'

Her mother replied, 'Well, every time that you do something wrong and make me cry or unhappy, one of my hairs turns white.'

The little girl thought about this revelation for a while and then said, 'Mummy, how come ALL of grandma's hairs are white?'