For the record, I did not get a blog posted yesterday.
Posted by Neola Kofoid Garbe: Bottineau & Minot, ND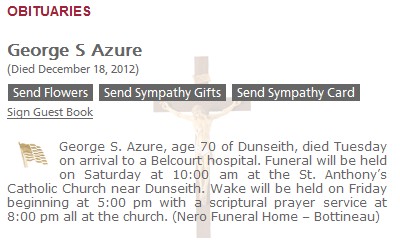 From Ivy Eller Robert ('74): 
 Belcourt, ND
    Yes, Leo Davis is 'Rocky' Davis! I'm not sure what day his birthday is, I have forgotten. I just remember that it was the same month as mine, as was several others in our class.
Reply to yesterday's blog
From Dale Pritchard ('63): 
 Leesville, LA.
Gary,
It looks like you have a better garage than some people's houses.  I would be trying to figure out how to use about half of it for a woodworking shop.  Being made out of concrete, there's no food for termites.  When we bought our house, the previous owner said they had had a termite problem at one time.  No joke.  When I started a renovation project about three years ago, two studs and half of one bedroom window frame were about 90% gone.  Nice!  We're leaving for Washing DC tomorrow morning to see our 1st granddaughter again (1st grand anything really).  She will be three months old Wednesday.
Dale
 

Termites are a huge problem here too.

 

Enjoy that new Granddaughter.

 
Reply to Dick Johnson's "Joke of the Day"
From Diane Larson Sjol ('70):  Lake Metigoshe, ND
Dick…you are hilarious but yes, we did put that into our curriculum under Pharmacy Interventions.
Diane 
Happy Birthday to Crystal Fassett Andersen ('70)
From Paula Fassett ('71):  North Branch, MN
Happy Birthday to my sister Crystal today AND to her son Aaron – who turns 40 today!  The cutie that Crystal is holding is her granddaughter Mia Alexus Gunderson – daughter of Tyler & Vanessa (Belgarde) Gunderson.  I believe that photo was taken at Tyler's in Savannah, GA.
Paula  Fassett