Provide by Dale Pritchard ('63):  Leesville, LA
Hi Gary,
You were right.  The guy next to your Dad is my Uncle John, My Dad's next oldest brother.  He and his granddaughter came up from Golden, CO a few years back with the express purpose of putting on a little Skit at Birchwood.  Uncle John had gone to school with many of the people there, or knew them, or knew of them.  In a pre-skit monologue, he talked about his school days and some of his girl friends.  There was a little embarrassed laughter sometimes but they all took it for what it was – a fun time.  Uncle John passed away in Sept, 2005 and when Winifred passed away, that side of the family was all gone.  I had a job related TDY to Denver in July, 1999 and made it out in the mountains where he lived.  When Mom passed, she was the oldest of her siblings and lasted the longest.  Amazing at 97-1/2!!
On the head chopping – I forget who gave me the pictures but the heads were chopped at that time.
Keep up the good job your doing with keeping us all connected.
With Bernadette's health problem, all you can do is continue to take it a day at a time.  As the old saying goes "Been There, Done That."   
Dale 
 

Thank you so much for sharing these pictures. As I mentioned to you before, I think the couple in the picture with my Dad and John is Willard and Ruby Lasher. My brother Bud can probably confirm that. Willard and your dad were first cousins.

 

I remember well my dad telling me about John's visit and the skit he put on at the Birchwood. It was a memorable evening for many folks. Dad mentioned that event many times.

 
             

Bob & Elaine Stokes in about 1942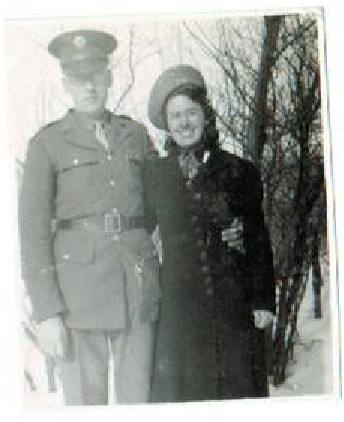 Bob Stokes and John Pritchard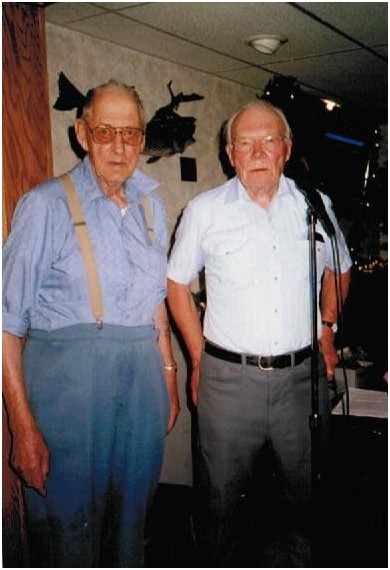 Bob Stokes, John Pritchard and I think Willard and Ruby Lasher