Reply to the Casavant siblings from Diane Fugere (75): Minot, ND
Gary:
To Aggie Casavant and all her siblings: Every time I read something from you Aggie, I think of your mom. We called her "momma" just like you kids did. She was a wonderful humble lady, "salt of the earth", which reminds me of Stella Schimetz of the exact same character as your momma.
Diane Fugere
Reply from Kathy Casavant Ellingson (74)
Bismarck, ND
Gary, Sometimes I do not get pics also but what I do is right click on the x in the box then I click on view pic & then it comes up so if your readers try that maybe it will work. Kathy
Kathy, Thank you so much for this info. Now it would be interesting to know why these pictures sometimes don't show on the screen but are there when doing what you do to view them. This is interesting. Does anyone have the answer? Gary

Reply from Bev Morinville Azure (72): Dunseith, ND
YES Gary I also have the trouble with NOT seeing some of the pictures. To Lyle thanks for the

It

is really interesting . HAPPY 4TH OF JULY TO ALL and THANK YOU TO ALL OF U WHO SERVED AND MAKES IT POSSIABLE TO LIVE IN THE FREE WORLD.
To the Allard family so sorry to hear about the lose of your loved one. May GOD hold you close in this time of sorrow.

GOD BLESS YOU …………BEV
Reply from Jean Nicholas Miller (66): GLENDALE, AZ
Gary,
In response to the question re:pictures not showing up, this has happened many times to me also. I kept meaning to let you know but never got around to it. Also on the cheerleader picture it had be the school year of 1965-66 as Joann and Corliss graduated with me in 66.
Jean Nicholas Miller(66)

Reply from Eileen (Mike) Brudwick: Fargo, ND
In regard to some of the pictures not always showing in an e-mail. Mine doesn't either, and I am sure it's the mail server I have. Sometimes if I go to the next e-mail, and then go back to your e-mail, the pictures that didn't show before are there. Another thing is, before a person begins to scroll down to read it, make sure it is fully loading the e-mail before you do anything. At least that is how mine works better.
A special thanks to Erling Landsverk for his kind words. I agree, we who were born in North Dakota, do tend to help each other all we can. We're just a different breed of cats, so to speak! HA!! <big smile>
My brother-in-law told me last night that when he was in

Viet
nam they sprayed this Agent Orange to kill the foliage because it was so heavy in areas, and so they could see the enemy better.
Great bunch of people you have on your list, Gary. I enjoy reading the newsletter every day!
Eileen Brudwick
Reply from Mark Schimetz (70)
Rolette, ND
Karen Hermes Photo didn't come through for me.
Also Old George Gottbreht and Evelyn his wife, would have been the great grandparents
of Patti and George's Boys.
It was Dale and Alma that would be the Grandparents.
Mark, That is one mistake I read right over before sending. I know blame well that Dale was their grandfather. Thank you so much for the correction. I have pasted

Karen Hermes

picture below that was included with her obituary. It was one of those pictures that was hidden until you clicked on the "Click here to down load Pictures" at the top of the message.

 

Folks, when pictures don't go through, please zap me a message and I will send you a solo copy of the ones that you didn't get. That is for sure not a problem. Gary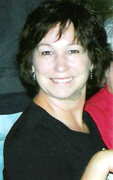 Our condolences to the John Allard family & Don Henes with their loss of Karen:
The John and Olivine Allard Family L to R:
Back: Larry, Kenny, Clayton,
Center: Mary, Olivine, John,

Karen
Front: Betty, Duane, Carol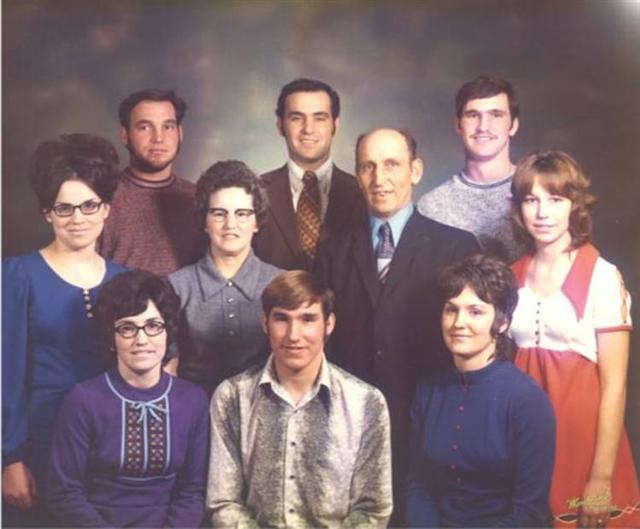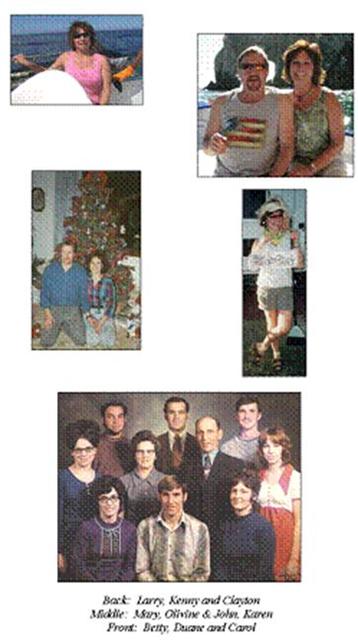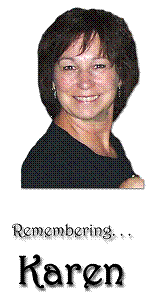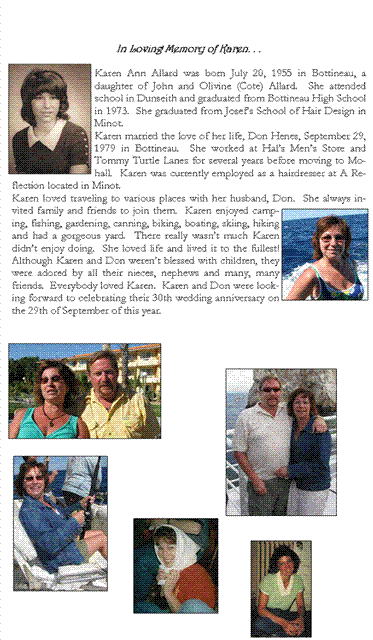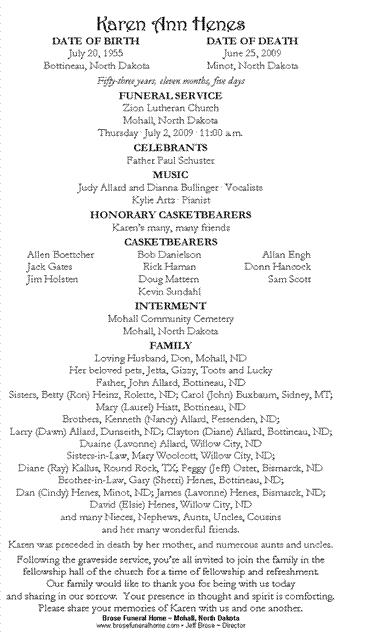 First Cousins – Class of 65 – 7-12-07

Patty Boguslawski & Carol Allard
Update on the Dunseith Reunion in Watertown SD.
Posted by Jerry (54) & Kathy Williams: Watertown, SD
We have most everything ready to go for the reunion here in Watertown with just a few rooms open at the Drake Motor Inn but will not be able to hold them past the 7th of July. If time allows we will be able to take in the Goss Opera House that is being restored here in Watertown also. Right now there is a King Tut display in the building that is very interesting. The following people have responded to me that they are going to be at the reunion and most have paid up front for the registration. Thank you very much.
Betty Jane & Bill (Schneider) Lamb
Rodney & Marlene Armentrout
Janice (Lenonard) Workman
Bonnie & Keith (Awalt) Houle
At this time the following did not know if they could make are not. Barry Shelver(work) and Elaine (Schneider) Hockett (husbands health).
I would also like to make up a display, and or a booklet of photos. So if you would be so kind as to send me or E-Mail me a graduation photo and a resent photo with a short write up of yourself ( where you live, what you have done in the past, what you are doing now ect.) So if you could send or E-Mail me a few pictures so that I could use to accomplish this I would be very appreciative. Even if you are not going attend the reunion please

send your photos and write up anyway.
From Larry Liere (55): Devils Lake, ND
Gary:This is a copy of what I sent to Bob Hosmer, Bonnie Houle, Janice Workman, and Arlene Daily.You may use any part of this that you think would be of interest to your readers.LARRY
WHAT I REMEMBER ABOUT DUNSEITH, ND
64 YEARS LATER
Even though I have been back to Dunseith a few times since 1945 I have never visited with anyone about my childhood in Dunseith.At age 72 there may be a few things I don't know for sure any more.I will try to mark things I am not sure of with an * and if any of you remember things different then I do feel free to let me know.
About kindergarten age I remember playing tag and hide & seek with kids.The names I can remember are Bob Hosmer, Bonnie Await, Janice Leonard Elain Watkins, Barry Shelver, Arlene & Ann Lamoureaux. I also remember a Connley Grimme I think he was a little older then me.Is Bill Grimme his little Brother?When we got old enough to ride bike our games moved to different parts of town and the park.The war was on so we didn't have many toys except toys made of wood which were not much fun.Outside in the summer was the most fun.Barry was my best friend back then but we both played with Bob a lot.The girls would play tag, hide and seek with us or go on bike rides.* I think there was another park outside of town on the North West side we would ride to some times.I would guess it was a mile or two out of town.I was so happy I got to play the triangle in the school rhythm band.I was really worried I would get stuck playing the sticks.Barry, Bob and I would make the rounds getting treats. Candy at Bob's dad's store, pop at Barry's dad's drug store, and ice cream where my dad worked for the Turtle Mountain Creamery.Barry's dad had a garage behind the Drug store with an upstairs that was a lot of fun to play in.One time we found some fun little bottles to play with and Barry said Bob and I could each have one.I took my bottle home and my mother found my little sister with it in her mouth.Guess what, it was an emptyArsenic bottle.Barry and Bob's mothers were called but Glenn Barry's dad said there was nothing to worry about because he always washed them good before storing them.Sad to say we didn't get to play in the garage anymore.We got corn cob pipes to use in blowing bubbles with soap and water.We tried smoking rag weed in the corn cob pipes one Fall when the weeds got dry.(rag weed was also called pig weed)It wasn't good so we didn't try that again.Once or twice a month my Dad would deliver ice cream and milk up to the San Haven and some of my friends would get to ride along.There was a small lake below the San Haven we would go swimming in. * I think it was called Lake Schuty (sp?).I remember a murder up in the hills where a man killed a women.* I think his name was Chase (sp?)They had him in the Dunseith jail and there was a big mob outside.Our mothers came and got us away from there in a hurry.I remember bringing money to school to buy stamps which would buy War Bonds when you had enough stamps.We lived across the street from the Catholic Church and going from the South to the North the first house was Campbell's a banker, then our house, then Haines(sp?) a Boarder Patrol Officer, then Ray Murry who had the Turtle Mountain Creamery.
Some things my folks have told me about living in Dunseith,My dad and Glenn Shelver refereed a lot of Basketball games together. My Dad was the butter maker and ice cream maker for the creamery.During the War.The little creamery in Dunseith had a contract with the Army and shipped a boxcar load of butter every week to the Army.My Mother was a school teacher in a one room country school East of Dunseith. (* I think it was about 6 to 8 miles East)
I have received E-mails back from three of my classmates in 1st & 2nd. grade and I hope to hear from more of you.
Thanks,
LARRY LIERE (55)Left Dunseith midterm of 3rd. Grade 1945
Reply from Lloyd Awalt (44): Bottineau, ND
Gary, The old white school on the Post Card Picture #501 . If you go to the West &
North corner of the school and go one block North the frist house on the block next
North is the one we lived in. It was owned by Tom Cassadie, the next house North was Henry Hagen. The nest house North on the corner was Ernest Horsman's . The long
white Bldg. on that black was the Commercial Hotel owned by Grassman, later by
Grimmies. I started school there in 1932. #503 The inlarged ones I can pick out a lot of homes where people that I knew lived. Mrs Ben Marsa was teaching Grade school.
Charle Watkins house by the Stone Church. When we frist came back to Dunseith we lived in the house where Bill Fassett lived by the creek.
Story from Aggie Casavant (69):
Fort Mill, SC
Hi Gary & Everyone in Dunseith Blog Land
With the 4th of July right around the corner I wanted to take the opportunity to share with you all,a story that took place at the "Big House on the Prairie. When us kids were quite young like ages ranging from 7, 9,10,11,12, our brother Rene was working for our neighbor Freddie Neamyer,so often times on special occasions he would stop buy and visit and bring us younger kids little gifts and surprises. As I mentioned in one of my other stories we were not the richest kids on the block,so when Rene came home one night around the 4th of July he brought us some fireworks.Some were bottle rockets, some were sparklers,and a couple bigger ones…And boy oh boy were we excited…It was like waiting for Christmas Eve to open our gifts.Rene told us not to mess with them til he came home on the 4th and he we would shoot them off together.Well in the days leading up to the 4th we were listening to the weather every nite to be sure it wasn't raining on the 4th…Well lo and behold,the morning of the4th of July it was raining.Here were these 5 little heads (Jimmy,Bobby,Eddie,Aggie,&Maryann) standing at the window watching the rain come down,thinking…I KNOW THIS IS NOT HAPPENING….Our Dad was sitting there in his chair like always reading the paper and smoking his pipe,So Bobby(Daddys pet as we would always call him) went over and asked,"Daddy,do you think it will quit raining by tonite so we can shoot fireworks? Our Dad looked over his reading glasses,half way smiling,and said ,Nah No,it's gonna rain all day and all night…Bobby looked at him for awhile and said,"But we want to shoot off our fiereworks tonite Daddy.(Like he was going to manipulate our Dad to shut off the rain) I really believe to this day Bobby really thought he could…LOL. Daddy just kinda smiled and said,Nah you got all summer to shoot off fire works…. At that point us other kids heard about enough,and we all looked at each other like…Oh No,that ain't gonna happen..this is the 4th of July,and come rain or high waters,those fire works are going off tonite!!! So as it worked out ,sure enough as it was getting dark it was still raining,so our Mom&Dad decided to go visit our Uncle Aime and Aunt Germaine Barbot,about 7 miles away.Our Mom and Dad wern't a mile down the road,and us kids had the fireworks out of the box trying to figure out how we were going to shoot them off with it still raining outside.All at once Eddie said," Hey lets go upstairs and open the door that goes out to the roof and stand in the doorway and shoot them outside,and we all were jumping up and down,yelling"Yah yah thats a good idea lets go.(Well first off you have to understand,we had no electricity to the up stairs) so were all running like crazy up the stairs,tripping over each other, in the dark . with visions of rockets red glare,and getting all patriotic…So when we got the door opened,we saw it stopped raining.So just as we were going to start back downstairs to go outside and shoot them off, Eddie said,"Hey lets not go downstairs lets go out on the roof and shoot them off,So Bobby started out on the roof first to set up this rocket on the peak of the roof. Well it was wooden shingles slick as oil and he slipped and fell grabbing onto the metal trim that went down the middle of the roof. Just then it started raining,so we pulled Bobby back in and went back to plan "A".We had our pop bottles and were taking turns shooting them out the door.While waiting our turn,Jimmy,Maryann and I lit the sparklers and were running up and down the hallway,hollering and yelling and laughing.By that time Bobby and Eddie discovered that the rain would put out the bottle rockets as soon as they hit the outside,so they started shooting the bottle rockets down the hallway,So we all got our own pop bottle and started shooting them where ever we could find a space to shoot them. Some hit the walls,some hit the windows,some were being shot off straight into the ceiling,but they all went…When we got done with them,we started lighting packs of firecrackers all at one time… All at once we seen this flash of lights on the wall,we looked out the window and it was our Mom&Dad. (our uncle and aunt weren't home so they came home early)We went tearing down the steps and slammed the upstairs door trying to look all calm and normal. When they walked in the house my Mom had this look on her face,as the smell of sulphur hit her… It was like her lips were moving, but we couldn't hear her real well cuz they were ringing from all the fire crackers.We could kinda hear her saying,"What did you kids do??? I said, Bobby and Eddie lit a pack of fire crackers,but we'll shoot ours off another nite…(Like none of the rest of us did anything wrong) Bobby and Eddie were looking at me kinda blinking,like they were shell shocked. Our Mom and Dad didn't check to see if the rest of the fireworks were still there….But the next morning when our Mom went upstairs to gather our clothes to do laundry she got the full impact of what we did.I swear to God ,she must of thought she walked into a war zone,with burn marks all over the walls and ceiling with burned up fireworks all over the floor….Like the song goes"Let Freedom Ring,Let the Whole World Sing,Let the Whole World Know That That Day Was the Day of Reckoning……..
Hope You All Have A Happy Safe 4th of July! Aggie
Aggie, You guys were luck they weren't calling the fire department. I'll bet that upstairs was a sight for sore eyes when you guys were finished lighting off all your fireworks. Gary