For the record, I did not get a blog posted yesterday. In the evening Novie was gone and Bernadette was not well enough to be left alone, so I was unable to get a blog posted.
.
.
35 years ago today I married the love of my life, Bernadette.
We have reservations to go out for dinner this evening with Bernadette's sister Berlinda and her Nieces Novie, Edelyn and Mirasol. Earlier today she said she wasn't feeling well enough to go out for dinner this evening, but now she is feeling better, so I think we will be going.
Bernadette had a restless night and has not been feeling well. For the past couple of days she has been going into one of spells. Our son Bernie called and she had a nice long chat with him. That really perked her up.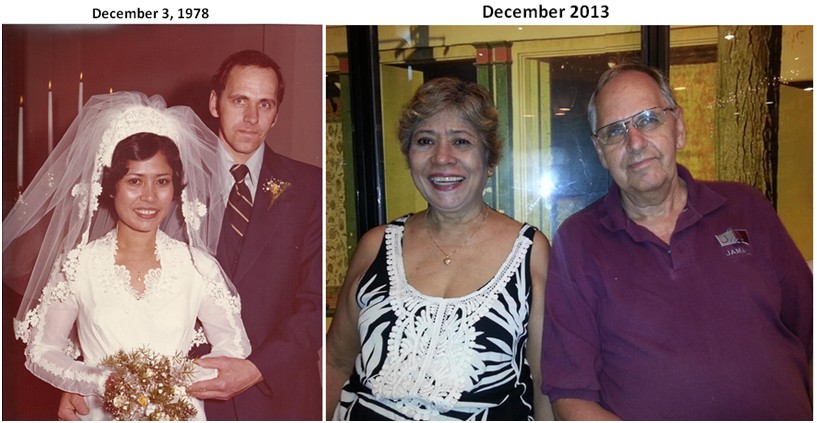 A guy goes into the confessional box after years being away from the Church.    He pulls aside the curtain, enters and sits himself down. 
There's a fully equipped bar with crystal glasses, the best vestry wine, Guinness on tap, cigars and liqueur chocolates nearby, and on the wall a fine photographic display of buxom ladies who appear to have mislaid their garments.

He hears a priest come in:    "Father, forgive me for it's been a very long time since I've been to confession and I must admit that the confessional box is much more inviting than it used to be".

The priest replies,
"
Get out, you idiot.   You're on my side".
.
.
.
Blog posted on 12/30/2007
.
Larry Hackman's message to Bill Hosmer:
Bill
Just to let you know and to pump up your pumper more, I want to let you
know that I have related the story of the Thunderbirds buzzing small town,
USA, Dunseith, ND many times over the years. That one short moment in
time has meant a lot and apparently not only to me. We did not have much
growing up in Dunseith but we did have a pilot that flew with the
Thunderbirds, Not many towns can make that claim. New Rockford, ND. is
real proud to have a astronaut, but I'll bet he never buzzed main street
and created the memories that you have for all of us. Thank you. Now if I
can figure out a way to get Gary to stop confusing me with Carmen Myer and
Santa Claus I'll be doing great. By the way, I think I did meet you and
visit with you for a short time at the Althea Theatre (Senior Citizen
Center) at the Dunseith Reunion. Did you say you were living or staying in
a cabin up at Long Lake or am I confused. Bill, you have a great day and
thank you again, for the memory.
larry
.
.
Colette Hosmer's message to Tim Martinson:
I wanted to thank Tim Martinson for his e-mail regarding the "back room" of the bakery. I managed to find myself at one or two of those gatherings (only as a privileged bystander). Your account was wonderful.
Also, I remember Deer Heart Lodge as a young girl — in fact I was spellbound by the place. I have to think that the art I make today was influenced by those little taxidermy scenes. Does anyone have photos or stories or history to share about Deer Heart Lodge?
Thanks,
Colette
.
.
Bobbie Slyter's comments: Vance Bailey's movie:
Whoever put Vance's movie together did a fantastic job, I don't remember Vance but seem like I did after watching it, I truly enjoyed it.
The picture of the Morinville kids was great I remember them all well
bobbie slyter
.
.
Colette Hosmer's WEB site
To view a very nice picture of Colette, just click on her WEB site that I've pasted below. We've been seeing all of her nice messages, so now you can see the nice lady behind all these nice messages and browse her very interesting WEB sight if you so wish. Colette has become a very well known international Artist. Gary