For the record I did not get a blog posted yesterday.
.
.
Happy Birthday Bernice Belgarde (DHS '72):  Bemidji, MN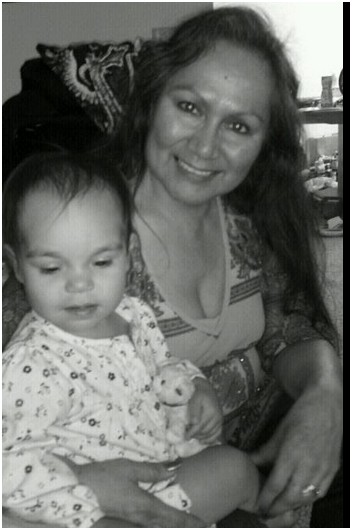 .
.
Happy Birthday Floyd Richard
From Margaret Metcalfe Leonard ('65):  Rolette, ND
Happy Birthday, Floyd Richard, you look the same as you did when I met you 45 years ago!
That was a great picture of two of my favorite people in the whole world!  We sure have made some
great memories over the years!  Let's make lots more.
.
.
Reply from Connie Landsverk:  Bottineau, ND
Yes Carmen Floyd's looks good! Does he still live @ lake metigoshe? Looks very good for 85 wow!!
.
.
Head bolt heater invention
Posting from Vickie Metcalfe ('70:  Bottineau, ND
Gary,
Did you know someone from Upham invented the first head bolt plug-in
heater for cars?
He did not  receive nary a dime in patents.
Just shared with his neighbors.

I keep thinking of those days long ago when folks didn't have the
comforts of
the warm and lightweight winter wear of today or the automatic car
starters.

Two perfect sundogs are keeping Mr. Sun company this morning.
The clear blue skies  make it a perfect picture!

These must be the good "new days".
Vickie
.
.
Mel Kuhn's ('70) St. John  reply to Larry Hackman ('66) Bismarck
Well Larry we just didn't want you to feel left out. So we thought we'd just share a little with you. We know how you get when you think you're not getting your share. You'd be making budaahh and everything, your lip hanging down to your chin. HA! HA!!
Mel
.
.
Will you guys shut the freezer door,
and turn off them damn fans.
What the hell are you guys trying to do?
Larry
.
.
Posted by Bonnie Awalt Houle ('56): Becker, MN
Happy New Year Gary,  Joke of the day, it will never come true but it is a thought.  Have a wonderful week and stay warm.  Bonnie Awalt Houle
Blessed are those that can give without remembering, and take without forgetting.
One day a florist went to a barber for a haircut. After the cut, he asked about his bill, and the barber replied, 'I cannot accept money from you, I'm doing community service this week.'
The florist was pleased and left the shop.
When the barber went to open his shop the next morning, there was a 'thank you' card and a dozen roses waiting for him at his door.
Later, a cop comes in for a haircut, and when he tries to pay his bill , the barber again replied, 'I cannot accept money from you, I'm doing community service this week.' The cop was happy and left the shop.
The next morning when the barber went to open up, there was a 'thank you ' card and a dozen donuts waiting for him at his door.
Then a Congressman came in for a haircut, and when he went to pay his bill, the barber again replied, 'I can not accept money from you. I'm doing community service this week.' The Congressman was very happy and left the shop.
The next morning, when the barber went to open up, there
were a dozen Congressmen lined up waiting for a free haircut.
And that, my friends, illustrates the fundamental difference between the citizens of our country and the politicians who run it.
BOTH POLITICIANS AND DIAPERS NEED TO BE CHANGED OFTEN  AND FOR THE SAME REASON!
If you don't forward this you have no sense of humor.
Nothing bad will happen, however, you must live with yourself knowing that laughter is not in your future.
Now send it to everyone you know!
.
.
==========================================================================
Blog posted on January 31, 2008
Posted on December 31, 2007
Message from Warren Anderson (65):
Hi, Gary.
How are you and your wife doing? Cora and I are fine these winter days. We took the snowmobiles up to the farm today and rode about 12 miles around  the hills. It was nice to see all the animals tracks and even to see some moose tracks.  I see Margaret Metcalfe Leonard just about every week and she doing fine. They just moved into their new high school building, in Belcourt, over the holidays so she is excited about the 2nd half of the school year. Dunseith just beat the number one rated basketball team in the state last week so Dunseith has some excitement with basketball. Dunseith has a DaCateau kid that is 6′ 10″.
The jets that screamed over Dunseith even scared me on the farm that day. And I was 7 miles straight north of the city but it seemed they were over us before they got turned around. I was only 13 years old. In Viet Nam we had the F-4s that came in awful close to us but I never feared them like some of the other boys did. Maybe it was the experience of the Dunseith fly over that gave me the feeling you had nothing to fear. Enough about history. I am still trying to sell my office building and apartments and quit counseling but no takers and I don't feel there will be anything now until spring or summer.
Cora and I wish's you and your wife a happy new year—–Warren 65
.
.
Bev Morinville's (72) Reply to Bobbie Slyter (70):
To Bobby : thanks for calling us kids , Bev Morinville (Azure)
.
.
Message from LeaRae Parrill Espe (67):
Thanks for finding Maurice Gouin. I just knew I had his name spelled incorrectly. That never helps.
I am really enjoying all the messages from everyone. I hope Tim Martinson and Larry Hackman keep up the great memory attacks!
I got my mother, Mildred Parrill, on the computer over Christmas. She stayed in Bottineau four nights so she could visit Marie and her other two sisters. I entertained the bunch for Christmas dinner-my guests were ages 90,89,87,84, and 82. They had a few games of whist and alot of stories. It was great.
Anyway Mom really enjoyed reading some of the messages. Whenever she read about someone she had a story. She remembered Tim Martinson being the coach of the American Legion team on which my brother Clark played. That team did very well. Dunseith had many great athletes. It would be great to hear Tim's recollection of the season(s). I went to college for three summers and I missed all of that.
Happy New Year!
LeaRae
.
PS Kay Flynn is really just K. Flynn. She told me once that it represented Knox, but Minnie didn't want to name her Knox so it was just K. – K. Jacqueline Flynn Richard
(K. I've updated all my Data bases with K. Gary)
.
.
Message from Cecile Gouin Craig (61):
Have really been enjoying all notes and letters, they have brought back A lot of memories of people and places. Thanks, Cec'
Yes, I remember the Deerheart Lodge well. I've got two pics of it. One is the same one you posted and one of the castle. I think my Mother has some, will look in her albums. In 75 or 76 when I went to Dunseith, went looking for the Lodge but couldn't find it. I sure hope some museum has it all. I loved that place. Will send the pics I find.
On that trip also went to the Butte of St. Paul. There wasn't even a trail to go in or up the Butte. What's with that??
Tim I remember the bakery well. During school and lunch time 5 or 6 of us girls would run to the bakery and get 3 raised doughnuts or Bismarck's for a dime, then race to Shelver's Drug to grab the only booth. Order cherry cokes. Eat our healthy lunches, then race back to classes. Those were the best doughnuts!
Sorry I missed all the excitement over the Thunderbirds. Collette didn't Janet go the Air Force Academy in Colorado Springs to Bill's graduation and all the festivities??
Cecile Gouin Craig '61
.
.
Randy Flynn's (70) reply to Gary Stokes: (Note, Bremerton WA, the city Randy mentions, is where I moved to from Dunseith, until moving to the Philippines in 2003. I worked my entire career at Puget Sound Naval Shipyard in Bremerton, retiring in 2003. Gary)
Gary,
Thank you for all the Emails. However, I have not had time to
read them. I still work for Customs but since we are now
Department of Homeland Security and have become Customs and
Border Protection (Immigration, Customs, and Agriculture) there
is always something new to learn. Or something to teach all
the new employees who have no institutional memory. I recently
moved to Portland, Oregon, so I do not plan to retire in the
near future. I would just go back to work anyway.
Bremerton is a beautiful place. I have enjoyed taking the
Seattle-Bremerton Ferry to Seattle. The trip provides a
relaxing and interesting view of Seattle when compared with a
trip on I-5 at 75 miles per hour. I have spent an afternoon in
"The Pour House Pub". A friend's from Wilton, ND cousin, Carol
and Dave, own the Pub.
If you can provide names of interesting places to see other
than the usual tourist stops I would appreciate it. I have
seen the original Starbucks and purchased some coffee there.
Watched the fish fly from the Ice to the counters, K.C. Sine,
could have used this method to sell more candy to school kids.
I am happy to see you taking such an interest in our roots and
our routes. With the death the fall of 06 of a good friend and
CBP colleague, Clark Parrill (DHS 70), I often wonder where all
of our lives have taken people from Dunseith.
A couple of notes in my travels for work, if you are from North
Dakota, the 6 degrees of separation is really on 4 degrees.
People from North Dakota are everywhere and know everyone
around the world. Since we are from a small rural town and
have Scandinavian heritage we down play our connections. But I
am sure if my life depended on it I could get an autograph of
anyone in the USA and probably the world.
And . . . North Dakota is a Great place to be FROM . . . so
many of us have left the state in search of employment.
Randy
.
.
Message from Trish Larson Clayburgh (73)
Hi Gary,
Interesting stories. I'm not sure if I remember a place called Deer Heart, but it reminds me of the lodge in the Peace Garden where many a wedding dance was held. There were some folks there that really knew how to dance to that wild polka music. I remember a married couple who were in their 40-50′s, which would put them in their 80′s maybe now, who danced all night like crazy. They were short and stout and fabulously in love – at least with dancing. I'll bet somebody knows who they were – they were at every barn dance I ever attended. (Remember those fabulous round barn dances?)
And speaking of dances – remember the Lake Metigoshe dances in the early 70′s? How about those black lights???? Everybody looked tanned!
We North Dakotans sure learn how to throw a good party don't we?
I remember also a party at my house at the port of entry one winter. My parents had left my brother Greg and I to attend a funeral in Montana, and the word got out that we were having a party. There must have been almost a hundred people squeezed in that little house. When the party was at it's Zenith, our reveling was cut short however. Somebody spied my parents when they came home early and pulled in the driveway.
They yelled "TRISH – YOUR PARENTS ARE HOME!" For a moment, there was utter silence as we all made eye contact and then….
Oh My! There was a mass exodus out the front door as Hazel and Harvey pulled their big ole Cadillac into the garage. Some nice person offered to grab empties and run out the back door. I believe it was a quiet fellow named Larry….or was it a Lagerquist?
Anyhow my hero came back in the front door a few minutes later to join a few brave partiers had stayed to "face the music" with me. He whispered, "you didn't tell me there was a hole in the backyard – I almost broke a leg!". I gasped to remember that there was a pipe project going on out back and as he had dashed out with the best of intentions, he had fallen into the snowy pipe ditch about 2 feet deep – spewing 2 grocery bags full of empty beer cans all over the back yard!
Next morning, bless her soul, my dear mom got up early and picked up all the cans. I couldn't believe she wasn't furious with me, but in one of her most endearing moments she laughed and said "I couldn't let the neighbors see them could I?" She wasn't angry about the broken chair brace either. I remember clearly the moment George Malaterre put his big 'ole foot on that spindly chair and snapped it right in two! He was horrified, and very apologetic. I brushed it off, but secretly I WAS a little worried my parents might kill me.
Instead my mom taught me a lesson about forgiveness. And the value in a really great party…
Anyhow, thanks again for stirring the great memories….
Trish (Larson) Clayburgh
.
.
Request from Ron Link (58)
Gary: Can you add James Robillard (class of 58) to your E-mail list as He would also like to get copies of your E-mails. His Address is: jwrobillard@dia.net THANK YOU—RON
New Years in the Philippines:
Folks, It's now New Years Eve here in the Philippines. It' currently 7:30 PM and the parties have started. Bernadette's Nephew has his big sound system set up in our area with the strobe lights and all. Folks are dancing and will continue to dance and party until the wee hours of the morning. There are continuous fireworks going off through out the are, but at midnight it will be like a huge bomb hitting the Philippines with all the fireworks. After midnight, Bernadette will be serving a big dinner for everyone in our area of about 60 folks. This is a tropical country so all the partying is done outside. Folks will go in our house to get their food and go back out side where we have tables and chairs set up to eat.
Happy New year to each and every one of you.